This is the ultimate Hostinger review that is a well-known name in the hosting industry. So if you are looking for:
Good host for your website
Cheap price
Fast page loading speed
Then you'll love this new Hostinger review from iblogo.com
Let's get started, shall we?
Hostinger is an award-winning web hosting service provider. Its mission is to deliver high-quality services, with outstanding customer support, at a cheap price. They are committed to helping small businesses create their online presence and provide comprehensive solutions in the web hosting industry.
Hostinger's plans are cheaper, simple, reliable, and effective. You will find them easy to navigate and simple to understand. Their hosting packages include a 30-day money-back guarantee. If unsatisfied with their services, you can get a refund within thirty days. Their plans are designed for simplicity and affordability.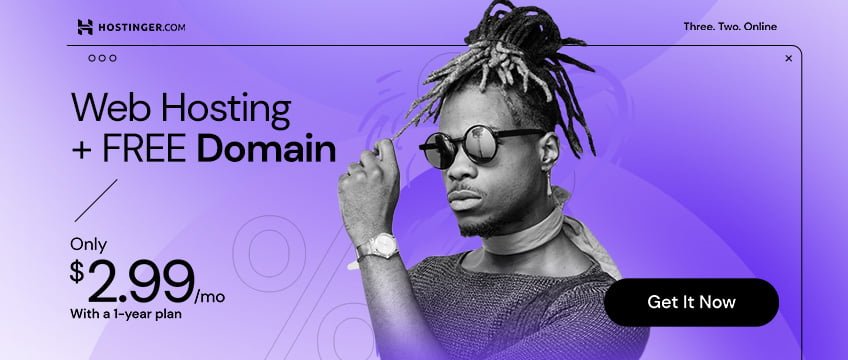 Our team at iblogo conducted significant research, testing, and analysis on hostinger's web hosting services. Then we reduced the top key features of hostinger and wrote them down as a table.
Our study shows Hostinger is the best web hosting provider for most customers. Why? Because of the affordable price, 24/7 Live Support, Set up in seconds and designed for speed. As a result, I hope you make an educated decision.
Ok! If you don't want to read the entire article, we recommend you read the table.
| Features | Hostinger |
| --- | --- |
| Hosting Type | Shared hosting, Cloud hosting, WordPress hosting, VPS hosting |
| Free Domain | Yes |
| Pricing | $2.99/month |
| Data storage | 20GB-300GB |
| Bandwidth | Unmetered |
| Website Backups | Yes |
| Dedicated Hosting | Yes |
| cPanel | No, hPanel |
| Free CDN | No, but if buy a 12, 24, and 48-month plan, you will get free CDN |
| Free Migration Site | Yes |
| Money-Back Guarantee | 30-day money-back guarantee |
| Customer Support | 24/7 live chat, support, knowledge base, email |
| Uptime Guarantee | 99.9% |
| Server Location | Kaunas, Lithuania |
| Security | DDoS protection, CDN, SSL certificate |
| Email Hosting | $0.99/mo |
| ⭐Rating | 4.8/5 |
| Website | www.hostinger.com |
While Hostinger is our top choice for web hosting, it is only one of the numerous options like GreenGeeks, and InMotion that may be suitable for your website or use-case needs. Check out our top picks to review our other recommendations and decide which is ideal for you.
General Info Of Hostinger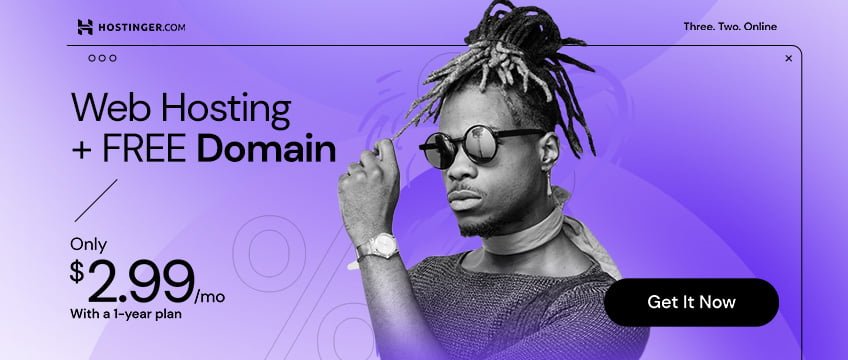 Hostinger is one of the best web host companies because they provide everything you need. They give you a website, domain name, storage, email address, backup, and more. Hostinger is a trusted company with a 99.9% uptime guarantee, and You can be sure that your website will remain operational around the clock. Their services are very cheap and reliable. They provide disk space, unlimited bandwidth, weekly backups, a 30-day money-back guarantee, and a free SSL. They also offer a free site builder to help you set up your website in minutes. So if you want to start a business online or have a personal blog, Hostinger is an excellent choice. Hostinger is a trusted web host because they have been delivering the best service for years. You can start your web host for as low as $2.99 per month, and the renewal price is $6.99 per month.
Overview
Hostinger was founded in 2011 but started in 2004 in Kaunas, Lithuania. Hosting Media was the first name of the company. Its corporation 000WebHost was founded in 2007. Another corporation, Hosting24, was established in the United States in 2008, with data centers in Asheville, North Carolina, and the United Kingdom. WebLink, a company, was launched in Brazil in 2014.
They upgraded its Apache HTTP servers to Litespeed Webserver (LSWS) in 2019 to improve server performance. In 2020, Hostinger collaborated with Google Cloud Platform.
Hostinger was named one of Europe's fastest-growing company in 2021. It provides website hosting services in more than 170 countries.
A group of investors invested in Hostinger in 2021 under the leadership of the German entrepreneurs Jochen Berger and Thomas Strohe. They have bought up 31% of Hostinger's shares from longtime employees and joined the board of directors.
What Does Hostinger Offer?
Hostinger provides:
Unlimited domains and emails.
The best price-performance ratio.
Lightning-fast site speeds.
Excellent customer service.
Round-the-clock support for all its customers.
They currently offer cloud hosting, shared hosting, VPS hosting, cyber panel hosting, WordPress hosting, and Minecraft server hosting.
So let's discuss their packages and hosting types in detail.
Hostinger Review: Plans and Pricing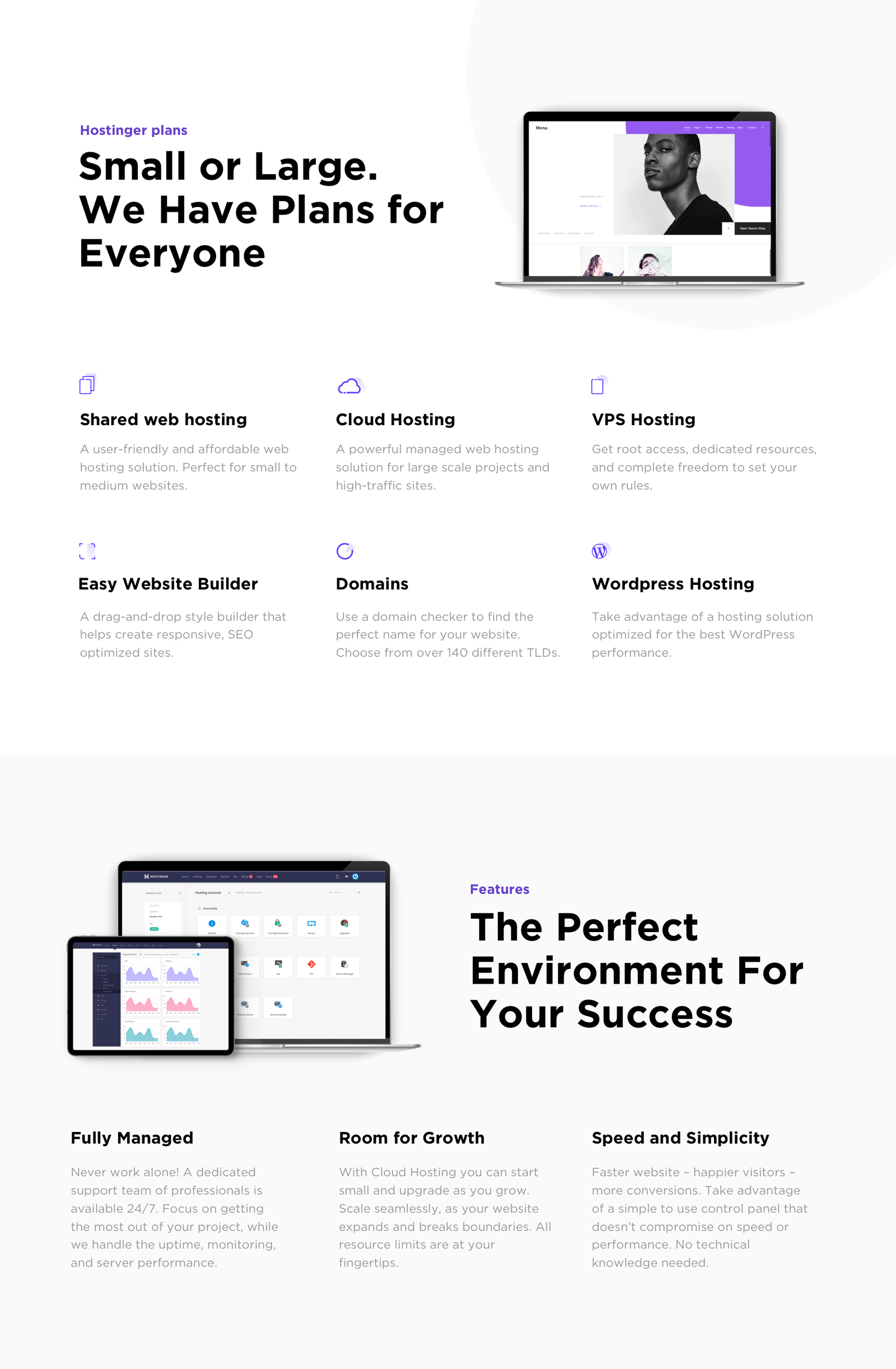 Hostinger hosting plans can be a confusing and overwhelming topic. So before you invest in Hostinger, it's essential to get a solid understanding of what makes a good web host. Here at GetApp, we review web hosts regularly to ensure we deliver the most comprehensive reviews. We're reviewing Hostinger, a well-known web hosting company based out of Lithuania.
Hostinger is a famous web hosting company that offers various hosting services to customers and developers.  Approximately 10,0000 Monthly traffic, a 30-day money-back guarantee, backups, unlimited databases, free SSL, and other services are available for each plan. Their pricing structure is relatively simple. They offer different plans with varying features depending on the amount of storage space and bandwidth you'd like to buy. Hostinger has a plan to meet everyone's needs. That is why we are here to discuss Hostinger's pricing plans.
They offer six hosting plans, but we are only discussing four as per demand.
Shared Hosting
Cloud Hosting
WordPress Hosting
VPS Hosting
Shared Hosting
Shared hosting is one of the most prominent types of web hosting. It is a hosting that lets multiple websites share a single server, which might be an excellent alternative if you are low on budget.
Hostinger is a famous web host that offers affordable shared hosting options. Their Single Shared Hosting service typically starts at $1.99 per month, with the possibility of upgrading to a more sophisticated package for a higher monthly charge. They also provide a free domain exclusively in the dotcom(.com) extension in a single tier.
Now, let's talk about the features that come with this plan:
You get one website. This is something that you will need if you have a business or if you are making money online.
You will receive 50 GB of storage space for your files, photographs, videos, and other media. It is also critical to store data and avoid losing it. To secure your valuable data, you must have some backup storage.
Handle ~10,000 visits monthly. This is good because some hosting sites get down due to the massive traffic volume.
You get one professional email account (For Exp: [email protected]). This means you can set up an SMTP plugin that allows you to send and receive emails from your customers. It is important because you want to build a relationship with your customers and provide them with the best service possible.
You get 100 GB bandwidth. This will allow you to upload files and have a faster internet connection. You will also be able to download files and use the internet faster.
You get two databases. It is something that you will need because you will be storing information.
You get Cloudflare CDN ($9.95 value). You will need this because it will help your website load faster and improve its performance.
Their most popular package Premium Shared Hosting costs just $2.99 per month with a 75% discount. This package gives you everything you need, 100 websites, 100 GB storage, free domain, 25,000 monthly visits, 100 domain-based free emails, unmetered bandwidth, weekly backups, a free SSL, and Cloudflare CDN nameserver protection.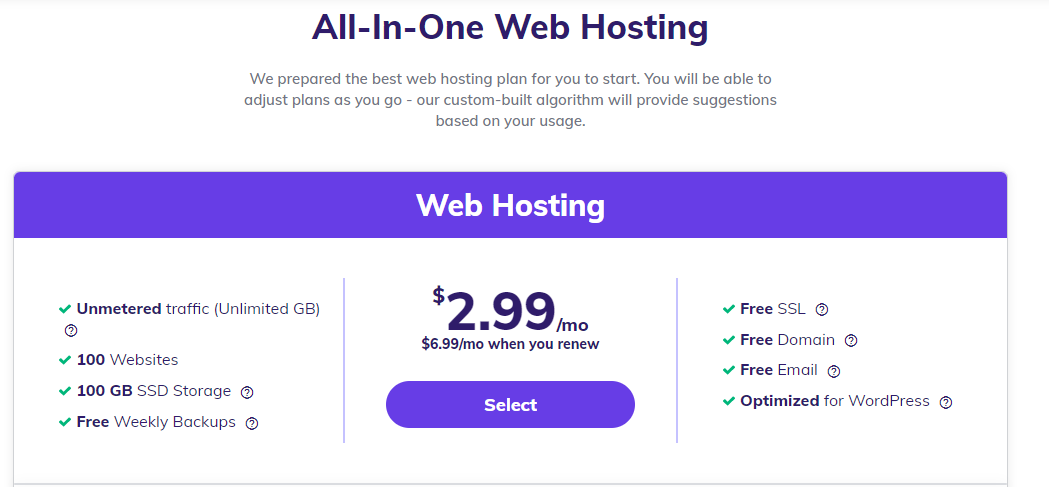 This is a fantastic deal with Hostinger. This is one of the best hosting services for beginners who want to create a website.
With the Hostinger Premium package, you can build a website for only $2.99 per month. You don't need to worry about how to install WordPress or anything else. The WP installation process is simple, and you can do it yourself. Also, the setup process is easy, so you don't need to call customer service. You'll need to pay for your hosting plan and be ready to go. The site builder Zyro is available online so you can install it immediately. You need to click the link on your computer, and you'll be able to use this excellent site builder to design your website. There are tons of templates you can choose from, and you can even change the colors of your website or upload your images. You can customize your website as you want.
One cool feature that you can do is to install the Jetpack plugin. Jetpack will help you to boost the traffic to your website. There are also lots of tools in the free version to manage your website easily and quickly. You'll be able to save lots of time.
Furthermore, the third Business Shared Hosting bundle is designed for small agencies or business owners. This plan is suitable for individuals who need additional resources and have a good amount of traffic on their site. You can get this plan for $4.99 per month.
In addition, by paying for 48 months, you will save $480. You will also receive the free domain and SSL for the following four years. So, after the 67 percent reduction, your total will be $239.52.
Remember that Domain and SSL are not free after the first year. However, If you choose the long-term option, such as 48 months, you will not be charged for the domain or SSL.
So, if you're feeling overwhelmed, let's look at the website.
Cloud Hosting
A cloud server means a computer system that provides services over the Internet. You can rent the server space every month or purchase a dedicated server that is yours to keep. In either case, You'll have complete control over the server hardware, software, and network settings.
Hostinger Cloud hosting is a cloud-based hosting service. Unlike Shared hosting, where servers are housed in data centers, cloud hosting is hosted on the Internet. The hosting provider usually provides the servers hardware, software, and maintenance.
Unlike traditional hosting, you don't need to worry about physical servers, hardware, or maintenance. You need to be worried about paying for your resources.
Hostinger Cloud server plans are based on isolated virtual instances. With each Cloud plan, you will have complete control over all resources and restrictions via a personalized control panel. Their cloud packages are expensive compared to shared hosting. The monthly fee ranges from $9.99 to $29.99.
One of the best aspects of Hostinger Cloud Server hosting is the integrated caching mechanism. Where you can use an in-built cache manager to make your site super-fast. As a result, your website will load faster and be ranked higher on Google.
Cloud hosting from Hostinger is perfect for large-scale projects. As a result, if you currently have a website and want to speed it up, it may be an excellent solution. These capabilities and low prices make Hostinger one of the most desirable and cost-effective cloud hosting providers.
WordPress Hosting
WordPress is a free software application that allows you to build websites and blogs and a WooCommerce store. Today, WordPress is the most popular CMS, powering more than 30% of the web. Hostinger provides the Manage WordPress feature in all hosting plans. It is one of their primary services.

They designed separate WordPress hosting plans so that you may receive help from a WordPress specialist by contacting the Hostinger support team, who are well-versed in WordPress. If you ever need assistance, their support team is accessible 24 hours a day, seven days a week, whether you're having problems with your hosting, installing new plugins or themes, or getting started with WordPress.
Hostinger offers four different packages for WordPress hosting— Single WordPress, WordPress Starter, Business WordPress, and WordPress Pro. All plans include eCommerce Optimization, single click WP installation, and the Pro package consists of 300 websites.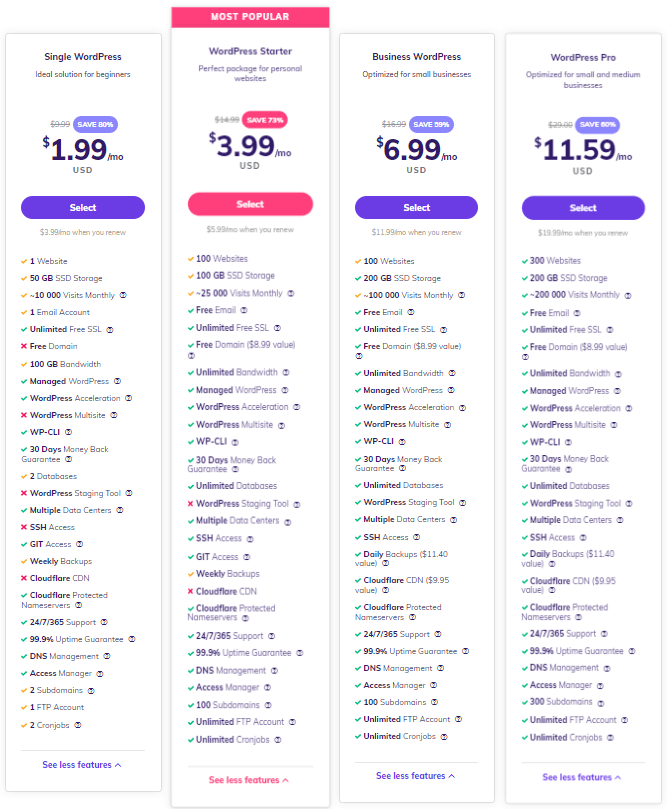 Single WordPress ($1.99/ month) is a simple and low-cost option for personal and small beginners. This package does not offer a free domain and WP multisite option. However, you can build a low-scale WordPress site.
WordPress Starter ( $3.99mo/nth) is the perfect package for personal websites. It provides everything you need to start a website, including a free domain, WordPress multisite option, and unlimited MySQL database connections. However, this package doesn't provide a WordPress staging tool, daily backups, and a free dedicated IP address. You need to upgrade to the business plan if you want these aspects.
Business WordPress( $6.99/month) is ideal for medium-sized business websites. It provides everything that is not included in the Starter plan. The business WP package also offers unlimited FTP connections, and it comes with a 200 Parked Domains option and a free daily site backup service.
WordPress Pro ( $11.59/month) is designed for large businesses and teams that require a highly scalable and secure platform. It includes all features from the previous WordPress hosting plans with more resources. Furthermore, The package also comes with 2000000 Inodes, unlimited cronjobs, and a PHP speed boost option. The Pro package is a bit costly. But you can save $835.65 by subscribing to four years long-term plan. And your total will be $556.32.
However, If you want to build a website in WordPress. You may like our Hostinger vs Bluehost review.
VPS Hosting
VPS (Virtual Private Server) Hosting is a one-of-a-kind hosting solution that provides customers with a virtual environment identical to the physical server. With this service, you may use the entire range of dedicated hosting services without investing in a real server.
VPS Hosting is a type of server hosting that provides privacy and security. It is ideal for those who do not want to share their IP address.
Hostinger is one of the fastest-growing VPS hosting providers. With its excellent customer service, intuitive control panel, and top-of-the-line performance, Hostinger is a solid choice for anyone looking for a reliable, affordable VPS host. There are plenty of reasons why Hostinger is so popular among VPS hosts. Most notably, the company offers a variety of plans and pricing options that are well-suited to a wide range of users. Its VPS hosting plans are reasonably priced while providing top-notch services and features.
The Hostinger VPS plans include SSD and Processing Power, full root access, NFS Support, 100 Mb/s Network, Dedicated IPv6, and a 9.99% uptime guarantee. Additionally, there are several discounts that you can take advantage of when signing up for a plan, including a 30-day money-back guarantee.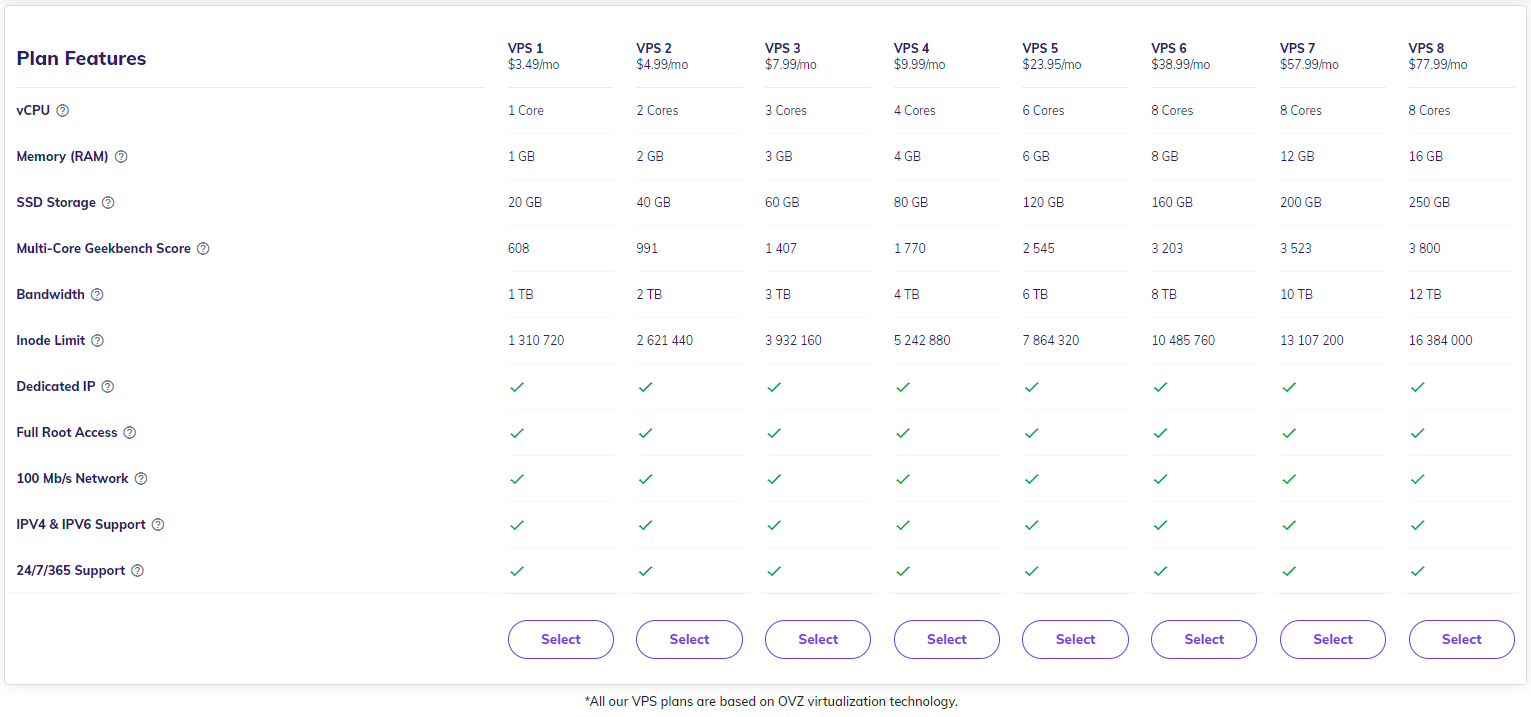 Renewal Prices
Hostinger has the most cheaper renewal prices. They provide several pricing options for various packages. Hostinger's monthly renewal costs are $3.99 for Single Shared Hosting. $6.99 for the most popular Premium Shared Hosting and $8.99 for Business Shared Hosting. Suppose you purchase a Premium plan for 12 months. After a 75% discount in the first year, the cost is only $2.99 a month. The total amount will be $35.88. The package then automatically renews for $6.99 each month. In addition, domain and SSL change to $13.99/yr and $14.99/yr, respectively. As a result, the total will be 6.99*12 + 13.99+ 14.99 = $112.86.
It is a highly fantastic deal. Because one of their rivals, Bluehost, charges $227.88/yr upon renewal.
Hostinger Domains in the first year
.com $0.99
.info $3.99
.store $0.99
.org $9.99
.net $12.99
Domain Renewal Prices
.com $13.99
.info $19.99
.store $51.99
.org $15.99
.net $13.99
Uptime And Reliability Of Hostinger
When searching for a hosting website, uptime is one of the most critical factors. You don't want to host a website that could go down at any time. However, if you choose the wrong web host, you could face major problems. That's why it's essential to find out as much as possible about the uptime and reliability of the hosting service you're considering.

Even the most costly Servers cannot guarantee 100 percent uptime in the long run. Server maintenance is always necessary. As a result, there will be 1 or 2 minutes of outage every now and again. On the other side, this shows that Hostinger is exceptionally dependable and has no server troubles. Furthermore, the host guarantees 99.9% uptime.
How Can You Create Backups At Hostinger?
As the popularity of online businesses continues to grow, so too does the need for people to protect their websites against downtime. Hostinger offers a wide range of services to help users safeguard their websites. One of those services is its backup services. These are designed to ensure your site remains available even if it becomes offline.
Step 1- Open files
You can create backups by heading to the file section and selecting the backup option:
Step 2 – Select generate new backup.
Then, click on select near generate new backup section:

After then, it will take some time and create a backup of your recent files and databases
You can create a new backup every 24 hours.
Hostinger hPanel – A Complete Web Hosting Control Panel

hPanel is a feature-rich web hosting platform created by Hostinger. Hostinger hPanel is a web hosting control panel designed specifically for owners who want complete control over their websites. It has a fully functional control panel that gives you full control over every aspect of your website, including site settings, domain name, email accounts, FTP accounts, databases, security settings, and more. It's a feature-rich tool that is designed to be easy to use. You can also create custom scripts using its powerful API, which offers disk space, bandwidth, and CPU power. You can access hPanel by logging into your profile on Hostinger and clicking on login.

The best thing about hPanel is that it is a fully managed solution, meaning you do not need to do anything to manage your account. You must ensure that you have enough disk space to host your website. If you require more disk space, you can always purchase additional space. Hostinger hPanel is also great value for money, and you can enjoy excellent service and support at an affordable price.
Hostinger hPanel is an excellent option for website owners who don't want to become experts in the technical details of setting up a hosting web service. If you're looking for a complete control panel that can handle everything you need, look no further than hPanel.
How can you enable the WordPress dashboard on hPanel?
When you install WordPress using an auto-installer, it will automatically be enabled. If you migrated or manually installed WordPress, you can easily allow the hPanel WordPress dashboard by Clicking on manage in the hosting section:
Then, select WordPress:
After that, you will have to enter your domain and click on Detect:
It will take 10 minutes and refresh the page. WordPress dashboard will add to your hPanel.
Hostinger Site Migration
If you're using a web hosting company, you may have noticed that they offer a migration tool. This migration tool allows you to move your site from one host to another so you won't lose all of your site's content or settings. Of course, you'll need to transfer all the data and information uploaded to the new web hosting service. However, you don't have to worry about this. That's where the hostinger migration tool comes in. It makes the transfer process much easier than doing it manually.
When you've selected the Hostinger package, you can move as many websites as you want for free. It will copy everything from your old account and upload it to your new account. In addition, it will even migrate all of your email accounts and settings. So, when you're done, you'll have all of your content and settings transferred over.
How can you migrate your site to Hostinger?
If you want to migrate your website to an already existing account, Go to the migration request page:
After that, click the add request button at the bottom: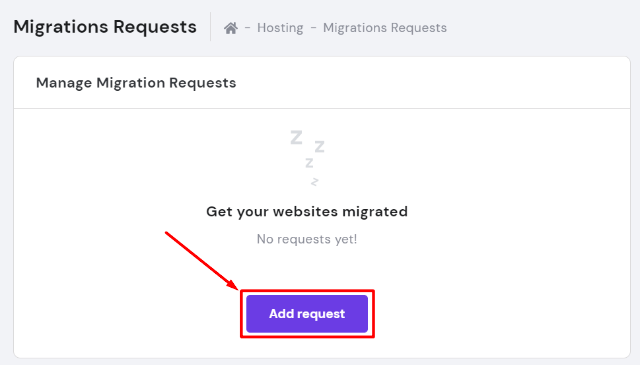 Choose only the right control panel from which you want to migrate (WordPress, cPanel, or another), and also fill out the necessary details, your existing provider, and which of your accounts you want to migrate.
How to migrate WordPress websites?
WordPress-based website migration is effortless. All you have to do is provide all of the parameters and click on the check connection button, and they will ensure that the credentials are correct and that nothing is preventing them from migrating your website.

After reviewing all the information, click Add request – and they will transfer your website as soon as possible.
How to Keep Your Website Secure With Hostinger?
When it comes to keeping your website secure, the first thing you should do is configure basic security options. The Hostinger SSL Certificate ensures that your website is protected by highly secure SSL security. This certificate is a must for any website sensitive to personal or financial information. With this SSL encryption, your visitors and customers will be protected from any third party who tries to capture their data. Your information is stored safely within Hostinger's high-performance servers.
SSL certificate is essential for any website that deals with personal or financial information. The host's SSL certificate comes in both free and paid versions. Both show the same level of security, so it depends on whether you want to pay for extra features.
Customer Support

Hostinger's customer support staff is accommodating and friendly. They will answer your questions on time and are pretty efficient. Hostinger offers 24/7/365 customer services via email and live chat. They can assist you as soon as possible if you contact them on live chat. The biggest downside to Hostinger is its phone service. It doesn't have a phone number on its website, so if you have any problems with your account, you'll have to email [email protected] for a response. They will reply within one business day.
What Are The Pros And Cons Of Hostinger?
Pros
Cheaper hosting plans
Free SSL and free domain
1-click WordPress install
24/7 support
User-friendly control panel
Trusted by millions of people
Access to an affiliate program
Excellent uptime
Cons
Limited disk space
No phone service
Conclusion
Hostinger is an inexpensive and professional web host that allows you to use your domain name, choose from one of the many pre-installed themes, or build your website with a simple visual editor.
It is effortless to set up a website with Hostinger. Just choose a plan and enter your email address and password.
24/7 live chat support is available if you need help or have questions. They will send an email right away when they get your email.
Your site will be hosted on its powerful servers based in several different data centers worldwide to assure that your visitors have a fast and dependable experience.
In addition to great web hosting, they offer free domain name registration, free SSL certificates, backups, a 30-day money-back guarantee, and much more.
FAQs About Hostinger
The following are some of the most frequently asked questions regarding Hostinger's hosting service.
Why is Hostinger so incredibly cheap?
Hostinger provides low-cost hosting by restricting the server resources accessible to customers depending on their hosting package. This is how most shared hosting businesses can provide cheap web hosting services.
You can switch to their VPS or cloud options when your website exceeds the server resource limit. This allows customers to pay as they expand.
Does Hostinger provide a free domain name?
Yes, Hostinger's Premium and Business plans provide a free domain name. However, a free domain name is not included in their Single plan.
Why is Hostinger better than other hosting providers?
This is a frequently asked topic on Google regarding why Hostinger is better than other shared hosting providers such as GoDaddy, Namecheap, and WP Engine.
In terms of cost and user experience, we feel Hostinger outperforms GoDaddy. In many ways, it is pretty much tied with Namecheap.
WP Engine provides a somewhat different hosting solution and rates more than Hostinger. Hostinger might be a great place to start if affordable cost is more important to you.
Choosing a Right Web Hosting Providers
Although Hostinger is at the top of our list of the best web hosting providers, several other excellent choices exist. Checkout:
BlueHost is the most popular in the market
DreamHost is the best pay-as-you-go web hosting provider.
InMotion Hosting is the most affordable option for hosting two websites on a single package.
A2 Hosting the reliable web hosting for European and Asian clients
HostGator is Ideal for simply growing your small business.
Are you ready to get started with Hostinger? By clicking here to sign up for Hostinger, you can save 60% off your hosting plan. The discount will be applied automatically. Thank you!