This is a complete guide to choosing one web host between two leading hosting companies – "Namecheap vs Hostgator". You will learn about each provider's pricing, security, customer service, uptime, and reliability.
I know this is really difficult to choose a better web host, but in this article, I compare these two web hosts, Namecheap and HostGator. I write this article in detail that is very easy to understand and help you decide which company would be best for you.
These two companies offer similar features but with some important differences. For example, Namecheap offers a domain for free with an annual shared hosting plan, while HostGator offers a free domain for a year.
If you do not have time to read the entire comparison, simply look at the table and determine which hosting is ideal for your business.
Namecheap vs HostGator
| Feature | Namecheap | HostGator |
| --- | --- | --- |
| Hosting Types | Shared, VPS, Reseller, WordPress hosting, Email Hosting, and Dedicated servers | Shared, VPS, Reseller, WordPress hosting, and Dedicated servers |
| Free Domain | No(but there are discounts for the first year up to 100%) | Yes |
| Pricing | $3.25/month | $2.75/month |
| Data Storage | 50GB-Unlimited | 120GB-240GB |
| Bandwidth | Unmetered | Unmetered |
| Website Backups | Yes | Yes |
| Dedicated Hosting | Yes | Yes |
| cPanel | cPanel | cPanel |
| Free CDN | No | Yes |
| Free Site Migration | Yes | Yes |
| Money Back Guarantee | 30 days | 45 days |
| Customer Support | 24/7 live chat, ticket, and knowledge base | 24/7 live chat, phone, email, and knowledge base |
| Uptime Guarantee | 99.99% | 99.9% |
| Server Location | Pheonix, Arizona, USA | Houston, Texas, USA |
| Security | SSL certificates, cyber insurance, anti-spam protection | Automatic malware removal, siteLock, SMART removal |
| Email | $1.99/mon | No |
| Website | www.namecheap.com | www.hostgator.com |
Want to know more about just a table?
Alright, let's start with an overview of Namecheap vs HostGator.
Overview

 Namecheap is a leading domain name registrar offering non-stop web solutions for individuals and businesses worldwide. From affordable domain registration and web hosting to the best web privacy products in the industry, Namecheap makes it easy for businesses and individuals to get online.
Namecheap was founded in 2000 by Richerd Kirkendall in Pheonix, Arizona, USA. Their main goal was to provide the best domain at the best pricing while delivering excellent service like the GreenGeeks.
Their data centers are in the United States, United Kingdom, and Europe. This company has more than 1700 employees across 18 countries that host more than 15 million domains. Moreover, this company has two milliom+ customers satisfied with their service, with a 4.7 rating of 5.0.
Namecheap is an easy-to-use web hosting service that allows you to create a free website in minutes. With unlimited bandwidth and disk space, you can focus on creating quality content for your site without worrying about capacity limits. And because you pay just $3.25 per month, there's no need to break the bank to build your business. HAHAHAHA!
If you ever experience any issues, Namecheap offers a 30-day money-back guarantee. So if you are unhappy with the interface or anything else, you will get a complete refund within 30 days.
In Contrast,

HostGator is a web hosting company that offers low-cost web services to small and medium-sized businesses all over the world for just $2.75/month.
According to Wikipedia, Brent Oxley established it in 2002 in Houston, Texas, USA. HostGator moved from Boca Raton, Florida, to Houston, Texas, to keep up with the company's fast development. Since moving to Houston in January 2007, the company has grown to over 800 employees globally, with locations in Austin, Texas, Brazil, India, and Singapore.
Today, HostGator hosted more than 2 million websites.
HostGator is one of the top web hosts in the industry, like Kinsta. And they are an excellent choice for anyone looking to build a website or a blog. This web hosting company offers free domain registration with every account, a 99.9% uptime guarantee, and 24/7 customer service.
When you host a reputable hosting company, you can count on them to be reliable and provide great support and customer service. So if you're thinking about switching hosting providers, consider looking into HostGator. In fact, HostGator is a world-leading provider of Reseller, VPS, Shared, and Dedicated hosting. They also offer a website builder.
Well, We hope you have a better understanding of both companies. Now it's time to jump on to their plans and pricing in detail.
What do the Plans and Pricing Namecheap and HostGator have?
It's important to know about Namecheap vs Hostgator web hosting providers' plans and pricing before signing up. Both offer the same hosting plans but differ in pricing and what they provide. If you want to know about their hosting plans with features and pricing. Well, keep reading!
We explained both of their hosting plans in detail.
Namecheap Plans and Pricing
Namecheap offers some of the most cost-effective hosting plans available on the market today. They provide affordable web hosting plans. The most popular plan has unlimited domains, storage, bandwidth, email, and other perks. With their simple control panel, you can manage everything without any hassle.
Namecheap provides six hosting plans:
Shared Hosting
VPS Hosting
WordPress Hosting
Reseller Hosting
Dedicated servers
Shared Hosting
Most small business owners first ask how to choose a web host for their website. With so many companies offering hosting services, it can be challenging to make a choice. Fortunately, Namecheap shared hosting is a great option for small businesses. It's affordable and offers the speed, reliability, and security that every business needs. Plus, Namecheap shared hosting comes with an auto backup & cloud storage!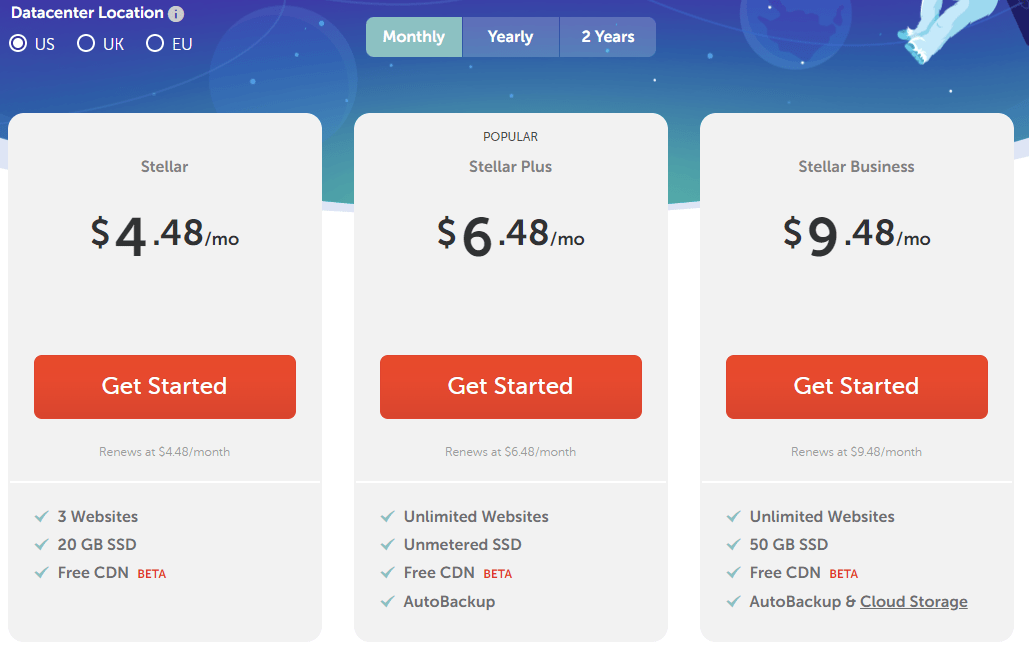 SAVE UP TO 83% on SHARED HOSTING BUNDLE
VPS Hosting
The Namecheap VPS hosting is the most popular web hosting service for medium businesses. It allows you to host websites and blogs at reasonable prices. It is suitable for people who need web space and website bandwidth. They offer free VPS services with full root access and Operating System (OS) selection. That means you can use the full features of our Virtual Private Servers (VPS). Unlike their competitors, Namecheap offers VPS services with a full 30-day money-back guarantee, complete control, and total flexibility.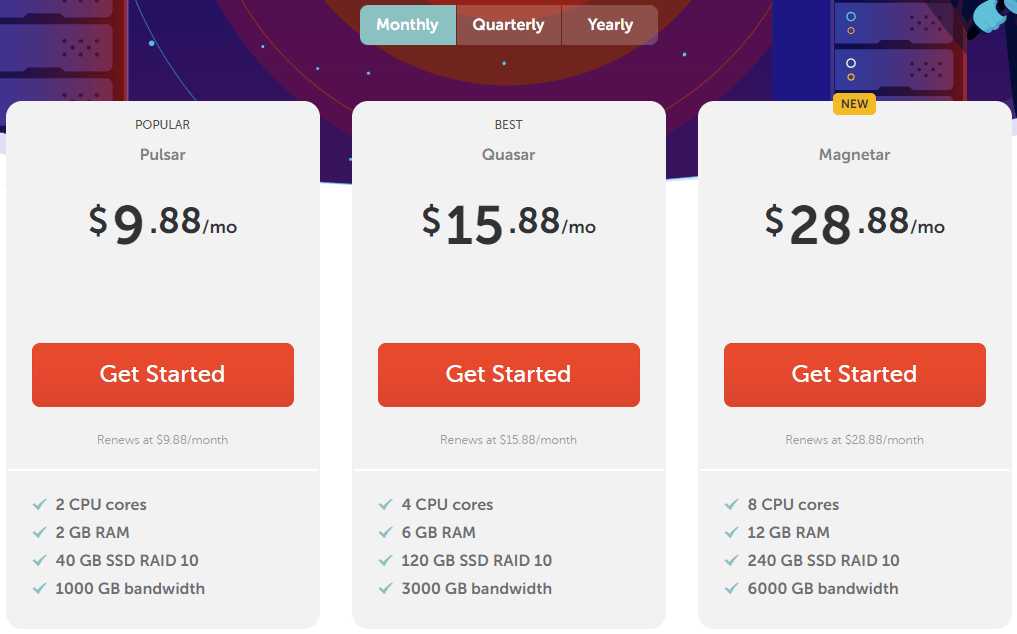 WordPress Hosting
Namecheap offers an excellent solution for anyone looking for a reliable, affordable, and easy-to-use WordPress hosting service. This package is best for small to large-scale businesses. Namecheap's WordPress hosting comes with three different packages EasyWP Starter, EasyWP Turbo, and EasyWP Supersonic.
NC EasyWP packages provide numerous key features, such as storage and monthly visitors, and 1x WordPress websites that can install in under 90 seconds. Furthermore, Cloud Seamless scalability as visitors expands, which is 3x faster than traditional hosting. Plus, it is safe, secure, and simple to back up and recover SFTP and database access.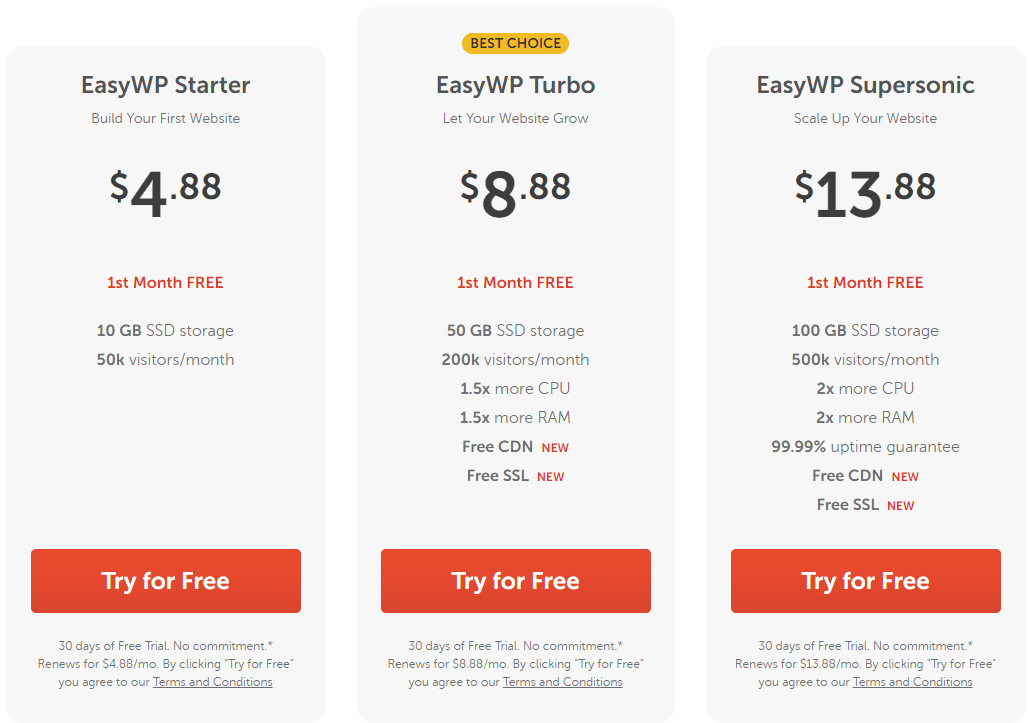 In addition, Namecheap rate is competitive with the world's leading WordPress hosting companies. Their EasyWP plans contain the most premium features for the best value, not just for the cheapest and fastest service.
Reseller Hosting
Namecheap provides reseller hosting plans for individuals and small businesses who want to use their shared server hosting. You can choose between three different plans. Nebula, Galaxy Expert, and Universe Pro. The hosting packages include unmetered bandwidth and a 99.9% uptime guarantee. It's great for those who want to test with a shared server hosting provider. They also provide Account Management Tools to assist you in getting the most out of your business.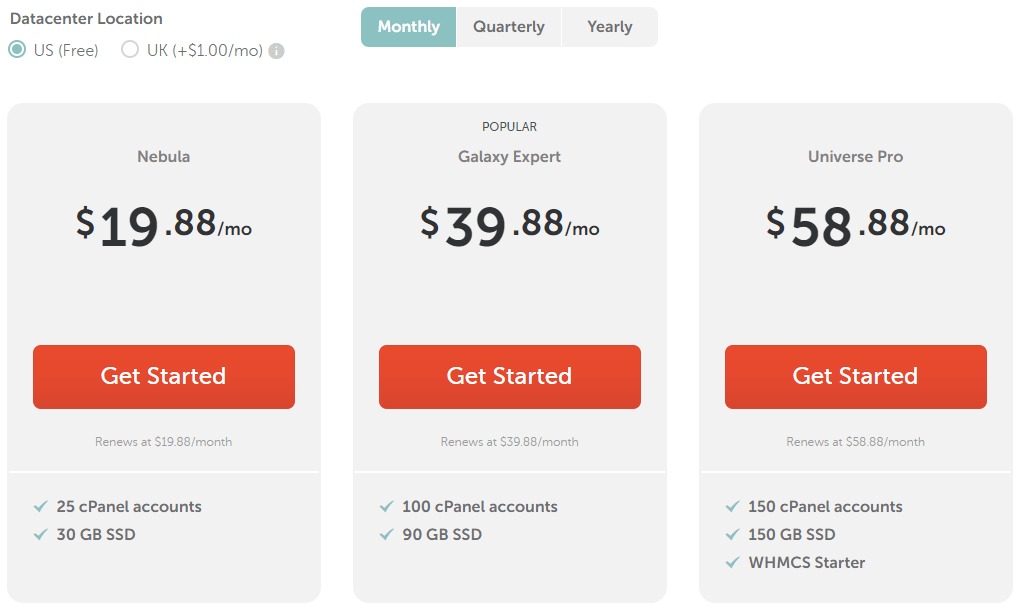 Dedicated Servers
Namecheap offers many web hosting services to its customers. Among those is a dedicated server hosting service. That means you'll be able to host your website on a physical computer rather than relying on cloud storage services.
Dedicated servers allow you to access your website's content directly without using a shared server. As a result, this is much faster and easier than using a cloud-based service. With Namecheap, you can create your fully-managed dedicated server.
Namecheap's dedicated plan offers free migration, a Datacenter Power Reliability, and a same-day setup.
Furthermore, Namecheap Server Level Choice is an excellent option. Whether you own a small or a high-traffic website. You can select from Entry, Medium, or Advanced level servers to meet your company's demands. Therefore, if you're searching for a dedicated web host with plenty of resources and outstanding customer service, you won't find a better-dedicated plan anywhere.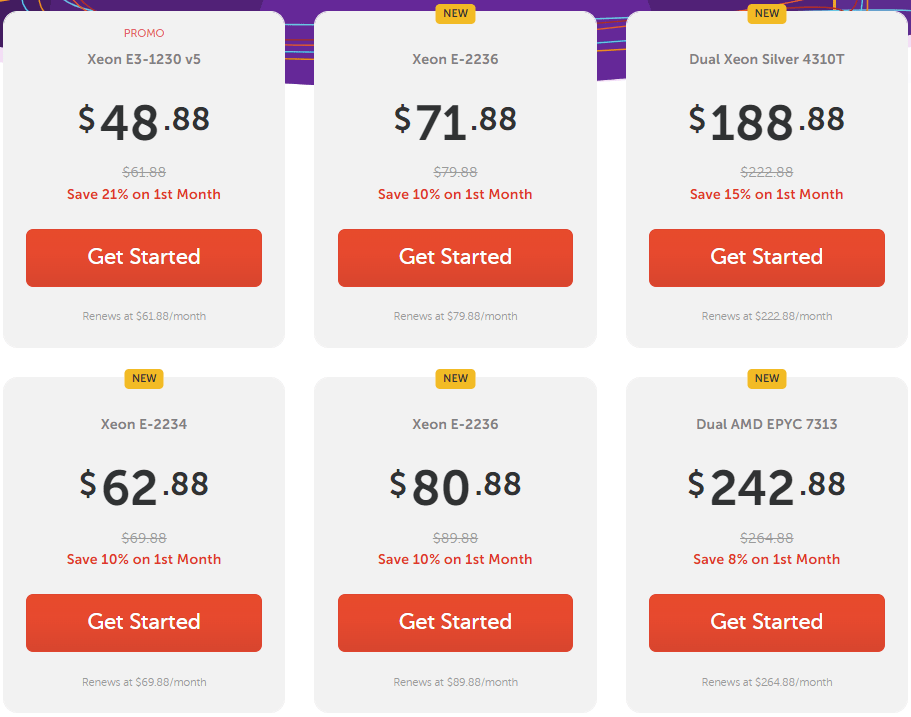 HostGator Plans and Pricing
HostGator is a hosting web service that offers low prices and high-quality support. When it comes to hosting, they've got a pretty broad selection. With plans ranging from a low price per month to high-end, it's a good idea to research before signing up. You don't have to commit to a plan right away, though. Instead, you can sign up for a free trial and test their services before deciding if they fit your site well. They have a 45-day money-back guarantee, so if you cancel within 45 days of signing up, you will not be charged.
HostGator is a great choice for anyone looking to build a website or a blog. The company also offers free domain registration with every account, a 99.9% uptime guarantee, and 24/7 customer service via chat and email.
HostGator provides seven types of web hosting.  We only cover five popular types:
Shared Hosting
VPS Hosting
WordPress Hosting
Reseller Hosting
Dedicated servers
Window Hosting
Shared Hosting
HostGator is an excellent provider of shared hosting services. Each plan comes with a free SSL certificate, one-click WordPress install, free domain for a year, unlimited storage, free WordPress or cPanel website transfer, and unlimited bandwidth. The service is affordable, and you can start for as low as $2.75/month.
As long as you pay your bills on time, Hostagtor's support team will take care of anything that might go wrong. HostGator also offers managed solutions designed to reduce downtime and eliminate maintenance issues.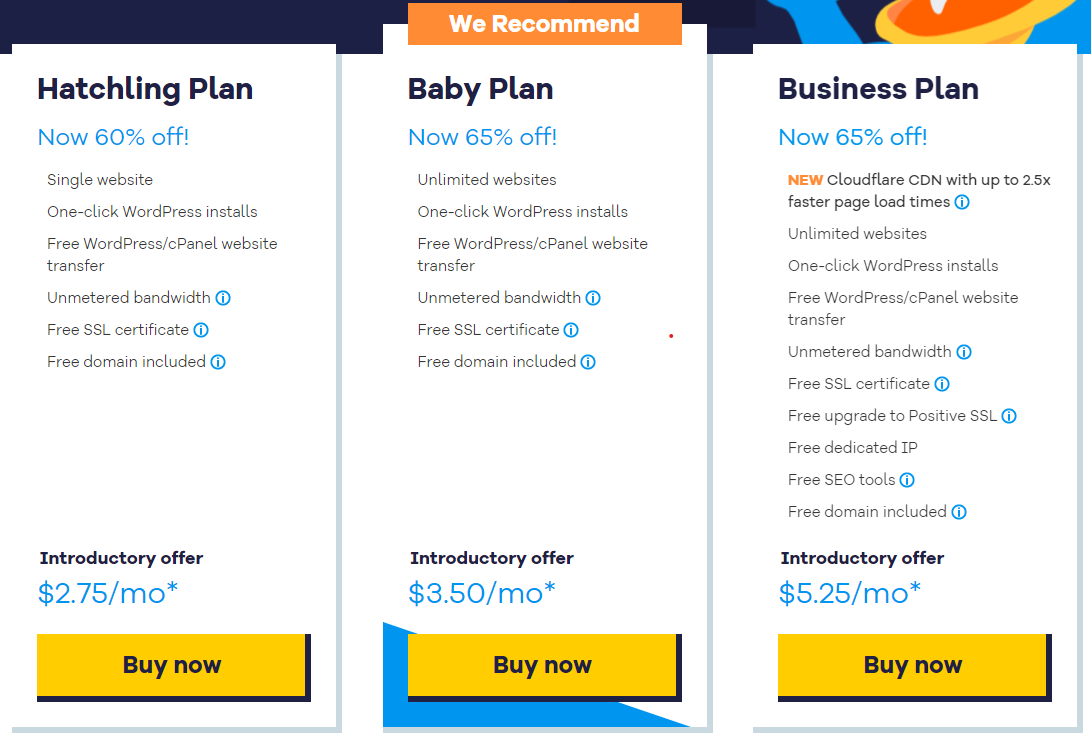 VPS Hosting
HostGator is one of the world's most well-known web hosting providers. Their VPS plan is designed specifically for small to large agencies. The company offers a free domain name when you sign up. So even if you aren't planning to sell anything, you're getting a great deal on a quality web host.
Every VPS hosting plan comes with storage, weekly backups, cPanel, unlimited email accounts, and lets-encrypt SSL, and you can transfer as much bandwidth as you need(unlimited). That means you won't have any bandwidth restrictions when transferring large files or streaming videos.
However, if you want to upgrade from shared hosting packages and you're puzzled by HostGator or Namecheap. We recommend Namecheap for the VPS server. Furthermore, if you want the best value VPS Host, there is no better option than Hostinger.
WordPress Hosting
WordPress is a popular blogging platform that allows users to create websites quickly and easily. With a vast community of users, WordPress is used by millions of people around the world.
HostGator's WordPress hosting plan is an excellent choice if you're looking for a simple and affordable option for hosting your WordPress website. The plans include a free domain, free WordPress installation, site migration, free SSL certificate, and storage.
Moreover, you get peace of mind knowing that your site is hosted on one of the most reliable web providers. WordPress hosting plans are perfect for anyone who wants to create a website with WordPress but doesn't want to spend a fortune.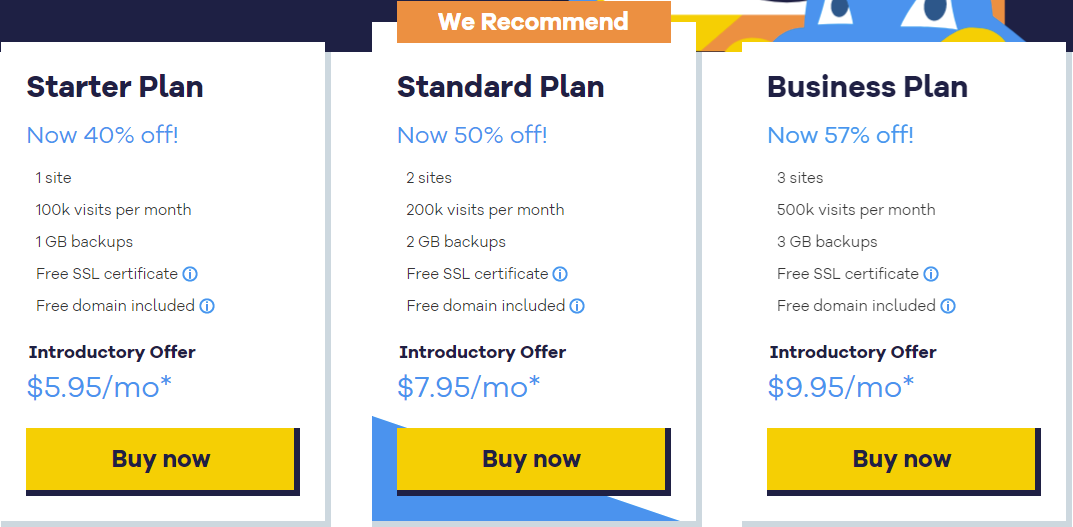 While discussing WordPress hosting packages, you should check Hostinger's WP packages. Because they are less expensive and provide better website performance than Namecheap and HostGator.
Reseller Hosting
HostGator's reseller hosting plans are among the best on the market. Their plan is designed for customers who want a simple and secure environment to build an online presence. It's a complete solution for new businesses looking to develop their online presence. All HostGator reseller plans include unlimited websites, WHM, and cPanel access.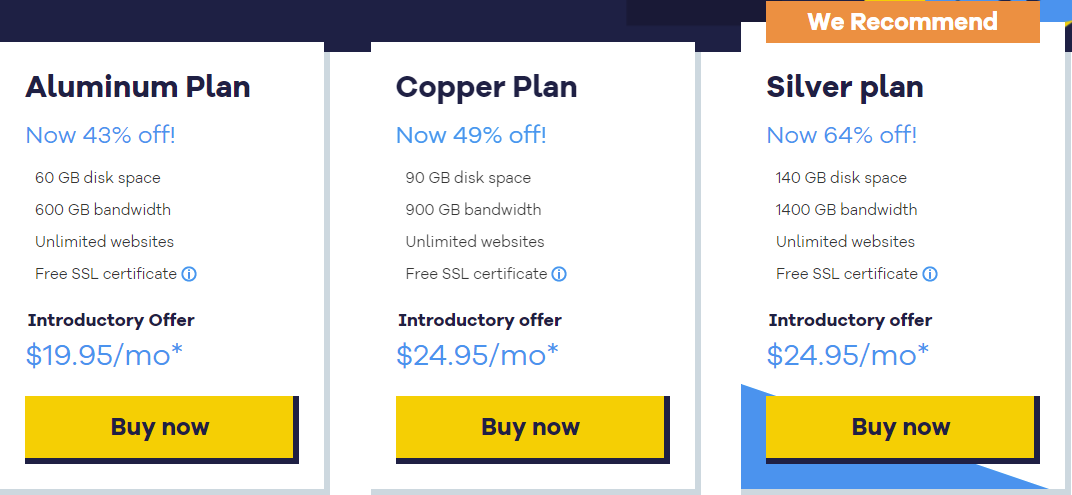 Dedicated Hosting
HostGator's dedicated hosting plans provide an excellent starting point for your business. All plans include HDD or SDD hard drives, an IP-based firewall (which keeps the server safe), and a flexible control panel for easy management, like Namecheap's server. Four types of plans are available, and they're priced reasonably.
In addition, all three of these plans include daily backup of your site, so you can rest easy knowing that everything is backed up in case of an emergency.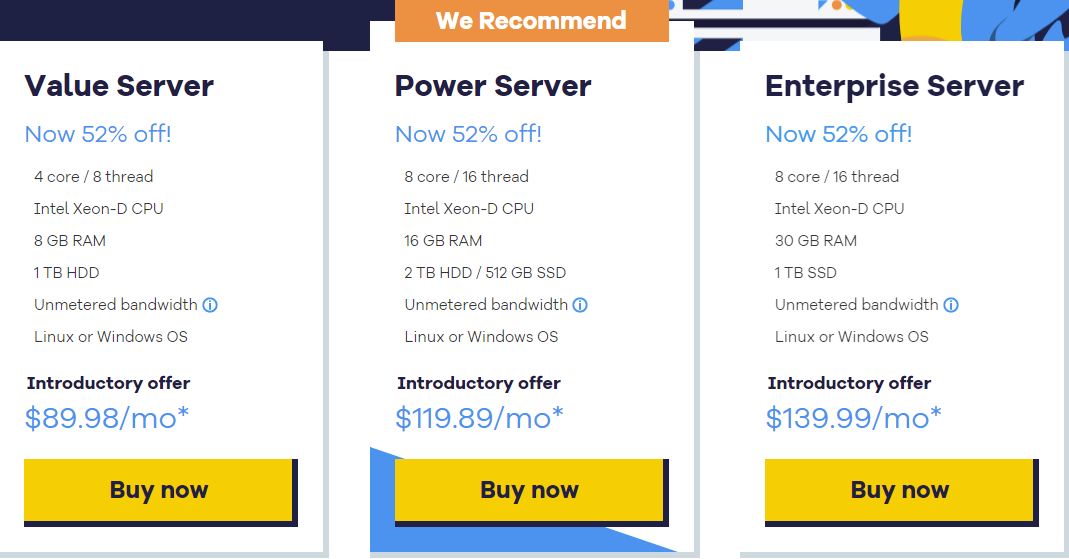 Okay, we discussed both companies' plans. Now maybe you wondering
What will be their renewal pricing?
After all, they have a Cheaper price tag in the hosting market.
Namecheap vs HostGator: Renewal Prices
HostGator has the most competitive renewal pricing. They offer several pricing options for shared hosting. HostGator renewal fees are $11.95 per month for the Hatchling Plan, $12.95 per month for the Baby Plan (recommended), and $15.99 per month for the Business Plan.
If you purchase a Baby Plan web hosting package for a year. The cost is only $5.00 per month, with 58.16% off. The plan renews for $11.95. If you purchase the package for three years, your monthly price will be $3.50, a savings of 64.82%. The plan will be renewed in 2025 for $9.99 per month.
You should buy the Baby Plan for 36 months and get the most out of it.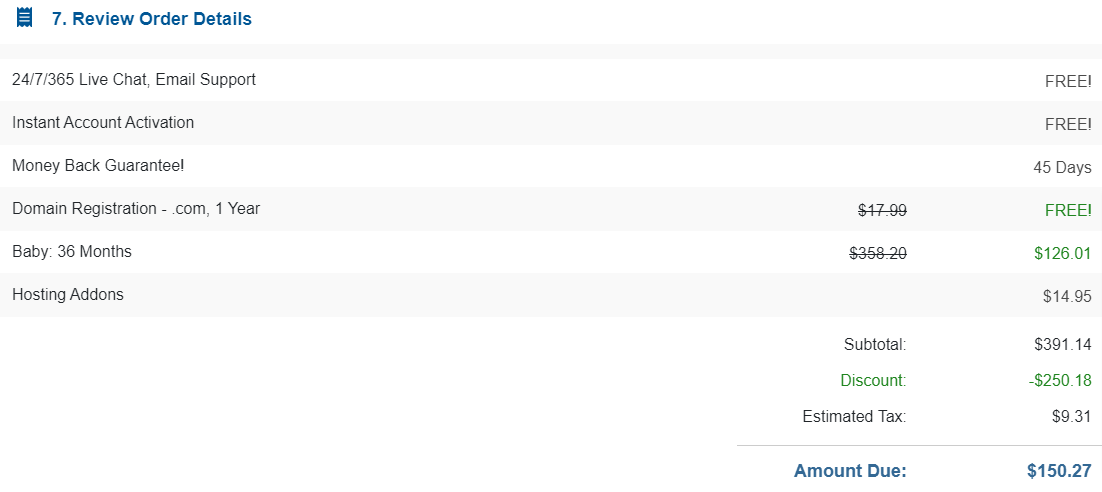 HostGator Domain
.com $12.95/year. Renews at $18.99/year
.org $12.95/year. Renews at $18.99/year
.info $12.95/year. Renews at $18.99/year
.net $12.95/year. Renews at $18.99/year
While Namecheap has affordable renewal fees. The company charges different prices for shared hosting services. Namecheap charges $4.48 per month for Steller, $6.48 per month for Steller Plus, which is popular for hosting sites, and $9.48 per month for Steller Business.
The cost of a Namecheap Steller Plus web hosting package for one year is only $37.88. The plan renews for $75.88 yearly, and the Steller Plus package costs $68.88 for two years. The plan renews for $150.88 each year.
Namecheap Domain
.com $8.98/year. Renews at $13.98/year
.org $8.98/year. Renews at $12.98/year
.info $3.98/year. Renews at $17.98/year
.net $10.95/year. Renews at $12.98/year
Note: Namecheap will increase its .com domain's price after September.
As you can see, Namecheap offers lower domain prices than HostGator.
In Namecheap vs HostGator plans and pricing comparison, Namecheap is the winner because of its cheaper pricing. While HostGator is more expensive. But you receive greater resources.
Now we will compare both web hostings' uptime and reliability. It has an important role in a website because it determines the speed of the website.
So let's get into this.
Uptime and Reliability of Namecheap and HostGator
Namecheap is one of the most trusted web hosting companies, offering a wide range of products and services. The company claims that it has a 99.9% uptime guarantee.
Namecheap offers a reliable, fast, and affordable web hosting service. With nearly 20 years in business, this company has gained an excellent reputation for quality and value. When choosing a host, it is important to consider the stability of the server's uptime. Namecheap has a very high uptime rate, averaging 99.9% over the last several years. The company offers DNS servers that have been tested to ensure they function at optimum performance. Namecheap has a proven track record of reliability and performance, making them a good option for anyone looking for a reliable web host.
On the Other hand, with hundreds of thousands of customers, HostGator is one of the biggest names in the industry. But how does a company with such a large customer base maintain a 99.9% uptime? That's what HostGator's founder wanted to know, so he decided to build his own monitoring tools to ensure that the service would never fail. Today, HostGator offers comprehensive monitoring and management services, which help its users keep their websites up and running 24 hours a day, seven days a week. So if you're looking for a web host that you can trust to deliver on its promises, then HostGator is a perfect choice.
Is Namecheap faster than HostGator?
Yes, we established two new test WordPress websites with Elementor, one with Namecheap and the other with HostGator. We then used the online monitoring tool Pingdom to check the loading times of these sites.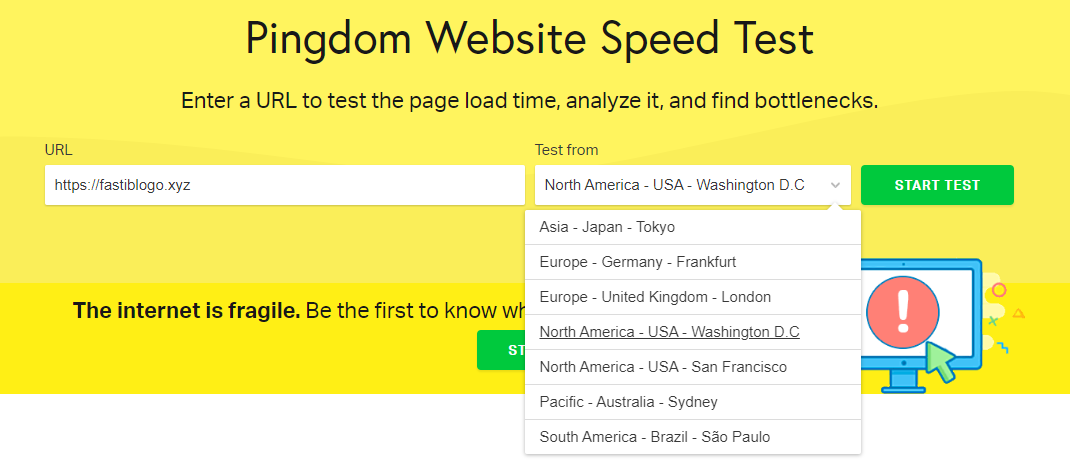 The results of the HostGator site are shown below:
Asia – Japan – Tokyo: 1.24s
North America – USA – Washington D.C: 1.10s
Europe – United Kingdom –  London: 1.32s
Pacific – Australia – Sydney: 1.41s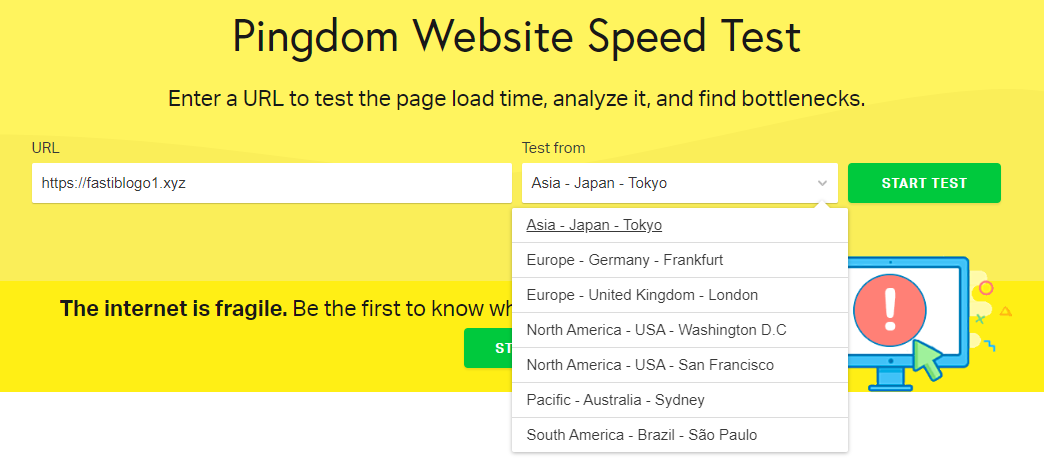 Here is the result of the Namecheap website:
Asia – Japan – Tokyo: 1.32s
North America – USA – Washington D.C: 1.34s
Europe – United Kingdom –  London: 1.54s
Pacific – Australia – Sydney: 1.65s
In Namecheap vs HostGator uptime and reliability, HostGator is the winner because HostGator is faster than Namecheap.
The next thing we'll discuss is the website's security. We all know how important security is to protect your website from hackers.
So, let's dive right in.
Website Security
If you're the website owner, you know your content is valuable and could be stolen from you anytime. Hackers can access your website through various means, such as through malicious links, infected websites, and third-party applications. However, both Namecheap and HostGator are well protected. And provide the incredible security that a website needs.
Namecheap Security
Namecheap offers low-cost security.
Fast VPN — Namecheap VPN protects your privacy, keeps your data concealed, and allows you to browse the internet safely on public Wi-Fi. $9.88 for 1st year and renews at $34.56.
Domain Privacy — Protect domain owner contact information from the public Whois database. Free lifetime protection.
Premium DNS — Boost your DNS speeds across the globe. $2.98 in 1st year and renews at $9.98.
Positive SSL — Namecheap SSL certificates encrypt websites, making them secure and safe for visitors. The website is made more secure by encryption, which protects users from hackers attempting to steal personal information such as credit card details. In some packages, it's free. However, SSL renews at $12.00/yr.

HostGator Security
Hostgator includes
Positive SSL — HostGator SSL gives domain validation and the ability to track the website's domain ownership. All plans include free SSL and renew at $39.99/yr.
SiteLock Security — Hostgator SiteLock is a professional security package that secures your website against malware, SQL injection, cross-site scripting, and other malicious techniques. It costs $5.99/mo* and  $71.88/yr.
CodeGuard — HostGator Codeguard Essentially, it is a time machine. Because of the daily backup option, you can secure your site from viruses, spam, hackers, and damaged code when something goes wrong. Costs 2.75/mo* and $23.95 a year for small sites.
Is HostGator More Secure Than Namecheap?
Yes, HostGator is more secure than Namecheap because HostGator provides SiteLock and CodeGuard security that protects your site and customers from cybercriminals. SiteLock scans your site for malicious content and removes it. You will be informed through email if any malicious and harmful code is found on your website. And CodeGuard is a like a time capsule. You can go back and fix the broken files and databases.
Many hosts, including HostGator, automatically install a siteLock on new sites, and you don't have to do anything to activate the plugin. But it would help if you used a siteLock to secure your site regardless of whether your host offers it as an add-on feature. This way, you'll be protected from the risk of data theft, hacking, and identity theft. Moreover, it helps you to save your reputation by lowering your chances of being blacklisted.
So In terms of security, HostGator is a better choice than Namecheap. However, you must pay extra charges for greater security. To be honest, we all want to keep our businesses safe. Therefore, spending a little more will save you from more serious harm.
We discuss security now. I believe it's time to review Namecheap and HostGator customer support. And see which one is more helpful.
So let's get started.
Customer Support
Namecheap is the most reliable company. It offers quality customer service and is known for its speedy response times. The Namecheap customer support team is accessible 24/7 to address any inquiries if you have any questions or concerns. The customer support team offers a comprehensive list of helpful resources that will answer most questions. You may contact them for free website migration services and troubleshooting advice if you have problems with your account or website.
But, the problem is:
Namecheap doesn't provide phone service.
You can only reach them via chat and submit a ticket. I have used their live chat service, which does provide a high-quality live chat service. They also have a knowledge base where you can ask them any question.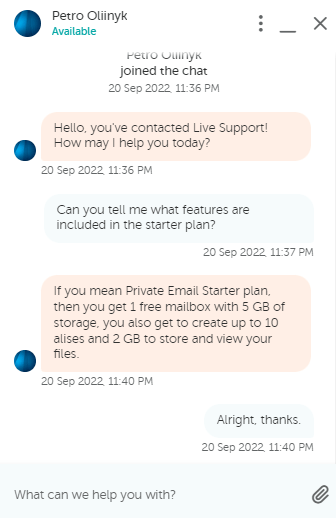 HostGator is a web hosting company. Their website has lots of Knowledge base information about their service. If you ever have trouble with a server, the first thing you should do is contact HostGator's 24/7 Live Chat support.
After getting to know about Namecheap's customer support. You might be thinking:
Does HostGator provide phone service?
Yes, of course.
You can approach their customer support team by phone or email them if you need to change your billing information or report a technical fault. They are available between 11 am-9 pm ET.  You can call them or email them, but even with all of these alternatives, you may experience difficulty. That's why it's important to read customer reviews to understand how they've treated previous consumers.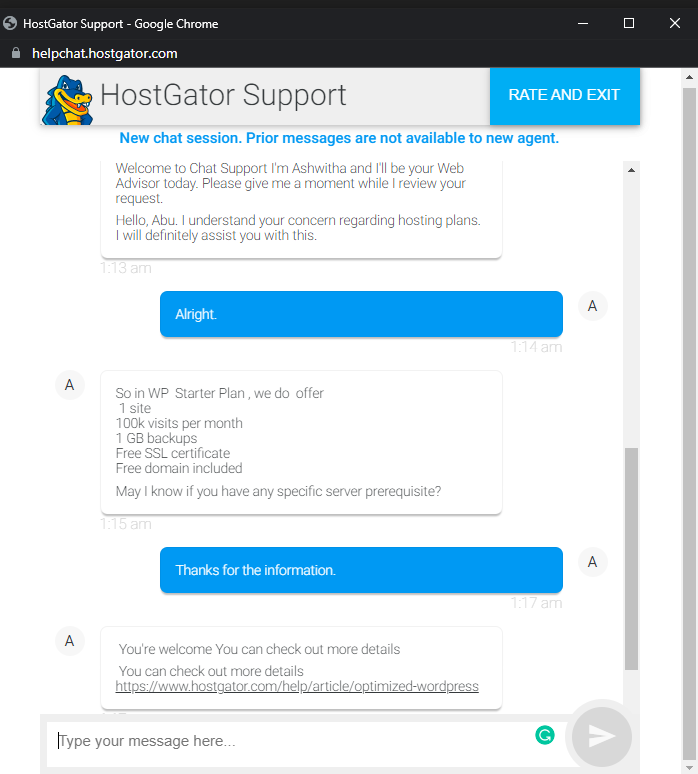 Regarding customer support, it's a tie.
Because HostGator and Namecheap demonstrated that their services are of high quality. I put them on a test by contacting each provider via live chat. Both provider agents responded quickly and resolved our issues quickly. Furthermore, their knowledge bases are incredibly useful and simple to understand.
Namecheap vs HostGator: Final Verdict
Namecheap and Hostgator are two of the biggest names in web hosting. They offer reliable services, great customer service, and reasonable pricing plans.
Overall, HostGator vs Namecheap Comparison,
HostGator winner because of its great speed, security, flexible plans, and excellent customer service.
That being said, Namecheap is a wonderful alternative if you're a beginner and want to dip your hands in online business without making large financial expenditures.
Namecheap Alternatives
HostGator Alternatives
Conclusion
I hope this Namecheap vs HostGator comparison guide helped make your decision.
Now I'd like want to hear from you, which company you went to
Namecheap or HostGator?
Or you may still need our advice in making a well-informed decision.
Let me know by leaving a comment below right now. Thank you!