Are you planning to start a website or blog? If so, then the first thing you must do is to choose a good web hosting service. Hundreds of web host providers are available, and choosing one without any information is not easy. So here are a definitive guide to Bluehost.
If you're a small business owner, you probably already know that having your website is vital to establishing a brand identity online. However, while it's pretty easy to set up a basic website, finding a web hosting company that can help you keep it alive over time can be a little trickier. Thankfully, BlueHost is here to help! This company offers a wide variety of different plans, all of which include free domain names, free SSL, unlimited email accounts, and 4/7 customer support. In addition, If you want to optimize your website for search engines like Google, BlueHost offers one of the most comprehensive website management tools. With them, you can manage multiple sites from the same dashboard. BlueHost can be a great starting point if you're new to blogging.
Read this table for basic information if you don't have enough time to read the whole article!
| Features | Bluehost |
| --- | --- |
| Hosting Type | Shared hosting, dedicated hosting, VPS hosting, WordPress hosting |
| Free Domain | Yes |
| Pricing | $2.95/month |
| Data storage | 10GB-120GB |
| Bandwidth | Unmetered |
| Website Backups | Yes |
| Dedicated Hosting | Yes |
| cPanel | Yes |
| Free CDN | Yes |
| Free Migration Site | Yes |
| Money-Back Guarantee | 30-day money-back guarantee |
| Customer Support | 24/7 live chat, phone, knowledge base, email |
| Uptime Guarantee | 99.99% |
| Server Location | Orem, Utah, USA |
| Security | SSL certificate, CDN, siteLock |
| Email Hosting | $3.00/month |
| ⭐ Rating | 4.7/5 |
| Website | Bluehost.com |
Interesting? keep reading to get to know about the company.
Overview
The Bluehost company overview shows the history of Bluehost, who they are, its mission, and what they offer. This section also includes customer support, hosting plans, and additional resources.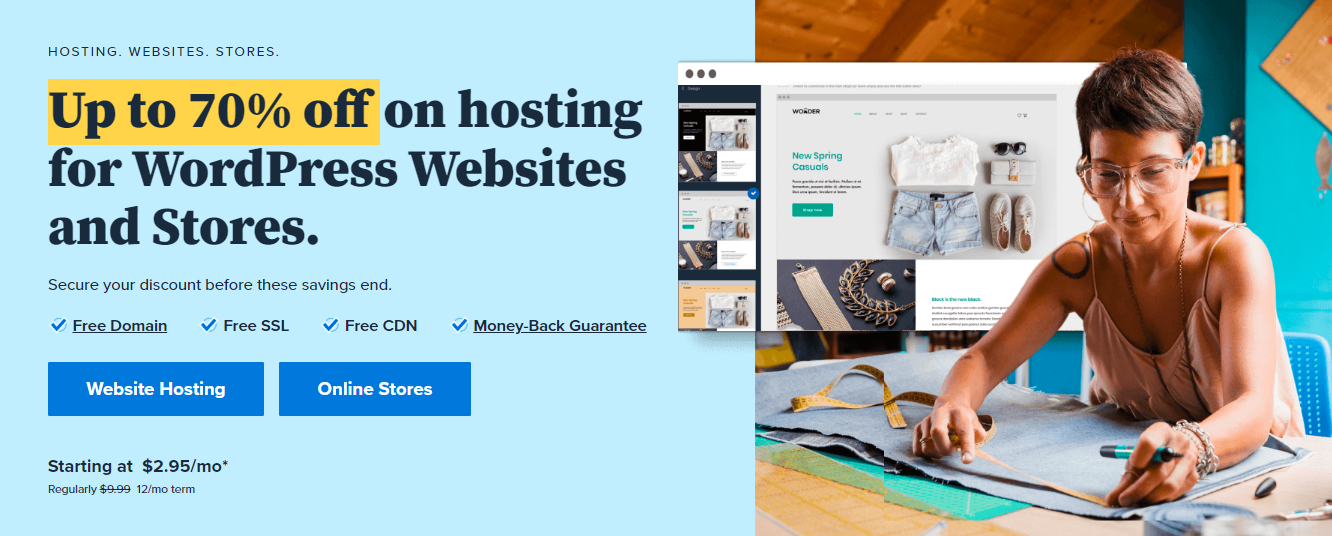 Bluehost is a well-known web hosting solutions provider based out of Orem, Utah, USA. It was founded in 2003 by Matt Heaton and Danny Ashworth. Ever since they have been providing web hosting services. In 2007, 500,000 domains were registered on Bluehost.com. Today bluehost.com powers over two million domains worldwide and supports thousands of domains daily. The BlueHost company provides high-quality services and, over the years, has become one of the top web hosting providers in the industry. Its mission is simple: to deliver the best possible service at the lowest cost. So if you're looking for a reliable web host, then BlueHost should be a safe bet.
Bluehost Headquarter
5335 Gate Pkwy,
2nd Floor,
Jacksonville, FL 32256
Bluehost takes pride in the quality of its customer support and the reliability of its servers, making its products a popular choice for various businesses. You can choose from a range of packages and even a free trial if you want to try their service. They also have several valuable resources on their website that can help you start your own web hosting business.
If you have decided to move your website to Bluehost, you can start the process in minutes. Bluehost offers free domain name, free domain parking, unlimited email accounts, free website builders, daily backups, and other benefits. Bluehost company is not the cheapest or most expensive option for web hosting, but its customer service, feature, and control panel are outstanding. Bluehost is the right choice for those looking for an affordable solution.
You may be wondering at this point what their plans' costs and features will be.
I will share all the plans and packages with details so that it will be easy for you to choose a package depending on your needs.
Plans And Pricing Of Bluehost
When it comes to choosing a web hosting provider, there are plenty of options out there. However, some companies may overcharge their customers, while others may not offer enough value to justify their costs. Researching and finding a company that meets your unique needs is important.
The Bluehost platform provides all the tools you need to build and maintain a website, offering great support for new and experienced users. You can get all the features and services you need to run a website online for a small price. Bluehost offers all the basic features you'd expect in a hosting plan but provides more advanced options, like email, FTP, WordPress support, etc. With Bluehost, you get a full-featured cPanel control panel to manage all aspects of your website or blog easily. Plus, you can also sign up for a free trial with Bluehost to get a feel for the service, and you'll be able to save money if you sign up for their annual plan.
They offer the following web hosting plans:
Shared Hosting
Dedicated Hosting
VPS Hosting
WordPress Hosting
Shared Hosting
Many bloggers choose to self-host their websites. That allows you to control the look and feel of your website. Your web server's purchase could be costly. You might choose a shared hosting solution to reduce costs. A shared hosting service allows you to host multiple websites on one web server, so you only have to pay one monthly fee. They offer easy-to-use options to help new users get set up with WordPress and other content management systems. All packages include 24/7 support, custom themes, free CDN, free domain, WordPress integration, and more.
Basic ($2.95/mo) is best for only one website. The Basic plan offers easy and free access to WordPress via our custom dashboard, 10GB SSD storage, custom themes, free domain for one year, free CDN, standard level server performance, and limited email (5 boxes at 100MB per box) for your domain all at our most affordable rates. You also get a FREE SSL for your site to satisfy Google's HTTPS security requirements and protect sensitive information while in transit to your site!
Plus ($4.45/mo) is perfect for those who want to run multiple websites. This package includes unlimited websites, 20GB SSD storage, custom themes, free domain name for one year, free SSL, and free CDN, plus you get UNLIMITED EMAIL BOXES and UNMETERED email storage too. That means you can create as many websites as possible with only one package.
Choice Plus ($5.45/mo) comes with added security and privacy features. The choice plus plan is perfect for you. It is also a recommended package. You can get more storage, unlimited website, free domain, free SSL, free CDN, and free domain privacy at the same price as the plus plan. Plus, they offer free automated backup for one year.
Pro ($13.95/mo) gets more power using optimized online resources. This package is perfect for any professional blogger with a free dedicated IP and 100 GB SSD storage.
Dedicated Hosting
In addition to providing affordable shared hosting, Bluehost offers dedicated hosting services for those who want more control over their website and server performance. Dedicated hosting allows website owners to host their websites, which makes them more independent than shared hosting. The amount of resources you receive depends on how much you pay for the plan. It's important to ensure that you choose a provider that offers the right resources for your business and your needs.
You don't have to be concerned about the hosting environment and can choose any operating system you want. Since dedicated servers cater to only one website, you won't have to worry about bandwidth restrictions or running out of resources when managing multiple sites. Finally, because dedicated hosting provides its private server, you'll enjoy complete control over it. That means you'll have access to a more significant number of options for customizing your website. With dedicated hosting, your site will have everything it needs to perform optimally.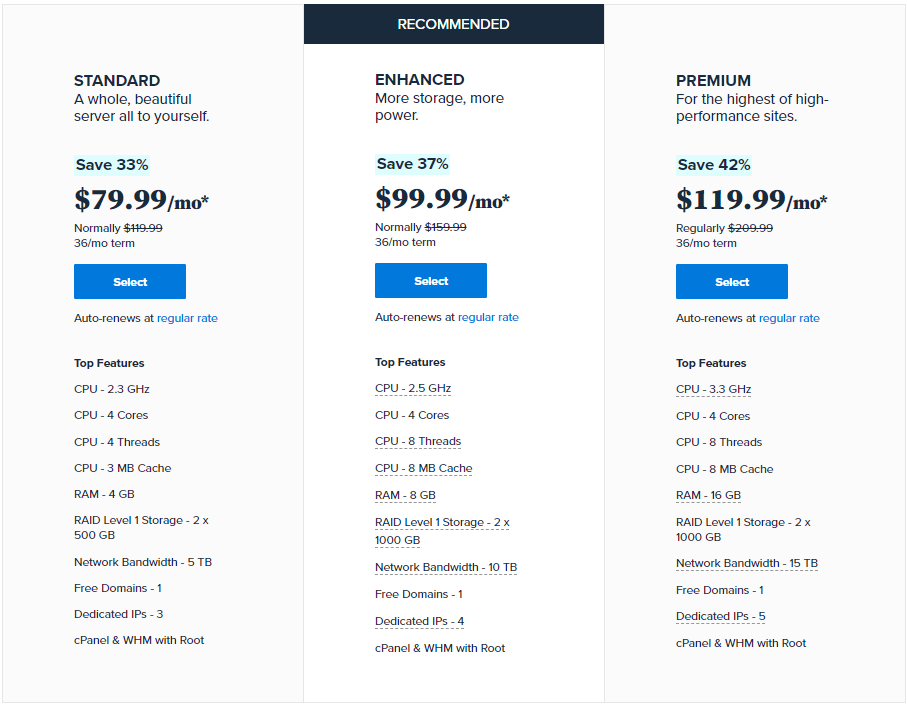 The only downside of Bluehost's dedicated server is that they charge a little more than other companies. However, if you are serious about getting a website up and running, this service will be worth the investment.
VPS Hosting
The best thing about Bluehost's VPS hosting is that you can run your website on your server. That means you can set up the exact environment that you want for your site. Plus, you'll have full access to your server. That means you'll be able to install any software you wish to, and you won't have to worry about your web host having any control over your website. Another great feature of Bluehost's VPS hosting is that you can choose to operate your website as a shared or dedicated server. Moreover, you can also upgrade your account to a bigger plan at any time. Bluehost's VPS hosting is perfect for anyone interested in running their website.
Bluehost VPS hosting is the best choice if you need a reliable and fast server with multiple options for data transfer. Their Bluehost VPS Hosting accounts include unlimited bandwidth, SSD storage, IP Addresses, and a cPanel control panel. Plus, they offer 24/7 live chat and phone support.
Standard ($19.99/mo): The plan includes 2 cores with 30 GB SSD storage, 2 GB RAM, 1 TB bandwidth, and 1 IP address which is plenty enough for your small business to operate. If you like the services and want to continue, you can opt for a year or even longer-term plan.
Enhanced ($29.99/mo): Their hosting plan includes 2 Cores with 60 GB of memory, 4 GB RAM, 2 TB bandwidth, and 2 IP addresses. That means your website will run extremely fast, and you will have enough resources to make your site grow bigger over time. You'll also get access to industry-leading control panel software. cPanel offers an easy way to manage and monitor all aspects of your account.
Ultimate ($59.99/mo): With this plan, you get 4 cores with 120 GB SSD storage, 3 TB bandwidth, 8 GB RAM, and 2 IP addresses. That means hosting a website with an extensive database and enough space for storing files will be enough. Additionally, it comes with cPanel, so you can easily manage everything on the server, including domain names and email addresses.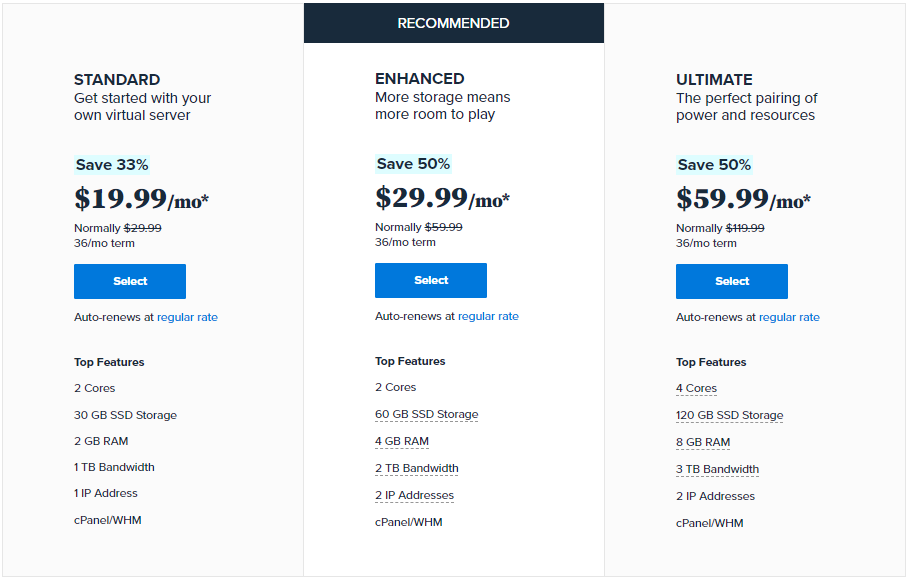 WordPress Hosting
A WordPress hosting service is a web host that offers WordPress users a place to store and manage their website content. It's easy to use, and thousands of developers and businesses use it daily. But if you want to benefit from the powerful capabilities of this powerful software, you'll need a website hosted on a web server that supports PHP. That's where Bluehost comes in. This web hosting service makes it easy to set up and maintain a functioning website, and you can get started for just $2.95 per month. WordPress and shared have the same hosting plans with the exact pricing.
You can host multiple WordPress sites on this service, so if you already have a web design business, you can use Bluehost to host several websites. Thanks to the Bluehost website builder, you'll also be able to get started quickly. It's free, so you won't have to worry about figuring out how to code your website. Plus, you can use the drag-and-drop functionality to add social media icons, forms, and other standard features to your site.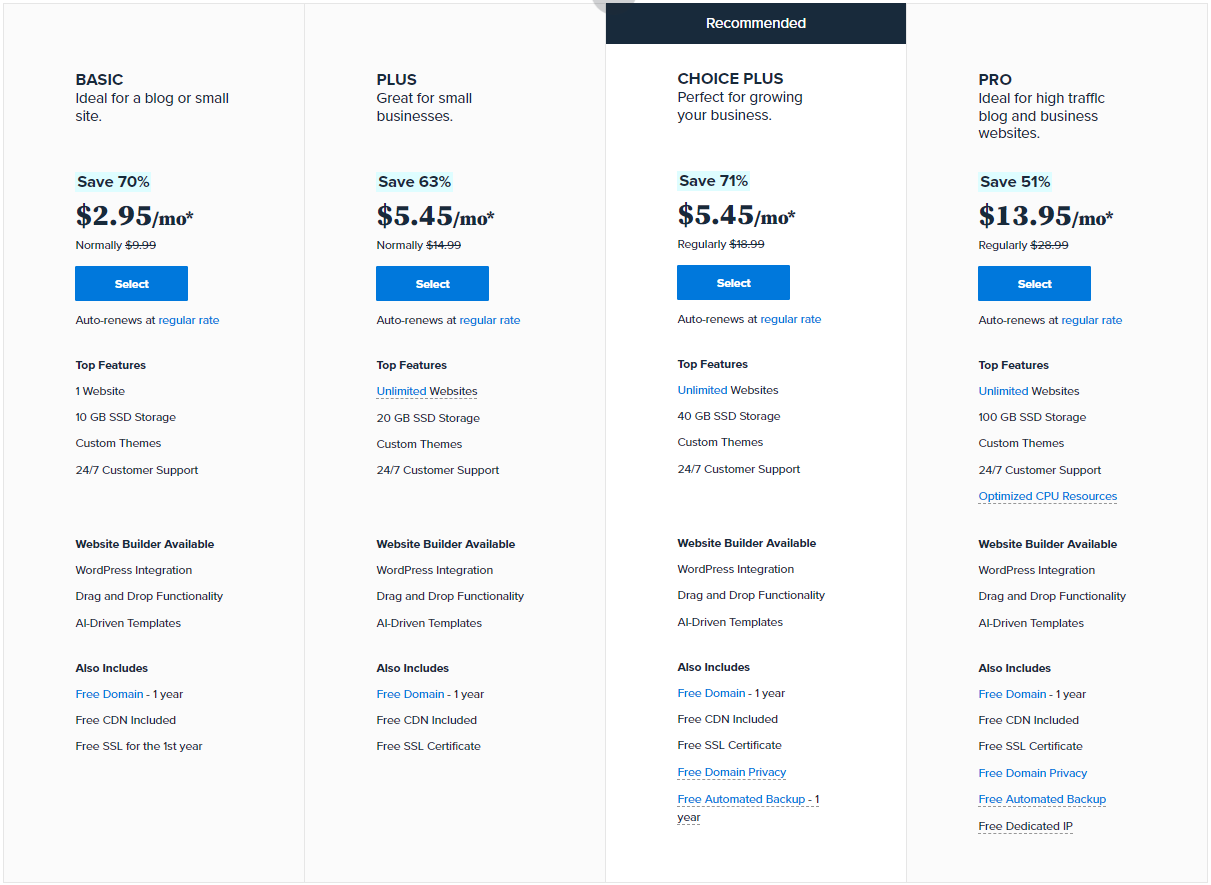 You might be thinking now about what will be their renewal prices.
Renewal prices
Bluehost has the most affordable renewal pricing. They offer yearly pricing options for shared hosting. Bluehost's renewal fees are $9.99 per month for the Basic plan after a discount of 70%, $14.99 per month for the Plus plan with 63% off, $18.99 per month for the Choice Plus (recommended) with a 71% discount, and $28.99 for the Pro plan after a 51% discount. If you purchase the Choice Plus package for a year, the cost will be $5.45 per month with a 71% discount, and the package then renews at $18.99. If you buy the same package for three years, the cost will be the same as a one-year hosting package.
Bluehost domain names
.com $12.99/1st yr. Renews at $18.99/year
.org $9.99/1st yr. Renews at $17.99/year
.net $18.99/1st yr. Renews at $18.99/year
.info $11.99/1st yr. Renews at $15.99/year
Uptime And Reliability Of Bluehost
Bluehost is an industry-leading web hosting company with more than 2 million domains registered and hosted on its servers. Its customers include some of the most popular brands in the world. But does that mean that their hosting is always perfect? Fortunately, that is not the case. Many companies are experiencing downtime due to hardware and software issues. But Bluehost takes uptime very seriously and wants to ensure their customers are delighted. That's why they offer a 99.99% guarantee on the uptime of their servers.
They are fully managed, so you don't have to worry about updating software and fixing issues. So if you sign up for a Bluehost account, you can rest easy knowing that your website won't ever go down.
Bluehost cPanel – A Complete Web Hosting Control Panel
cPanel is a popular hosting control panel used by web hosts across the globe. Users can administer their website from a single interface without logging into separate accounts. cPanel makes it much easier for users to manage their websites, and cPanel can streamline the process of creating and updating content. cPanel's main feature is its ability to provide a centralized backend interface for your website. Everything from adding new pages to managing email, storage, and security is easily accessible and organized. However, cPanel is not a plug-in replacement for your current hosting platform. Instead, it integrates seamlessly with your existing account to provide a central point for managing your website. For example, if you decide to switch providers, you won't have to worry about losing access to your website. cPanel also offers additional security features that can help protect your website.
Bluehost is one of the most well-known web hosting companies, and its control panel is one of the most simple and user-friendly. It's an excellent choice for beginners, making managing your site easy. It can also be customized to meet the unique requirements of different types of users, so even if you're an advanced cPanel user, you can still get the most out of it.
Bluehost cPanel Control Panel Review
With Bluehost, you don't have to be a computer expert to manage your site – it's easy and intuitive! Bluehost includes a control panel where you can easily manage your account without logging in to your website. You can easily add/edit/delete your domains and email accounts or even manage your FTP server.
You can log in cPanel through the Bluehost website by clicking on Login in the upper right corner:

Enter your email or domain name as the username.
Enter your main account password.
Click on the Login button.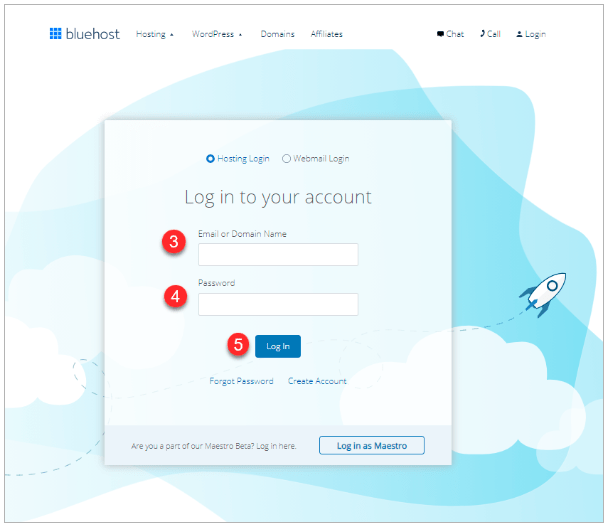 How Can You Create Backups At Bluehost?
Have you ever lost a file or important document on your computer? If so, you know how frustrating it can be when you're finally able to retrieve the missing data. What if that happens to you several times a day? Wouldn't it be great to have a solution to prevent data loss? Site Backup Pro is a powerful utility that can backup and restore files or folders. It offers a quick and easy method to backup files in just a few clicks. And you can quickly restore your files in a matter of seconds.
The site backup pro tool is a software program that allows you to back up and restore files or folders from your computer. This tool is excellent for backing up and restoring your computer's documents, spreadsheets, presentations, music, pictures, videos, and other media files. Furthermore, the site backup pro tool has many features that include automatic backups, one-click restore, restore databases and tables, download .zip archives of files, recover single or multiple files, and daily, weekly, and monthly backup archives.
How to access site backup pro?
Use the Site Backup Pro tool, which can be found in your cPanel's File Management section, to back up or restore the files that make up your website.
Log in to your Bluehost control panel.
Open the Site Backup Pro tool in the files section.

How To Keep Secure Your Website With Bluehost?
If you own a website, you should know that cybercriminals are always on the prowl for vulnerable websites. Because of this, it is essential to ensure that your website is secure. Cybercriminals use different techniques to hack into your site, and the most common ones are SQL injection attacks and cross-site scripting (XSS). Unfortunately, there are many things you can do to protect yourself against cyber attacks. The first step is to secure your website with a quality web host. But that's not all. You can also install anti-virus software, keep your operating systems updated, and avoid opening email attachments from strangers.
Bluehost SSL certificate support is your solution with so many different web hosting providers. What is an SSL certificate? SSL stands for Secure Sockets Layer, an encrypted connection between a web server and the end users' computers. Using an SSL certificate adds a layer of security to your website, making it more difficult for someone to intercept personal information such as credit card numbers and bank account information. Bluehost SSL support offers free SSL certificates to customers. These fully qualified domain name (FQDN) SSL certificates are compatible with all major browsers and web servers. SSL security can be vital to protecting your website and sensitive data, so it is essential to use a certificate that can properly encrypt your data and keep your visitors safe online. You can choose an EV SSL certificate, which uses advanced cryptographic techniques, or a simple standard SSL certificate. Either way, a trusted and reliable certificate is vital to protecting your site. With Bluehost SSL support, you can rest assured that your site is secure.
How to enable a free SSL certificate?
Log in to your Bluehost control panel.
After Login in, go to the side navigation menu on the left and select the My Sites tab.
Click the Manage Sites button after locating the website you want to activate the free SSL for: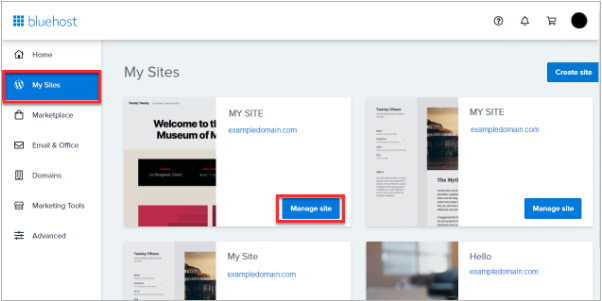 After then, open the security tab.
Turn on Free SSL under the Security Certificate tab: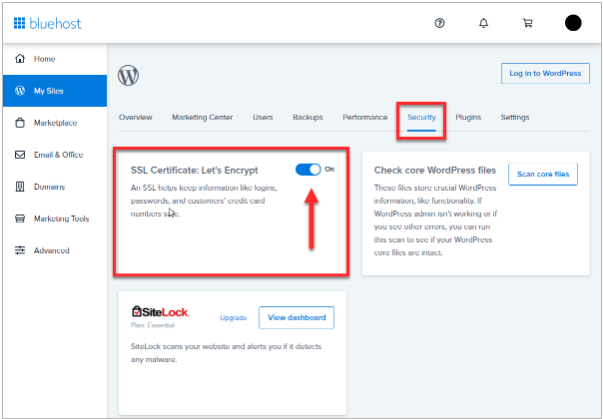 Note: After you turn on the SSL certificate, installing and activating it will take a few hours. In some situations, they may require your participation to finish the procedure. In that case, you'll get an email with instructions.
Customer support

Bluehost has been around for years, and its reputation as a reliable web hosting company is vital. But did you know that their customer service team is available around the clock? If you ever have a problem with your account or need help after hours, they are there to help. They have phone representatives available 24/7/365, you can reach them at 888-401-4678, and their live chat option is there every hour of the day. They also provide email support and chat options so you can communicate with a representative.
Bluehost's live chat option makes it easy to receive technical support from Bluehost's customer service representatives when you need help. Bluehost offers several types of live chat assistance: you can contact a support agent in any language or time zone or speak with a customer service specialist in English. Live chat is an excellent option for people who have trouble solving a technical issue and would rather not wait for tech support to get back to them. Bluehost also provides email support, which is available 24 hours a day. If you're having trouble with your account, Bluehost's email support team can usually help you out within a few minutes.
Pros And Cons Of Bluehost
Pros
Cheap pricing
Unmetered bandwidth
reliable security
30-day money-back guarantee
Free SSL certificate
Free domain name for the first year
cPanel control panel
High uptime and fast loading speed
Easy integration with WordPress
Good affiliate program
Automatic WordPress installation
24/7 customer support
Cons
Poor automatic backup service
High renewal prices
No cloud hosting
Conclusion
We've discussed Bluehost before, at the beginning of this review, but if you need help choosing a hosting solution, this is an excellent place to start. Plus, we'll tell you everything you need to know about their shared hosting packages, WordPress web hosting, VPS and dedicated servers, and other hosting services.
Bluehost is a cheap web hosting. They offer a 30-day money-back guarantee, are easy to sign up for, and are reliable. They also provide a free domain for the 1st year (unlike some other web hosts).
We hope that it helps you in deciding whether to host your website with Bluehost or not.
FAQs
Have a question? Our FAQs are a great place to get answers to common questions. Check out all the frequently asked questions, and contact us if you still can't find the answer.
What happens when a domain expires, Bluehost?
If you do not renew your domain registration, it will expire, and you will no longer be able to access your website.
What is Bluehost best for?
Bluehost is best for web hosting. Many people recommend this web host. Their prices are cheap, a 99.99% Uptime Guarantee, they offer many free resources such as blogs and web pages, and their support is good. They have a 30-day money-back guarantee, too.
How many domains can you host on Bluehost?
Bluehost allows customers to host as many domains as they want on one website.
We genuinely hope you enjoy and benefit from reading the blog.
Alternatives of Bluehost
Godaddy
A2 Hosting
TMD Hosting
HostGator
SiteGround
WP Engine