Hostinger and Bluehost are both the biggest names in web hosting. Each one offers all of the standard features you'd expect from a good web host. Hostinger vs Bluehost features include shared hosting plans, WordPress hosting, VPS hosting, and cPanel — but each has a specific selling point that sets it apart from the crowd.
We've put together this comparison so that you can quickly pick the best web hosting service for you. We'll cover everything from features, and pricing to user experience,
Who is Fast, Who is Reliable, and we'll also touch on some of the pros and cons each service offers.
If you're looking for a better hosting deal for your website, it's always smart to ask yourself, "Which one is cheaper?" It's not always a simple question, particularly when comparing different companies. One of the reasons why choosing a hosting provider can be so tricky is because it's almost always a numbers game. So,
How much space will I need?
What kind of features do they provide?
Will they allow me to host more than one website?
What kind of service level agreements do they offer?
All these factors should factor into your decision when choosing the best web hosting plan for your business.
If you don't have time, just read this table. We did the hard work for you to help you make the informed decision in choosing the right web company. We made the comparison based on the top features that every beginner should know.
Hostinger vs Bluehost
| Feature | Hostinger | Bluehost |
| --- | --- | --- |
| Hosting Types | Shared hosting, cloud hosting, VPS hosting, managed WordPress hosting | Shared hosting, dedicated hosting, VPS hosting, WordPress hosting |
| Free Domain | Yes | Yes |
| Pricing | $2.99/month | $2.95/month |
| Data Storage | 100 GB - unlimited | 10 GB - 120 GB |
| Bandwidth | 50 GB - 500 GB | Unmetered |
| Website Backups | Yes | No (only with WordPress hosting) |
| Dedicated Hosting | No | Yes |
| cPanel | No, hPanel | Yes |
| Free CDN | No, but if buy a 12, 24, and 48-month plan, you will get free CDN | Yes |
| Free Site Migration | Yes | Yes |
| Money Back Guarantee | 30-day | 30-day |
| Customer Support | 24/7 live chat, knowledge base, email | 24/7 live chat, phone, knowledge base, email |
| Uptime Guarantee | 99.9% | 99.99% |
| Server Location | Kaunas, Lithuania | Orem, Utah, USA |
| Security | SSL certificate, Cloudflare CDN | SSL certificate, Cloudflare CDN, siteLock |
| Email | No | $3.00/month |
| ⭐Rating | 4.8/5 | 4.7/5 |
| Website | www.hostinger.com | www.bluehost.com |
Hostinger beat Bluehost in terms of price, performance, support, Security, and Cloud features.
The cheap rate starts at $2.99/mo
Free website migration
99.9% Uptime Guarantee with 361ms response time
20 GB SSD Storage and 100 GB bandwidth
Free backups weekly
24/7/365 live chat, knowledge base, and email support
Offer Cloud hosting plans (Bluehost no longer providing cloud services)
90 days money-back guarantee
While Bluehost beat Hostinger in terms of Popularity, bandwidth, ease of use, and WordPress features.
The basic plan starts at $2.95/mo.
Dedicated hosting plans (Hostinger does not offer a dedicated server)
50GB SSD Storage and unmetered Bandwidth
Spam Expert protection and SiteLock add-on
99.9% Uptime but no guarantee and 511ms response time
Best for the WordPress website highly recommended by WordPress. Org.
24/7 customer support via live chat and phone (below avg support in technical issues)
Park 25 to unlimited subdomains
Daily backups but with extra fees in the basic plan
Free site migrations for quality WordPress sites within 30 after signing up
Only Focus on WooCommerce (offer affordable hosting plans)
30 days money-back guarantee
Visit Hostinger or BLUEHOST and get a free domain and hosting plan if you select Hostinger vs Bluehost!
If not, hang in there with us. We can discuss it in detail to get the answer.
The topic we are doing to discuss
Overview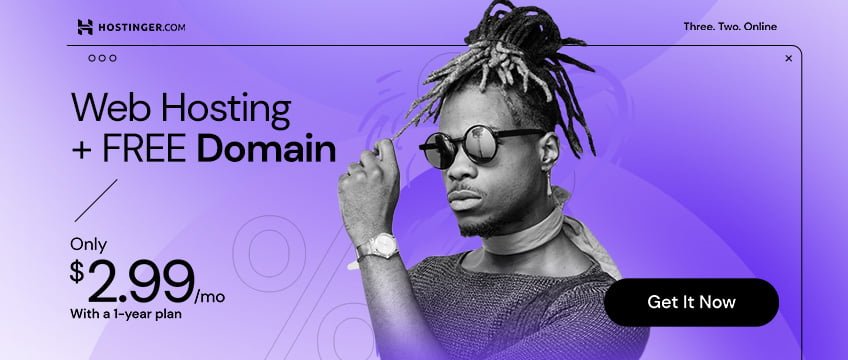 The Hostinger team started in the hosting industry in 2004, and since then, they've developed over time to become one of the leading web hosting services providers. Hostinger was established in 2011 in Germany, and in October 2012, the company started offering cloud hosting. Hostinger is based in Wiesbaden and has offices in Hamburg, Munich, Dusseldorf, and Stuttgart. The company was founded by Sebastian Hesselmeier and Maximilian Hesse, both IT experts. Hostinger is a webhosting provider. There's no doubt that their main goal is to help people create great websites. They also offer web design, eCommerce solutions, WordPress, and website management services.
This company has been operating for nearly 10 years and has become a worldwide brand. With over 12,000 satisfied customers and 5 million page views per month, Hostinger has achieved remarkable success. The company now hosts over 10 million websites in countries including the United States, Russia, and the Philippines. It is also a fast-growing company, currently ranked #4. This can be attributed to its excellent customer service, high-quality products, and commitment to providing the best hosting solutions.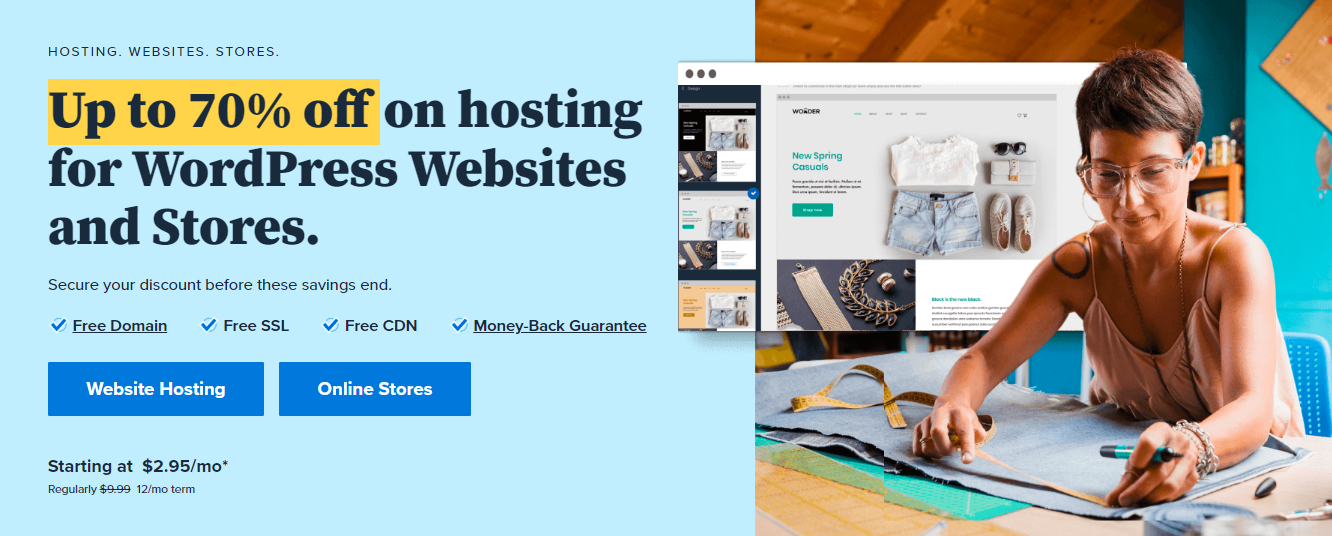 Bluehost is a top provider of web hosting that has been around since 1996, and its headquarters is located in San Antonio, Texas. It's also located in Scottsdale, Arizona. Bluehost was founded by Matt and Jay Haley, two brothers from New Hampshire who were students at the University of Massachusetts in Amherst. Matt and Jay originally wanted to start a website called "bluemachine. com", but they needed help launching their site. They asked friends and former classmates to help them with the project, including one of those friends, Mark Andrew Smith. Smith had previously created a successful web-based subscription service for software called "Families Online."
However, they finally settled on Bluehost in 2003. And now, their headquarter is in Orem, Utah, USA.
This company offers its services to small and large businesses alike. Bluehost's mission is to help small business owners easily launch a web presence, grow their businesses, and increase profitability. Its website describes it as the "world's fastest-growing web host," As of March 2015, it reported that it had a total of 812,898 domains under management. Bluehost hosts over 2 million websites all over the world. Plus, more than 25,000 business customers and over 75,000 servers in its data center network. It's a popular company, currently ranked #3 hosting company worldwide. That means they are doing something right. What are they doing right? Well, it's pretty simple. They are providing top-notch WordPress Services to their customers.
Hostinger vs Bluehost: Plans and Pricing
Hosting is one of the basic needs of a website or blog. To start a new online business, you will need a reliable web hosting service to host your websites. You can choose between two web hosting services: Hostinger and Bluehost. Both have been around for many years, but which one is better than the other? Which one should you choose?
Selecting a hosting solution is the first step in creating a website. This decision can often be confusing because so many options are available.
Choosing the best hosting services provider for your needs may seem difficult whether you're new to web design or even an experienced web developer. Each hosting provider has a unique set of features. This type of hosting plan that you need depends on what you want to do with your site. Some providers offer more flexibility than others; some allow you to customize your plan, while others are more limited. Hosting prices vary greatly, and it's not always easy to tell which provider is the best deal for you.
Hostinger offers one of the most comprehensive services to their new webmasters. Its introductory price is cheaper than Bluehost and starts at $1. 99 per month, including a free, Let's Encrypt SSL Certificate.
Bluehost rates range from low to high, with an initial price of $2.95/mo. This provider delivers all of the basic services you'd expect in a hosting package and more sophisticated ones such as email, FTP, WordPress support, etc.
Bluehost provides eight types of hosting services. But I discuss five to compare with Hostinger. Moreover, these services are most common and fill all the needs of small to large businesses.
Shared Web Hosting
Dedicated Hosting
Cloud Hosting
VPS Hosting
Manage WordPress Hosting
Shared Hosting
Shared web hosting means that multiple users are sharing a single server. This hosting makes shared hosting cheaper than the other hosting types because a single server can support more sites.
Users who want to host multiple small to medium-sized websites on a single account should choose this type of hosting. The main advantages of shared web hosting include low price and ease of use. These are major reasons why shared hosting is one of the most popular types of hosting and is used by over 50% of all new websites.
Hostinger shared hosting offers three types of packages. Single Shared Hosting, Premium Shared Hosting(Most Popular), and Business Shared Hosting.
The Single Shared Hosting plan begins at $1. 99 /mo. One website, 30GB SSD Storage, Free SSL, 100GB Bandwidth, Managed WordPress, one Email account, two databases, and about 10,000 monthly visits are some of the primary features of this service.
You can upgrade to the Premium Shared Hosting option to host more websites. Its initial price is $2. 99 /mo. This package includes 100 websites, a free domain, unlimited Bandwidth, 25000 monthly visits, up to 100 email accounts, Google Ads, and an unlimited number of databases.
The third tier is Business Shared, designed specifically for small businesses. This plan contains all of the Premium plan's features for $4. 99/mo. With this tier, you get the top performance for your site, 100,000 monthly visits, 100 parked domains, and provides 200GB SSD storage.
On the other hand,
BlueHost shared web hosting offers its customers several packages: Basic, Plus, Choice Plus(Recommended), and Pro.
The basic package comes for $2. 95/mo price. Some features of this package include a free domain name, one-click WordPress installation, 50GB SSD storage, Drag and Drop website builder, and unmetered Bandwidth. Moreover, max 5GB Database, and Free SSL for 1 year.
You can also upgrade to the Plus package at $5. 45/mo if you want to run multiple websites and look for additional features. This package includes unlimited domains, sub-domains, Google ads, and spam experts for 1 website.
Go with the Choice Plus plan if you want everything in one package. It comes with all the Plus package features at the same price as the Plus plan.
The last tier is Pro-Shared, designed for larger sites with lots of traffic. It is available for only $13. 95/mo with more features. Which are Premium Positive SSL, Domain Privacy, Dedicated IP, and Free Automated Backups.
In the case of shared hosting, Hostinger is less expensive than Bluehost. If you're unsure which one to choose, it's best to go with the cheapest plan with the most features. Hostinger's Premium package includes all the features for small to medium-sized businesses. Furthermore, this package contains 200GB of storage and 100 websites.
While BlueHost is a little pricey, they do not limit their features. Bluehost Plus or Choice Plus plans include unlimited domains, storage, and emails. Moreover, you will get access to all of Bluehost's tools.
You should be aware that the renewal prices for Bluehost and Hostinger will be different. However, Hostinger is still less expensive than Bluehost during the renewal or long-tail period.
Dedicated Hosting
Dedicated hosting is the most costly type of hosting. It is best for high-traffic websites and sites requiring more power and resources. This type of hosting lets you install your applications, install a website on your server and get more control over your website.
However, this means that the owner of the dedicated hosting service will be responsible for maintaining, upgrading, and supporting the dedicated server. Virtual hosting is the next step in web hosting, as it allows you to create virtual servers on your web host's operating system. These virtual servers are not dedicated to your site; they are shared with other sites. You only pay for the necessary resources (CPU time, memory space, disk storage). Shared hosting typically costs less than both dedicated and virtual hosting.
Bluehost is a major name in the hosting industry. It has been offering the best dedicated hosting services for over a decade. Bluehost offers three types of dedicated hosting packages, which are STANDARD, ENHANCED, and PREMIUM.
The top features of the Bluehost dedicated hosting service are RAID level Storage, Improved Cpanel and WHM with root access, and more disk space. Dedicated Support is where a specific train agent can help you with dedicated hosting issues.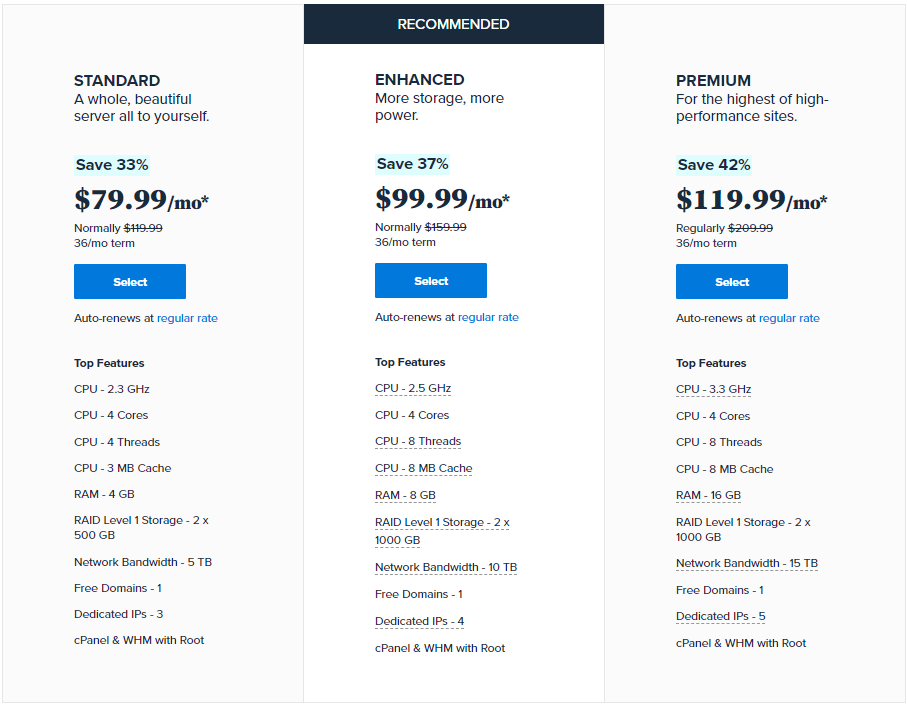 You need to choose the one that will meet your requirements. You should choose the Standard package if you want a simple and easy website. If you want more features, you should choose the Enhanced package. Finally, select the Premium package if you want a more reliable and secure website. These packages have different features and prices on $36/mo terms.
You should know what you are looking for to choose the right one. The price is the most important factor.
The Standard package costs $79. 99/mo.
While the Enhanced package costs $99. 99/mo.
The Premium package costs $119. 99/mo.
Each of these packages includes a free domain name for a year. Starting a new website, you should choose the Standard package. It has all of the features that you will need. You can easily add more features later on. The Premium package is for people who already have a website and want to expand their site.
Hostinger doesn't design a specific dedicated hosting plan.
VPS Hosting
A virtual private server, or VPS, gives users complete control over their web hosting. Unlike shared hosting, where the host provides the space for you to store data, install software, and access your site. Instead, VPS users have root access to their computers. That means you have control over installing anything you want, creating new files, and installing software. With VPS, you're renting a computer, just like renting a car, apartment, or office space.
Hostinger offers eight different types of VPS hosting packages. The plans are named VPS 1 to VPS 8. The price range from $3. 95 to $77. 99 per month. The VPS 1 plan provides a 1 core CPU, 1 GB RAM, 20 GB SSD storage, and 1TB bandwidth.
The VPS 8 plan is the highest plan available on Hostinger. It provides an 8-core CPU, 16 GB RAM, 250 GB SSD storage, and 12TB bandwidth.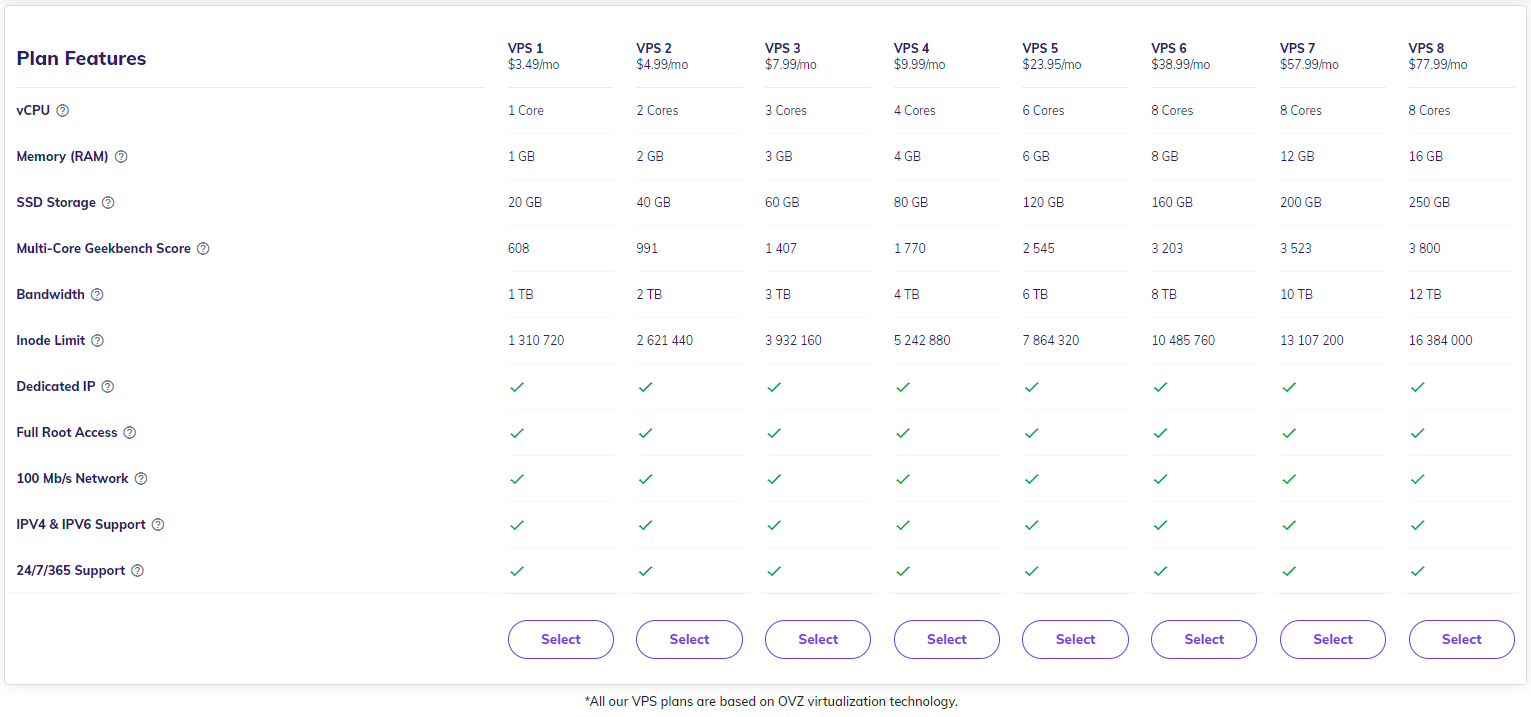 Hostinger VPS hosting has been the best choice for people who need a lot of resources and flexibility. You can easily upgrade your Hostinger VPS plan and have an opportunity to choose between various Linux distributions, such as CentOS, Debian, Ubuntu, Fedora, OpenSUSE, and RHEL, or Windows Server operating system.
This Company Users also receive full root access, Backups, Live Snapshots, and a dedicated IP address.
In Contrast, Bluehost offers VPS plans with different configurations and prices. The three packages offered are standard, enhanced, and ultimate—this provider's price range is between $19.99 to $59.99 per month.
The ULTIMATE plan costs $59.99 per month. It offers an SSD storage of 120GB and 8GB RAM, 4 cores CPU, and 3TB bandwidth. You can host multiple sites using this plan.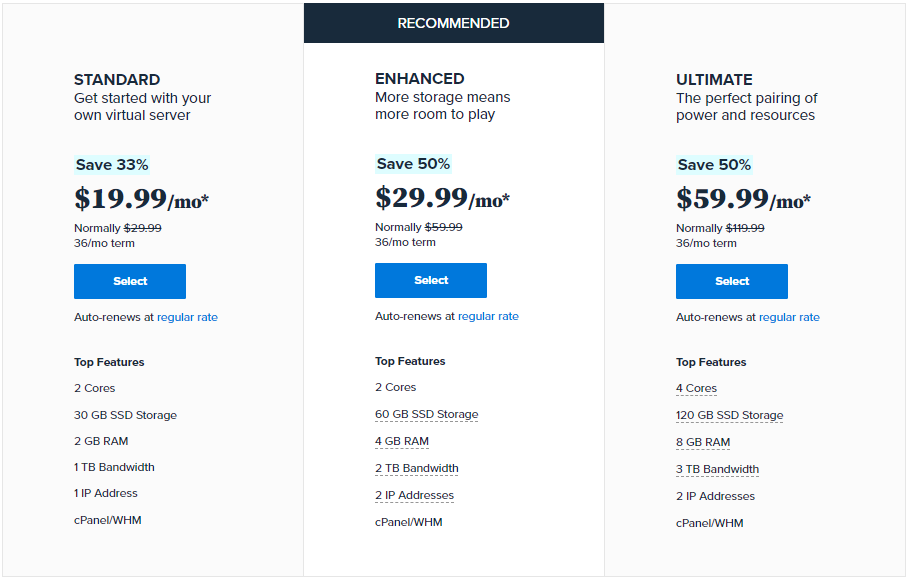 Bluehost VPS hosting plans include full root access, FTP access, SSH access, cPanel access, and many more. You can select the most affordable plan based on your requirements.
In VPS comparison, Hostinger is cheaper than Bluehost. And give more power speed reliability required in a virtual private server.
Cloud Hosting
Cloud hosting stores your website or application data online rather than on your local computer. The role behind cloud hosting is that you don't have to worry about managing the data stored on your hard drive. Cloud hosting allows websites to be hosted across several data centers, making them attractive to businesses and individuals.
Hostinger provides three cloud hosting plans, CLOUD STARTUP, CLOUD PROFESSIONAL, and CLOUD ENTERPRISE, each with a distinct pricing point and set of features. However, they provide up to 100 email accounts, free website transfer, Cloudflare CDN, daily backups, unlimited MySQL databases, a 30-day money-back guarantee, 24/7 customer support, and WordPress services.
Furthermore, Hostinger includes multiple data centers in each package to give the best possible service. These data centers are in the United States, Brazil, Singapore, the United Kingdom, the Netherlands, and Lithuania.
Bluehost no longer provides cloud hosting. They do, however, provide Cloudflare CDN services to their customers in a variety of hosting packages.
WordPress Hosting
WordPress is a popular website creation platform that allows users to create websites, blogs, eCommerce stores, and much more. It is one of the world's most popular content management systems, with millions of websites designed using it every month.
WordPress hosting is just hosting designed better to suit the speed and security requirements of WordPress. WordPress hosting is intended just for WP users. As a result, clients receive the finest performance and security for their WordPress websites.
The two most popular WordPress hosting providers are Hostinger and Bluehost. Both firms have a solid track record and provide good service. But which is best for WordPress? Let's look at both hosting options and make our own decision.
Hostinger vs Bluehost WordPress hosting plans they offers the same features as shared hosting plans. Furthermore, like shared hosting, their core offerings include
free domain registration with unlimited email addresses
free website builder
site migration
free SSL certificate
24/7 support
weekly backups, and security updates.
This is not to say that we should not utilize WP hosting.
Compared to Hostinger, Bluehost also offers a Managed WordPress hosting plan, which is ideal for growing websites and requiring additional resources. On a three-year term, the plan costs between $9. 95 and $27. 95 per month. This includes Jetpack premium plugin, multi-layered cache, SEO tools, 500,000 visitors per month, Blue sky live assistance, and more features.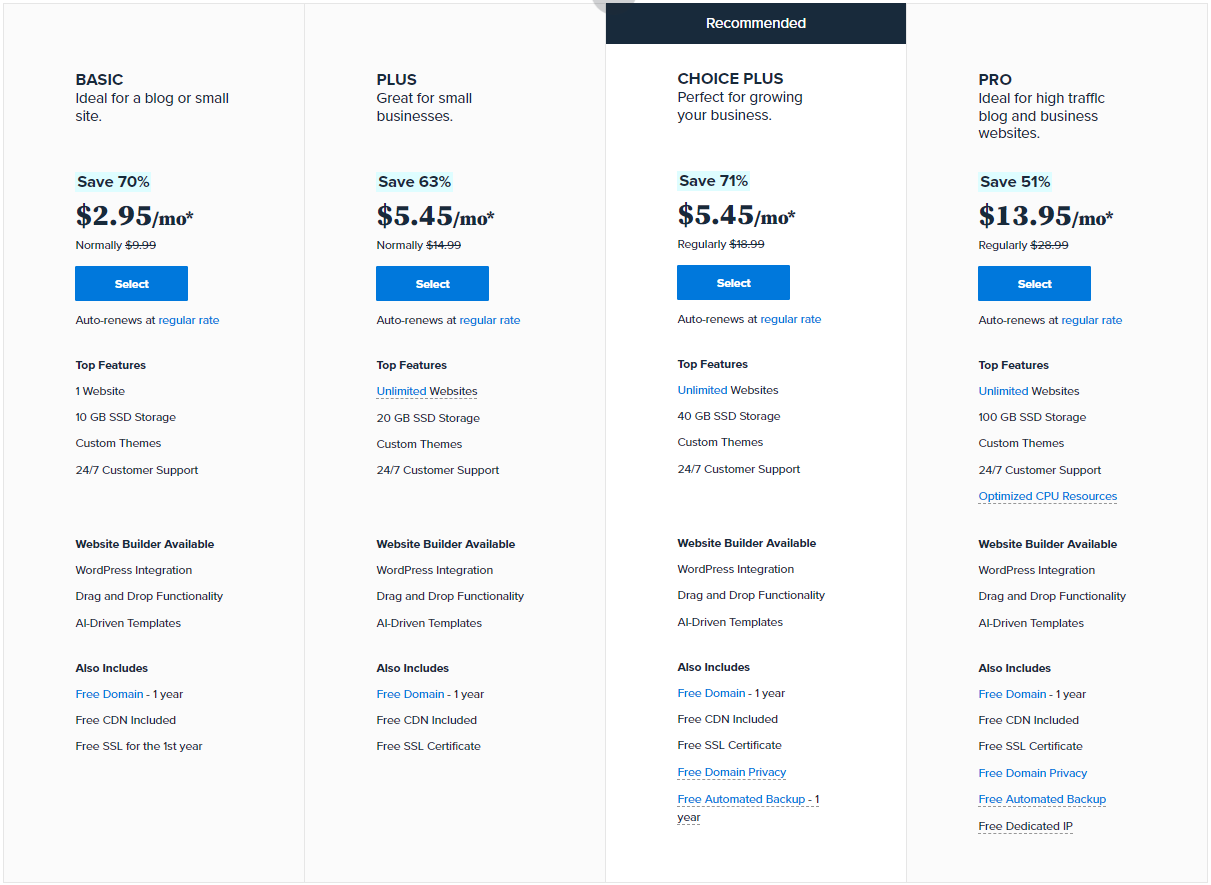 Hostinger, on the other hand, exclusively sells WordPress hosting at a lower cost than Bluehost, which also provides Managed WordPress services. This includes the Lightspeed cache plugin, WP-CLI, Git integration, marketing tools, and support 24 hours a day, 7 days a week.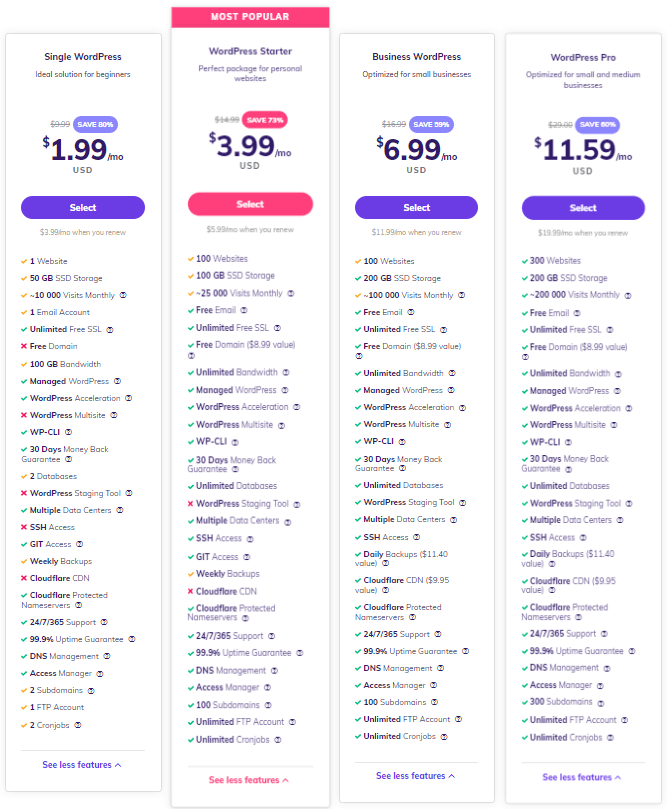 Hostinger sells WooCommerce hosting for online stores, with the same features as Shared hosting.
As a result, Bluehost is slightly more costly than Hostinger. However, they provide several packages that allow you to develop a full WordPress site with more dynamic scalability, security, performance, and support.
Bluehost also offers a separate WooCommerce hosting plan for a 1 to 36-month duration at various pricing for the eCommerce store. They provide the extra add-on to give more control to the WooCommerce store. Manual Order Creation, Payment Processing (One-Click Installation), Product Customization, Discount Codes, and so forth.
Furthermore, this is one of the reasons WordPress.org recommends Bluehost as the best WordPress provider.
So, who won the Hostinger vs Bluehost WordPress comparison?
If I had a budget, I would start with Bluehost because they have more resources. But, other than that, Hostinger is an excellent place to begin with, WordPress for small businesses.
Performance Review – Service Uptime Guarantee
Hostinger is the clear winner in the performance comparison between them. It has a better response rate, load faster, and handle more traffic than Bluehost. In fact, According to industry experts, Hostinger is among the fastest web hosts in terms of performance. Bluehost, on the other hand, is not as good as its competitor.
Service Uptime guarantee
Website owners and operators require high uptime to attract visitors. A website's uptime is essential because it influences site visitors. If a website goes viral, it will have increased traffic, affecting site uptime. If your website experiences downtime, it can be a considerable problem for website owners because visitors can't access the site. Therefore, ensuring that your website is always up and running is crucial, with an uptime guarantee from 99.93% to 100%.
Hostinger and Bluehost provide 99.9% uptime. But Bluehost doesn't offer an uptime guarantee on any of its plans. It can be disappointing for people who want to run their website for the long term. There's always a chance of downtime, whether due to a Server crashing or a system malfunctioning. This can happen when Bluehost's servers run low on RAM, storage space, CPU time, or any other vital resource.
In addition, there's always a chance of a service outage – something that Bluehost can never guarantee. So because there's no guarantee of downtime, we advise that website owners always have backups of their websites stored elsewhere. This way, even if they experience an outage, they won't be forced to start from scratch.
However, Hostinger offers a Service uptime guarantee of 99.9% of available time per month. Their shared hosting plans come with a 99.9% uptime guarantee if you abide by their recommended system maintenance schedule. This includes weekly, monthly, and yearly server checks.
If a server is down for a full day, you will be credited with a full day's downtime on the uptime guarantee. If the server returns down a second time within a day, this will count as two days' downtime on the uptime guarantee. If they are unable to maintain this service Uptime Guarantee in a particular month, you may contact Hostinger and request a credit of $5 of your monthly hosting fee.
Besides offering you fast servers with a 99.9% uptime guarantee, Hostinger also provides support for the latest Cloud Linux server platform and LiteSpeed caching for better performance and stability where Bluehost doesn't sell Cloud services.
Is Hostinger faster than Bluehost?
Yes, We built two new test websites on WordPress using Elementor, one with Hostinger and the other with Bluehost. We then used the web monitoring tool Pingdom to assess these sites' loading times.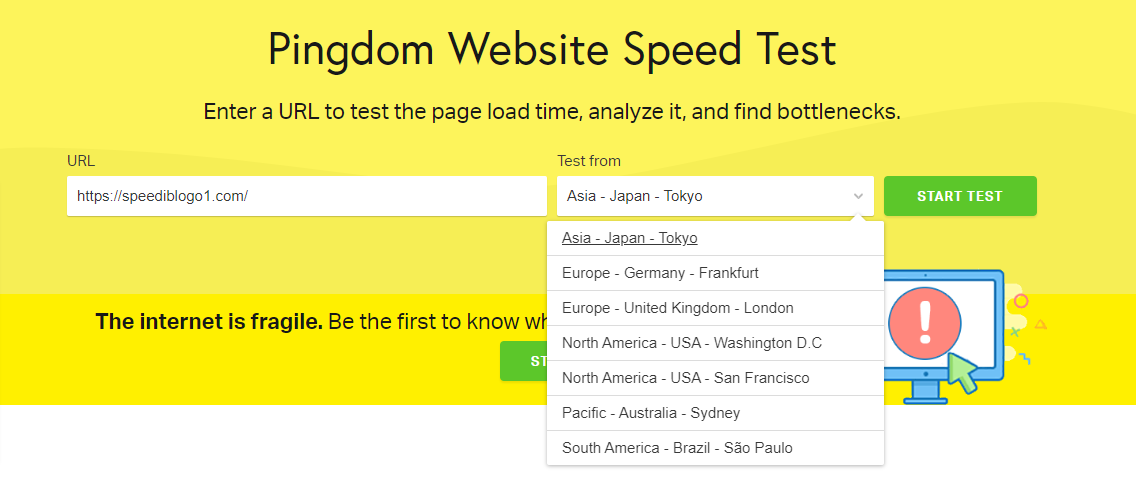 Here are the outcomes of the Hostinger site.
Asia – Japan – Tokyo: 1.83s
Europe – United Kindom – London 1.92s
North America – USA – Washington D.C 0.95s
Pacific – Australia – Sydney 2.01s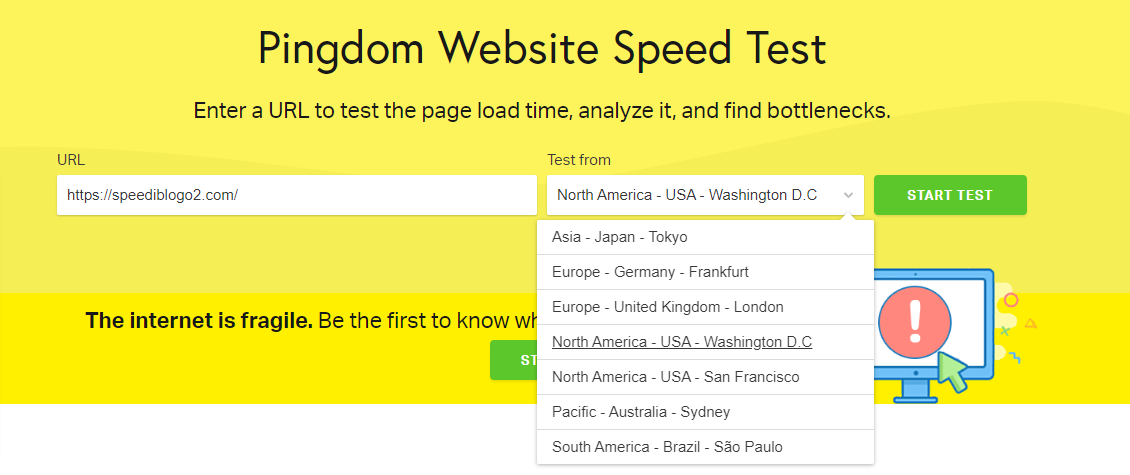 Here is the result for the Bluehost site:
Asia – Japan – Tokyo: 2.04s
Europe – United Kindom – London 2.92s
North America – USA – Washington D.C 1.95s
Pacific – Australia – Sydney 3.15s
As you can see, in these tests, Hostinger load faster than Bluehost.
Hostinger vs Bluehost: Customer Support
When it comes to customer support, Bluehost and Hostinger are pretty good. Their companies offer 24/7/365 live support and an extensive FAQ section that is easily accessible from their website. If you have any kind of questions about how to use the service or are having trouble with any aspect of your account, the team will always be able to help you.

Hostinger provides email and live chat service 24 hours a day, seven days a week. Where the Bluehost offers 24/7 support via live chat and phone. Hostinger is slightly better than Bluehost in terms of ticket support. Hostinger will send you a ticket and assign a support agent to help you if you cannot resolve an issue in the first attempt.
However, Hostinger does have some downsides when it comes to its phone service. For one thing, there's no phone number listed on their website, so if you have any issues with your account, you'll need to email them to get a response.
Hostinger vs Bluehost: Security
Security is always the top priority for every webmaster. You need to have perfect security to protect your website from various harmful scripts and also from hacker attacks. If no precautions are taken, you might face many issues such as losing your visitors, or other websites may also be affected.
Hostinger is a part of the Cloudflare network, which protects the company against cyber attacks, malware, and DDoS attacks. The company offers free SSL certificates and has a high-security rating of 99.9%. DDoS mitigation is important for all companies and even more so for smaller organizations susceptible to being overwhelmed by an attack. Cloudflare has developed a very effective DDoS mitigation strategy and offers free and premium services.
Bluehost uses a 3-layer protection system to safeguard your data from unauthorized access and misuse. The system consists of:
Anti-Spam Expert. This layer checks and stops unwanted emails from being sent from your email address. It also stops phishing and malware emails.
Apache SpamAssassin. This layer of the anti-spam system prevents spam emails from going through. It monitors incoming emails, compares them against a blacklist, and checks for content.
Spam Hammer. This layer of the anti-spam system checks and detects spam emails. If any suspicious emails are detected, they can then be deleted, blocked, or redirected to a user's inbox.
Hostinger vs Bluehost: Final Verdict
| Category | Hostinger | Bluehost |
| --- | --- | --- |
| Features | Free site migration with cloud hosting, automatic backups, unlimited traffic, and free domains | Unmetered bandwidth, cPanel control panel, 30-day money-back guarantee |
| Pricing Reliability | Overall lower prices | Bluehost has a bit costly hosting plans |
| Reliability | 99.9% uptime guarantee with an average response speed of 479ms | 99.99% uptime guarantee with an average response speed of 416ms |
| Security | Cloudflare network, Cloudflare CDN, DDoS protection | SSL certificate, Cloudflare CDN, siteLock |
| Support | 24/7 live chat, knowledge base, email | 24/7 live chat, phone, knowledge base, email |
In conclusion, Hostinger vs Bluehost is a close fight. Both are great options. But, if you need a simple, reliable, and affordable web hosting solution, then Hostinger is the best option.
However, if you are looking for a web host that offers many more features than just hosting, Bluehost is the better choice.
Overall, Hostinger is a clear winner. It's faster, more secure, and more reliable than Bluehost. You'll save money by using Hostinger.
We've done an extensive review of both Hostinger and Bluehost if you want to learn more about them:
What is the other alternative to Bluehost and Hostinger?
There's no question that Bluehost and Hostinger are the two big web hosts, but there are some alternatives you can consider.
DreamHost — is one of the best replacements for the Bluehost.
HostGator — suitable for small business
WP Engine — Specifically designed for WordPress users
A2Hosting — Ideal for Eurpoines and Asian
GreenGeeks — known for excellent customer support