In this post, we will discuss Hostinger vs WP Engine, two of the best WordPress hosting providers in the world. We will compare them based on features, pricing, performance, customer support, ease of use, and security. After that, you will know which is better for you and your business.
Before the comparison, let's understand how to choose the best hosting solution?
If you are looking for a web service, you should first decide whether you want a cheap or fast one. A cheap service will cost less than $10 per month, while a fast one will cost more than $10 per month. A cheap service will offer limited features, while a fast service offers many different features. Many different factors will determine which type of hosting service you need. You will need to look at features and security as well as the speed of the servers.
Consider using a cheap hosting service if you have a small website that needs to generate lots of traffic. This is because a cheap hosting service will have fewer features, but you will get more bang for your buck.
Hostinger vs WP Engine is one of the most discussed topics in the WordPress community. It's considerable debate about whether to go for Hostinger or WP Engine, which is the best host for WordPress.
Both hosting companies offer many great features and benefits. Still, there are some key differences that you should be aware of before you choose one over the other.
For example, Hostinger offers free domain registration, while WP Engine does not. Another thing to consider is that Hostinger offers a 30-day money-back guarantee, while WP Engine gives you a 60-day money refund.
Hostinger is considered a cheap web host. At the same time, WP Engine is a web hosting company considered a premium service. Both companies provide the same services, which are included in their packages. For instance, both offered shared hosting packages and dedicated hosting packages. However, there are some differences between them.
An in-depth comparison of WP Engine vs Hostinger is about to get underway, so let's get right to it.
What are Hostinger and WP Engine?
Overview of Hostinger

One of the most well-known hosting companies in the world, Hostinger has 29 million active clients in 178 countries. More than 10,000 new clients begin their digital journeys daily thanks to their robust and dependable hosting services.
To achieve their stated goal of "unlocking the potential of the internet," they rely on eight data centers placed in prime worldwide locations. Customers trust hosting as they provide enhanced security, top-notch speed, quick support, optimized WordPress features, and a dedicated hosting control panel for each hosting plan.
Overview of WP Engine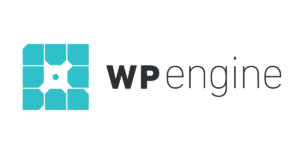 WP Engine, based in Austin, Texas, was founded in 2010 and offered WordPress-specific services intending to provide the best possible user experience. They provide WordPress-customized apps and servers with a top-notch experience making it easier for people to begin their adventure on the WordPress platform.
WP Engine served 1,20,000+ clients across 140 countries with their digital experiences. They are determined to give excellent WordPress hosting with outstanding performance, scalability, and security for your sites.
Comparison Table: Hostinger vs WP Engine
| Feature | Hostinger | WP Engine |
| --- | --- | --- |
| Hosting Types | Shared hosting, Cloud hosting, WordPress hosting, VPS hosting | WordPress hosting, WooCommerce hosting |
| Free Domain | Yes | No |
| Pricing | $2.99/month | $24/month |
| Data Storage | 20GB-300GB | 10 GB - 50 GB |
| Bandwidth | Unmetered | 10 GB - 50 GB |
| Website Backups | Yes | Yes |
| Dedicated Hosting | Yes | No |
| cPanel | No, hPanel | No |
| Free CDN | No, but if buy a 12, 24, and 48-month plan, you will get free CDN | Yes |
| Free Site Migration | Yes | Yes |
| Money Back Guarantee | 30-day money-back guarantee | 60-day money-back guarantee |
| Customer Support | 24/7 live chat, support, knowledge base, email | 24/7 live chat support, phone, knowledge base, email |
| Uptime Guarantee | 99.9% | 100% |
| Server Location | Kaunas, Lithuania | Austin, Taxes, United States |
| Security | DDoS protection, CDN, SSL certificate | SSL certificate, CDN, Cloudflare |
| Email Hosting | $0.99/mo | No |
| ⭐Rating | 4.8/5 | 4.7/5 |
| Website | www.hostinger.com | www.wpengine.com |
Hostinger vs WP Engine: Plan and Pricing
Hostinger provides a broad range of hosting services, including shared hosting, hosting for WordPress websites, cloud hosting, virtual private servers (Linux and Windows), and hosting for Minecraft. You may receive managed WordPress hosting plans and bespoke business solutions from WP Engine.
WP Engine's cost is much more than that of Hostinger's WordPress plans, which is to be anticipated given that WP Engine offers managed WordPress solutions.
Suppose you choose the most extended term available (annual for WP Engine, which gives you two free months of hosting, and quadrennial for Hostinger).
In that case, the price of its beginning plan is over 12 times more than the starting WordPress plan offered by Hostinger. If you paid for WP Engine's starter plan every month, it would cost you 2.5 times as much as Hostinger's (since Hostinger's monthly costs are much more than what you'll receive if you sign up for their most extended term, which is 48 months).
Hostinger Web Hosting
Single Plan: In the single plan, provide 30GB SSD storage, 100GB Bandwidth, Free SSL, and 1 Number of sites for $1.99
Premium Plan: In the premium, plan provide 100GB SSD Storage, Unlimited Bandwidth, Free SSL, and an Unlimited Number of sites for $2.99
Business Plan: In business plan provide 200GB SSD storage, Unlimited Bandwidth, Free SSL, and an Unlimited Number of sites for $4.99
WP Engine Web Hosting
Startup Plan: In the startup, plan to provide 10GB SSD storage, 50GB Bandwidth, Free SSL, and 1 Number of sites for $20.
Professional Plan: In professional plan provide 15GB SSD storage, 125GB Bandwidth, Free SSL, and an Unlimited Number of sites for $39.
Growth Plan: In the growth, plan to provide 20GB SSD storage, 200GB Bandwidth, Free SSL, and an Unlimited Number of sites for $77.
Scale Plan: In the scale plan, provide 50Gb SSD storage, 500GB Bandwidth, Free SSL, and an Unlimited Number of sites for $193.

 Features Comparison
Better resource allotment and various beginner-friendly features give Hostinger an advantage over WP Engine.
Your WordPress website or blog will run four times as fast with Hostinger's LiteSpeed Enterprise servers and the LSCWP plugin, which are included in the company's WordPress hosting options.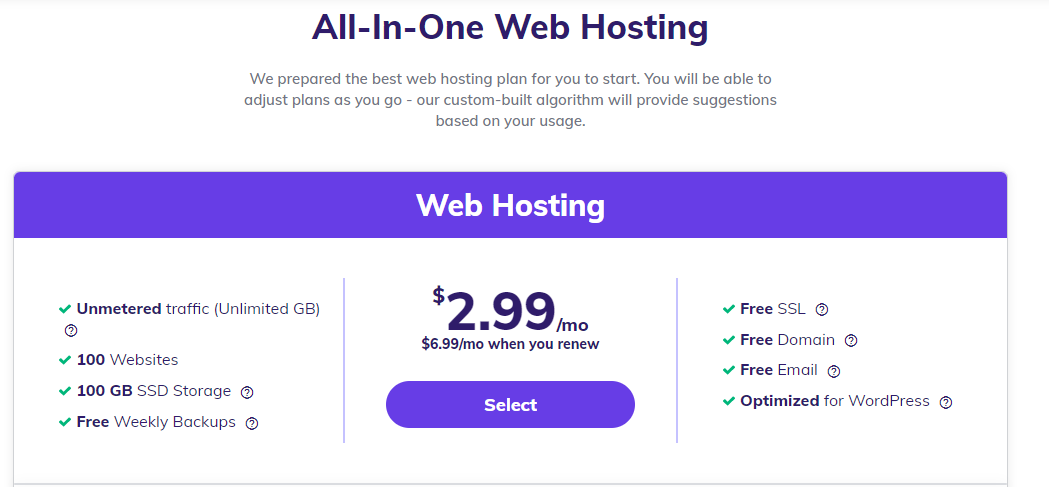 You will also receive a lifetime free SSL certificate, a free domain, SSD storage, daily/weekly automated backups, Cloudflare CDN, a 1-click WordPress installer, a vast selection of fully customizable themes and plugins, SSH access, the Jetpack Plugin, Git, and WP-CLI. All of these perks are included at no additional cost.
Genesis Framework and over thirty-five StudioPress themes are included with WP Engine, allowing you to construct SEO-friendly websites quickly. Additionally, WP Engine provides the following:
Development/staging/production environments.
Evercache.
LargeFS (a system that allows storing and transferring large amounts of data).
A global CDN.
Nightly automated backups.

WP Engine offers several paid add-ons, such as Smart Plugin Manager, Global Edge Security, and Genesis Pro (to deliver geographically targeted content). On the other hand, the absence of valuable functions for beginners, such as domain registration and email, may be troublesome.
Performance
"The first impression is the most important one." Your website needs to load swiftly in a fraction of a second if you want to make a stunning first impression on your visitors. Your website's data will load more quickly due to its uptime and the pace at which its pages load. Therefore, you should always choose a web server that regularly offers an uptime of over 99 percent. Let's see how Hostinger and WP Engine stack up against one another by comparing their services.
The performance of Hostinger is as follows.
Hosting ensures that your website will dash without interruptions by constantly providing an uptime of 99.99 percent. Hostinger has kept its promise of providing the greatest possible uptime by using technologies like HTTP/2, PHP7.4, NGINX, and various custom-built, pre-installed caching plugins.

This consistency needs to be improved in many of the other web providers. Your website runs at lightning-fast speed because they have eight data centers located in the United States, Europe, and Asia.
WP Engine's Performance
WP Engine guarantees a hundred percent uptime because its platform is built on four pillars:
'Creative Agility' for site building and management,
'Ecosystem Integration'
Guaranteeing open source flexibility,
'Enterprise Performance
providing rapid site speed, scale, and security, and 'Actionable Intelligence' gives perfect site analytics.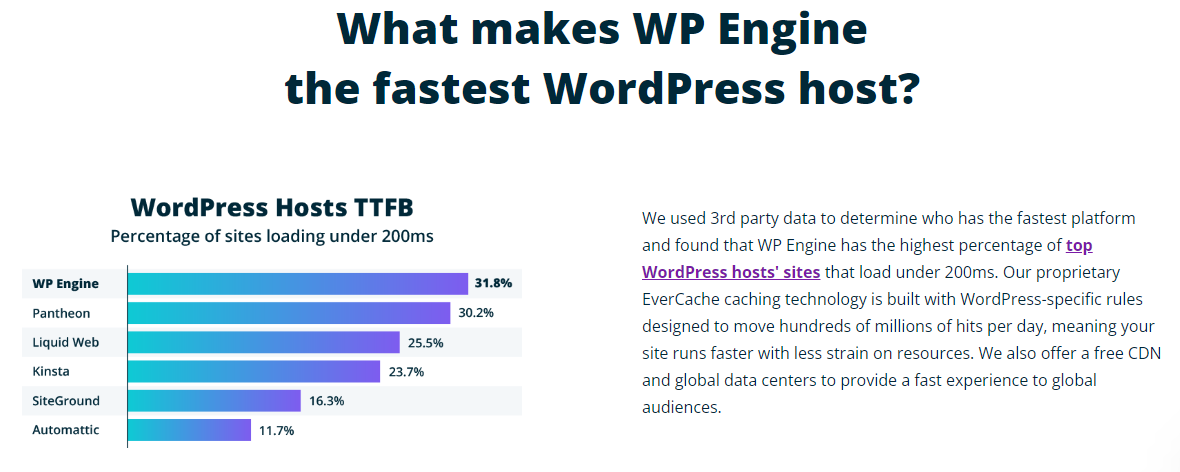 The combination of these different characteristics creates digital experiences that are scalable, secure, and optimized for WordPress. In addition, they have Technological Collaborations with industry leaders in innovation, such as Amazon Web Services, Google Cloud Platform, and many more, to uncover new possibilities for you.
WP Engine vs Hostinger: Who has better uptime?
WP Engine provides 100% uptime for WordPress hosting, whereas Hostinger guarantees 99.99 percent uptime for all their hosting plans. Regarding hosting WordPress websites, WP Engine is superior to Hostinger.
It would help if you used the Pingdom tool to know how fast your website loads. You can use it to compare the loading time of different sites.
We used the Pingdom test to compare the two companies, which gave us a good result. This was a good test because it could measure the page load time for each website. The Pingdom tool has a unique feature. The Pingdom tool can check your site speed for uptime and the ability to run. The results of this test show that Hostinger and WP Engine performed very well.
WP Engine for the last four months:
December 2022 100%
November 2022 100%
October 2022 100%
September 2022 99.97%
The uptime of Hostinger for the last four months:
December 2022 100%
November 2022 100%
October 2022 100%
September 2022 99.97%
The results demonstrate that both providers had the same uptime. Both companies had a 99.99 percent uptime. It means that they both have excellent uptime. You can make sure that your website is very stable.
Read the Fastest web hosting providers in the USA.
Security
Regarding Hostinger vs WP Engine security analysis Hostinger gives several security features for free that WP Engine charges for.
When it comes to Hostinger, the safety of your website is of the utmost importance. As a consequence, it uses a wide variety of and a high level of security measures. Such as an SSL certificate, weekly/daily backups, and client two-factor authentication.
And auto-rotatable system passwords (Hashicorp Vault), a content delivery network (CDN), data redundancy with RAID-10, LVE containers that offer security advantages with account isolation, predictive server monitoring, anti-DDoS protection by Vanguard, and Bien.
WP Engine provides free and paid SSL and Global Edge Security (comprehensive site security with DDoS protection, a WAF, Cloudflare CDN, and SSL/TLS at the network edge) and paid Smart Plugin Manager. Free SSL is available on all WP Engine's sites (for automatic WordPress plugin updates).
Hostinger has a comprehensive security system in place and provides several free security features that WP Engine requires users to pay for to access. As a direct consequence of this, Hostinger becomes victorious in this Hostinger vs WP Engine match.
Let's investigate how Hostinger and WP Engine assist their customers in sustaining the value of their brands.
Customer Support
One of the main aspects of choosing the most delicate web hosting business is to evaluate its customer care service. You may repair any web hosting difficulties in any part of the day if you are supported by devoted support staff resulting in the development of your company in a timely way.
Thus, always call customer support staff and examine how they aid you before your buy. Consider Hostinger's and WP Engine's customer service features in this order:
Hostinger gives Customer Support.
You will experience dedicated customer support with Hostinger, as they have the top skills to answer your queries and deal with your difficulties. They strive tirelessly to achieve their purpose – 'Our clients' pleasure is our number one concern, and when in need – a helping hand is always given.' Email, Live Chat, or a phone call is convenient for customers to reach them 24 hours a day, seven days a week.
Hostinger's world-class knowledge center, packed with video lessons, user manuals, and general information, is one of the reasons for its several accolades for the best customer assistance.
Providers of customer service at WP Engine
WP Engine is a leading WordPress digital experience platform that provides the most satisfactory customer service in the business. Their four-time Stevie award-winning customer service staff is accessible around the clock through live chat, phone, and tickets at three worldwide locations.
Premium Plus support plans with specialized account teams are also available, providing customers with more individualized service.
Apart from this, they also offer Support Garage – comprising technical documents on different issues, Resource Center – enabling you to expand your WordPress expertise, and Newsroom – to receive insights into industry trends.
Hostinger vs WP Engine: The Verdict
In contrast to WP Engine, which provides 24/7 assistance in more than 20 languages, Hostinger does it just in 4 or 5 languages. Hostinger's collection is one step ahead of WP Engine regarding knowledge centers and tutorials. Hostinger has won this round.
Money Back Guarantee
Hostinger's 30-day money-back guarantee gives you nothing to lose by putting its plans to the test. WP Engine has a more generous money-back guarantee of sixty days for its customers.
What happens if you find that the web hosting services supplied by your web host are not up to your standards? Would it have been pointless to spend your money? No… There is no need to stress about your finances because all hosting plans provided by Hostinger come with a money-back guarantee valid for thirty days. In contrast, the various WordPress hosting solutions supplied by WP Engine come with a money-back guarantee good for sixty days.
Hostinger Vs WP Engine – Ease of Use
Because WP Engine is a managed WordPress hosting option, you can rest easy knowing that your server will be running at peak efficiency thanks to their services tailored just for WordPress websites. Using WP Engine eliminates the need to focus on server optimization details. Hence, WP Engine performs somewhat differently from other WordPress hosting providers.
This implies you are not permitted to install any plugin linked to performance or security, which helps to speed up your site since this firm has established solutions for all routines and security.
The main difference between WP Engine and Hostinger is that WP Engine uses a modern WordPress hosting platform with plugin limits. With a typical c-panel interface that is simple for anybody, you can add any plugin you want to your website and start using it immediately. Because Hostinger offers a variety of web hosting options, you can easily switch to the one you like.
Winner – Hostinger, In terms of plugin limitations, WP Engine does not prohibit any essential plugins; however, its interface is fresh and difficult for novice players.
Overall User Rating
Hostinger comes out on top with an overall user and editor rating of 4.8 out of 5 stars and 12 reviews. In comparison, the user and editor rating for WP Engine is 4.7 out of 5 stars and two studies. This information is derived in real-time from verified user reviews or, if there is insufficient data for user ratings, from the editors' ratings.
We have included a few valuable options like Bluehost based on the suggestions made by our community if you are still deciding between WP Engine and Hostinger by the time we conclude this comparison for any reason. Hostinger comes out on top with a score of 4.8 out of 5 points for Value for money, and Hostinger is also picked as the simplest solution to use.
Final Recommendations: Which is the Best Hostinger and WP Engine?
You may have seen several comparisons between Hostinger vs WP Engine on various blogs and websites; nevertheless, we did our best to make this one concise and simple so that anybody can understand it. Because the performance of your website and its general development are directly attributable to the quality and timeliness of the services provided by your web host, it is best to choose a web host by reading in-depth evaluations written by industry professionals.
Our experienced staff has more than 5 years of expertise in the web hosting industry, and they research and prepare all of our evaluations. We recognize that choosing between Hostinger vs WP Engine is challenging; moreover, given that we host most of our websites with Hostinger, we are pleased to recommend that you do business with them.
| Features | Hostinger | WP Engine |
| --- | --- | --- |
| Plans and Pricing | Budget-friendly WordPress hosting, including shared hosting, email hosting, cloud hosting, and VPS. | Managed WordPress hosting options at a higher price point and tailored business solutions. |
| Key Features | SSH access, Jetpack and Git integration, and the WP-CLI command line interface are all included with the 1-click WordPress set up on the LiteSpeed Enterprise servers. The SSL certificate is valid for life, and a free domain name is included. | Genesis Framework with 35+ StudioPress themes including development/staging/production environments, Evercache, LargeFS, global CDN, nightly automatic backups, and several commercial add-ons like Smart Plugin Manager, Global Edge Security, Genesis Pro, and GeoTarget |
| Performance | 99.99% uptime guarantee; SSDs, LiteSpeed Enterprise servers, LSCache plugin, HTTP/2, and the most recent PHP versions are all used in this solution. | 2 credit-backed uptime SLAs (99.95% and 99.99%); multi-datacenter clustered environments, Cloudflare, distributed global CDN, Evercache, and GeoTarget; PHP 7.4 |
| Security | SSL certificate, weekly/daily backups, two-factor authentication for clients, auto-rotatable system passwords (Hashicorp Vault), CDN, RAID-10 data redundancy, LVE containers, predictive server monitoring, anti-DDoS security by Wanguard and Bitninja/Imunify360 (WAF) | Free/paid SSL, Global Edge Security, Smart Plugin Manager |
| Customer Support | 24/7 live chat, email, ticket assistance, and premium Priority Support; courses, blog, and knowledgebase for self-help | 24/7 assistance through phone, live chat, and tickets plus email support (sales/billing); blog, instructive articles on Torque and Velocitize, a Resource Center, a Solution Center, and a partner agency directory for self-help |
In conclusion, WP Engine offers more features and support than Hostinger. In terms of pricing, Hostinger is cheaper than WP Engine. If you are looking for a cheap host, Hostinger is the best choice.
But if you want to get the most value for your money, then you should go for WP Engine. It is very accurate that WP Engine is the best WordPress hosting service provider. It has the best uptime, the fastest load times, and the best support.
If you want more details, you can read the full review of WP Engine and Hostinger. It will help you discover the differences between the two hosting companies.
Popular comparisons