This week I'm doing a full review of "WP Engine vs Bluehost", two of the most popular web hosting services. I will compare their pricing, features, performance, reliability, customer support, and ease of use.
When selecting a web hosting provider, there are many things to consider.
Are they cheap?
Do they have fast speeds?
What kind of features do they offer?
And how long does their service last?
And these are some of the questions we have in our minds when we think about how to host a website.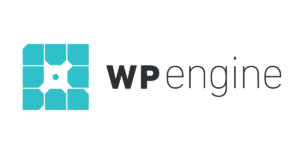 WP Engine is a well-known name in the world of managed WordPress hosting. They specialize primarily in WordPress hosting. Their target audience appears to be a wide range of enterprises and websites on a broader scale. It also has an excellent reputation in the market in terms of speed and premium tools. We'd recommend it to anyone looking for a reliable hosting service for their agency or who does not have financial constraints and is looking for top-notch website features.
Bluehost is a much larger company and is more commonly known for its shared WordPress hosting. They offer Shared, VPS, and Dedicated hosting services. Plus, They also specialize in managing WordPress hosting. Bluehost targets beginner to large-scale customers. Their plans are affordable for beginners and seasoned users who want to start a blog, eCommerce, or any niche website.
WP Engine vs Bluehost comparison both provide WordPress-specific hosting. They're both excellent web hosting, so choosing between them takes time and effort. Therefore we examined these two and ran a test for you. So that you can make a better choice.
Based on our research, we gathered data from WP Engine and Bluehost, as well as Wikipedia, and summarized it in the form of a table.
Plus, if you want to read only some of the article. Read the table and decide which is best for you WP Engine or Bluehost.
We also provide our opinion after the table to assist you in making decisions.
WP Engine vs Bluehost
| Feature | WP Engine | Bluehost |
| --- | --- | --- |
| Hosting Types | WordPress hosting, WooCommerce hosting | Shared hosting, dedicated hosting, VPS hosting, WordPress hosting |
| Free Domain | Yes | No |
| Pricing | $24.00/month | $2.95/month |
| Data Storage | 10 GB - 50 GB | 10 GB - 120 GB |
| Bandwidth | 50 GB - 500 GB | Unmetered |
| Website Backups | No | Yes |
| Dedicated Hosting | No | Yes |
| cPanel | No | Yes |
| Free CDN | Yes | Yes |
| Free Site Migration | Yes | Yes |
| Money Back Guarantee | 60-day | 30-day |
| Customer Support | 24/7 live chat, phone, support, email | 24/7 live chat, phone, support, knowledge base, email |
| Uptime Guarantee | 99.99% | 99.99% |
| Server Location | Austin, Taxes, USA | Orem, Utah, USA |
| Security | SSL certificate, CDN, Cloudflare | SSL certificate, CDN, siteLock |
| Email | No | $3.00/month |
| Rating | 4.6/5 | 4.7/5 |
| Website | www.wpengine.com | www.bluehost.com |
In our opinion, We would choose WP Engine over Bluehost based on these factors performance, security, premium features, and better WordPress Solutions.
The cheapest rate starts at $24.00/month.
Free site transfer with Automated migration Plugin
99.99% uptime guarantee
Handle 25,000 to 400,000 monthly visitors.
10 to 50 GB Local storage and 50 to 500 monthly Bandwidth
Free premium WordPress themes and plugins in every WP Engine Plan
24/7 WordPress Support
Free Automate site backups
1-Click stagging websites
Advance Security features (Free SSL, SSH access, DDOS Protection, CDN Integration)
60 days money refund guarantee
While for the Bluehost, We would choose based on the Price, Ease of use, and Customer Support.
The basic price starts at $2.95/month.
WordPress-centric different verity of hosting plans (Shared, VPS, Dedicated)
99.99% uptime guarantee
Unlimited SSD Storage and unmetered bandwidth
Excellent 24/7/364 Customer support
Highly recommended by WordPress.org.
Daily backup with extra fees included in the basic plan
Free Website Migration and unlimited websites in Plus plans
Free SSL encryption and CDN integration
Custom WordPress themes, templates, Drag and drop website builder
30-day money refund guarantee
The most obvious difference between the two companies is pricing. Bluehost is more wallet-friendly to its customers, with free domain registration in the first year. However, with WP Engine, you will get premium themes, plugins, speed, and security at $25 per month to start a professional website that the Google Algorithm loves to rank.
WordPress is a widely used CMS today. It has become the actual standard for building websites. If you're looking for the best CMS host, you don't need to look any further than the top two players in the industry: WP Engine and BlueHost.
Well, I'm so happy for you if you can make a decision based on your needs.
If not, no worries! Let's discuss this in detail and get the Answer……..
Overview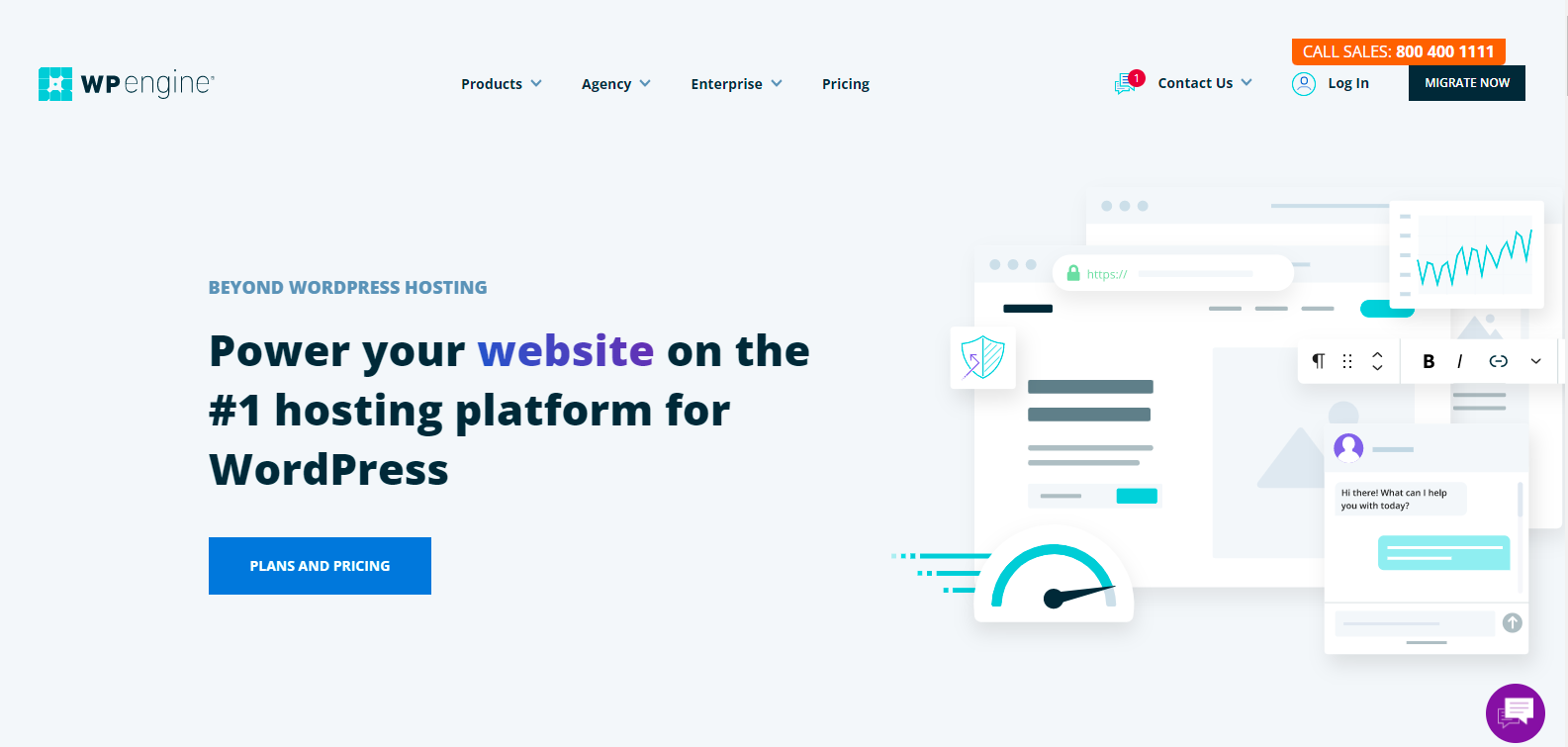 A company called WP Engine was founded in 2010 by serial entrepreneur Jason Cohen. WP Engine is a privately held company headquartered in Austin, Texas. It has offices in Australia, Brisbane, Limerick, Ireland, London, England, Omaha, Nebraska, and San Francisco, California. Its primary shareholder is Jason Cohen, and its current CEO is Markham Erickson.
Cohen founded WP Engine to address the demands of the rapidly growing WordPress market, which he estimated at 100 million websites. Now, they have more than 175,000 customers in 150 countries and over 1. 5 million active websites on its platform.
WP Engine expanded its data centre footprint in the United States, UK, Europe, and Japan to meet the growing demand for faster website speeds, more security, and scalability.
The WP Engine company aims to provide the best technology possible to its customers. To do that, they partner with the best-in-class technology companies in the world. Those companies include Google, New Relic, Cloudflare, and Amazon Web Services (AWS).
In Contrast, Bluehost has been around since 1996 but was founded in 2003. Bluehost is the world's most prominent web hosting company. It was founded by two brothers, Matt and Jay Haley. Their servers are located in Utah, but they provide customer service in seven countries: the United States, United Kingdom, Canada, Australia, Ireland, New Zealand, and South Africa.
The company is now owned by Endurance International Group, Inc. EIG acquired Bluehost and continued to expand the business. It has over 2 million domains alongside other web hosts, HostMonster, FastDomain, and iPage.
The firm runs its servers in-house at a 50,000-square-foot (4,600-square-meter) facility in Provo, Utah, which it currently shares with its sibling company HostMonster.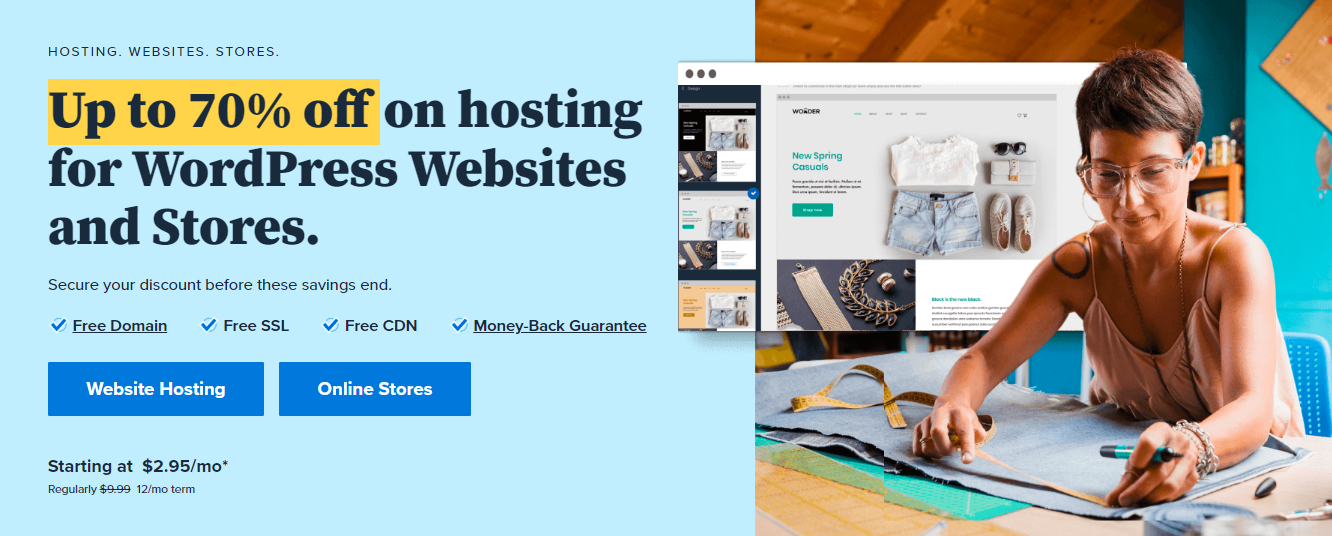 In 2004, Bluehost grew to more than 10,000 customers and had more than 250 employees. Today, they have more than 400,000 customers and are ranked in the top 200 most visited websites in the US. The company now operates with more than 700 employees worldwide.
It is an amazing service provider company that provides the best services ever. Its mission is to serve the best services and products to satisfy its customers. So they are doing very well and are top-recommended by WordPress.org.
What's the difference between WP Engine and BlueHost?
While both companies are based out of the United States, WP Engine and BlueHost differ in many ways. Both companies provide WordPress hosting services, but there are critical differences between the two.
Let's discuss these differences and see how they apply to you. Of course, the first and most obvious difference between WP Engine vs Bluehost is pricing.
WP Engine Plans and Pricing
WP Engine is one of the well-known hosting companies for WordPress users and offers managed WordPress hosting for all types of sites.
WP Engine provides several services to help customers run successful WordPress websites, including website performance monitoring, security patches, backups, site migrations, and site health checks. It also offers many premium features and plugins to help users optimize their sites for search engines and increase their site traffic.
WP Engine offers four different pricing plans in Managed WordPress Hosting:
Managed hosting ($25/month)
Managed Hosting Plus ($28/month)
Secure hosting ($44/month)
eCommerce Hosting ($24/month)
Managed Hosting
WP Engine Managed Hosting offers five tiers: Starter, Professional, Growth, Scale, and Dedicated Custom Hosting. Each tier comes with different features and prices. We'll look at each plan and its features to see which is best for you.
Starter – $24/month
The Starter plan is perfect for those needing a simple site to showcase their portfolio or brand. This plan includes all the features you need to get started, including 10 premium themes, one website, 10 GB storage, and 50 GB bandwidth/month. In addition, you can save $60 and receive two months free if you subscribe to yearly prepays.
Professional – $47/month
The Professional plan is designed for companies who need to host multiple websites or sell products online. It offers all the features you need for a successful business, including 3 sites, 15 GB storage, and 125 GB bandwidth/month. In addition, you can save $118 and receive two months free by subscribing to yearly prepays.
Growth – $92/month
The Growth Plan is ideal for businesses that are growing day by day. It offers all the elements you need to host your company's main sites, 10 more websites, 20 GB of storage, and 100,000 visits/month. You can also save $230 by subscribing to yearly prepays.
Scale – $232/month
The Scale plan is designed for agencies that need to host their client's websites. It includes all the features of 30 GB storage, handles 400,000 monthly visitors, and has 500 GB of bandwidth that an agency needs. Plus, You can save $580 by subscribing to annual terms.
Dedicated Hosting Custom: Depend on your needs.
The Dedicated plan is perfect for individuals or small to large businesses. The plan allows you to add resources to your website whenever needed. You can also delete resources when you don't need them anymore. You can also scale up or down.
For example, if you need a more extensive database, you can add one to your site. Scaling up or down in RAM (memory) and CPU (central processing unit) is also possible. You can always change your website's resources whenever you feel like it.
WP Engine dedicated hosting service is an all-inclusive package that includes a 99.99% uptime guarantee, 24/7 premium dedicated support, and white-glove onboarding with a launch readiness assessment. They also provide a powerful feature called Application Performance Monitoring. This feature allows you to monitor your website and see how it performs. You can subscribe to this plan by contacting the WP Engine support staff.
Managed Hosting Plus
This package provides everything the same as the Managed hosting package, but it comes at a different price rate of $28/month. WP Engine created this Plus package to enable their clients opportunity to securely and automatically update all of your plugins to ensure that your website does not break.
Secure Hosting
Secure hosting is intended to provide more speed, security, scalability, and protection for WooCommerce sites. This package contains the Managed Hosting Plus plan's functionality, protection from malicious traffic spikes (DDoS), and a security firewall for your traffic (WAF). Its price starts from $44/month, which is more expensive than the Managed Hosting plans.
eCommerce Hosting
eCommerce Hosting is specifically designed for online stores. You can set up a simple store in one minute and launch it on your domain name. They provide the tools and expertise necessary to create a WooCommerce site.
With eCommerce Hosting plans, you can launch an online store, manage multiple shops, add products, set up inventory management, and more. It has all the basic elements needed for eCommerce website development. The monthly fee begins at $24. In addition, you will receive the Instant Store Search feature and optimized WoCommerce themes and layouts.
BlueHost Plans and pricing
BlueHost is a popular web host company that provides quality WordPress hosting. This service is suitable for both bloggers and business owners. It includes a free domain name, a free website builder, unlimited email accounts, unlimited disk space, and 24/7 customer support. Different plans are available to choose from depending on your needs.
Managed WordPress Hosting
WooCommerce Hosting
Managed WordPress Hosting
Managed WordPress hosting Bluehost is only designed to give their customers WordPress focus services. It has many features and options that make it easy to set up and maintain a WordPress website.
Bluehost offers four different packages that can be customized to fit the needs of any website.
Basic – $2.95/mo*
BlueHost's BASIC package is the cheapest of the four plans and is perfect for personal blogs or small business websites. It provides a lot of space and bandwidth at a low cost. The Basic package is suitable for people who want a reliable web hosting service at an affordable price. The Basic package includes a free domain and 10 GB SSD Storage.
Plus – $5.45/mo*
The Plus package is suitable for medium-sized businesses. It has many features that can be used to create a website. The Plus package provides unlimited disk space and bandwidth, and you can also add extra email accounts, databases, and traffic.
Choice Plus – $5.45/mo*
The CHOICE PLUS plan is a bit more expensive than the PLUS, but it comes with 1-year Free Automated Backup, free Domain privacy, and CDN. It has all the resources to start small to large-scale business sites, which is why they recommend it. Save 71% by joining the Choice Plus package.
PRO – $13.95/mo*
The PRO package is the most expensive of the four plans and is suitable for large-scale businesses. It offers CPU Optimized resources and a dedicated IP, which they do not give in the Choice Plus package. You can add spam experts for two domains and Google Ads($200). The main benefit of the Bluehost PRO package is that the websites gain extra speed and response time.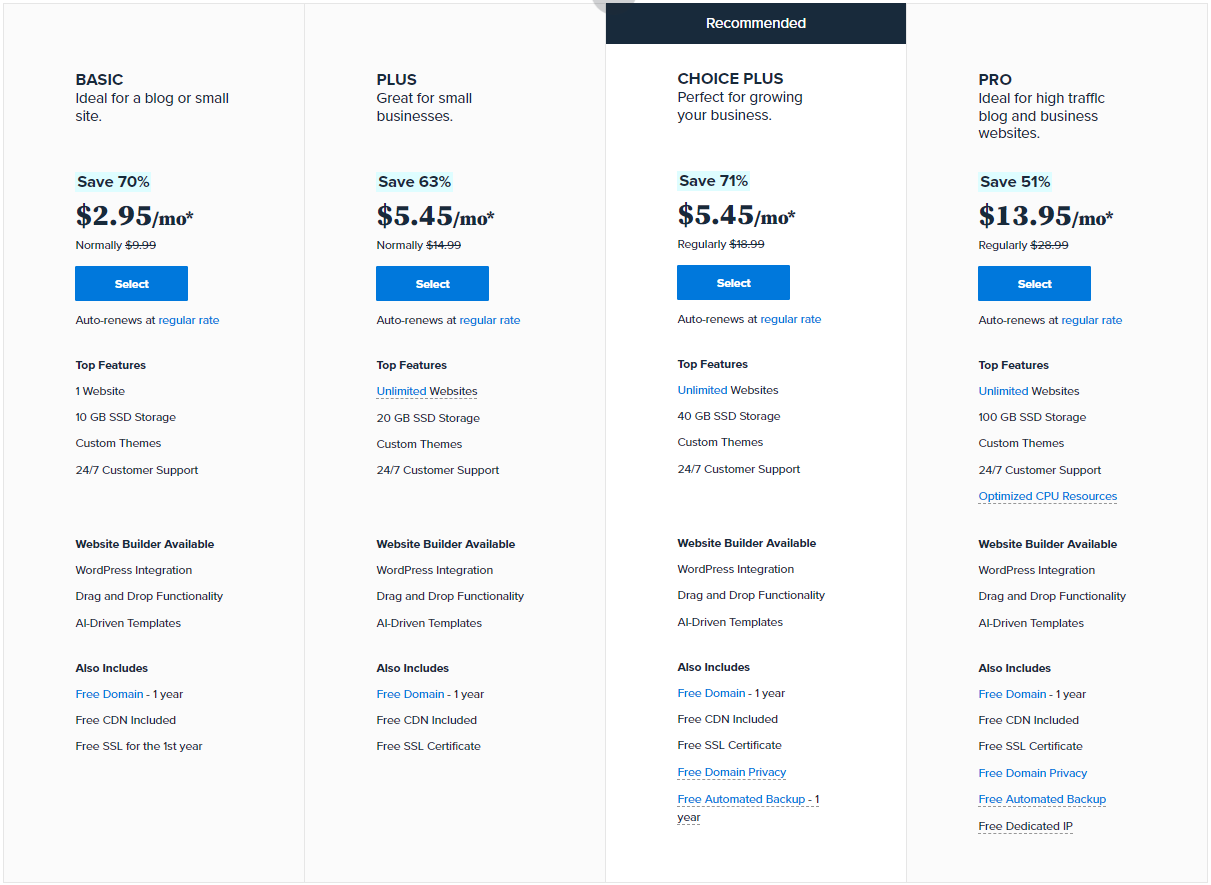 WooCommerce Hosting
With the help of the e-commerce plugin called WooCommerce, you can build a beautiful online store from scratch or update an existing website.
WooCommerce is an open-source, free e-commerce platform that provides a complete, flexible, and powerful online store. It is designed to help you sell products and services online. It's the best e-commerce plugin for WordPress and is easy to set up.
With a variety of prices, services, and tools to help you launch your store quickly, Bluehost is a great choice.
Bluehost provides a variety of Woocommerce hosting plans to fit any budget. You can choose between one of two packages—Standard or Premium.
Standard Package – $12.95/mo*
Standard plans include all the features you need to run an online store + blog. These plans allow you to set up your online store and customize it with add-ons.
Premium Package – 24.95/mo*
Premium plans give you unlimited monthly data transfers and storage. They offer unlimited space, and you can upgrade your package if you need more.
Which package should you choose?
The best package depends on how big your business is. If your business grows, you should choose the WP Engine Managed Hosting Growth package, no matter the price. This package gives you unlimited monthly data transfers and space, so you won't have to worry about running out of space. Or, you can select the WP Engine Custom option and design the package base on your needs.
However, If your business is small or you have just started and are bound by budget, you can go with the Bluehost Standard plan. This package gives you everything you need to start your website in WordPress.
The only drawback to choosing the Standard plan is that it has fewer add-ons than the Bluehost Choose Plus plan. Unfortunately, you may need to pay a little extra for additional add-ons.
Remember that WP Engine is a managed hosting company, so you won't have to deal with automated updates, daily backups, or constant website maintenance. Instead, that is taken care of by the WP Engine tech staff. Bluehost also offers Managed WordPress services, although their technical team is less efficient than WP Engine.
Furthermore, WP Engine provides a significant 60-day money-back guarantee, giving you more than enough time to try it out. Bluehost, on the other hand, provides the standard 30-day money-back guarantee.
In short, Bluehost provides lesser costs plans when comparing Bluehost vs WP Engine pricing. WP Engine's costs are also not outrageous. If you truly want your company to develop and perform well on Google.
Winner:  Bluehost
Which web host has the best performance?
In my opinion, WP Engine is far better than Bluehost because they have better response time and speed. WP Engine is well known for its high uptime guarantee, speed, high-performing plans, and award-winning customer support. They offer free fully managed CDN, automatic PHP, and WordPress updates. So you don't experience any slow down in your website. You can contact them 24/7 via live chat, phone, and email if you have questions about uptime and speed.
Bluehost and WP Engine are popular web hosting companies for many reasons. Bluehost is highly regarded for its excellent support and ease of use, whereas WP Engine is known for offering a high-speed, secure, and easy-to-use platform for WordPress.
It's important to consider the speed and uptime of each company to understand which provider is best suited for your business. So if you're looking for speedy web hosting, here's a comparison between Bluehost and WP Engine.
WP Engine is best known for its faster speed and uptime, which are both exceptionally high. The uptime for WP Engine is currently an impressive 99.99%, while the company's average response time is less than 2 seconds. To help maintain their uptime record, WP Engine uses cloud-based and on-premise servers to host websites.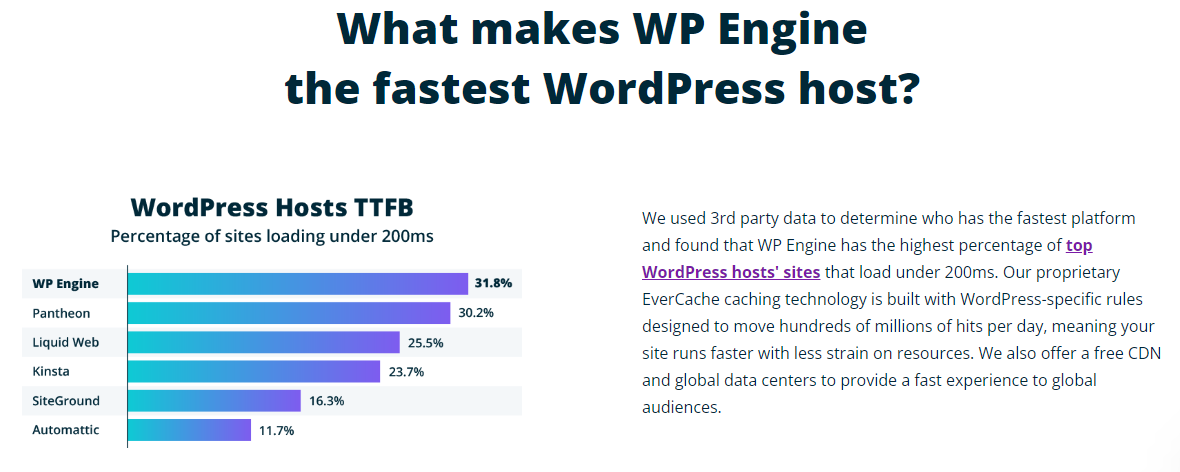 WP Engine's platform automatically detects when an issue occurs and will automatically take care of it. WP Engine states that they use both technologies to prevent single points of failure, but this raises questions about why a website would go offline. Fortunately, WP Engine has created a blog post explaining both technologies' benefits, so you can decide which option is best for your site.
Many website owners choose the web hosting as the first step toward creating a successful business online. Some choose Bluehost because it offers low prices, a robust network, and excellent customer support. Others choose Bluehost because they've been impressed with their uptime and reliability in the past.
It's easy to see why website owners would be interested in reliable web hosting, but that's not the only reason they should consider Bluehost.
Bluehost also boasts a 99.9% uptime guarantee, which means they back their service with a commitment to customer satisfaction. They offer solid uptime guarantees so that you won't have any problems. That's why the hosting industry has adopted Bluehost as its go-to provider.
The web host's performance can be determined by the uptime and page loading speed. Therefore, to check each host's Uptime, we use the Pingdom monitoring tool. And results are given below.
WP Engine's average Uptime for the past 4 months:
July 2022: 99.99%
August 2022: 100%
September 2022: 100%
October 2022: 100%
Bluehost's average Uptime for the past 4 months:
July 2022: 100%
August 2022: 100%
September 2022: 100%
October 2022: 100%
The data shows WP Engine and Bluehost have an average uptime score of 100%. However, WP Engine had a 0.01-second outage in July.
Aside from Uptime, we also want to check how these two hosts perform on the real-world website. So, we set up two websites on each host. From here, We installed the Hello theme and activated some popular plugins such as Rank Math, Elementor, and WP Form. After that, we created some pages and posts on both test websites to make everything real for WordPress.
Then we used the Pingdom tool to measure the loading time on six different server locations.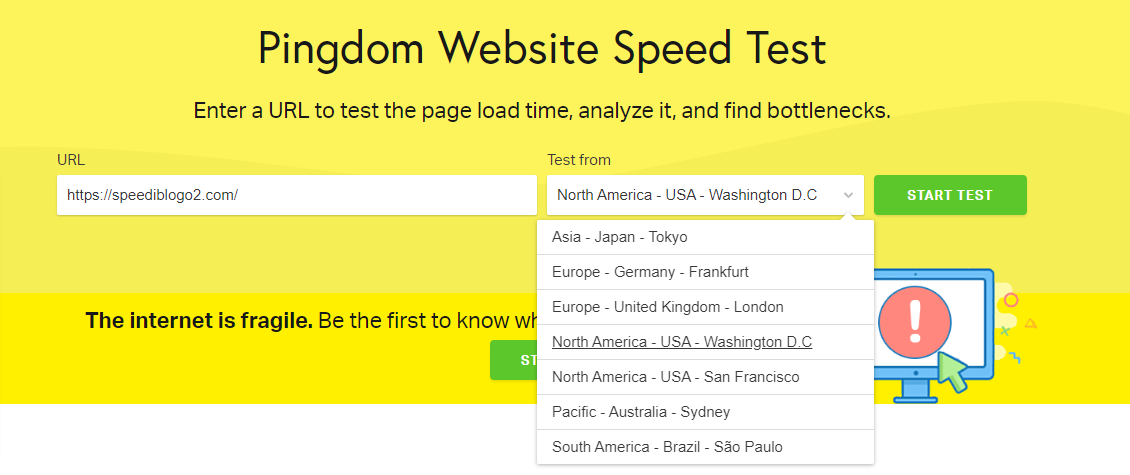 Here are the outcomes of the Bluehost site:
Asia – Japan- Tokyo: 3.41ms
Europe – United Kingdom – London: 2.35ms
North America – USA – Washington DC: 1.19ms
Pacific – Australia – Sydney: 2.39ms
South America – Brazil – Sao Paulo: 4:41ms
Europe – Germany -Frankfurt: 2.10ms
Here are some fascinating outcomes of the WP Engine site:
Asia – Japan- Tokyo: 1.20ms
Europe – United Kingdom – London: 635ms
North America – USA – Washington DC: 619ms
Pacific – Australia – Sydney: 1.63ms
South America – Brazil – Sao Paulo: 2:77ms
Europe – Germany -Frankfurt: 610ms
The output data shows WP Engine is taking command over Bluehost in page speed.
The server can become overloaded at times, which causes your website to load slowly. You can improve your site speed by optimizing images, enabling caching, using a CDN, and minifying CSS, HTML, and Javascript.
Winner: WP Engine
WP Engine vs Bluehost: Website Security
As a website owner, you should always ensure your site is safe from hackers. One of the ways you can do this is by using the services provided by WP Engine and Bluehost. Both these companies offer a comprehensive package of tools that can help keep your site protected.
While each company does things differently, you can rest assured that both hosting services will protect your site. But WP Engine goes above and above in terms of security. It covers all of the fundamentals, including free SSL certificates, one-click CDN activation, daily backups, website monitoring, and multi-factor password authentication.
WP Engine facilitates its customer with global edge security features at a higher price. This comprehensive security solution is designed to keep your sites secure with a Web Application Firewall (WAF) and DDoS protection while maintaining a faster client experience.
At the same time, What security does Bluehost offer?
Bluehost offers Free SSL Certificate, Cloudflare CDN, and SiteLock 360-degree scanning feature. They have a three-layer security system to secure your data from unwanted access and misuse. The system includes Anti-Spam Expert, Apache Spam Assassin, and Spam Hammer. These layers guard your website against viruses and prevent any suspicious emails.
Aside from the SSL and CDN, Bluehost charges an additional $2.99/month for automatic backups and security against malicious attacks.
Naturally, nothing is completely secure. But WP Engine feels your security is too important to take casually. As a result, WP Engine is the only Managed WordPress company to give their clients a Security Guarantee. If your site is hosted by WP Engine and is hacked, they will pay for the repair! The guarantee implies that WP Engine is financially motivated to ensure you are never compromised.
Bluehost security is appropriate for small and medium-sized company owners. But not for those with high-traffic websites. Therefore, our winner is WP Engine in the security department.
Customer Support
WP Engine has a stellar reputation regarding customer support, and it shows in the reviews. WP Engine's support team has been recognized with various awards and honors for being one of the best in the industry. They has also been nominated for the top tier award in the category of Support from the Best Web Hosting Companies in America.
WP Engine's customer service has helped to make that possible. The team at WP Engine is always available, offering a 24/7/365 support line. WP Engine is the only major web hosting company that offers complete customer service support seven days a week, 365 days a year.
Their experts are dedicated to providing the best support possible to their clients. They will listen to your concern when you contact them and explain how they can help. They're very knowledgeable and provide helpful advice to ensure your site runs smoothly.
WP Engine offers 24/7 live chat, phone, and 24/7 email support via its website. This level of customer assistance is second to none, and using WP Engine is worth the investment. They also have many data centers worldwide.
In Contrast, Bluehost offers web hosting services to small businesses and individuals around the world. When you sign up for a Bluehost web hosting plan, you'll receive unlimited email accounts, space to upload files, and unlimited bandwidth. And Bluehost offers several helpful resources to make managing your website more accessible.
One of these is its technical support service. You can contact Bluehost technical support for assistance if you run into any problems with your web hosting account. Bluehost offers a wide range of customer support options. These include 24/7 live chat and email, as well as phone support. You can also send an email if you want. To avoid sending a message, you can call Bluehost's support.
WP Engine is a great option. They have won awards because of their top-notch customer support. WP Engine also has many data centers all over the world. You can contact them anytime at their given phone numbers.
Pros And Cons Of WP Engine and Bluehost
WP Engine pros and cons
Pros
60-day money-back guarantee
Daily and on-demand free backups
Free access to Genesis Framework and StudioPress themes
Free SSL and CDN
Well optimized with WordPress users
Malware scanning and firewall protection
Award-winning customer service
Free automated migration plugin
Multiple server locations
100% uptime guarantee
Cons
Expensive web hosting provider
No email hosting
Only managed hosting plans
Limited storage and traffic
Bluehost pros and cons
Pros
Cheap pricing
Unmetered bandwidth
Reliable security
30-day money-back guarantee
Free SSL certificate
Free domain name for the first year
cPanel control panel
High uptime and fast loading speed
Easy integration with WordPress
Good affiliate program
Automatic WordPress installation
24/7 customer support
Cons
Poor automatic backup service
High renewal prices
No cloud hosting
WP Engine vs Bluehost: Final Verdict
Both WP Engine and Bluehost are excellent options for those looking to host their WordPress site. WP Engine and Bluehost offer similar plans, so your needs and budget will largely depend on your best choice. Both companies provide managed-to-host packages, including various add-on services such as SiteLock, SSL certificates, and 24/7 customer support.
| Category | WP Engine | Bluehost |
| --- | --- | --- |
| Features | Free migration site, free domain for one year, 60-day money-back guarantee, and daily automatic backups | Unmetered bandwidth, cPanel control panel, 30-day money-back guarantee |
| Pricing Reliability | WP Engine is a costly WordPress host | Overall lower prices |
| Reliability | 99.99% uptime guarantee with an average response speed of 124ms | 99.99% uptime guarantee with an average response speed of 416ms |
| Security | SSL certificate, Cloudflare CDN, DDoS protection | SSL certificate, Cloudflare CDN, siteLock |
| Support | 24/7 live chat, phone, email | 24/7 live chat, phone, knowledge base, email |
Conclusion
I've reviewed the two most popular WordPress hosting providers in this guide, WP Engine, and Bluehost. Both companies are incredibly reliable, which is why they are among the most popular options for hosting WordPress websites. That means they're often used by businesses and other organizations that don't have the time or expertise to create their website.
So, in the end, both WP Engine and Bluehost provide solid value for their customers. However, WP Engine is the more expensive option, while Bluehost offers more value for the price.
Alternatives of WP Engine
Alternatives of Bluehost