In Stablehost Review, You will learn everything about Stablehost to start a website:
Plans & Pricing
Speed & Performance
Security
Customer Support
So let's get started.
If you're wondering how to choose the right web hosting company, this article will help you make the right decision. There's a good chance you've already tried several different ones. But while most web hosts may provide essential services, they won't necessarily give you the stability you need to run a website.
StableHost is a well-known web hosting provider offering every service and feature you want while selecting a hosting plan. They offer unlimited storage, bandwidth, MySQL databases, 24/7 server monitoring, unlimited FTP accounts, and a site pro web builder that allows you to build your website within minutes. Let's Encrypt SSL, SSh access ( additional fee), LiteSpeed, stats, unlimited email accounts, and more.
StableHost is one of the top web hosting services on the market, giving you more than just web hosting. You can also get many features, performance, top-notch security, and 24/7/365 customer support.
In addition, StableHost uses Linux and CentOS servers, which means you can be confident that your site will stay up and running. If you want the best web hosting service, it's hard to go wrong with StableHost.
Read this table if you can't read the whole article. This table will cover almost everything that you need to start a website.
StableHost Features
| Features | StableHost |
| --- | --- |
| Hosting Type | Shared web hosting, Reseller hosting, VPS hosting, Dedicated hosting, WordPress hosting |
| Free Domain | No, StableHost only provides paid domain names |
| Pricing  | $1.75/month |
| Disk Space | Unlimited |
| Bandwidth | Unmetered |
| Automatic Backups | Yes, StableHost can store a backup of your website's data for up to 14 days |
| Dedicated Hosting | Yes, their price range from $145 to $245 per month |
| cPanel | Yes, they offer the most used control panel called cPanel |
| Free CDN | No, the company doesn't provide CDN for free. |
| Free Migration Site | Yes, you can easily migrate your site to StableHost for free. However, Domain transfer cost between $20 to $25. |
| Money-Back Guarantee | StableHost offers 45-day money-back guarantee |
| Customer Support | 24/7 live via chat, phone, email |
| Server Uptime Guarantee | The company offers 99.9% uptime guarantee to its customers |
| Server Location | Pheonix, Arizona, USA |
| Security | SSL certificate, Security audit, VPN, SiteLock |
| Email Hosting | No, they don't provide email hosting |
| Rating | 4.9/5 |
| Website | www.stablehost.com |
See, StableHost offers feature-rich hosting plans. Interesting, right? I know!
Ok, if you were able to make a decision. Great!
If not? Let's get into details and learn more about StableHost.
Before jumping into its plans and pricing, let me explain the company.
When was it founded?
Who are they?
It would be best if you had an idea about the company.
So let's dive right into this.
Overview
StableHost is a privately owned web hosting company that started in 2001 but, in 2009, launched the LLC. Since that day, the company has been continuously growing. The company's main headquarters is in Pheonix, Arizona, USA. Their data centers are in Chicago, Amsterdam, Valencia, Stockholm, Frankfurt, and Singapore.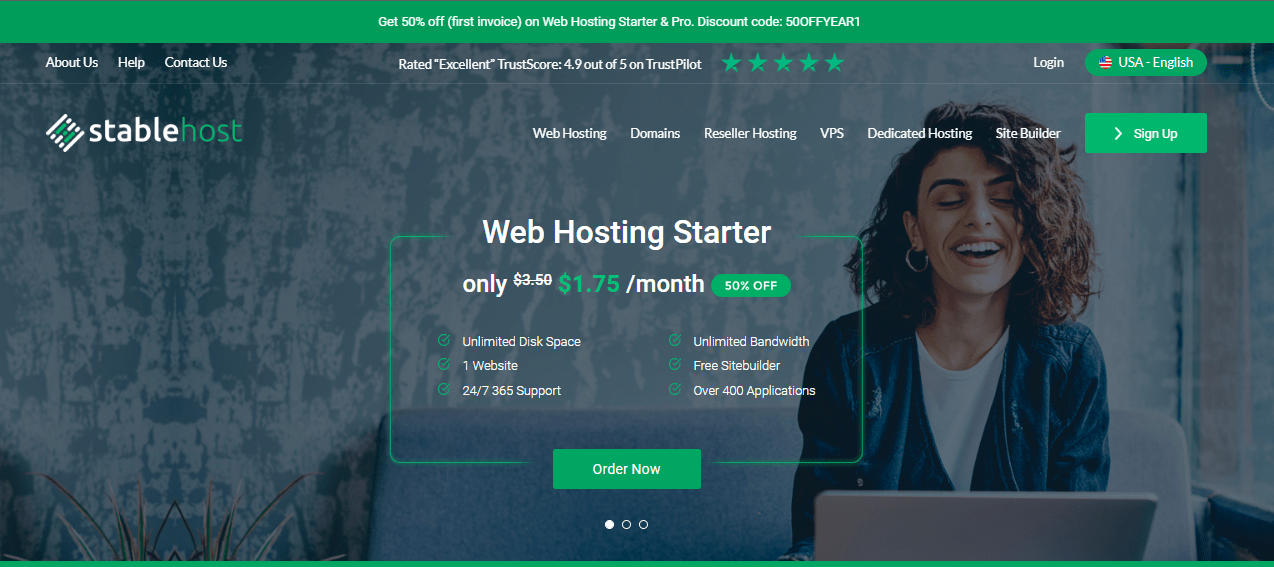 Bluehost is hosting more than 50,000 domains right now. The company depends on 15 people who deeply care about your needs and website. In addition, I reviewed StableHost and learned that they care about your hard-earned money, so that's why they're offering coupon codes so you can use them to save money. StableHost also provides over 100 free apps, including WordPress, phpBB, Joomla, Drupal, Magneto, etc.; you can install them with 1-click installations.
The company has a passionate customer service staff who will assist you with any problem with your website. In addition, their technical support is available 24/7/365. And according to Trustpilot, StableHost got a 4.9 rating out of 5 based on the 1653 reviews from their customer.
Now you must be excited to know about its plans and pricing.
So what are you waiting for? Let's begin.
StableHost Review: Plans and Pricing
I know choosing a hosting plan is not an easy task. That's why I will explain every hosting plan that StableHost offer. So you can easily choose one between two that meet your needs.
StableHost offers 5 hosting plans:
Shared Web Hosting
Reseller Hosting
Dedicated Hosting
VPS Hosting
WordPress Hosting
Shared Web Hosting
Shared web hosting is a very popular hosting for hosting websites. Shared hosting is for those who just entered the web world, want to start a website, or don't have any experience hosting a website. Its packages provide you with everything to create a website.
Shared web hosting has only three packages Starter, Pro, and Platinum.
Starter ( $1.75/mo): This package is ideal for people who have just started their website. In the Starter package, you will get 1 website with unlimited disk space, unlimited bandwidth, site builder, 500 accounts per server, and 24/7/365 email and chat support.
Moreover, this package includes 1 full CPU core, a maximum of 250,000 INodes files, 99.9% SLA, 25 MySQL connections, script troubleshooting, and DDoS protection-2Gbit/s.
Pro ( $4.25/mo): The Pro package is a bit more expensive than the Starter, which is perfect for those with multiple websites. This package has the same features as in starter package, but you will get unlimited websites.
Platinum ( $27.99/mo): Platinum package is more costly than both web hosting packages, designed for large websites that require powerful hosting. This package provides everything the same as the Pro package. Still, with this package, you will get VIP support, 50 accounts per server, maximum of 500,000 INodes files, 2 complete CPU cores, 50 MySQL connections, and 99.99% SLA.
INodes are the number of files you can store on your website's hosting account. Everything that you keep on your site, including files, folders, emails, and databases
As if that's not enough, the Platinum package has a feature of hacked/compromised repair. That means StableHost will help you repair your website if your website gets hacked. Plus, this package has a helon spam filtering service.
Reseller Hosting
StabeHost offers reseller hosting plans designed to enable you to generate a substantial income while also providing your customers with hosting services of the highest possible quality. Reseller hosting offers three plans BASIC, PRO, and Plus. Their price range is $9.12 to $27.45.
The BASIC plan is ideal for beginners who resell website hosting. This plan gives you 20GB of storage, and you can host up to 10 clients on your server. Its monthly price is $9.12.
PRO plan is best for resellers who want to host more than 10 clients. Its monthly price is $18.29, and this is the most affordable plan you will ever get for hosting 50 clients, and each client can use up to 50GB of storage.
PLUS plan perfect for high-end reselling web hosting to more than 50 clients. You can get this plan for $27.45 per month. This is the most affordable plan you will ever get for hosting 100 clients with 60GB of storage for each client.
Dedicated Server Hosting
A dedicated server is a very effective way to run your website. This web hosting is one of the best options when you want to run multiple websites or servers on your network. In addition, it is the most secure option for your network, and you can set up a high-performance network on it.
Stablehost provides dedicated server solutions based on Linux, Unix, and Windows. A dedicated server has three plans with different prices and features to meet other requirements. They also have varying capacities, ranging from 4 GB to 16 GB of RAM. If you require more power, contact StableHost, and they will get you a custom server.
VPS Hosting
VPS allows you to have some of the benefits of a dedicated server without the cost. It is used by those who have exceeded shared hosting but don't want a dedicated server. Your site would be one of the hundreds on a single server compared to shared hosting.
A virtual private server (VPS) gives you reliable resources based on your plan. These servers are brand new operating system installations with no extra server software. Linux's command line interface makes it easy to set up any software.
VPS offers 5 hosting plans, VZ 1GB, VZ 2GB, VZ 4GB, VZ 8GB, and VZ 16GB, from $10.95 to $130.90 per month.
StableHost VPS Plans come by default with no management service included, meaning that the customer is left to do everything on his own. However, they do offer a Managed Support Add-on that contains a monthly cPanel/WHM license and 10 hours of management for $39.99 per month. In addition to the monthly charge of the VPS plan.
StableHost use Enterprise-level hardware, such as dual E5-2620 processors, 96 GB of RAM, and pure-SSD hard drives. Moreover, You can host your website in Pheonix, Chicago, and Amsterdam.

WordPress Hosting
WordPress is a top-rated CMS platform for creating websites and blogs. With thousands of themes and plugins and millions of users, the software is one of the most powerful tools in the web developer's toolkit.
If you want to build a stable business for your WordPress site, consider StableHost. The company offers WordPress hosting packages with over 10,000 themes, WordPress installation with 1 click, etc. Moreover, you can customize WordPress with HTML or code.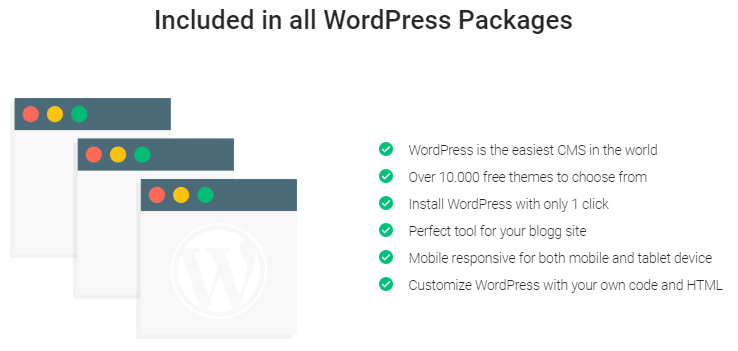 Renewal Prices
StableHost has the most affordable renewal prices. They provide several pricing options for shared web hosting packages. StableHost's monthly renewal costs are $5.95 for Starter. $10.95 for PRO and $34.95 for PLUS. If you purchase a PLUS plan for 12 months, the price is only $29.95 a month. The total amount will be $362.38. The package then automatically renews for $29.95 each month, and the cost of an SSL certificate for 1 year is $1.99.
Moreover, they will protect your ID online. Many web hosting providers display your information to anyone who owns a domain. StableHost doesn't do that. With the ID protection of StableHost, nobody can know who owns a domain.
StableHost Domains in the first year
.com $12.44
.org $9.99
.store $1
.info $12.99
.online $1
.net $12.99
Domain renewal prices
.com $14.99
.org $14.99
.store $49.99
.info $14.99
.online $34.99
.net $14.99
After reviewing Stablehost pricing and plans,
I recommend you should start their shared hosting Pro plan.
Which covers everything for the custom-made website as well as WordPress sites. However, you can also read our
Namecheap versus HostGator
comparison if you are looking for the cheapest web host for your business.
In the StableHost review, we will discuss StableHost speed and performance, which is essential if you're running a website.
So let's discuss this while diving into it.
Performance Review: Uptime and Loading Speed of StableHost
Website speed plays a significant role in your site's SEO rankings. If a page doesn't load in two seconds, visitors will leave. Web users expect websites to load quickly. Therefore slow pages might affect a site's search ranking. It's crucial to find a hosting service that can optimize your site.
StableHost offers two servers for high website speed, Apache and LiteSpeed. Both servers work very well and are among the fastest in the world.
One of the most popular open source web servers worldwide is the Apache web server. Apache gives you many ways to set up the server, so users get the fastest response possible. LiteSpeed is a popular caching plugin that will help speed up your site. If you want a faster web server for your website, then LiteSpeed might be just what you need.
StableHost offers Apache and LiteSpeed web servers depending on the location; Pheonix, Chicago, and Amsterdam data centers offer LiteSpeed servers. Thus, Stockholm, Valencia, and Frankfurt location servers offer Apache servers. And Singapore data centers provide both LiteSpeed and apache servers to speed up a website.
StableHost offers an uptime of 99.9%. But their shared web hosting provides 99.99% uptime in the Plus plan, which is pretty impressive.
This company says that no matter how much traffic you receive, your website will load lightning fast thanks to customized versions of LiteSpeed, PHP, and MySQL.
Obviously, we're not going to believe them. So, we created a new WordPress website and used the Pingdom tool to monitor the uptime and loading speed.
Based on results, StaleHost maintained very impressive uptime in the past 5 months:
September 2022 99.94%
August 2022: 99.98%
July 2022: 99.98%
June 2022: 100%
May 2022: 100%
But while maintaining such a good uptime, some incidents happened last month.
DDoS attack because of an overloaded server.
The server was down, and this happened twice in a single month.
Network routing issue in Chicago data center.
Somehow they fixed all their issues later.
Furthermore, the average 5-month load time for StableHost is 757 ms. So it's not a slow loading time.
And as indicated in the screenshot, our test site has an average loading time of 1.40s and a "D" performance grade with a 68 score.
Overall, StableHost has some space for improvement, and we expect to see improved outcomes in the future.
How to transfer my Domain Name to StableHost?
In the StableHost review, I will explain how you can transfer the domain to StableHost.
So let's get into this.
Transferring a domain name registration might take up to 7 days to finish. However, in some cases, it takes only 3 to 5 days. You will have to follow these instructions to transfer any domain name to StableHost:
Domain at least spends 60 days on the current provider. After that, you initiate the domain transfer. Otherwise, you have to wait.
Your domain name needs to be unlocked by your current registrar. For that, you have to contact the current provider's customer support.
Your existing domain registrar's ID Protection (whois privacy) feature must be disabled.
Contact your existing registrar to get the EPP code.
Make the transfer request and pay for it on StableHost. Click here (you will need to log into the customer portal first) to start the domain transfer immediately.
The domain remains functional throughout this procedure (at least it has already expired). If you already host that name with us, change its DNS records before transferring it. The modification might cause a few hours of downtime.
In Simply Words, contact your existing provider's customer service and inform them that you wish to transfer your domain. The agent will unlock your domain and email or SMS you the EPP (Extensible Provisioning Protocol) code. Next, you must paste the code into the new host input area where it says "Enter EPP" and fill out the other fields.
After that, wait for 7 days to complete the domain transfer process. If you require our assistance, please
fill out the form
.
Please keep in mind that domain migration is not free. Every web hosting company charges between $20 and $30 for domain transfers.
StableHost Review: cPanel
StableHost offers the popular control panel cPanel. StableHost's cPanel management interface simplifies web hosting and is easy to use. There's no reason not to test it since it's free. You can effortlessly add domain names, email accounts, and websites with StableHost. You only need to create a free account and install cPanel. Then you can customize your website and use your domain. You can use StableHost cPanel even if you know nothing about websites.
How do I get into cPanel?
To access cPanel from within the StableHost Client Area, follow these instructions:
Log in to the client area
Go to service and click on "My Service":
Choose the hosting plan that is right for you, and then click the "Active" to the right of it:

Click on "Login to cPanel" on the left-hand side of the page:
StableHost Review: Backups
Backups are essential if you run a website because if anything bad happens to your website. A backup will save all your data, like your blog posts, web pages, pictures, etc., on a computer or server. So it's good to have one.
If you need a website backup, you can use cPanel in StableHost. You'll see an icon after logging into cPanel where it says "Backup."
You can also back up your website with the R1Soft backup server available in all shared web and reseller hosting plans. They will back up all your website data and store them every night for 14 days. To restore data, go to cPanel, click "R1Soft," and select the files you want to restore.
But wait, do you know what the company says after all?
That is very shameful! The company should improve its services. You will see this bold sentence they mentioned in their knowledge base section, which is unacceptable.
Now let's get into another topic. Security is essential if you run a website. Without having enough protection, hackers can sneak into your website or steal crucial data from your website.
So let's dive right into this.
Security
StableHost offers an SSL certificate service. Using SSL certificates, you can protect your website from hackers.
Google has started favoring sites with an SSL certificate since it helps protect user data. Websites that use HTTPS now rank higher than those that don't. You should consider purchasing an SSL certificate and installing it on your website if you are concerned about your rankings in search engines.
SSL offers four certificates Comodo Standard Certificate, Comodo Wildcard Certificate, Como EV Certificate, and Comodo Multi-Domain. Price from $59.88 to $122.88. After purchasing an SSL certificate, contact their customer support team, and they will install it for you for free. But if you already have an SSL certificate, they will help you install it for a lower price.
I will explain Wildcard and Multi Domain in case you don't know about them.
Wildcard certificates: Wildcard could apply to the main domain and all its subdomains.
Multiple Domain certificates: You could use them for multiple domains and sub-domains. Their Comodo Multi-Domain can manage 3 domains per user.
Note: StableHost also offers SSL certificates for free in their hosting plans.
Customer Support
StableHost has a good support knowledge base. There are more than 190 articles related to its account, domain, general FAQS, Announcements, technical support, policies, and affiliates. They provided detailed information but didn't use screenshots much in these articles where needed.
They also provide video tutorial support where you can watch videos to learn about anything.
StableHost offers live chat, phone, and email services with a knowledge base and video tutorial support. They also provide VIP support in the Platinum plan of shared web hosting. This provider's technical support is available 24/7/365. In addition, you can reach out to their customer service specialist at any time.
I have used their live chat support, and it was good—not very impressive, but good—because sometimes they provide the information in detail about what I asked for. The response time was pretty good, and I also rated the company's live chat support.
Still, other times they only provided support articles linked when I asked something to know briefly. Also, their response time is prolonged. I literally waited almost 10 minutes to get a disappointing response.
StableHost has to work on its live chat support to improve it.
What are the Pros and Cons of StableHost?
Pros
Affordable pricing
Good uptime
45-day money-back guarantee
Outstanding peed
Good site builder
Unlimited storage and bandwidth
Security features
Plans features
Cons
Terrible backups
Poor support
FAQs
Does StableHost offer a free trial?
No, StableHost does not offer a free trial. Instead of a free trial, StableHost provides a 45-day money-back guarantee.
Do StableHost offers SSL certificates?
Yes, they offer three different SSL certificates Comodo AutoSSL, Let's Encrypt, and Alpha SSL.
Comodo AutoSSL and Let's Encrypt are provided for free in hosting plans. But Let's Encrypt can only be used after technical support turns it on.
Alpha SSL comes with an additional monthly cost of $4.99; for 1 year, the price will be $59.88.
Does StableHost have a one-click installer?
StableHost use softaculous on all of their servers, which lets their customers install many web apps with just one click.
StableHost Alternatives
Conclusion
Overall, StableHost is a good-to-go web hosting provider. They offer unlimited storage and bandwidth, excellent security, uptime, and many other essential features and services for your website. However, they can't compete with the world's popular web companies.
I hope our StableHost review will help you to choose this web host.
Now, I'd want to know whether you plan to select a web host provider on your own or not.
Let us know by leaving a comment.