One of the most important factors after building the website is its launch. You can't launch a website without a web hosting service provider. When choosing between GoDaddy and Namecheap, go with the one that has the best features, security, and customer service, as well as fair pricing plans and low renewal fees. Don't be trapped by the first month's low price because renewal will cost you a lot.
GoDaddy and Namecheap are well-known companies. You should choose between them based on your needs and requirements. If you are a beginner and looking for a budget-friendly hosting plan, then you should go with Namecheap. But if you want to have the best performance, then you should select GoDaddy. Both GoDaddy and Namecheap have their own pros and cons. That's why you should do proper research before subscribing to any web hosting package.
In this article, I'm going to make it simple for you to select the best one between GoDaddy and Namecheap. I will do a brief comparison of all the features of these two hosting sites. We'll also cover some other factors to consider when selecting a web host, such as prices, and customer service. GoDaddy and Namecheap both offer different features to their users. These features include email hosting, web hosting, e-commerce, and a domain name. Each of these two offers its users some amazing features in some categories more than others.
Both GoDaddy and Namecheap offer a free trial and free domain registration, but which is the best?
I'll tell you everything you need to know about each one, including what features they offer, their customer support, and what price point you should start at.
After reading this guide, you'll have a clear understanding of how to choose the right domain registrar for your needs.
So let's Get Started
GoDaddy vs. Namecheap: Features Comparison
If you are a beginner or thinking about migration and looking for the best hosting site, then you should go through this comparison thoroughly and make a decision based on facts.
Godaddy vs Namecheap
| Feature | Godaddy | Namecheap |
| --- | --- | --- |
| Hosting Types | Shared, VPS, reseller, WordPress hosting, dedicated servers | Shared, VPS, reseller, WordPress hosting, email hosting, dedicated servers |
| Free Domain | Yes | No (but there are discounts for the first year up to 100%) |
| Pricing | From 4.99$ Per Month | From 3.25$ Per Month |
| Data Storage | 100GB-Unlimited | 20 GB-Unlimited |
| Bandwidth | Unmetered | Unmetered |
| Website Backups | No (only as an add-on or with WordPress hosting) | Yes |
| Dedicated Hosting | Yes | Yes |
| cPanel | Yes | Yes |
| Free CDN | No | No |
| Free Site Migration | No | Yes |
| Money Back Guarantee | 30 Days | 30 Days |
| Customer Support | Phone, Live, Support, Chat, Ticket | Live, Support, Chat, Ticket |
| Uptime Guarantee | 99.90% | 99.90% |
| Server Location | Phoenix, Arizona | USA, UK |
| Security | Google blacklist monitoring, malware scan | Google blacklist monitoring, malware scan |
| Email | 1.99$ Per Month | Free |
| Website | www.godaddy.com | www.namecheap.com |

GoDaddy is one of the largest domain registrars in the world. They have been around since 1997 and have over 60 million domains registered. They offer free domain registration, unlimited email accounts, and unlimited disk space. They also offer a 99.9% uptime guarantee on their servers.
GoDaddy is a world-class company. It strives to make its consumers' lives as easy as possible. GoDaddy provides good value for money to its customers. They give excellent performance at a reasonable cost to their consumers.
This provider is also an excellent option for WordPress hosting. They offer a wide range of hosting options, including shared, VPS, and dedicated servers. GoDaddy hosting plans provide developer and designer tools as well.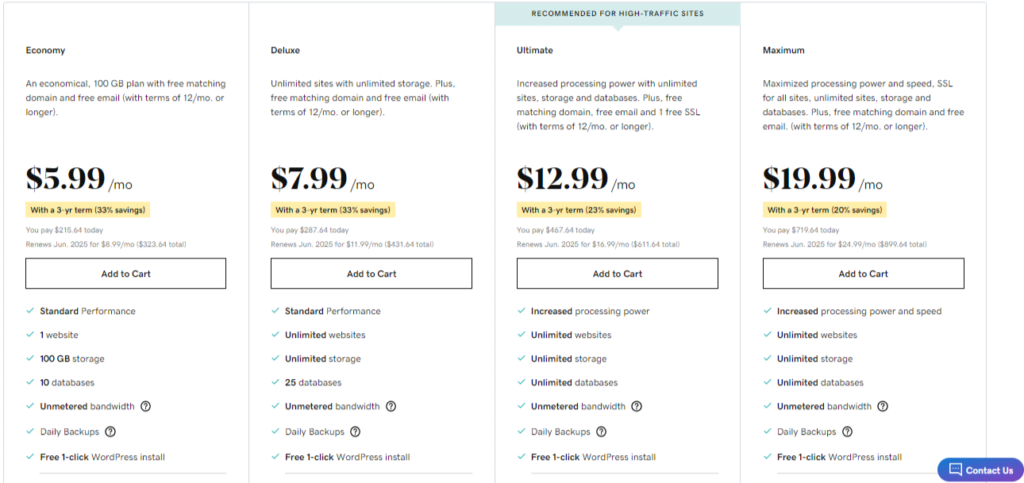 Godaddy Feature is an all-in-one WordPress hosting solution with a dedicated server and a free domain name. In addition, you will be given 100GB of storage space and the opportunity to host multiple domains. Furthermore, you will be able to migrate your website from another provider to Godaddy Feature at no extra cost. Your website will be hosted by the same team that powers GoDaddy, and you can rest assured that your site will be secure, reliable, and optimized for search engines. You will be able to utilize your domain name and host your email address, and the service will include email forwarding, anti-spam, and a spam filter. You will also receive a free SSL certificate, and the website will be backed up daily. If you are unsatisfied with your experience with Godaddy Feature, you will receive a full refund within 30 days.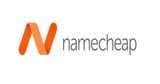 Namecheap delivers several benefits to its users, making it one of the most popular web hosts in the world. It was founded in 2000 and presently hosts 11,000,000 websites. It has over 11,166,425 domain names registered. Furthermore, it is a better alternative for WordPress hosting over Godaddy.
Namecheap aims to offer its users the best features at a reasonable price. Namecheap is a little cheaper and more budget-friendly than GoDaddy. It offers a variety of products that are suitable for all types of businesses.
If you are looking for the best WordPress hosting, you can't go wrong with Namecheap. It has all the features and services you need to run your website. Namecheap has been around for a long time and has grown to become the largest provider of domains. They give free migration and SSL certificates, so you don't have to worry about the cost. Namecheap offers free email hosting so you can create an email address for your website. This allows your visitors to contact you quickly. They also provide 24/7 chat assistance, which is excellent for any questions. Namecheap offers a native user interface that makes it easier for you to manage your website. They also have a dedicated server that gives you more space for your site than shared hosting.
Namecheap offers a 30-day money-back guarantee which means you can cancel your subscription if you aren't happy with the service. They also offer a 99.9% uptime guarantee, which means your site will be up and running 99.99% of the time.
Both GoDaddy and Namecheap give their users good value for money. GoDaddy is a little bit better in terms of performance and security. In contrast, Namecheap is better than GoDaddy because it is budget-friendly and provides its users with 24/7 customer support service without any limitations. Both provide their users with 2-factor authentication and paid CDN service.
Is GoDaddy cheaper than Namecheap?
In the world of hosting providers, only a few care for you and give you good value for money in the true spirit. For newbies, pricing matters a lot. The affordable pricing with distinctive features attracts the attention of customers. Both GoDaddy and Namecheap aim to provide their users with the best features at an affordable price.
Pricing is the main factor determining what kind of service you will get. The more money you spend, the better service you will get. If you are looking for a well-managed, secure web hosting provider with maximum disk space and a server uptime guarantee, then, in my opinion, you should go with GoDaddy.
Godaddy's most economical plan starts at $5.99/month and includes 1 website and unmetered bandwidth for a year. With Godaddy's easy-to-use website builder, you can create a professional-looking website in minutes.  Their cheapest package offers free domain registration, an essential website, and unlimited email addresses.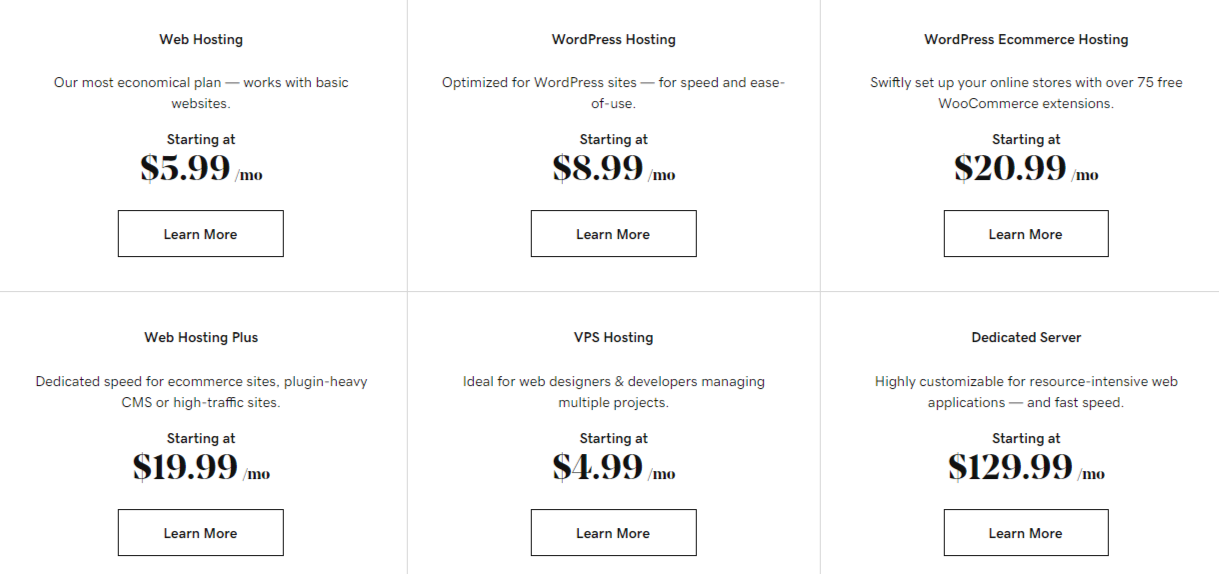 On the other hand, Namecheap shared hosting Stellar plan starts at $2.18/mo yearly, including Free Domain Name, 3 Websites, 20 GB SSD storage, and Free CDN. That is the perfect hosting solution for small businesses who want a simple website with few features and unlimited bandwidth. Their EasyWP Starter package is $0/mo. However, that amount is only applicable for the first month. You must pay the price for the next month, which is $4.88 each month for a one-year term.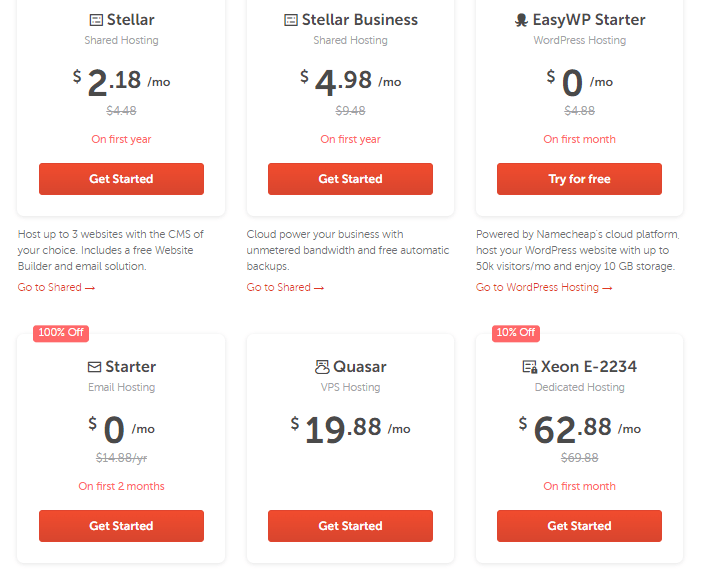 Pricing does not remain constant because of seasonal and promotional offers. Both GoDaddy and Namecheap aim to provide you with the best-discounted pricing for the first time for registering your domain. But they compensate for it in the renewal packages.
So, renewal pricing should also be considered when choosing between GoDaddy and Namecheap. Namecheap provides you with a little bit fewer renewal charges than GoDaddy. So, if price matters to you and you are looking for a budget-friendly hosting plan, you should go with Namecheap.
Godaddy Domain
.com $5.99/year
.org $13.99/year
.net $10.99/year
.in $8.80/year
.cloud  $1.99/year
.us $1.00/year
.shop $1.99/year
Namecheap Domain
.com $5.98/year
.org $14.28/year
.net $9.98/year
.in $9.98/year
.cloud $2.98/year
.us  $2.48/year
.shop $1.78/year
Overall, GoDaddy has good and low pricing for the first year. However, in the long-term Namecheap has lower pricing.
Renewal Pricing
Godaddy has a great renewal offer. You can save some money by subscribing to long-term services. The renewal charge for Godaddy is $8.99 per month. So, renewing for one year will cost you $83.88 plus a 22% discount. However, if you renew for two years, you will pay $155.97 and receive a 27 percent discount. Furthermore, if you buy the basic web hosting plan today for three years, your renewal fee in 2025 will be $8.99 * 36 = $323.64. You'll also get a 33% discount, reducing your total to $215.64.
Namecheap also has an excellent renewal offer. They provide different charges for basic shared hosting tiers. Namecheap renewal fee for Stellar is $4.48, $6.48 for Plus, and $9.98 for the Business tier. If you purchase a Stellar web hosting package for one year, you will only pay $25.88 after a 51% discount. And, if you renew the plan today for two years, your renewal fee in 2024 will be $4.48* 24 = $107.52. You'll also get a 58 percent discount, bringing your total down to $45.16.
GoDaddy Vs Namecheap: Performance
Performance should also be your priority if you are a beginner and looking for a hosting site. The performance of a website includes loading speed and server uptime. Your site's performance decides how much traffic load a website can handle.
The web hosting service provider's low performance will lead to server breakdown. Both aim to provide their users with high performance so that your website will not face any issues due to high traffic load.
The performance of the website is based on website speed and uptime. Everyone wants to have a website with fast speed and high server uptime. If the performance is below par, your website will face issues, and you will lose the trust of your visitors.
The website's speed is one of the most critical factors that play an important role in ranking your website. The search engine's algorithms also pick fast-speed websites. Slow-speed websites are tedious and frustrating. When choosing between GoDaddy and Namecheap, you should keep this aspect in mind.
The websites that low-performance web hosting providers host usually load slower. So, while picking a hosting provider for your website, you must consider the load speed and performance.
Both GoDaddy and Namecheap claim to provide their users with a server uptime guarantee. But upon testing, the performance of Namecheap is below par. If you have a website for your business, these issues will affect and cost you a lot. So, you should keep this issue in mind while selecting between GoDaddy and Namecheap.
Why is Namecheap user interface nicer than Godaddy?
GoDaddy aims to provide a user-friendly interface. GoDaddy has undergone many changes to create a user-friendly interface. But it needs to work more in this category. The GoDaddy user interface will be difficult and perplexing if you are a newbie.
Confusing checkout process
Problematic for new users
Cluttered and difficult to use
Namecheap user interface is a little more user-friendly than GoDaddy. You can easily access and manage all the features of Namecheap through the central route menu.
The smooth and seamless checkout process
Engaging and intuitive for new users
Easy to use
You can make alterations to various spaces by choosing the areas and, afterward, choosing the activity you need to perform from the highest point of the area list.
From a convenience perspective, there isn't a lot of distinction between GoDaddy and Namecheap. There are plenty of choices accessible in the two administrations, and the record region is not difficult to explore.
Website Security Comparison
Namecheap completely protects your site. A space lock highlight protects your site against programmers. The host additionally gives a 2-factor confirmation and DDOS assurance with HTTPS support. HTTPS destinations are safer in contrast with HTTP and have better Google positioning.
Free
HTTPS Support
WHOIS privacy feature is bundled
Reliable DNS
GoDaddy additionally has some security features in each bundle. For example, it can screen Google's boycott of your website pages and serve to whitelist them. The number of pages available for observing is limitless. If your website is hacked in any case, you can use the hack fix feature. The security highlights work flawlessly with most applications.
Not Free
GoDaddy imposes an additional cost for WHOIS protection.
The outstanding differentiation between the two suppliers is that GoDaddy is bound to charge you for security features. For instance, Namecheap offers free SSL authentication for the first year.
GoDaddy is examining one more paid security choice for malware. Your site is taking a look at each day for malevolent programming. It will automatically eliminate malware if it finds any.
GoDaddy Vs Namecheap: Final Verdict
Both Namecheap and GoDaddy give their users good value for money. However, they offer different features in different pricing plans. For example, most plans provide limitless disk space and data transfer capacity.
Namecheap is less expensive than GoDaddy for almost all types of hosting. Additionally, its bundles offer a few significant features, such as free SSL authentication and auto-reinforcements. Furthermore, its help group frequently procures appreciation from clients.
Simultaneously, GoDaddy has better uptime test results and average stacking speeds. Examine the benefits of every supplier across various classifications:
To make the right choice, you must know your needs and priorities well. When choosing between GoDaddy and Namecheap, you must focus on what features they offer. It would be best if you concentrate on which web hosting service provider is giving you good value for money.
Namecheap is much better than GoDaddy as it provides impressive features on a low budget. Namecheap provides its users with 24/7 customer support service without limitations. In addition, Namecheap offers budget-friendly plans. If you're just starting, don't get confused between Namecheap and GoDaddy. In my opinion, you should go with Namecheap.
Top GoDaddy and Namecheap Alternatives in 2022 (Cheaper and More dependable)
If you still believe you want less expensive and more reliable web hosting, consider their well-known alternatives.
Godaddy Alternatives
Bluehost
Hostinger
HostGator
WP Engine
Namecheap Alternatives
DreamHost
NameBright
Name.com.
Hostmonster
I hope this Godaddy vs. Namecheap comparison guide helped make your decision.
Now I'd want to know which company you went to
Namecheap or Godaddy?
Or perhaps you still want our assistance in making an informed selection.
Please let me know in any case by leaving a quick comment below.
Thank you very much!