In this article, you will study a comparison between "Bluehost vs DreamHost" to help you decide which is best to buy for your business in 2022.
who should you go with
Who offers the best services
Who should help you make a ton of money from your website
And a lot more!
You don't have to be a techy guy to choose the best web hosting for your websites. In fact, you need to spend between $1.99 to $2.75 per month to start your online business with web hosting companies like DreamHost or Bluehost.
As a general rule, business needs money. And since most of us are on very tight budgets, I don't believe it is a bad idea to start at $2.75 each month.
Okay! Let's skip the chase.
If you don't have much time, here is the answer to your question.
In the freelance industry, We worked with over 400 clients. We handled website migrations, assisted them in building their websites (mainly WordPress), and managed more hosting-related tasks than we could count.
I have created the table and summarized all of their features in it. I also give my opinion after the table with these two because the article is quite lengthy. So if you are in a hurry and do not want to read the entire article, just read the table and our recommendation. I m confident you will be able to make a good decision.
Bluehost vs Dreamhost
| Feature | Bluehost | Dreamhost |
| --- | --- | --- |
| Hosting Types | Shared hosting, dedicated hosting, VPS hosting, WordPress hosting | Shared hosting, VPS hosting, WordPress hosting, dedicated server, cloud hosting |
| Free Domain | Yes | Yes |
| Pricing | $2.95/month | $1.99/month |
| Data Storage | 10 GB - 120 GB | Unlimited |
| Bandwidth | Unmetered | Unmetered |
| Website Backups | Yes (only with WordPress hosting) | Yes |
| Dedicated Hosting | Yes | Yes |
| cPanel | Yes | No |
| Free CDN | Yes | Yes |
| Free Site Migration | Yes | Yes (only WordPress website) |
| Money Back Guarantee | 30-day | 97-day |
| Customer Support | 24/7 live chat, phone, knowledge base, email | 24/7 live chat, phone, knowledge base, 24/7 ticket, email |
| Uptime Guarantee | 99.9% | 100% |
| Server Location | Orem, Utah, USA | California, USA |
| Security | SSL certificate, Cloudflare CDN, siteLock | SSL certificate, DDoS protection, Cloudflare CDN |
| Email | $3.00/month | $1.67/month |
| Rating | 4.8/5 | 4.9/5 |
| Website | www.bluehost.com | www.dreamhost.com |
For this topic, We came to the following conclusion that every beginner should know:
DreamHost has the edge over Bluehost in terms of technicality:
Page speed (0.72 seconds)
Uptime (100%) means how well a hosting web service is
Storage (unlimited)
Very low in price ($1.99 per month starter plan)
Automatic daily backups
Ideal for an eCommerce Store.
Free WordPress Site Migration.
97 days money back guarantee
While on the other hand, why can you go with Bluehost:
 Easy to use (highly recommended if you are a beginner)
24/7 live chat customer support
Affordable price with free domain ($2.75 per month basic plan)
Uptime (99.99%)
Load Speed is between 0.2 and 0.4 seconds if your visitor is from the United States. Otherwise, outside of the United States, it takes longer to load.
User-friendly cPanel interface
Ideal for Blogging.
30 days money back grantee
You'll note that We didn't talk much about WordPress at this point. It's because both companies are heavily focused on WordPress.
In fact, Bluehost and DreamHost are recommended as top WordPress providers by WordPress.org. This makes them an outstanding choice for developing a WordPress website.
We will discuss which company is better for WordPress later in the chapter.
Consider these factors when selecting the hosting provider that best meets your needs.
Okay!
Now, if you can choose your web hosting, that's
"AWESOME"
if not
Stay with us! We take a deep dive into Bluehost vs DreamHost in detail. And learn what they are offering.
I hope you are excited because I am.
First, take a look what the topic we are going to discuss are:
Overview
Bluehost and DreamHost are 2 of the most famous website hosting. They are ranked among the top 15 web hosting companies.
Bluehost started its journey in 1996—at that time, it provided hosting solutions to thousands of businesses and entrepreneurs. In the beginning, Bluehost offer its services as a free hosting platform.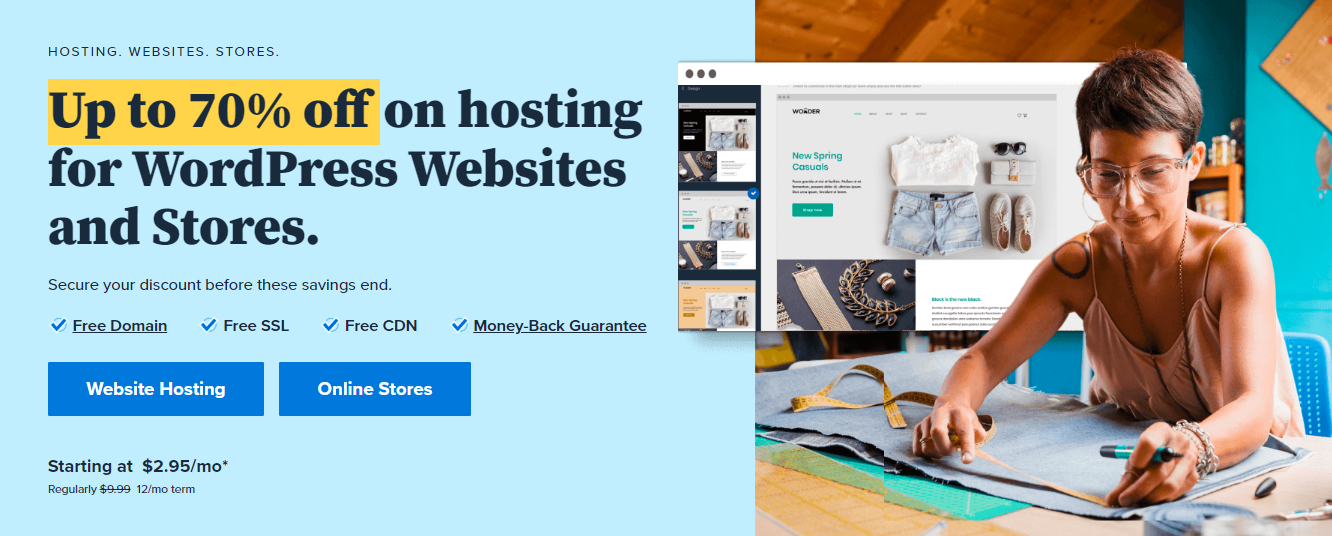 According to Wikipedia, Matt Heaton and Danny Ashworth, the founders of Bluehost, ultimately established Bluehost and its headquarters in the United States in 2003. After that, EIG (Endurance International Group) owns Bluehost, one of the largest world web hosting companies. EIG also operates other big names, including HostGator, Constant Contact, and Domaindotcom.
On the other side
DreamHost started its journey in the same year, 1996. It was founded by New Dream Netowork, LLC, undergraduate students Dallas Bethune, Josh Jones, Michael Rodriguez, and Sage Weil in California, United States. DreamHost started providing its services in 1997. They do not own by the EIG. It is one of the best alternatives of the EIG, including other web hostings, WP Engine, Hostinger, InMostion, and Liquid Web.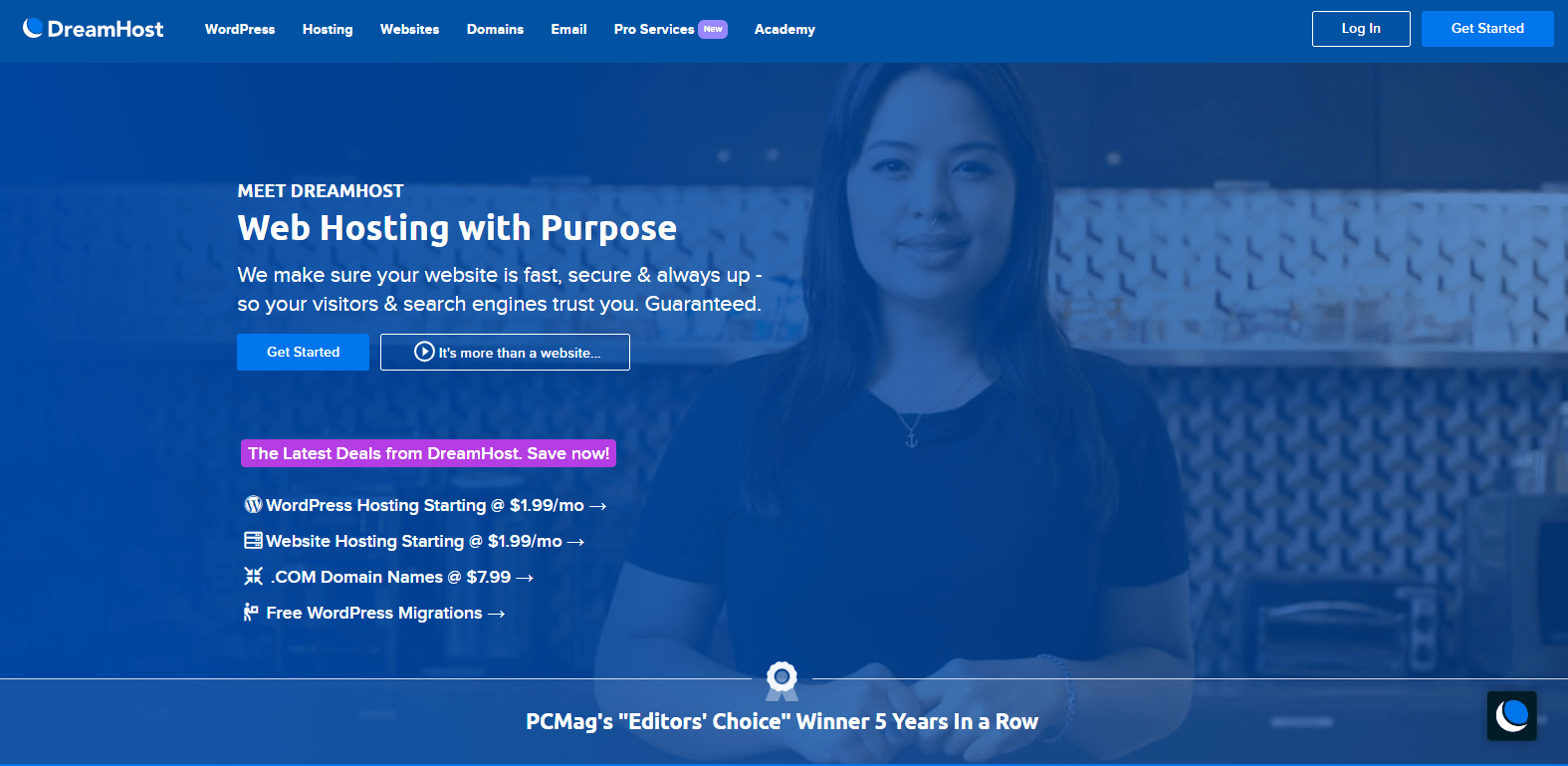 Bluehost powers 2 million websites worldwide and has 750 staff members. Wheres, DreamHost owns 1.5 million websites and 200 staff members. Both have been providing WordPress services for over ten years.
Well, We learn about their background, and it's time to review their hosting packages.
It's the first step when you select the hosting for your website.
What will we discuss in this chapter
Who has a low price
What plans are they offering
Who has a better WordPress hosting plan
What is best for me
and much more
So let's get started
Best Hosting Plans and Pricing
Bluehost plans and pricing
Bluehost offers four hosting plans. And their starting price is $2.95 per month, which includes a free domain.
Shared Hosting
Dedicated Hosting
VPS Hosting
WordPress Hosting
DreamHost plans and pricing
DreamHost offers five hosting plans. And this provider starts with the price of $1.99 per month and won't include a free domain.

Shared Website Hosting
Dedicated Server Hosting
Manage WordPress Hosting
VPS Hosting
Cloud Hosting
Shared hosting Plans
Shared hosting means multiple websites on one server. It is cheap and more common compared to other plans. That is the reason most people pick this at the beginning.
Bluehost has four shared packages—Basic, Plus, Choice Plus (Recommended), and Pro. Each comes with a different level of features and performance.
The Basic plan is best for smaller sites with low content. It starts at $2.75/mo. However, you will be charged the regular price of $9.99 on 12-month terms at renewal. The Basic plan offers 50 GB of storage space, a free SSL certificate, five parked domains, and 25 subdomains.
The Bluehost Plus plan offers more features and space for $5.45/mo. For example, this plan allows you to add more emails account, databases, and traffic. The Basic and Plus plans also include a feature called Spam Experts.
The Bluehost Choice Plus plan has unlimited space, bandwidth, two Spam experts, and a dedicated IP address. It also offers complete domain privacy and CodeGuard Basic, a backup tool, and more premium add-ons. The Bluehost recommends the Plus Choice plan, starting at the same price as the Plus plan, $5.45/mo. This plan is ideal for small to large size websites.
The Bluehost Pro-Shared plan is best for established websites with massive traffic. It is for the more advanced users. The Bluehost Pro plan cost per month is $13.95. Those who need more resources should upgrade to the Pro plan. It costs more than the Basic, but it is still worth it. You can also benefit from free FTP.
---
If you're a beginner and need a cheap shared hosting plan, you'll be glad to know that DreamHost offers two different options. Shared Starter and Shared Unlimited plan. You can also choose between paying a one-year or three months upfront, which is an excellent option for most beginners.
The Shared Starter plan costs $2.59/mo with a 3-year contract. This plan is ideal for websites that are small or large. A basic plan isn't expensive and includes unlimited storage and bandwidth and an email account for $1.67/mo. After the purchase, the contract price will increase to current rates, $5.99/mo.
DreamHost Shared Unlimited begins with $2.99/mo and includes unlimited email and website features. In addition, DreamHost provides unlimited storage and bandwidth for your site. You can use the MySQL database and transfer the amount of data you'd like. The Starter plan lets you create as numerous databases as you require, and the Unlimited plan is free of limitations. You can move to the Unlimited plan if you need more space.
This provider makes its plans on a long-term basis compared to Bluehost. However, in the short long-term option is cheap and has more features.
In Bluehost vs DreamHost shared hosting comparison, Bluehost is better in terms of more features and security. While DreamHost offers the lowest prices in a long-tail period. The Bluehost basic plan gives a free domain for one year. On the side, DreamHost charges $7.99 to buy DOTCOM Domain. DreamHost is better regarding server power, while Bluehost is better regarding website speed in shared hosting. The Bluehost unlimited plan is more expensive than the DreamHost unlimited plan. Ultimately, your choice of the host should be based on your needs and budget.
Dedicated Hosting Plans
Dedicated hosting means one website on a single server. This plan is required to handle vast amounts of traffic for one website on a single server. Before we look into the main features, you should know CUP, RAM, STORAGE, Bandwidth, and Uptime makes a good server.
Bluehost and DreamHost both offer dedicated hosting plans. However, they each have different prices and specifications.
Bluehost has three Dedicated packages— STANDARD, ENHANCED, and PREMIUM.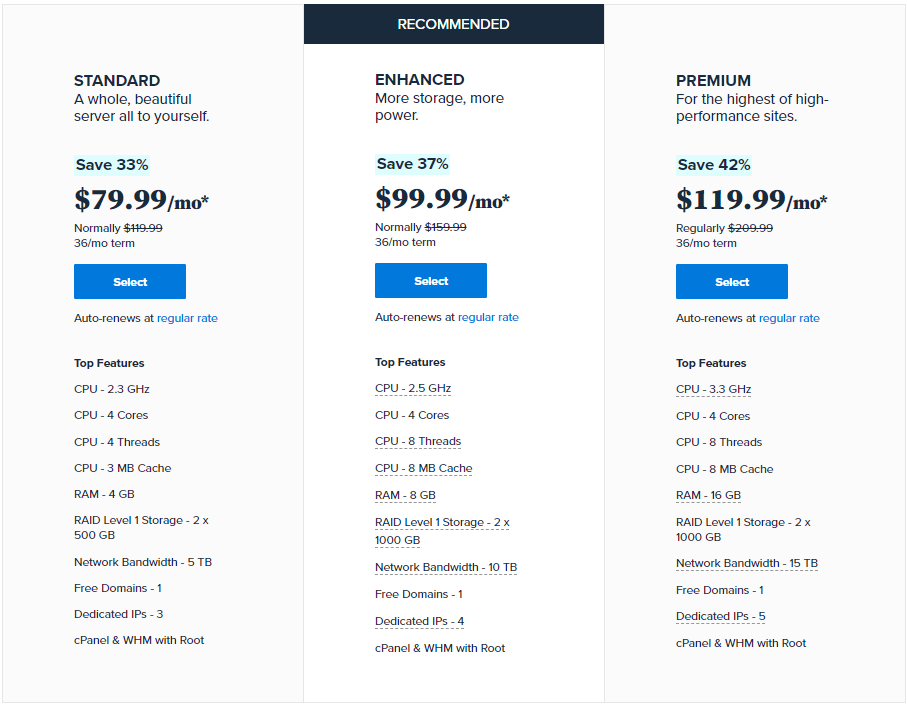 The STANDARD tier starts at $79.99/mo. And $119.99 on a 36/month term at renewal.
ENHANCED tier starts at $99.99/mo. And shoots up to $159.99 for three years at the regular rate.
The PREMIUM tier starts at $119.99/mo. And get higher on a regular rate of $209.99/mo for three years.
Well,
DreamHost offers two Dedicated packages— STANDARD and ENHANCED on a monthly and annual basis.
STANDARD package start at $169.00/mo. ENHANCED begins at $299.00/mo. However, fees will not change after the introductory period.
Dedicated hosting plans are generally expensive and have more restrictions than shared hosting plans. Bluehost Dedicated server comes with Root Access. It is a beneficial feature for developers, allowing them to isolate accounts for different purposes. With this, they can also create a master password for all their accounts.
Bluehost is a bit cheaper and offers 5TB Bandwidth, three dedicated IPs, 4GB of RAM, 99.9% Uptime guarantee, and one free domain with privacy protections. Moreover, the company's technical support team is available around the clock. They help you integrate a dedicated hosting server.
While DreamHost provides Root Access, Ubunto, and DDoS protection. It also offers four core CUPs, 4GB of RAM, 1TB of hard drive space, an easy-to-use Cpanel, 100% Network Uptime, and 24/7 customer support. The only difference between DreamHost's two packages is the amount of storage.
If you're looking for a dedicated plan, choose Bluehost. You can choose between these providers based on price, uptime, and support.
VPS Hosting plan – Ideal for large Traffic sites
If you're wondering what VPS (virtual private server) hosting is, it is a type of dedicated hosting. A VPS plan provides guaranteed server resources and is more secure than shared hosting, which means that your site will have better uptime and greater privacy.
You don't need to buy VPS hosting if you have a small business. Instead, take advantage of shared hosting plans to save money. However, VPS hosting is ideal for a large corporation for several reasons. It offers a high level of security, ultra-fast loading speeds, and flexible resources.
Bluehost provides three VPS packages: STANDARD, ENHANCED, and ULTIMATE. Their monthly pricing range is $19.99 to $59.99. Bluehost's top VPS hosting plan includes 120GB SSD storage, 4 cores CPU, 8GB RAM, and 3TB bandwidth. In addition, all the tools you need to manage your websites, assess performance, and more are available on one simple VPS dashboard.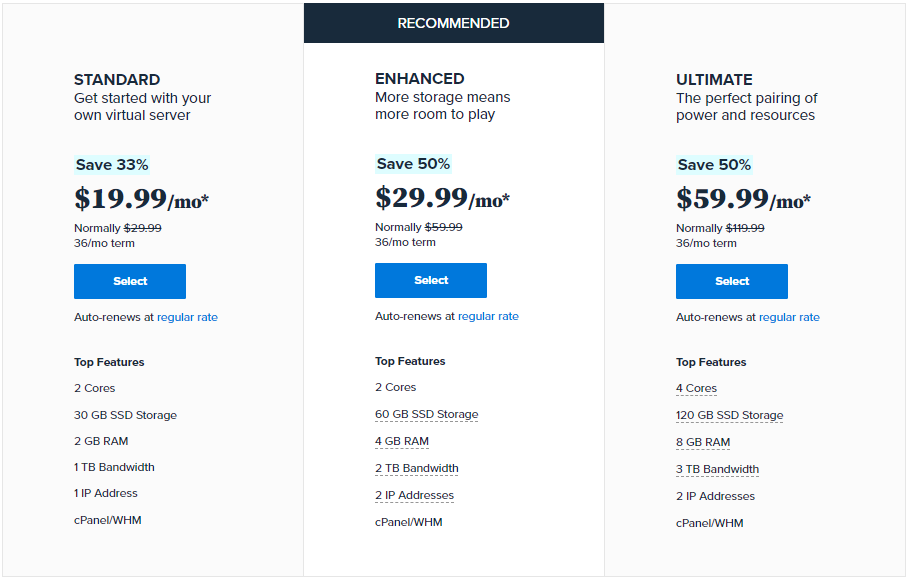 In comparison, DreamHost provides four VPS plans VPS Basic, VPS business, VPS Professional, and VPS Enterprise. Their price range starts from $10.00 to $80.00/mo. This provider's best hosting package offers 8GB RAM, 240GB SSD storage, and unlimited emails.
VPS Basic is ideal for new or modest websites. The business package is designed for medium-sized businesses. Professional and VPS Enterprise are intended for resource-intensive websites.
Furthermore, if you commit to any of these plans for three years. You will receive a more significant discount.  
Both companies offer excellent server performance. The Bluehost VPS plan offers SSD storage, and the Dreamhost VPS plan starts at a lower rate. You can choose a better hosting plan for your needs and budget.
Cloud Hosting
Bluehost no longer offers cloud hosting services.
DreamHost's cloud servers are the fastest in the industry and can run any Linux-based operating system. You can use them for various projects because they are very customizable. They offer DreamCompute and DreamObject features in cloud hosting. They are easy and affordable. Cloud server hosting is $4.50/mo, and the hourly rate is $0.0075.
WordPress Hosting
WordPress is a dependable content management system that allows users to create websites, blogs, eCommerce stores, and much more. It's one of the world's most popular content management systems, with millions of websites designed using it every month.
Bluehost and Dreamhost are official partners of WordPress.org, making them two great options for hosting a WordPress site. Criteria for this partnership included the ease of installation and the fact that the hosting company updates its software frequently.
Bluehost has a Managed WordPress hosting package that is excellent for developing websites that require more resources. They have four plans for 12 months period. BASIC, PLUS, CHOICE PLUS, PRO, and prices start from $2.95 to $13.95 per month.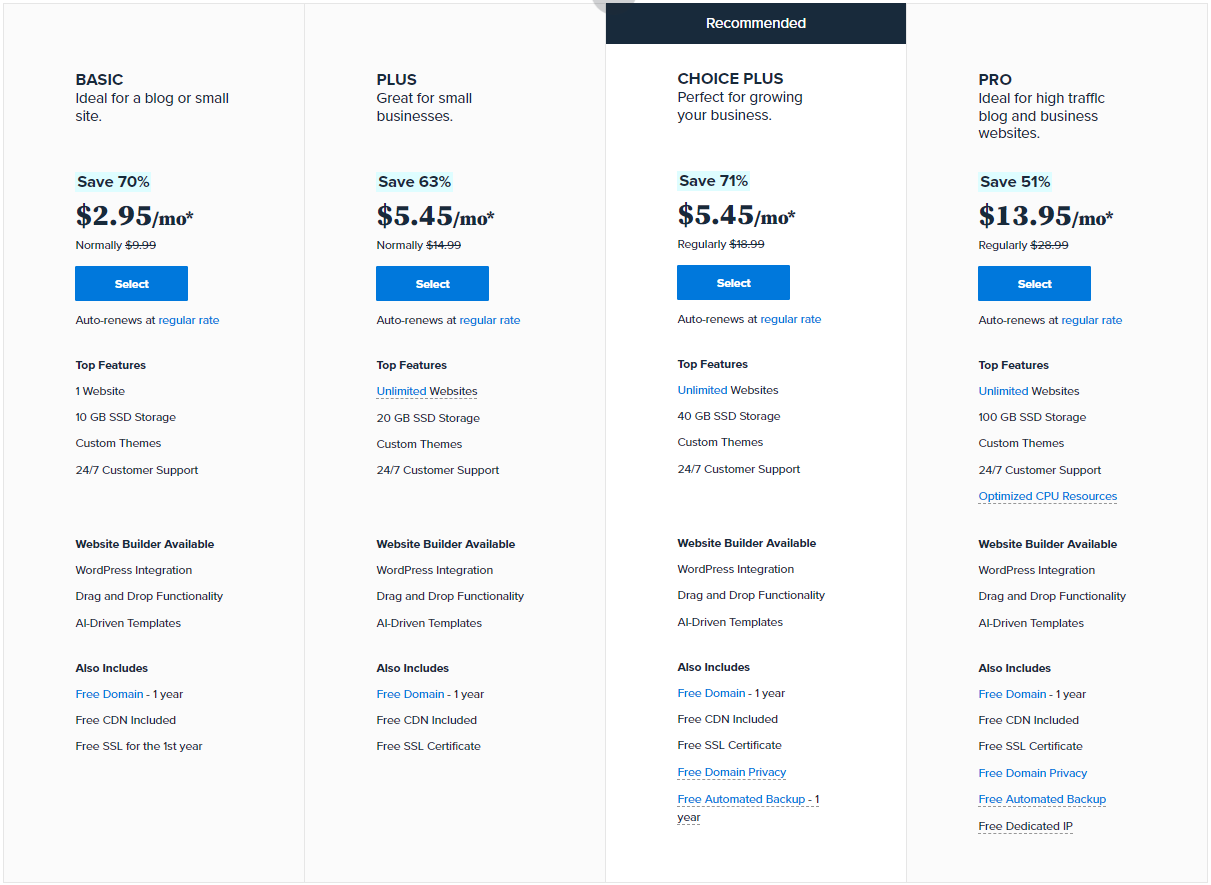 Bluehost PLUS, CHOICE PLUS and PRO offer unlimited websites and free SSL certificates except for BASIC. The BASIC plan offers only 1 website and SSL for 1st year.
Each plan offers different storage quantities according to the plans. For example, the BASIC plan offers 10 GB of storage. This plan is ideal for a small site or a blog. With the PLUS plan, you will get 20 GB of storage, and this plan is perfect for small businesses.
CHOICE PLUS plan is best for growing your business. This plan provides 60 GB of storage, free domain privacy, and free automated backup for 1 year. The PRO plan offers 100GB of storage, optimized CPU resources, free domain privacy, automated backups for 1 year, and free Dedicated IP. This plan is great for high-traffic blogs and business websites.
Except for these features, all plans have the same features, like custom themes which means you can make themes by yourself and look to whatever you like to make them beautiful. 24/7 customer support, free domain for one year, free CDN, and free SSL Certificate.
Buy the CHOICE PLUS plan, also recommended by Bluehost, because PLUS and CHOICE PLUS has the same price for the first year.
Dreamhost also offers WordPress hosting. They offer 3 packages, WordPress Basic, DreamPress, and VPS WordPress. Each package has its deals.
WordPress Basic($2.95/mo): You will get the basic features at affordable prices to start a WordPress site.
WordPress basic has two packages.
WordPress Starter
WordPress Unlimited
WordPress Starter: WordPress Starter is a great place to start a website at an affordable price. You will get 1 website, unlimited traffic, pre-installed WordPress, buy .com for $8.99, free SSD storage, and a free SSL certificate. Moreover, this package includes a WP website builder, the simplest way to create an excellent WordPress site. You can also migrate your existing WordPress site to Dreamhost using the free Dreamhost automated migration plugin and add Email for $1.65.
You can get all these features for $4.95 per month, which will last for only 3 months, and then the plan will renew at $7.99 per month.
The 1-year price is $2.95/mo. Renew at $6.99/mo
The 3-year price is $2.59/mo. Renew at $5.99/mo
WordPress Unlimited: Ideal for multiple WordPress websites and email hosting @ your domain. With WordPress Unlimited package, you will get the same features offered in WordPress Starter. But this package offers unlimited websites and unlimited Email @ your domain.
You will get WordPress Unlimited for $8.95 per month, which will last for only 3 months, and then the plan will renew at $13.99 per month.
The 1-year price is $2.95/mo. Renew at $12.99/mo
The 3-year price is $3.95/mo. Renew at $10.99/mo
In Bluehost vs DreamHost WordPress comparison, it's a
tie
because both are doing an excellent job for WordPress. Both hosts include unlimited websites and storage, free domain, free SSL security, free email addresses, automated backups, and more. So if you're just getting started,
we recommend
Bluehost.
However, in the future, if you need another WordPress host, you may go with
DreamHost.
Because DreamHost is a more experienced user.
Now let's go to another topic, speed and performance. Both are very important in running a website because better speed and performance gain more visitors. If your website has a lower loading speed then visitors will stop visiting your website, which Google de-ranks your website.
Bluehost vs DreamHost: Performance Review
Bluehost claims to be in the top tier of hosting performance. That means they can handle any website traffic load and provide better website speed for a better user experience. Bluehost recently released a series of updates to help their customers. One of the biggest improvements was their new Cloudflare feature. It makes it so that websites can have a speed boost by moving from using their servers to using a Cloudflare server.
If your website speed ever goes down, you can boost it up by following instructions:
Use a good web hosting plan
optimize your images
Enable cache
Use a CDN
Reduce the size of HTML, CSS, and Javascript text files.
Hosting server speed was measured using the Speed Index against an uncached content-rich website from January to March; performance compared to template WordPress websites hosted on the most extensive WordPress hosting providers reported by W3Techs.
In Contrast, DreamHost scans your site thoroughly, utilizing some industry-leading tools and software. This allows the company to build a baseline of your site's performance and identify critical areas for development. Then, they create a staged copy of your live site so that their developers can securely dig into your code and get to work correcting anything that may affect your speed. Once you have confirmed everything is as it should be, they will make the optimizations to your site and provide you with a report detailing the modifications and updated performance outcomes.
The fastest-growing websites are those that have the highest site visitor uptime. If your website has increasing amounts of site visitors, your site's uptime will also increase. You must ensure that your site is always up and running, with an uptime guarantee of 99.93% to 100%.
Bluehost performed very well. It was up 99.99% uptime and very fast at loading websites. As the company grows, it may want to upgrade to newer and faster servers.
Bluehost average uptime from the past 5 months:
August 2022: 99.98%
July 2022: 99.82%
June 202: 99.97%
May 2022: 99.92%
April 2022: 99.29%
DreamHost is a trusted web hosting company. Not only does it guarantee 100% uptime on all of its web hosting plans, but it's also backed up by compensation. You'll receive a credit of one day's fees for every downtime hour, up to 10% of the monthly payment.
Dreamhost average uptime from the past 5 months:
August 2022: 100%
July 2022: 99.87%
June 202: 99.98%
May 2022: 99.81%
April 2022: 99.92%
Is DreamHost faster than Bluehost?
Yes, Dreamhost is faster than Bluehost. First, we built two new test websites in WordPress using the Elementor builder. One is hosted on DreamHost, while the other is hosted on Bluehost. Then, we utilized an online program called Pingdom to see how long it took for these sites to load.
The following are the outcomes of the DreamHost website:
Asia – Japan- Tokyo: 1.31ms
Europe – United Kingdom – London: 1.24ms
North America – USA – Washington DC: 1.10ms
Pacific – Australia – Sydney: 1.35ms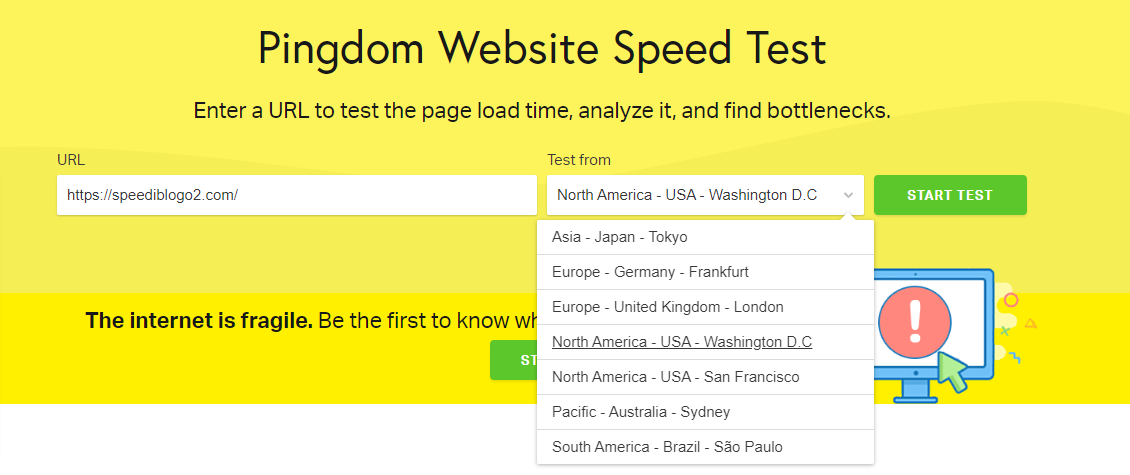 The results of the Bluehost website are as follows:
Asia – Japan- Tokyo: 1.41ms
Europe – United Kingdom – London: 1.35ms
North America – USA – Washington DC: 1.19ms
Pacific – Australia – Sydney: 1.39ms
In Bluehost vs. DreamHost performance analysis, DreamHost is the winner because it has a fast loading speed and has 100% uptime guarantee.
Ease of use
Bluehost is a well-known web hosting service for its outstanding features and products. Ease of use is a key feature because it can already be confusing for some to set up hosting. A simple onboarding process and a lot of automation can simplify the setup process.
With a clean layout and simple navigation setup, the Bluehost cPanel interface is simple and easy to use. It's simple to find whatever you're looking for, like account settings, integrations, and domains — with a clutter-free dashboard.
Bluehost has many features that allow users to control how their websites look and behave. With a Bluehost account, you can create custom themes and easily upload and manage your website's content. You can also customize your email accounts and store your data online.
On the other side, Dreamhost is a good web host, but many people don't like it because its cPanel is too hard to use for beginners. Moreover, it's a bit difficult to use for non-techy people. Only advanced and expert level can easily manage.
However, the provider offers many tools to simplify life, including business-focused integrations, staging, and a convenient website management area.
In Bluehost vs. DreamHost's ease of use comparison, Bluehost is the winner because Bluehost has an easy-to-use cPanel, even newbies can easily use it, and you can easily customize themes and upload it.
Bluehost vs DreamHost: Security
Bluehost is one of the best companies in the Internet hosting industry. They have a proven security platform that includes robust protection from hackers. In addition, Bluehost includes the ultimate basics that will help to keep your website secure. However, other security essentials like backups and malware detection are paid for.
SiteLock is a website security monitoring tool for small and medium-sized businesses. SiteLock monitors websites for the following issues and vulnerabilities and alerts you of any issues such as spam blocklisting, search engine or browser blocklisting, SQL injection vulnerabilities, virus scanning, application, and network vulnerabilities, and cross-site scripting vulnerabilities.
SiteLock also verifies a business's reputation, including:
Domain ownership
Phone verification
Postal address verification
SSL certificate validity
Third-party trust seal
SiteLock offers a comprehensive solution that can help prevent compromises and quickly recover if it does happen. In addition, you can get an 80% discount on the retail price of SiteLock's product.
CodeGuard Backup is included for an additional fee of $2.99 per month. It automatically backs up all files daily and provides a notification when anything goes wrong.
DreamHost rivals Bluehost in that you get the same basic security features. Like SSL, SFTP, and SSH. DreamHost gives you HTTPS2, PHP7 support, and multi-factor authentication. It also supports multi-factor authentication and includes a firewall. In addition, DreamShield provides virus eradication services, keeps unwanted eyes away from your site, and is available for $3 per month.
Furthermore, DreamHost offers a Let's Encrypt SSL certificate and has many benefits of using a Let's Encrypt SSL certificate, such as:
It's free: Anyone who owns a domain can get a trusted certificate for that domain.
It's secure: Let's Encrypt is a platform for applying cutting-edge security solutions and best practices.
It's simple: No payment is required, no validation emails and certificates renew automatically.
It's automatic: The complete certificate registration process takes place effortlessly during the server's
native installation or configuration process. The renewal happens in the background automatically.
In Bluehost vs. Dreamhost security, Dreamhost is the winner because DreamHost provider better security to secure your website.
Customer support
Bluehost offers 24/7 customer support through live chat, phone, and an email ticketing system. In addition, it provides multiple services, including site hosting, data recovery, and 24-hour technical assistance. On top of that, it has a vast knowledge base packed with answers to frequent questions and helpful information.
But the downside of Bluehost is the ticket-based support system. Bluehost recently decided to eliminate ticket-based support to focus on the personal approach of live chat support and phone-based support.
I used their live chat support, and the response time of live chat representatives is good, but they don't directly connect you with any of their live chat team members. Before starting live chat, they required your full name, what issue you have, etc. After all that stuff, they connect you with one of their chat service specialists.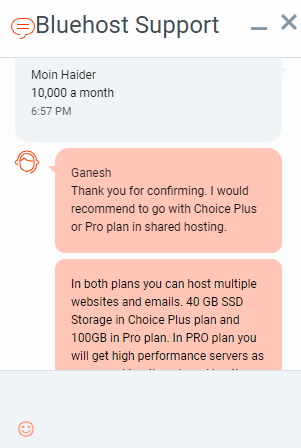 On the other hand, DreamHost provides outstanding Email and ticket service. However, DreamHost cannot be reached directly, unlike many competitors. Instead, you can request a callback, contact them through live chat, submit a ticket, or use their online help center.
I also used DreamHost live chat service, and at first, you will get assisted by a bot. They displayed some questions already and chose to chat with an expert. They asked for my email address in case of being disconnected. After submitting an email address, a bot texted that he was connecting with an expert, but the expert never came up. I waited for 12 to 15 minutes, but no one came up.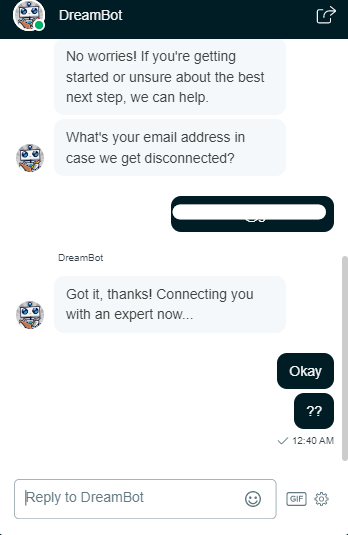 That isn't very pleasant. DreamHost needs to improve its chat service.
However, if you become a customer of DreamHost, they claim that you will get live chat and email support 24/7/365 through the panel.
In Bluehost vs DreamHost customer support, Bluehost is the winner because their response is pretty good. Bluehost's live chat is available 24/7, and DreamHost's customer service is only available during business hours.
Bluehost vs DreamHost: Final Verdict
This Bluehost vs DreamHost comparison was a nail-biter. They both provide dependable and economical web hosting options for all businesses, but several distinctions stand out between them.
DreamHost prioritizes advance level users. And they demonstrate better security, performance, and a 100% uptime guarantee at minimum cost. Plus, this service provides a 97-day money-back guarantee, giving you plenty of time to explore DreamHost. Moreover, you can save money by choosing Dreamhost.
Whereas Bluehost prioritizes beginners. And they demonstrate superior 24/7 customer support, an easy-to-use user interface, and a 30-day money-back guarantee.
I hope you found this information interesting. If yes!
Please comment and let us know whether you went with Bluehost or DreamHost.
Thanks!