In the HostGator vs DreamHost comparison, we will put two of the most prominent web hosting providers, HostGator and DreamHost, against one another to see which of these companies offers superior services.
Let's dive right into it.
Finding the perfect hosting company for your website isn't always easy. There are a lot of various companies to pick from, but the issue is that they're not all the same. However, you may rest easy knowing that we've already done the legwork to find you the most acceptable web hosting solution.
Choosing the right hosting company will make running your website simple and stress-free, allowing you more time to concentrate on other elements of your business. Although both HostGator and DreamHost are fantastic hosts, there are a few differences between these two companies that suggest one may fit you better than the other.
By reading this article, you'll be able to make an informed choice for your company. We will compare HostGator vs DreamHost side by side to declare which is superior overall. We will be looking at their features, customer service, reviews, security, usability, and of course, their plans and price.
Please read this table as I compare both web hosting providers' hosting plans, starting prices, features, and more.
| Feature | HostGator | Dreamhost |
| --- | --- | --- |
| Hosting Types | Shared, VPS, Reseller, WordPress hosting, and Dedicated servers | Shared hosting, VPS hosting, WordPress hosting, dedicated server, cloud hosting |
| Free Domain | Yes | Yes |
| Pricing | $2.75/month | $1.99/month |
| Data Storage | 120GB-240GB | Unlimited |
| Bandwidth | Unmetered | Unmetered |
| Website Backups | Yes | Yes |
| Dedicated Hosting | Yes | Yes |
| cPanel | cPanel | No |
| Free CDN | Yes | Yes |
| Free Site Migration | Yes | Yes (only WordPress website) |
| Money Back Guarantee | 45 days | 97-day |
| Customer Support | 24/7 live chat, phone, email, and knowledge base | 24/7 live chat, phone, knowledge base, 24/7 ticket, email |
| Uptime Guarantee | 99.9% | 100% |
| Server Location | Houston, Texas, USA | California, USA |
| Security | Automatic malware removal, siteLock, SMART removal | SSL certificate, DDoS protection, Cloudflare CDN |
| Email | No | $1.67/month |
| Website | www.hostgator.com | www.dreamhost.com |
Now you are probably wondering what the pricing of hosting plans will be and what features they offer.
I compare both web hosting providers' hosting plans so you can easily choose one that meets your needs.
So, let's get started.
HostGator vs DreamHost: Plan and Pricing
HostGator and DreamHost are web hosting companies that provide similar services at competitive prices. However, to take advantage of the cheap prices promised by both hosts, a commitment of three years and payment in full is necessary. For example, suppose you want to be a member every month. In that case, the charges will skyrocket, and you should count on paying up to three times the amount indicated, and sometimes even four times that amount.
Both HostGator and DreamHost base their pricing structures on a substantial amount of upselling in their customer relationships. When you made the initial purchase, you may not have been aware of some other fees and costs. You may be responsible for paying for these items if you are not diligent.
DreamHost immediately adds DreamShield Protection to your purchase, while HostGator promotes Sitelock Essentials and CodeGuard backups. Unfortunately, if you don't remember to delete them, in that case, these add-ons may rapidly increase your shared hosting fees while seeming inexpensive.
Still, HostGator provides more excellent value than DreamHost since it gives you more for less. For instance, HostGator's managed WordPress Business Plan provides unlimited storage, three sites, and an SSL certificate.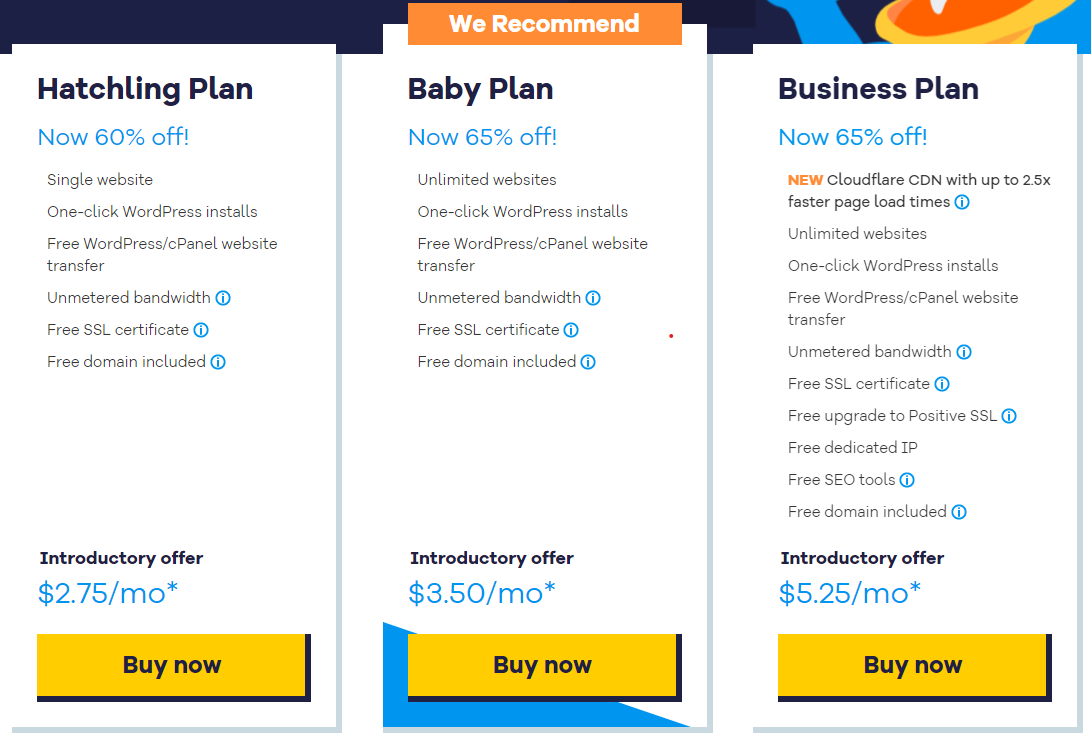 In contrast, DreamHost's identical plan, DreamPress, only gives one site, an SSL certificate, and 30 GB of space for roughly twice the price.
The same is valid with VPS.
DreamHost and HostGator offer VPS Business plans that are pretty similar in price. However, HostGator provides you with twice the storage capacity, not to mention two different IP addresses and a VPS firewall.
DreamHost gives a 97-day money-back guarantee on shared hosting plans, whereas HostGator's money-back promise is only 45 days. Although both should be long enough for you to discern if the service matches your requirements, I'd feel more secure knowing that I had three months to decide.
Now let's get into the next topic, cPanel. cPanel is an award-winning web hosting control panel that gives your business the tools to manage all aspects of your hosting experience easily.
HostGator vs DreamHost: cPanel
Both DreamHost and HostGator have a user interface that is quite intuitive. DreamHost does this by providing its customers with its easy-to-use control panel, cPanel, which is the industry standard and has a very user-friendly interface, the control panel that HostGator employs.
One of the many hosting companies, DreamHost is one of the few that uses its bespoke control panel rather than the industry-standard cPanel. DreamHost, on the other hand, can provide what is perhaps the most user-friendly WordPress installation process available on the market because of the dashboard and administration tools that they have developed in-house. Furthermore, DreamHost seems to be the only supplier that genuinely lives up to its claim of offering one-click WordPress installations, even though other companies promote offering such a service. In addition, this service provider does not use a pushy sales approach with its upsells.
To give you an idea, I'll show you a screenshot of the control panel that DreamHost uses; it has a contemporary appearance and puts everything you need within a single click's reach.
Now HostGator's control interface is a bit more rudimental. With the assistance of a native dashboard and cPanel, HostGator walks you through setting up your website. Of course, you will always have access to the more complex capabilities via the cPanel, such as the ability to manage your files, databases, and domain names. HostGator provides its customers with a fundamental cPanel with an iconic style that is recognizable and will not offer any challenges to either novices or experienced users. You won't believe how slim it is after you start using it.
Compared to the control panel that DreamHost provides, this one seems more focused on the functions that may be performed. This has two drawbacks: first, it does not offer any level of personalization, and second, it constantly tries to sell more items. When it comes to the cPanel, what you see is what you get. However, making a few minor changes to the customizing process is possible. Even though installing WordPress is often a problem-free operation, there have been reports from a few customers that specific difficulties occurred throughout the installation.
When compared head-to-head, it's clear that both service providers are up to the task. There are no unduly complex processes to access a particular tool. The most notable distinction is that DreamHost offers a fully customizable front end. On the other hand, HostGator focuses more on providing a fundamental framework for websites. A scroll is all it takes to access the first one's features and tools, whereas an icon-heavy layout is preferred by the second. These companies appear on our list of the top web shoe companies i.
All in all, everything boils down to personal choice. DreamHost is a clear choice if you want to quickly and simply set up WordPress. Still, both providers do an excellent job of making things as easy as possible.
HostGator vs DreamHost: Features
HostGator Offers a Slightly Better Feature Array Than DreamHost Does.
You can have each host's most cheap shared plan for a few bucks a month, plus the tools you need to maintain a modest website. However, regarding features, the DreamHost vs HostGator battle favors HostGator.
Although both DreamHost and HostGator provide a considerable number of fundamental features on shared plans, like a free SSL certificate, unmetered bandwidth, and a free domain name for one year (if you sign up for a minimum of 12 months), they also have their distinctions.
For instance, although HostGator's Hatchling Shared plan includes unlimited storage, DreamHost's Shared Starter plan gives you just 50 GB.
HostGator's control panel includes cPanel. However, DreamHost offers a unique, less crowded, and more straightforward solution.
One excellent thing about DreamHost is that you receive free automatic daily backups, whereas HostGator only gives weekly automatic backups. You may also make manual screenshots of your HostGator site at any time.
HostGator provides a free website and DNS transfer if you're switching from another host; DreamHost does not.
DreamHost charges you a set cost for each mailbox on the Starter plan. Still, HostGator allows you free access to unlimited email accounts. However, if you require multiple addresses, the fees might soon increase with DreamHost.
Now you might be asking yourself, what's the speed and performance of both web hosting? Well, I discussed both companies' speed and performance. I also share uptime from the past 5 months and different countries' average page loading speeds.
So let's go.
HostGator vs DreamHost: Speed and Performance
HostGator Beats DreamHost to the Finish Line in the Speed Race
HostGator and DreamHost have two data centers based in the US. To ensure that visitors from Europe, Asia, and Australia have fast page load times, you should consider using a content delivery network (CDN), which neither service offers.
HostGator and DreamHost provide SSD storage as standard in terms of shared hosting. Additionally, SSDs are up to 30 times quicker than HDDs in reading/writing speeds.
Many customers have complained about downtime and internal server issues that have left their websites unavailable despite DreamHost's 100% uptime promise supported by an SLA (service level agreement).
Customers also say that the tech assistance isn't always fast to restore complete server operation.
DreamHost's uptime results past 5 months:
September 2022: 100%
August 2022: 99.98%
July 2022: 99.82%
June 2022: 99.97%
May 2022: 99.78%
As an alternative, HostGator promises a 99.9% uptime guarantee, which my test shows meet. In addition, when HostGator has an extended outage period, it will credit your account for a whole month's charge. In contrast, DreamHost would only credit you for 10% of your following renewal fee.
Hostgator's uptime results from the past 5 months:
September 2022: 99.96%
August 2022: 99.94%
July 2022: 99.96%
June 2022: 99.97%
May 2022: 99.99%
HostGator got a near-perfect score in our performance review. Learn more about its fantastic test results in our professional HostGator review.
DreamHost, on the other hand, didn't perform so well. To learn more about its discrepancies, read our in-depth DreamHost review.
However, neither HostGator nor DreamHost has the fastest loading speeds. It's hard to beat SiteGround's WordPress-optimised plans for speed and stability, especially if you're looking for a low-cost option incorporating a robust caching mechanism.
HostGator comes out on top in the website speed division of the competition by a narrow margin. In this regard, both hosting services exceeded the industry's norms and delivered an exceptional experience to the end customer.
However, remember that the speed at which your website loads dramatically depends on the location of the server that hosts your website and the locations of the visitors to your website. When it comes to our company, all of our websites are managed and tested inside the United States. Therefore, your servers must be near your audience if you want the most outstanding results. However, DreamHost and HostGator only offer servers in North America; hence, these hosting companies are not the ideal option if your customers are located on other continents.
Is Hostgator faster than DreamHost?
Yes, we created two new test WordPress websites using Elementor, one with Namecheap and one with HostGator. We next checked the loading times of these sites using the web monitoring tool Pingdom.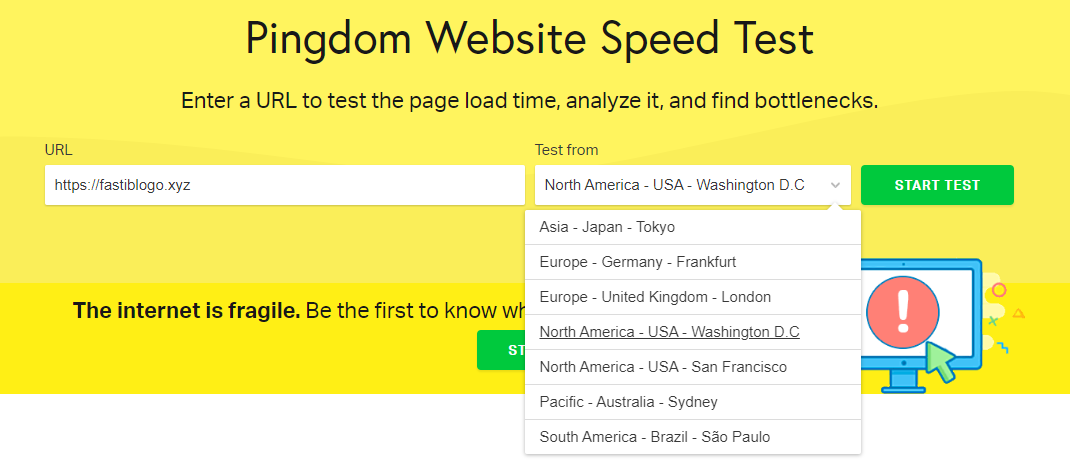 The following are the HostGator site results:
Asia – Japan – Tokyo: 1.24s
North America – USA – Washington DC: 1.10s
Europe – United Kingdom – London: 1.32s
Pacific – Australia – Sydney: 1.41s
The DreamHost site's outcomes are as follows:
Asia – Japan- Tokyo: 1.31ms
Europe – United Kingdom – London: 1.24ms
North America – USA – Washington DC: 1.10ms
Pacific – Australia – Sydney: 1.35ms
In general, the performance given by both suppliers was satisfactory. Both hosting providers had comparable uptime. However, DreamHost was much faster than its competitor when it came to responding to customers' inquiries. Both DreamHost and HostGator had comparable results regarding the speed at which websites were loaded. However, HostGator emerged victorious.
Now let's dive into the next topic, security. Security is essential when it comes to running a website. The web is full of hackers who can easily hack and steal your important data from the website if you don't have enough security to protect your site.
I explained both web hosting providers' security services. Choose one of them to protect your site from hackers.
HostGator vs DreamHost: Security
Both HostGator and DreamHost Provide Adequate Safety Measures for Customers.
DreamHost and HostGator are equal in terms of the level of security they provide. In addition, both servers offer free SSL certificates issued by Let's Encrypt, which may raise your site's ranking in Google's search results.
In contrast to HostGator, DreamHost does not charge extra for domain privacy (also known as Whois). This indicates that DreamHost will hide your personally identifiable information using its proxy server, making it more difficult for hackers to access your data.
On the other hand, HostGator provides complimentary spam protection by SpamAssassin. Although you may be able to install this on your owToeamHost VPS plan, shared plans often do not provide you with the administrative capabilities that are necessary for the installation.
DreamHost provides you with the choice to purchase DreamShield for additional protection. At the same time, HostGator allows you to buy SiteLock Essentials for your website.
Both services offer similar duties, such as checking your website for malicious code and monitoring your website's reputation, among other things. So naturally, this is all for a price.
HostGator vs DreamHost: Customer Support
Although HostGator is dependable, DreamHost provides superior customer service.
Both DreamHost and HostGator provide customers with access to a range of direct support methods, including live chat, phone assistance, and ticketing, in addition to a selection of tools that allow customers to help themselves.
There is a significant difference between the two service providers if you are not a fan of using knowledge bases (although, remember that the knowledge bases provided are excellent).
Three direct assistance channels are available to DreamHost's customer support service customers. Live chat, open from 5:30 AM to 9:30 PM Pacific Time (PT), phone assistance, and ticketing available around the clock. At first glance, DreamHost's aid may not impress you very much. However, the absence of a live chat option available around the watch can be a deal breaker.
I tried twice to chat with their customer team member, but sadly they couldn't connect me with one.
The company needs to improve its live chat service.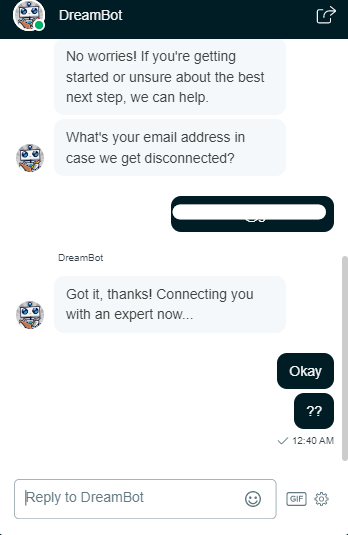 Nevertheless, the process of purchasing tickets is smooth. When employing this approach, most of the time, the issues are resolved within the first hour. In addition, to stop your heart from pounding, you should realize that you always have the option of reading the website's tutorials and the community, which may assist you in some manner.
HostGator, on the other hand, provides both live chat and phone support, both of which are available around the clock. The live chat feature offered by HostGator is often regarded as among the most effective in the industry. It's noteworthy that the support employees at HostGator are trained specialists that can answer your issues in less than ten minutes each time they're contacted. The representative with whom we had the chance to speak was kind, knowledgeable, and helpful in resolving our concerns promptly.
HostGator has an excellent live chat service, but when you click on the live chat, a new tab will pop up asking for your name, and category, and write down your problem or whatever you want to ask in the description section.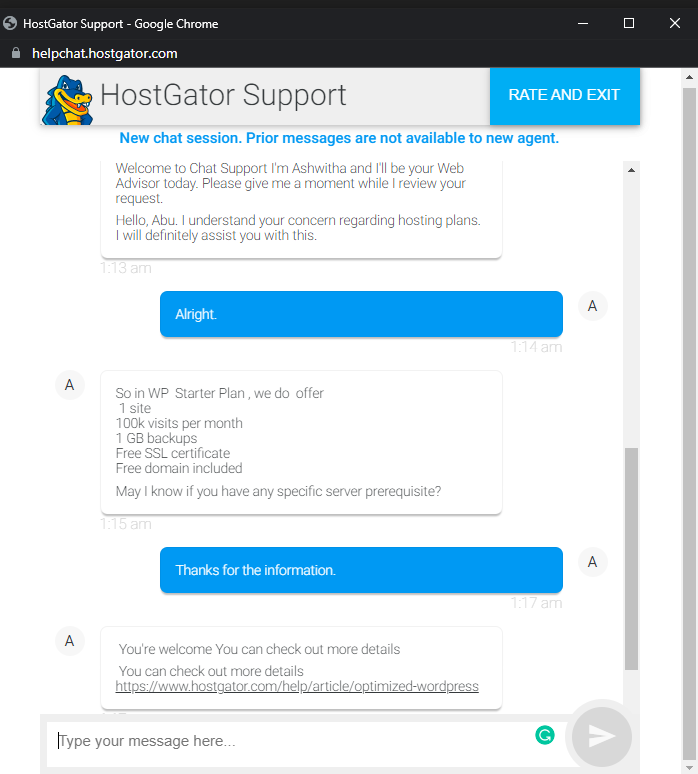 HostGator comes out on top when it comes to providing customer assistance.
Although DreamHost's ticketing system functions more effectively than some of its rivals, it is unfortunate that the live chat feature is restricted to a specific time zone. HostGator delivered excellent outcomes with a much-reduced turnaround time.
HostGator vs. DreamHost: Final Recommendations
In the comparison of DreamHost and HostGator, both of the web hosting services performed exceptionally well in the majority of the areas. Both DreamHost and HostGator offered competitive pricing. However, DreamHost was superior to HostGator in terms of uptime and reaction speed. The prices shown by both companies were very competitive. The most critical distinctions were in the areas of customer service and security. DreamHost is the superior choice regarding protection, while HostGator proved challenging to surpass.
Who comes out on top when pitting DreamHost vs HostGator is a question only you can answer. However, DreamHost is the better choice if you are a more sophisticated user searching for a simple WordPress setup, solid security features, and fantastic performance outcomes.
| Category | HostGator | DreamHost |
| --- | --- | --- |
| Features | Free domain, 45-day money-back guarantee, site migration, and automatic backups | Unlimited storage, Unmetered bandwidth, daily automatic backups, free WordPress site migration, 97-day money-back guarantee |
| Pricing Reliability | Cheap starting price but 2 (dedicated and VPS hosting)of them are costly plans | Overall lower prices except for dedicated server hosting. Dreamhost's dedicated server hosting has costly plans |
| Reliability | 99.9% uptime guarantee  loading speed ≈460ms | 100% uptime guarantee with an average response speed of 72ms |
| Security | Automatic malware removal, siteLock, SMART removal | SSL certificate, Cloudflare CDN, DDoS protection |
| Support | 24/7 live chat, phone, email, and knowledge base | 24/7 live chat, phone, knowledge base, 24/7 ticket, email |