With the WP Engine review, you'll get an excellent overview of the latest hosting options for WordPress. This guide offers a detailed breakdown of the platform, explaining what you should expect from WP Engine and what it does well. We also compare its pricing to other top services in the industry, so you can see which service is right for you. We hope you'll use the WP Engine review as a resource to choose the best WordPress hosting service for your blog.
For those who don't know, it's a platform that allows website owners to set up blog and forum-style websites easily. If you're unfamiliar with WordPress, the name probably sounds pretty intimidating. But this doesn't mean it's challenging to set up and maintain. It's pretty easy, thanks to the incredible support offered by WP Engine. They provide various services that let you create professional websites with WordPress. WP Engine was designed with WordPress sites in mind and includes everything you need to manage your site, including speed, backup, and security. In this WP Engine review, you'll look at their pricing, hosting features, Uptime, customer support, and whether or not you should be using their service.
If you don't have much time to read all the articles, just read this table.
| Features | WP Engine |
| --- | --- |
| Hosting Type | WordPress hosting, WooCommerce hosting |
| Free Domain | No |
| Pricing | $24/month |
| Data storage | 10 GB - 50 GB |
| Bandwidth | 10 GB - 50 GB |
| Website Backups | Yes |
| Dedicated Hosting | No |
| cPanel | No |
| Free CDN | Yes |
| Free Migration Site | Yes |
| Money-Back Guarantee | 60-day money-back guarantee |
| Customer Support | 24/7 live chat support, phone, knowledge base, email |
| Uptime Guarantee | 100% |
| Server Location | Austin, Taxes, United States |
| Security | SSL certificate, CDN, Cloudflare |
| Email Hosting | No |
| ⭐ Rating | 4.7/5 |
| Website | www.wpengine.com |
Continue reading if you want to know more about this topic! Now, we will talk about the company.
Overview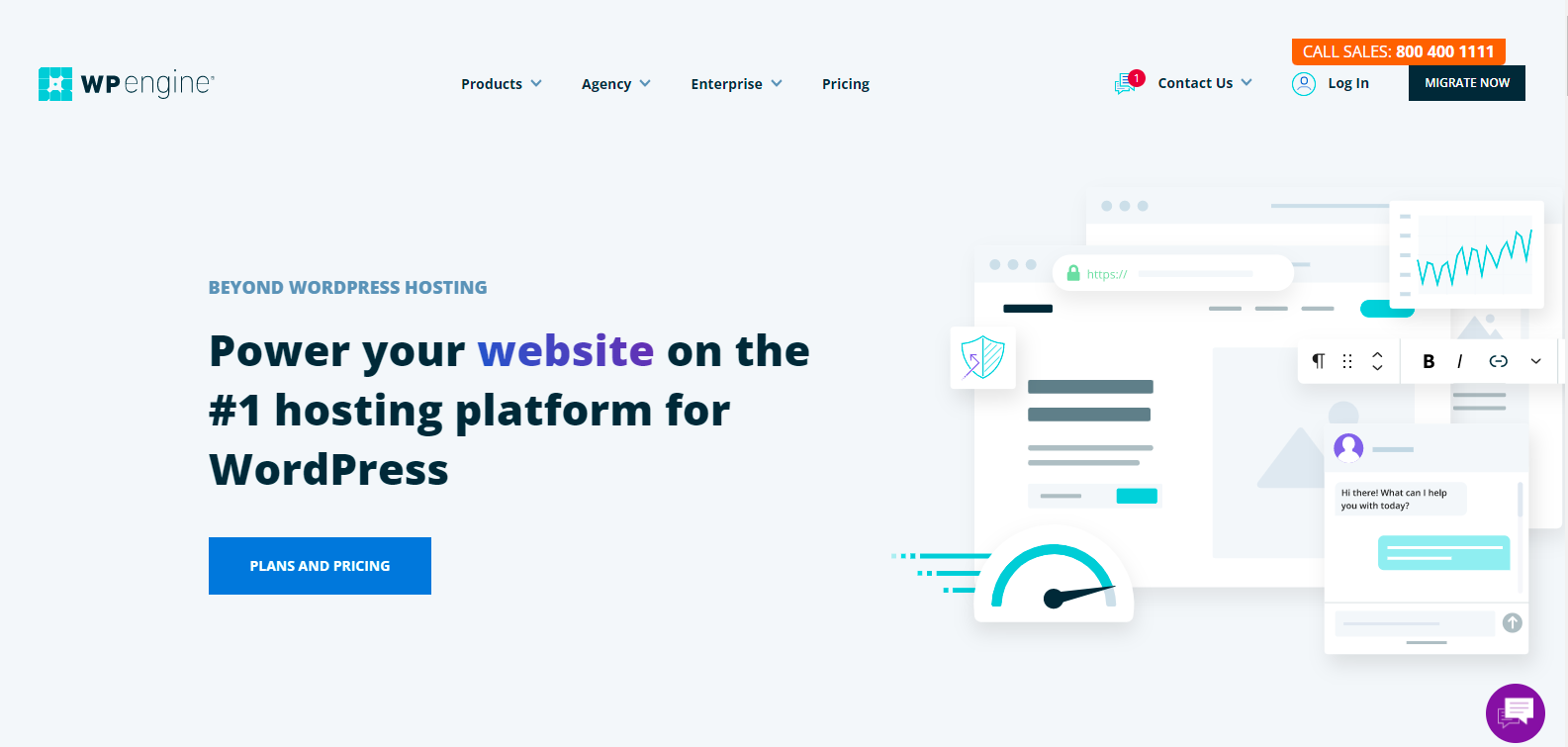 WP Engine is a WordPress web host company based in Austin, Texas, the United States that provides reliable, secure, and affordable web hosting for all kinds of businesses, small, large, and enterprises across the globe. Jason Cohen founded the company in 2010. Jason Cohen began the company intending to help other web developers who were struggling to figure out how to design and build a professional website. Since then, WP Engine has grown to become one of the largest WordPress hosting company in the world with over 1100 employees, more than 185,000 customers in 150 countries, and over 1,500,000 active accounts. According to reports, over 5 billion requests are processed daily. They have eight different location servers around the world.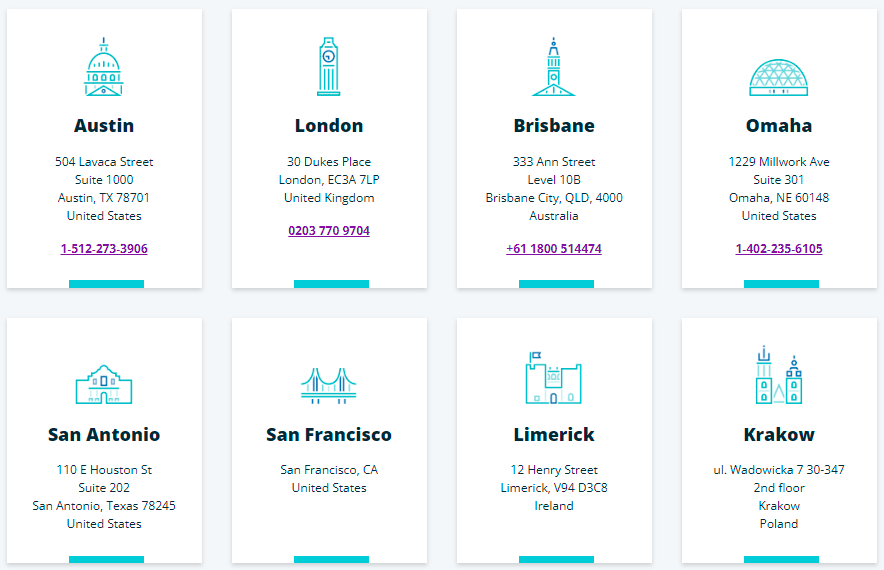 Main Address
504 Lavaca Street, Suite 1000
Austin, TX 78701
The WP Engine features are straightforward. They are designed to help you get the most out of your website in the shortest amount of time. And they are there to help if you run into any problems. Their customer support team is one of the best in the business. They were ranked number one in the web hosting company in 2021. They have won many awards because of their excellent customer service.
When it comes to managing your website, WP Engine is the one-stop shop for a quality website that gets your business noticed online. The service offers managed WordPress solutions and a suite of other website management options. It offers everything from hosting to premium plugins and add-ons. It is also well-known for handling large amounts of traffic and data. WP Engine offers two hosting plans, Managed WordPress hosting and Managed WooCommerce hosting.
So let's get into further detail about their packages and hosting types.
WP Engine Review: Plans And Pricing
They offer different plans and packages, each with different features. However, one of the unique things about WP Engine is that they're owned and operated by the same people who run the WordPress platform itself. So when you sign up for a hosting plan through WP Engine, you also get access to the tools and resources used to develop WordPress. That means you'll have access to the newest WordPress features and upgrades.
WP Engine offers top-notch customer support, high Uptime, and powerful management tools. These features make them a great option for those who want a reliable and affordable WordPress hosting service. Over $1,200 worth of premium WordPress themes are free with any WP Engine plan. They also offer four months free on an annual plan. WP Engine has more expensive plans than most other web hosting companies.
We'll show you some of the features and benefits of WP Engine's plans. You can use them to set up and run a successful WordPress site.
They currently offer only two web hosting plans.
Managed WordPress Hosting
Managed WooCommerce Hosting
Managed WordPress Hosting

A WordPress hosting service is a place where you can create and manage a blog using WordPress. Using a WordPress hosting service, you can create a blog by typing a website address and adding content. It is effortless to install and configure, making it a favorite among bloggers and non-technical users. WordPress is estimated to be the platform used to build almost half of all websites. That makes WordPress a prominent website platform.
WP Engine WordPress hosting offers different packages that differ in terms of the features and the amount of storage space you get. You can get the best WordPress hosting for your budget from WP Engine. Their features include automatic site backups, free migration, unlimited development sites, a free SSL certificate, automatic WordPress installation, 24/6/365 live chat, ticket support, and more. Integrated local environments, WordPress plugin and update management, and simple site administration tools are all available in WordPress hosting plans as development tools.
WP Engine offers four WordPress hosting packages: Managed Hosting Startup, Managed Hosting Professional, Managed Hosting Growth, and Managed Hosting Scale. All plans provide 24/7 support, Free SSL, 10 premium themes, daily backups, and free automatic migration.
Startup Managed Hosting ($24/mo) is ideal for starting a small website or blog. This plan includes only 1 website with 25,000 monthly visits, 10 GB storage, and 50 GB bandwidth per month. WordPress Startup hosting package only provides chat support and faster site speed with website caching. Hence, visitors get a quick and consistent experience and site content in the cloud (CDN). That means all your content will be delivered from one place and will improve your site's page load speed: up-to-date PHP, activity log & user permission, and local developer tools, and more.
Professional Managed Hosting ($47/mo) is the best solution for building your brand. You get 3 websites with 75,000 monthly visits, 15 GB storage, and 125 GB bandwidth monthly. This plan gives you both chat and phone support and provides WordPress multisite. This is a perfect solution for those with websites who wish to create multiple sites with similar content on one account.
Growth Managed Hosting ($92/mo) is perfect for growing your business. This plan provides 10 websites with 100,000 monthly visits, 20 GB storage, and 200 GB bandwidth monthly. Growth managed hosting package gives you everything you need to grow your business.
Scale Managed Hosting ($232/mo) is designed for higher capacity and site limits to scale your business experience. This plan offers 30 websites with 400,000 visits, 50 GB storage, and 500 GB bandwidth. This plan is more costly, but you can save $580 with two months free after buying the annual plan.
Managed WooCommerce Hosting

WooCommerce is an eCommerce platform developed by WordPress. It is a free open source tool that allows website owners to add shopping capabilities to their websites. WooCommerce is compatible with most themes, plugins, and hosting platforms. It is also effortless to install, and setup is generally straightforward. WooCommerce allows a small business to have a fully functional online store without hiring an IT specialist.
WP Engine's WooCommerce Hosting is the way to go if you're looking for a website hosting service. They offer affordable pricing, websites, storage, and various features to ensure your online store runs smoothly. They also provide 24/7 support via live chat and email. If you have questions about how WooCommerce Hosting can help you, don't hesitate to contact their sales team.
Now you might be wondering what the renewal prices will be.
Renewal Prices
WP Engine has the most costly annual renewal prices. They offer yearly renewal pricing rather than monthly renewal pricing for WordPress hosting. Renewal prices for WP Engine are $360 per year for Managed Hosting Startup, $708 per year for Managed Hosting Professional, $1380 per month for Managed Hosting Growth, and $3480 per month for Managed Hosting Scale. If you buy an annual package of Professional Managed hosting, The cost is only $472 per year, with a savings of $236 by getting 4 months free.
WP EngineReview: Uptime And Reliability
WP Engine is the leading managed WordPress hosting provider. Its focus on Uptime and reliability has helped WP Engine earn a reputation for high-quality service. WP Engine's commitment to providing a reliable hosting environment continues to give customers peace of mind that their sites will always be available. WP Engine has been able to grow its customer base year after year. They have been around for over nine years and offer 100% uptime. This means you can trust WP Engine to keep your website running smoothly.
Last three months' average Uptime:
100% May 2022
99.92% June 2022
100% July 2022
They'll fix any problems with your website if they occur within a concise time frame. That's an amazing feat for a web hosting provider, especially since it is so competitive in the market. With a 100% uptime rate, WP Engine is well worth considering if you need a reliable and secure web hosting solution.
Their average response time is 589ms.
How Can You Create And Restore Backups At WP Engine?
The importance of backups can't be underestimated. Backups are essential for ensuring your website's and critical documents' safety and security. Fortunately, you can back up your site using WP Engine's Backup service. It offers automatic backups every 24 hours, and you can schedule when they happen and how frequently they occur. You can also select a manual backup option if you prefer.
WP Engine built a tool that allows you to create a database backup, a.zip archive of files, or both, all from within the WP Engine Dashboard. You can quickly and easily restore the previous version of your site if you have any issues when creating the backup.
How to create a backup checkpoint?
All backup capability is accessed through the "Backup Points" page in your User Portal. To get the Backup Points page:
Log in to the user portal
Select the environment name
Click on Backup Points
They store up to 60 days' worth of checkpoints. You can contact their support team if your checkpoint is not displayed what you need.
WP Engine automatically backups every day. However, if you want to modify your site, you must usually create a new backup checkpoint before proceeding.
Open Backup Points in the user portal
Click on Back up now
A new window will pop up with the required fields:
Backup description
Send notification
Click on create production backup.
Note: The email notification may be considered spam or junk mail. Check your email inbox for these folders.
How to restore a backup at WP Engine?
If you want to restore your website to the previous version:
Open the user portal and click Backup Points
By clicking the radio button, choose a backup from the given list
Click Restore
Note: Backup is in server time UTC
A window with the required information will appear:
Restore to
Restore with database
Send notification to
The automated restore process can take several minutes to several hours. Backing up is mainly determined by the size of your site and the number of files on it. When the restore is finished, an email will be sent to the email addresses listed.
How To Backup WordPress Files And Databases?
WordPress is a prevalent content management system that powers millions of websites around the globe. If you manage a WordPress website, you should back it up regularly. Backing up your website will help if there is any downtime on your site. Otherwise, you risk losing everything when you have a site crash or a server failure. Fortunately, it's effortless to back up a WordPress site. You can restore your website from a recent backup whenever you need to, and WordPress recommends you back up everything. Your site's file and database are the two main components.
The files you will Back up Include linked plugin and theme files, code files, pictures, and static web pages. Your website's content is stored in your database. Backing this up ensures that if you ever need to restore your website, your posts, links, and comments will remain intact.
What type of information is included in a WordPress backup?
The whole WordPress backup consists of two main parts: the MySQL database and the files.
Your MySQL database contains important information such as:
Posts and pages
Categories and tags
Comments
Usernames and passwords
Emails
Your files that contain the actual content of your WordPress site are typically stored separately. These are some examples:
Videos and images
Graphics
Themes files and setting
Plugin files and setting
WP Engine Website Migration
WP Engine's step-by-step migration service can help you quickly move your website from one host to another. It is a reliable and straightforward solution that you can use to ensure everything goes smoothly. WP Engine uses industry-leading technologies and tools to help ensure that every site is migrated securely and smoothly.
Things you need to do before migrating:
Open a WP Engine WordPress hosting account
Add a new site and environment to move your current to
Access the existing website on a different host
How to download and activate the plugin?
Open the wp-admin on the website from which you're migrating.
Click plugins
Click add new
Locate WP Engine automated migration
Note: You can manually install the plugin by downloading it from the Site Migration page.
WP Engine site migration plugin
You're probably aware of how necessary it is to migrate your existing site to a new platform if you own a WordPress website. WP Engine's automated migration plugin makes it easier to migrate your WordPress site. Before changing your DNS and allowing the site visitors, the plugin creates a copy of your site so you can ensure everything is working. This ensures that switching a website to WP Engine won't cause downtime! If you're an existing customer, you can migrate sites at any moment using the plugin.
Benefits and features
You don't need a developer to use the plugin because it is effortless. No FTP client is necessary!
Use the plugin to move client sites to your account and start projects quickly.
Real-time updates will be given once the migration has started
Smaller sites can typically be transferred within one hour.
How To Secure Your Website With WP Engine?
SSL stands for Secure Sockets Layer, a mechanism to secure web traffic that encrypts the information sent between a client and server. The encryption process allows the client to be sure that a third party has not altered the data it sends to the server. SSL is crucial for security in ensuring that users interact with the website they expect and that the site's information is safe. Without SSL, hackers could intercept and read data, which is why protecting against misuse is essential.
Start installing an SSL certificate on your hosting plan to ensure your website is secure. They're offering SSL with their hosting plans for free. Without one, your site visitors will see a warning that their connection to your site is not encrypted. Encrypting your site is necessary for secure communication between your web browser and the website you're connecting to. SSL encrypts data so third parties can't intercept it, ensuring that no one can steal your information. Even better, it uses public-key cryptography, so you don't need to worry about keeping the private key safe. The feature also offers advanced protection against cross-site request forgery attacks.
Customer Support
Customer service is one of the essential parts of any business. WP Engine is no different, and the team behind its award-winning customer support service is just as dedicated to ensuring customers get the help they need as soon as possible. WP Engine has won multiple awards for its customer support. They have won awards like Best workplaces, DIGIDAY TECHNOLOGY AWARD, GOLD 2019 STEVE WINNER for sales and customer service, etc.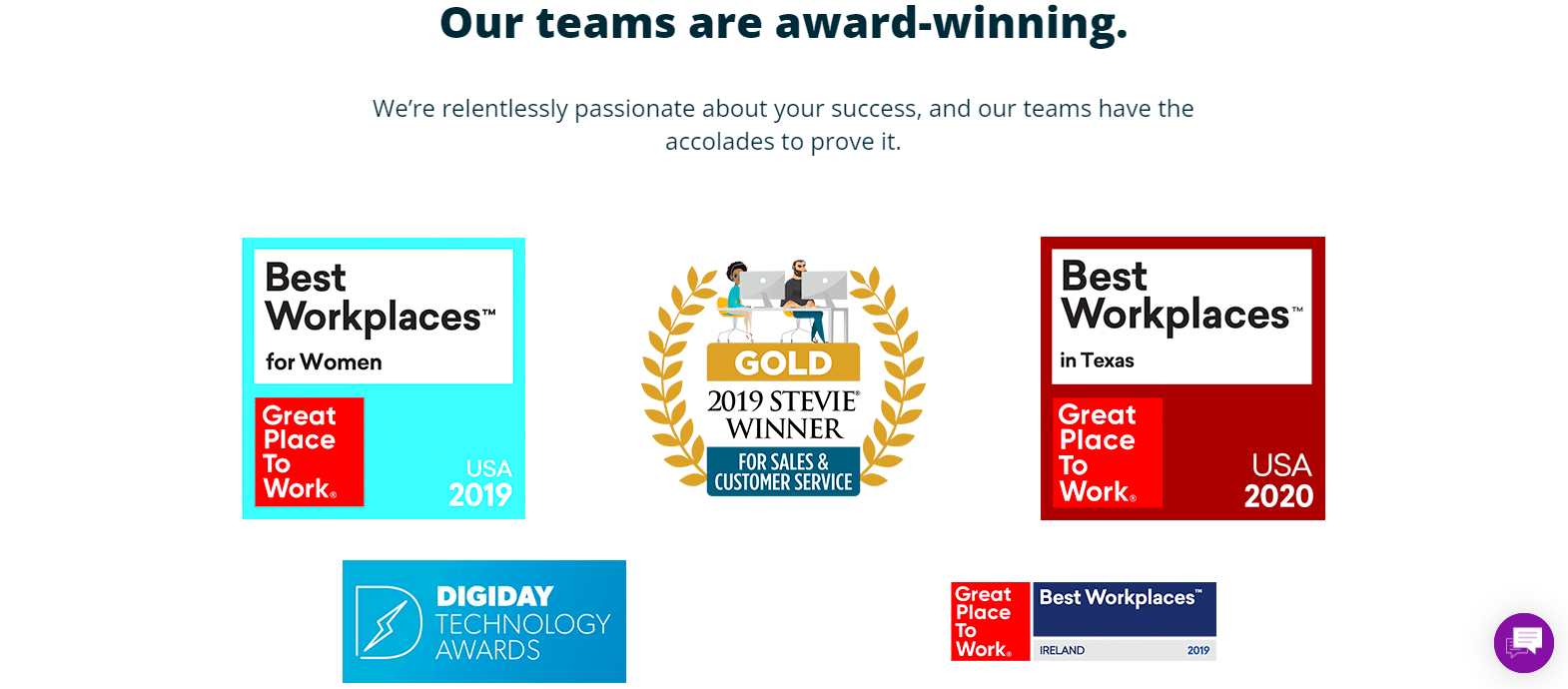 The WP Engine customer support team can be reached via live chat 24//7 support, phone, or email. They also have an expert knowledge base and FAQ section packed with helpful information. They take pride in their product and are always looking to improve.
If you have questions about sales, you can reach out to their sales specialist by calling them at 1-877–973-6446 or +1-512-273-3906.
Sales
+1-512-273-3906
[email protected]
24 Hours
Pros And Cons Of WP Engine
Pros
60-day money-back guarantee
Daily and on-demand free backups
Free access to Genesis Framework and StudioPress themes
Free SSL and CDN
Well optimized with WordPress users
Malware scanning and firewall protection
Award-winning customer service
Free automated migration plugin
Multiple server locations
100% uptime guarantee
Cons
Expensive web hosting provider
No email hosting
Only managed hosting plans
Limited storage and traffic
Conclusion
I hope that you've found this helpful article. It is intended to be a comprehensive review of the company and its services so you can make a good decision about whether or not to use their web hosting service. WP Engine is an excellent choice for anyone looking to grow their website traffic and increase their rankings in search results.
They offer affordable plans and plans that are tailored to fit your needs
They provide daily backups, which makes them great for those who work from home or run a business from home
They have a 60-day money-back guarantee if you are not satisfied with their services for any reason
They offer a 100% uptime guarantee, so if they go down, you are covered
They provide an extensive array of features, such as site migration, free backup, and SSL security
They offer a wide variety of customer support options, from phone calls to live chat, to email, to ticketing
They are known for providing excellent customer support, including live chat and telephone calls
FAQs About WP Engine
Here are the questions people ask about WP Engine's hosting service.
How to Manage a WordPress Website?
WP Engine provides a solid service for those with a website hosted on the platform. Because WordPress is so well-loved, it makes sense to focus on improving the platform instead of switching to another platform. As a result, the company has developed many features to help manage your site easier.
Which Hosting Plan Is Best for Your Website?
There are so many different WordPress hosting plans to choose from. But which one is the best fit for your business? When choosing a hosting plan that is right for your website, here are the questions to ask yourself: How many visitors do you expect? Do you want to host multiple domains, or will your website be one site? Do you prefer managed WP Engine hosting or self-managed WP Engine? Are you looking for a plan with a robust security offering? What are your monthly spending requirements?
How to Increase Page Speed on WordPress?
A good website needs to be fully updated. If you don't do that, you'll have many other problems because if you use outdated software versions, you'll have a lot of issues. Page speed is essential. You need to pay attention to every aspect of your site. Here are some tips you can follow:
Limit the number of plugins that you have installed.
Use cache plugins
Avoid JavaScript.
Avoid using images as a background.
Optimize your images
Set up a CDN (Content Delivery Network)
Alternatives Of WP Engine
Kinsta
DreamHost
Cloudways
SiteGround
Pantheon
Bluehost