GoDaddy vs WP Engine – the debate over Who is the best web hosting provider for your business.
GoDaddy and WP Engine offer a wide range of features and services, but which is truly the best? In this article, we will compare GoDaddy and WP Engine to determine who comes out on top regarding price performance, features, and customer support.
With the help of this article, you'll be able to make an informed decision about the best web hosting provider for your needs and ensure your website is in good hands.
So, Let's dive right in.
WP Engine is a premium managed WordPress hosting provider that offers fast, secure, and scalable hosting solutions for businesses of all sizes. Its main benefits include exceptional performance, 24/7 customer support, and built-in security features.
GoDaddy is a popular web hosting provider that offers a variety of hosting plans for businesses and individuals. Its main benefits include affordability, a user-friendly control panel, and 24/7 customer support. GoDaddy also offers a range of website building tools and a comprehensive set of features for its customers.
A Closer Look at the Features Offered by GoDaddy and WP Engine
When it comes to choosing a web hosting provider between GoDaddy vs WP Engine, it's important to consider the features that are most important to you. The table below provides a closer look at the features offered by GoDaddy and WP Engine.
From hosting types and pricing to security and customer support. This comparison will help you understand the key differences between these two popular providers. Whether you're a small business owner or a blogger, understanding the features offered by each provider will help you make an informed decision about the best fit for your needs.
here's a table comparing the features of GoDaddy vs WP Engine:
| Feature | GoDaddy | WP Engine |
| --- | --- | --- |
| Hosting Types | Shared, Dedicated, VPS, reseller, WordPress | Managed WordPress, WooCommerce hosting |
| Free Domain | Yes, with annual plan | No |
| Pricing | Affordable, starting at 4.99$/mo* | Premium, starting at 28.00$/mo* |
| Data Storage | Unlimited | 10 GB - 50 GB |
| Bandwidth | Unmetered | 50 GB - 500 GB |
| Website Backups | No (only as an add-on or with WordPress hosting) | Daily backups included with all plans |
| Dedicated Server | Yes | Yes |
| cPanel | Yes | WP Engine Client Portal |
| Free CDN | No | Yes |
| Free Site Migration | No | Yes |
| Money Back Guarantee | 30 Days | 60 Days |
| Customer Support | Phone, Live Chat, Ticket | Live Chat, Ticket, Phone |
| Uptime Guarantee | 99.90% | 99.90% |
| Server Location | Phoenix, Arizona | US, Canada, Europe, Germany, Asia, Australia |
| Security | Basic security features available | Advanced security features included |
| Email | 1.99$ Per Month | No |
| Rating | 4.7/5 | 4.6/5 |
| Website | www.godaddy.com | www.wpengine.com |
As you can see, GoDaddy offers several well-suited features for beginner web admins, including a free domain, free SSL certificate, and automatic backups on a WordPress package. They also provide access to thousands of free themes and plugins. Plus, a user-friendly interface that makes it easy to get started with your website. GoDaddy also provides a 30-day money-back guarantee, giving you the peace of mind to try their services risk-free.
On the other hand, WP Engine is a premium managed WordPress hosting provider that offers advanced features for more experienced users. They have a strong focus on security and performance, evident in their architecture technology and Global CDN. They also offer a smart plugin manager, SSL certificates, and 24/7 chat support to help you keep your website running smoothly. WP Engine provides a 60-day money-back guarantee, giving you ample time to try their services and see if they meet your needs.
GoDaddy vs WP Engine: Price Comparison
When it is concerned with pricing, I will prefer GoDaddy because it has economic pricing plans. You will get WordPress-managed hosting at a reasonable price. You have noticed that pricing is a publicity tactic to grab customers. Most people choose based on the initial price rather than the overall cost.
GoDaddy and WP Engine are both reasonable subscription plans, but GoDaddy is cheaper than WP Engine. But WP Engine includes WordPress hosting that is fully managed, and it includes phone support and better hardware technology. But it costs you almost four times more than GoDaddy.
We know that pricing can be a make-or-break situation for many customers. That is why I will provide pricing plans for GoDaddy and WP Engine before anything else. Pricing is one of the main factors that decide the quality of services you will provide. The more you spend, the better service you will get.
GoDaddy Pricing:
Basic Plan: 2.6$ for 1st month. Renews at 5.5$
Deluxe Plan: 4.99$ for 1st month. Renews at 6.99$
Ultimate Plan: 6.99$ for 1st month. Renews at 9.99$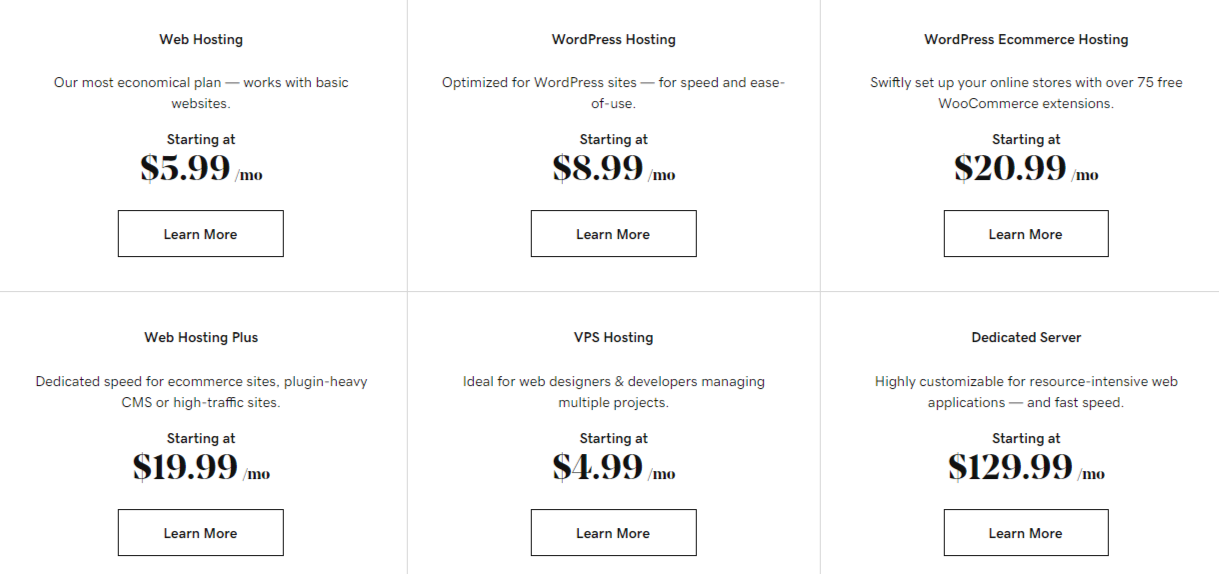 WP Engine Pricing:
Personal: 27$ for 1st month. Renews at 30$
Professional: 104$ for 1st month. Renews at 115$
Business: 261$ for 1st month. Renews at 290$
Premium: Custom for 1st month. Renews at Custom.

GoDaddy vs WP Engine: Performance Comparison
The performance of the hosting site matters a lot to clients. If the performance of the hosting site is below par, it will not be able to bear the traffic load. WP Engine has worked a lot on its performance. It developed a system with amazing performance, fast upload timing, and stability.
WP Engine aims to provide you with the high server speed. As you know, website speed is the main determining factor in customer acquisition, engagement, and retention. Everyone expects to enjoy good speed on a website, but if your hosting provider fails to provide speed, your site will suffer.
WP Engine has focused on creating a secure system to protect your content from hacking attacks. WP Engine is determined to satisfy customers.
GoDaddy's performance is volatile. It varies based on the source. There are numerous reports of websites becoming sluggish. This will affect the performance of the site. It will increase errors and may result in numerous missed connections. GoDaddy is also providing an uptime guarantee.
When any visitor visits the website, the first thing that impacts a visitor's mind is the speed of your website. The website's speed is the major factor that will decide the amount of traffic on your website. It also plays an important role in SEO ranking.
WP Engine is one of the best-performing hosting sites. It serves us with incredible load speed and uptime. WP Engine has a much faster loading time compared to GoDaddy. Load time matters greatly when you add videos or images to your website. WP Engine is dedicated to providing you with completely managed hosting. It is almost impossible to guarantee 100% uptime, but 99.99% with WP Engine is the best option for a professional WordPress hosting provider.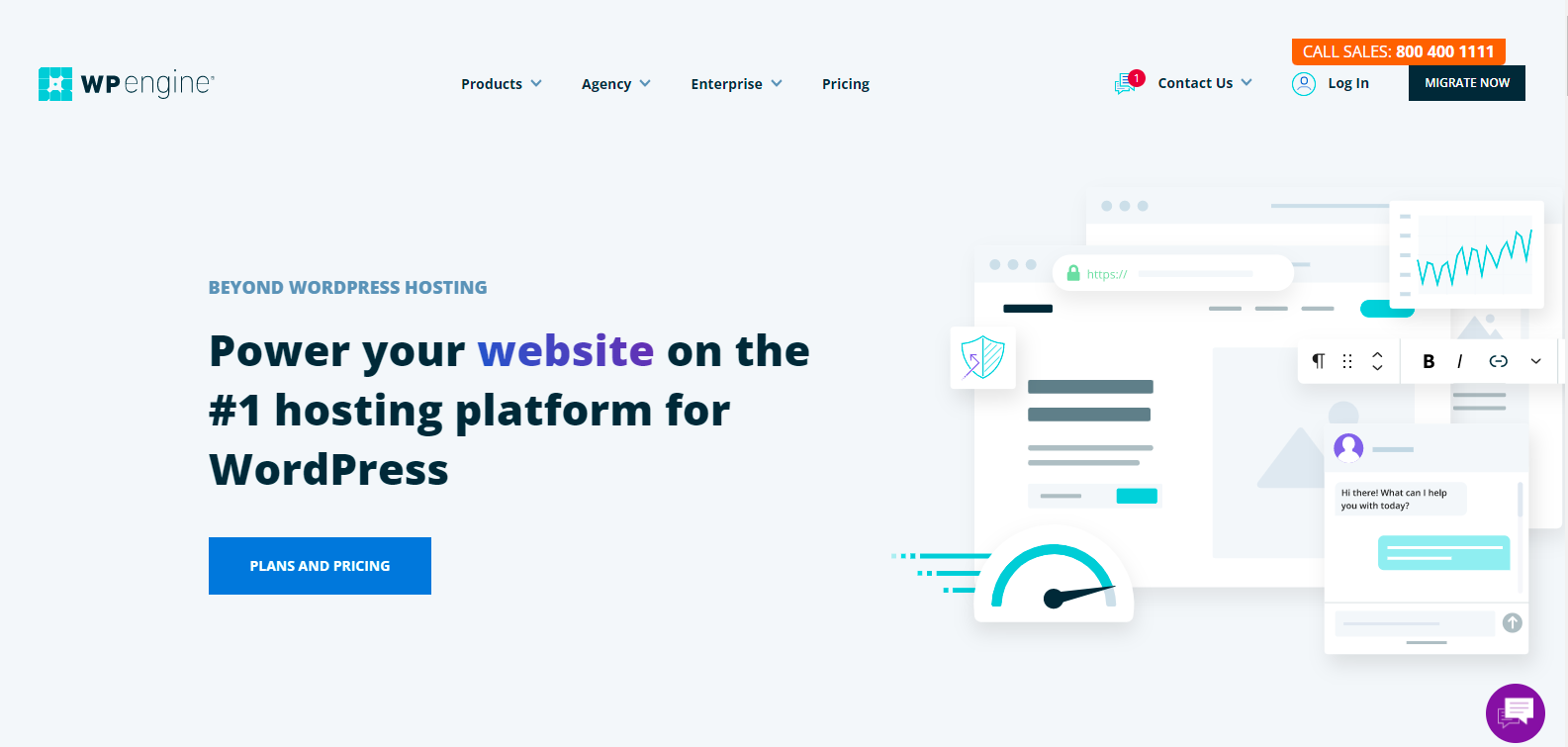 We performed the performance test of these two hosting providers.
The overall average for WP Engine was 2.3s.
Overall average for GoDaddy was 2.98.
You can notice the difference between WP Engine and GoDaddy performance time. So, if performance is your first priority, you should choose WP Engine. But WP Engine has more expensive subscription plans than GoDaddy. GoDaddy is budget-friendly. You have to decide whether you want a budget-friendly subscription with regular performance or an expensive hosting provider with high performance. If you have a low budget and performance does not matter a lot to you, then in my opinion, you should go with GoDaddy.
GoDaddy vs WP Engine: Customer Support
After breaking down the different features each host provides you, I will tell you which hosting provider offers you the best customer support service. It does not matter how proficient you are at developing a website. At certain stages, you must contact tech support. So, it is really necessary. There are different methods to provide support to clients. Let's see how these two hosting providers use them.
When you contact a helpline, you don't want to remain on hold for an eternity before speaking with a real person. It's also preferable to call at any time of day or night so that if you're working on your site late at night, you can still obtain support if something goes wrong. Both services provide 24-hour phone help and do not keep you on hold for lengthy periods.
These two hosting providers offer reliable live chat, but GoDaddy has some restrictions and is not always online. So, you can only contact them during their business hours. Most people work on their websites at night. If they face any issues, they can't contact GoDaddy customer support because of time restrictions. So, it is not favorable for us and is very disgusting.
GoDaddy:
 Available from 2:00am to 7:00pm
 Live Chat
Ticket
Phone
Email
WP Engine and other distinctive features pay heed to 24/7 customer support. They are well known for their quick response rate and accuracy of answering questions. They are providing different ways through which users can contact customer support.
WP Engine:
 24/7 Customer Support
 Live Chat
 Ticket
 Phone
 Email
The queries of the users are answered by professional staff. WP Engine has a chatbox that appears in the lower portion of the screen. It enables users to seek assistance directly. The problem is solved within a few minutes by a customer service representative.
GoDaddy vs WP Engine: Uptime
Along with many other facilities, hosting sites guarantee that your website will not crash in any circumstance and will always remain live on the internet. It is referred to as the "uptime guarantee."
It gives you the satisfaction that you are safe and your website will not undergo network connection issues. While choosing the hosting provider, you should remember that WP Engine provides an uptime guarantee while GoDaddy does not. If you face any issue related to a server down on GoDaddy, they will not help you.
Both hosting providers are the best. They provide a high uptime percentage, but I would prefer WP Engine because they provide you with a guarantee.
GoDaddy vs WP Engine: Conclusion
It is difficult to beat WP Engine in the category of WordPress hosting. Although you have to pay a little bit more for WP Engine than for GoDaddy, it provides you with more benefits. I suggest you use WP Engine if you are looking for a fast, secure, and trustworthy hosting provider. But if you can't afford WP Engine and are looking for an economical web hosting provider with maximum benefits, then you should go for GoDaddy.
| Category | GoDaddy | WP Engine |
| --- | --- | --- |
| Features | More disk space on basic plans, a free domain | Free migration, free auto-backup, domains with discounts |
| Pricing | Lower Price With Normal Performance | Little High Price With Higher Performance |
| Reliability | 99.90% uptime but worse tests | 99.99-100%-uptime guarantees |
| Security | Google blacklist monitoring, malware scan | Free SSL, 2-factor authentication, DDOS protection, Automatic Daily Back Ups |
| Support | Live Chat 24/7 (but not in all countries), phone support available | Live Chat 24/7, Ticket, Phone support available |
Both offer 24/7 support through phone, live chat, and email. WP Engine support is exclusively for WordPress. They recruit the ones who have great knowledge of WordPress. So, they can entertain the queries of their clients in the best possible way.
WP Engine is well-known for hosting services, especially for professional WordPress users. WP Engine earned a good reputation within a short period because of better customer service.
Nowadays, WP Engine the client's first priority because of:
 Best Customer Service.
 Highly Responsive Servers.
 Uptime Guarantee 99.99%
 Helpful techs and service reps.
If you have a WordPress website, you cannot go with GoDaddy. Of course, WP Engine has a little higher price than GoDaddy, but it offers all the facilities related to WordPress, such as faster speed and 24/7 customer support. Although GoDaddy offers web hosting at a reasonable price, its services are not adequate for professional website owners. We can say that GoDaddy is suitable for beginners just starting their journey in this field, but WP Engine is the only choice for professional website owners.
GoDaddy vs WP Engine: Alternatives
GoDaddy:
WP Engine: