Whether you want to start with a small website or create an entire blog, choosing a web host is an important decision. When selecting a hosting web service, you need to consider several factors. These include cost, ease of use, support options, and security. Of course, you should also look at the quality of the service since an excellent service can make or break your business.
Choosing between Greengeeks and TMD Hosting can be challenging, so I researched to help you decide which is the best for you. Both of these web hosting companies have a lot going for them. But which one is best? Please read my full review of TMD Hosting and Greengeeks to find out!
Features of GreenGeeks vs TMDhosting
| Feature | GreenGeeks | TMDhosting |
| --- | --- | --- |
| Hosting Types | Shared, VPS, WordPress hosting, and Reseller hosting. | Shared, VPS, Dedicated, WordPress, and Reseller hosting. |
| Free Domain | Yes | Yes |
| Pricing | $2.95/month | $2.95/month |
| Data Storage | 50GB-Unlimited | 100GB-Unlimited |
| Bandwidth | Unmetered | Unmetered |
| Website Backups | Yes | Yes |
| Dedicated Hosting | No | Yes |
| cPanel | cPanel | cPanel |
| Free CDN | Yes | Yes |
| Free Site Migration | Yes | Yes |
| Money Back Guarantee | 30 days | 60 days (on cloud & shared) and 30 days( on all VPS plans) |
| Customer Support | 24/7 phone, live chat, email, and tickets | Phone, live chat, email, and ticket |
| Uptime Guarantee | 99.9% | 99.99% |
| Server Location | Agoura Hills, California, USA | Orlando, Florida, USA |
| Security | VFS protection and Firewall against DDoS attacks | SSL(Let's encrypt activation) |
| Email | No | No |
| Website | www.greengeeks.com | www.tmdhosting.com |
GreenGeeks and TMD hosting are leading web hosting companies offering high-quality services. Both offer several different plans and pricing options. However, the plans offered by both companies are very similar. Both provide unlimited bandwidth, storage, and traffic. Both also offer a free domain name for the first year.
Overview
GreenGeeks is a leading name in web hosting services for individuals and small businesses in Agoura Hills, California, USA. They provide reliable and quality hosting services. Their data centers are in Chicago, Toronto, Phoenix, Amsterdam, and Montreal. The company hosts 600,000 plus websites and has more than 55,000 customers. With GreenGeek, you can easily create a secure website for free. They provide several web hosting sites such as VPS hosting, WordPress hosting, and reseller hosting. Their packages offer unlimited domains, bandwidth, and free cPanel to customize your website easily. They also provide daily back-ups, free site migration, and 24/7 customer support.
TMDHosting is a web hosting provider known for its speed and reliability, located in Orlando, Florida, USA. Their data centers are in Phoenix, Chicago, Singapore, Tokyo, London, Amsterdam, and Sydney. TMD hosting is reliable and offers top-notch service with no additional costs. In addition, the company provides different services and features that can be adjusted to suit your needs. TMD hosting offers five hosting plans, VPS hosting, shared hosting, dedicated hosting, WordPress hosting, and reseller hosting. Their plans provide 24/7 free customer support, a cPanel control panel, automatic daily backups, unlimited disk space, unmetered bandwidth, monthly upgrades, free domain for one year, and several different pricing options.
They offer a free one-click install for WordPress and cPanel and are committed to providing reliable and fast hosting for our customers. Whether you need to build an online store, blog, or small business website. The company offers the perfect solution at an affordable price.
Plans and Pricing of GreenGeeks and TMDhosting
GreenGeeks and TMDHosting are well-known names in the industry. They are known for their superior customer service and great prices. GreenGeeks and TMD Hosting are reliable, easy to use, and, most importantly, affordable.
GreenGeeks Hosting Plans and Pricing
GreenGeeks is a leading web hosting company that offers services at a reasonable price. Their hosting plans include free domain name registration, unlimited bandwidth and data transfer, a 30-day money-back guarantee, daily backups, and cPanel control. Furthermore, you can migrate your old site and all of its data to GreenGeeks at any time for free.
Shared Web Hosting
GreenGeeks shared website hosting package has various features designed to help website owners make the most of their website. These include a free domain name, unlimited email accounts, a free website builder, and a free eCommerce plugin. Site builders, which allow users to create websites on their own, are very popular among users who want to build their website but aren't very computer-savvy.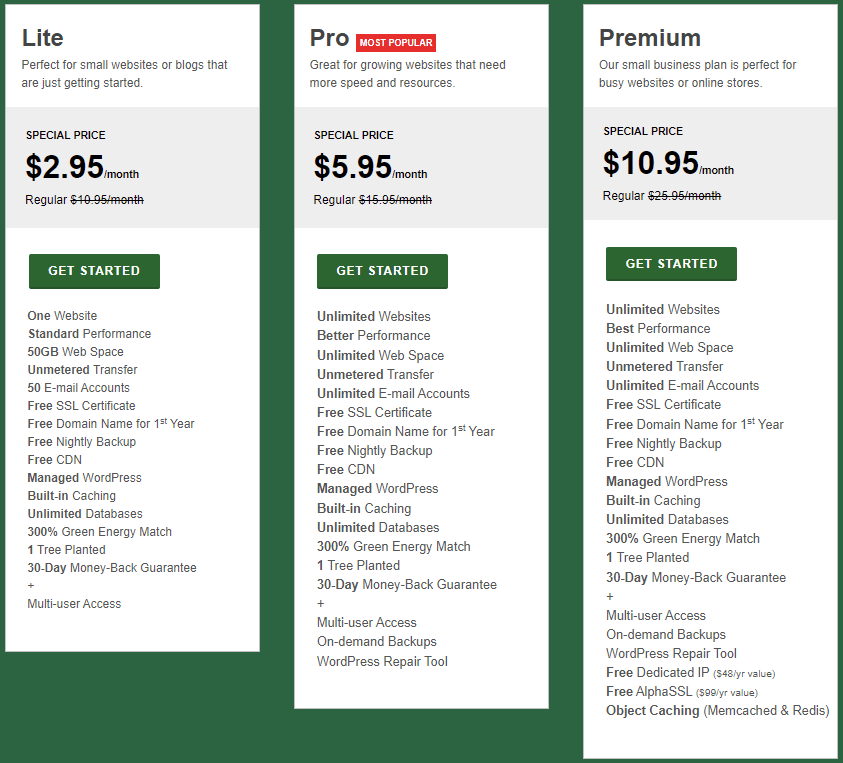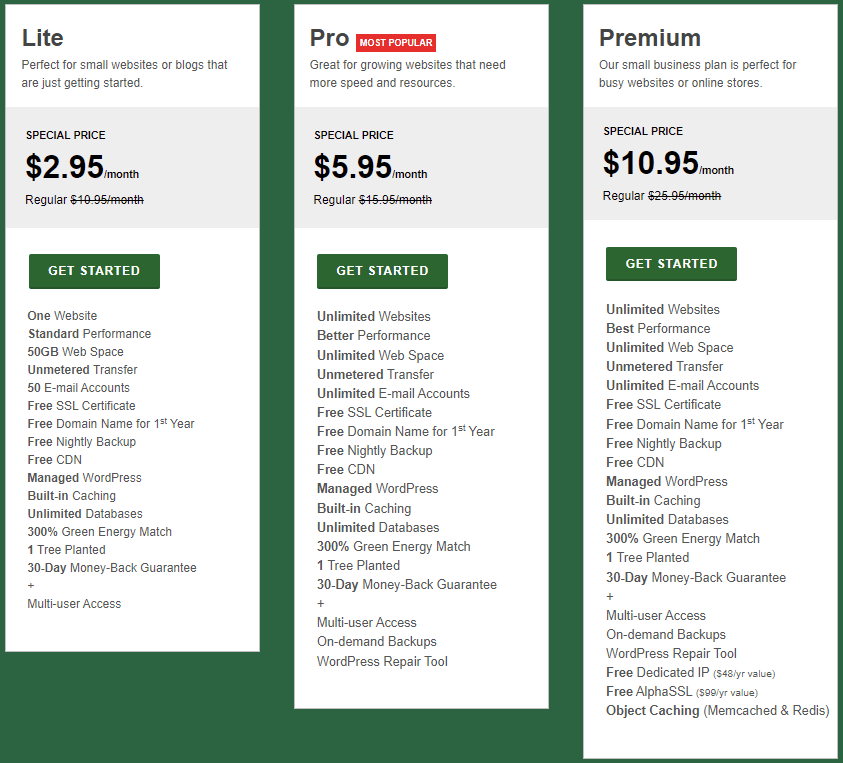 GreenGeeeks does not provide a dedicated server.
VPS Hosting
GreenGeeks VPS hosting options come with plenty of storage space. They offer unlimited monthly data transfers, free website transfer, a free SSL certificate, and a 30-day money-back guarantee. GreenGeeks also includes a built-in website accelerator which speeds up site loading times. The GreenGeeks team monitors your account on a daily basis and resolves any issues as soon as they arise. With GreenGeeks, you can rest assured that your website will run smoothly and that your site will always be accessible.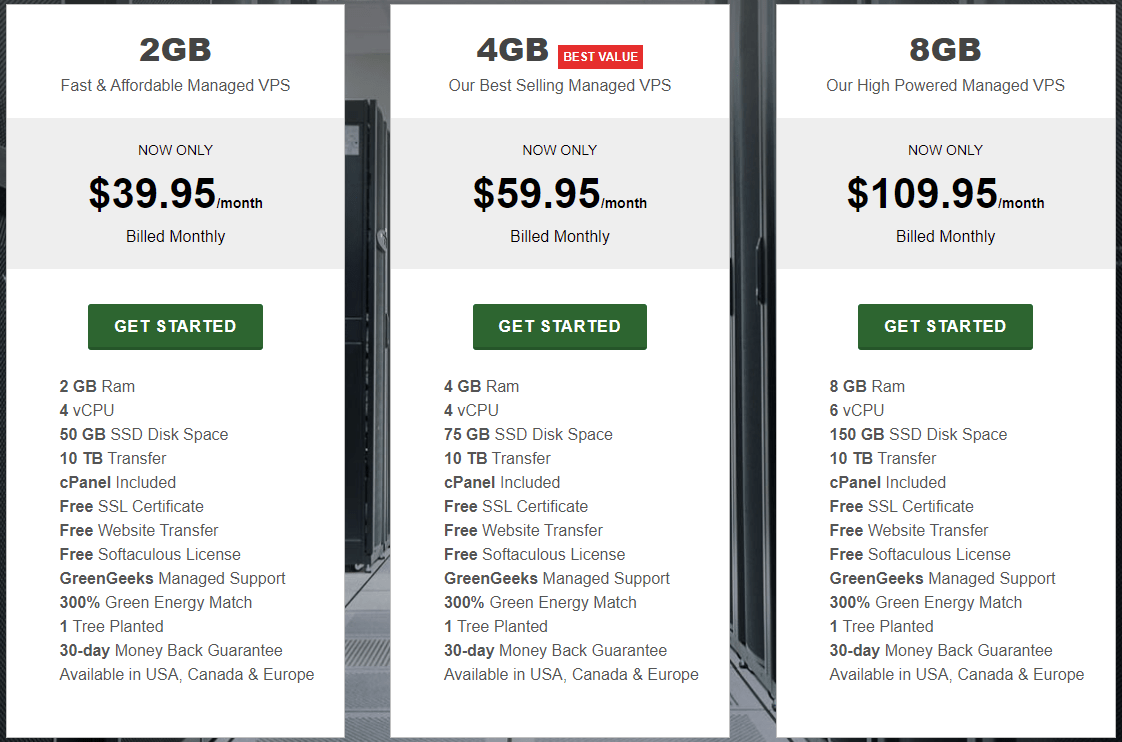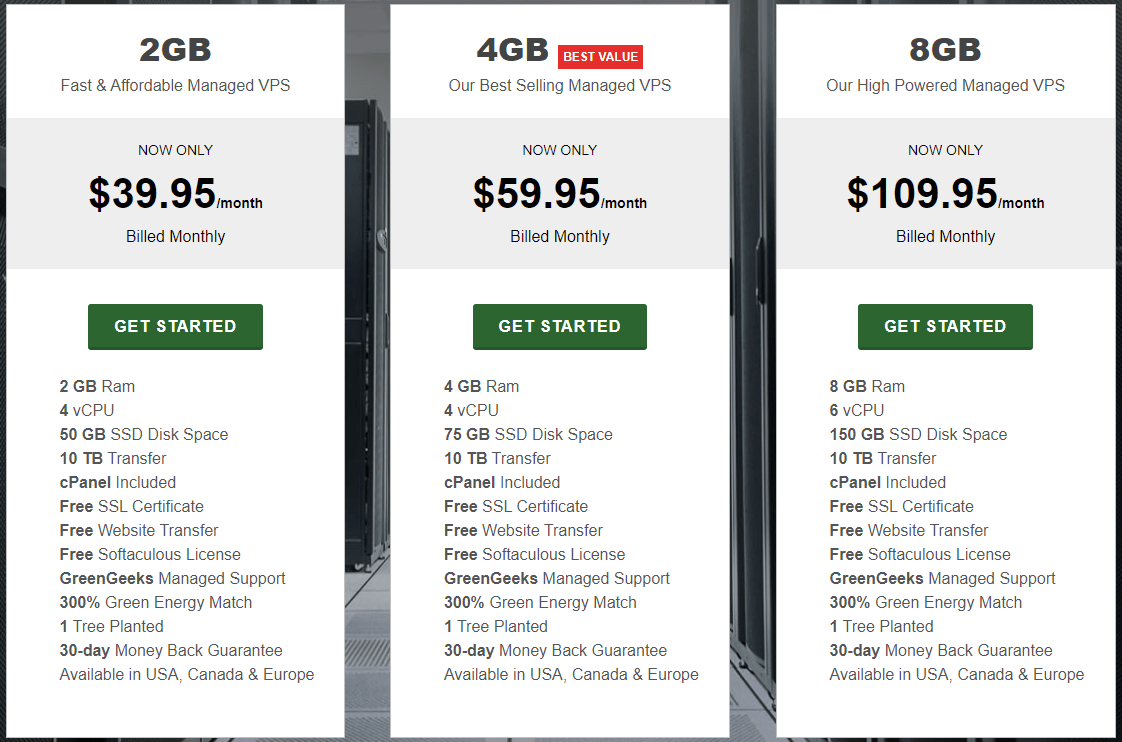 TMDhosting Hosting Plans and Pricing
TMD Hosting is an affordable web hosting provider with a good reputation. As a result, they have a lot of high-end customers. TMD Hosting offers a free domain name, daily backups, unlimited space, and free site migration, among other amazing website features. They offered a 60-day money-back guarantee on cloud and shared hosting and a 30-day money-back guarantee on all VPS plans. We are available 24/7 to help you at any time.
Shared Web Hosting
TMD shared web hosting offers high-quality web hosting services at a low cost, making it possible for small businesses and individuals to launch their own websites. TMD shared web hosting provides everything you need to grow your business. With unlimited bandwidth and storage, you can safely host all your data without worrying about slowdowns or overages. No matter what kind of site you're planning to build, TMD shared web hosting can help you get it up and running.
Dedicated Server
TMDhosting offers dedicated server plans with a number of different specifications, including CPU cores, RAM, storage, bandwidth, and more. TMDhosting provides free installation and support for the operating system of your choice, you can use a dedicated server plan without having to worry about additional costs. Plus, you get access to a full range of services, including a cPanel control panel, a database management system, and a backup solution.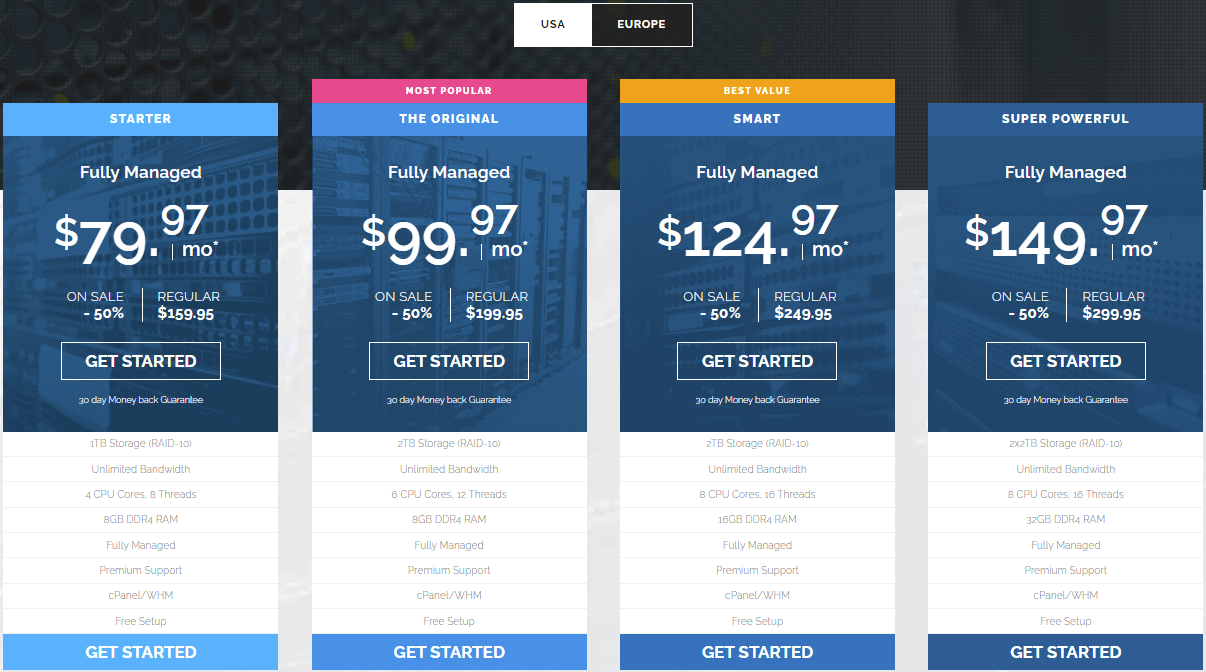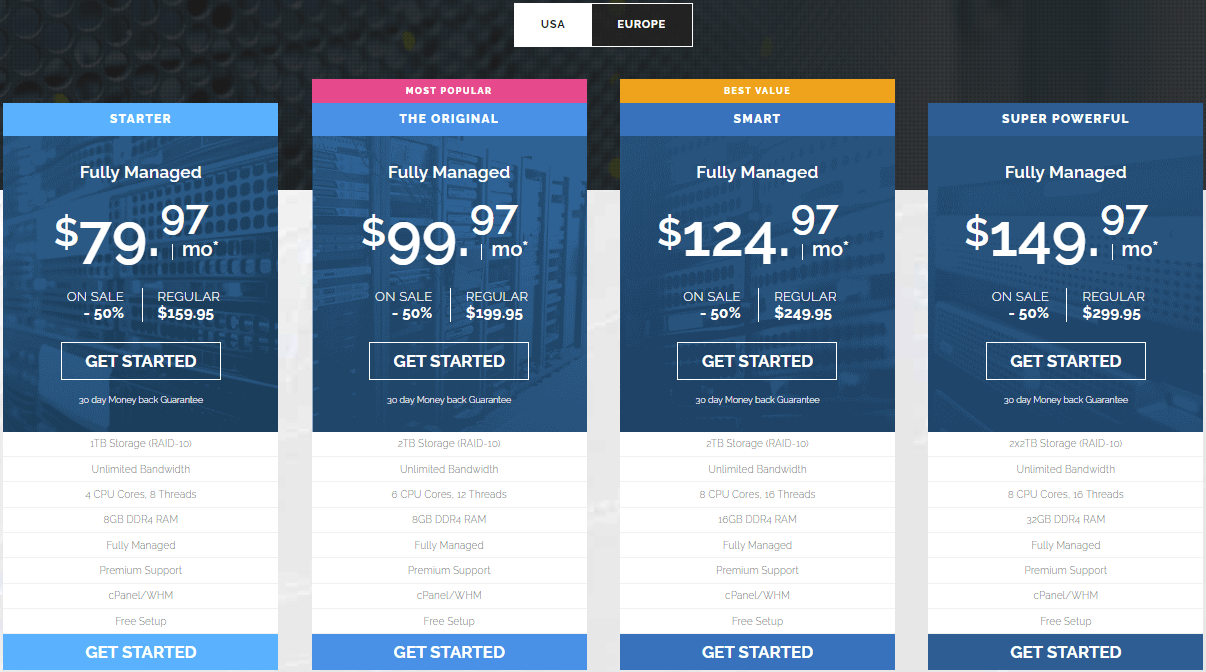 Renewal Prices
GreenGeeks offers competitive renewal rates. For basic shared hosting services, the provider charges a variety of fees. Greengeeks' renewal fee for Lite is $10.95 per month, $15.95 per month for Pro, which is particularly popular for hosting sites, and $25.95 per month for Premium. If you purchase a Pro web hosting package for one year, the cost is only $191.4, and if you renew the Pro package for two years, the price is $191*24= $382.8.
TMDhosting provides the best renewal rates. They have multiple pricing options for basic shared hosting. TMDhosting renewal fees are $5.99 with a 40% discount for starters, $9.99 with a 20% discount for businesses, and $15.99 with a 25% discount for enterprises. Sales of the Business package outnumber those of the other two. If you buy a business web hosting package for a year, the cost is only $199.88. If you renew for two years, your renewal charge in 2024 will be $9.99 * 24 = $239.76.
GreenGeeks Domain
.com $4.99/year
.org $13.99/year
.net $11.99/year
.info $4.99/year
TMDhosting Domain
.com $4.99/year
.org $13.99/year
.net $11.99/year
.info $4.99/year
Uptime and Reliability of GreenGeeks and TMDhosting
Greengeeks offers a 99.9% uptime guarantee. GreenGeeks is a hosting web service that provides uptime monitoring services to clients. Uptime means how long the servers are running correctly and reliably. Reliability means how many times the servers have crashed.
They monitor servers every minute of every day and ensure that their customers have high-quality services. The monitoring service allows us to proactively detect any server failure or other problem and take quick actions to restore service.
TMDhosting offers an impressive uptime guarantee of 99.99%. They regularly monitor the uptime and reliability of TMDhosting servers. The servers are operational 24 hours a day, seven days a week. If they ever go down, the team members fix the problem immediately. That ensures there are no delays when using the TMDHosting services.
TMDHosting provides world-class hosting services for individuals, businesses, and institutions, including online email hosting, web hosting, domain name registration, and other website management services.
Customer Support
The Greengeeks Support team provides 24/7 customer service and support for all Greengeeks customers and partners. The company offer many services to its customers, including a website builder, hosting services, and a comprehensive eCommerce platform. Their support team will assist you in the simplest way possible. GreenGeeks' customer service is one of the company's strong suits, with knowledgeable employees available to assist you with all your technical needs.
You can reach the company's representatives at 1-877-326-7483 or 1-310-496-8946. Their telephone service is available Mon-Sun from 9 a.m. to 12 p.m. EST, but the live chat service is available 24/7/365. You can also email them at support@greengeeks.com. Unfortunately, you'll have to wait approximately 15-20 minutes to get an answer.
Mailing Address
3411 silverside Rd.
Tatnall Building #104
Wilmington, DE 19810 USA
TDMhosting provides excellent customer service. TDMhosting's customer support team offers great customer service, and the company is known for its high-quality services. Choosing a web host makes it easy to find solutions to your problems is important. TDMhosting has years of experience providing top-quality services to its customers. Whether you have technical issues or general questions, their specialists will answer them all. You can reach them at their 24/7 live chat service or email them at support@tmdhosting.com. Their knowledgeable staff is always here to help. Their customer support team offers support through phone, email, live chat, and ticket submission. They will contact you within 15 minutes after you submit your ticket.
For the US, you can call them at 1-888-771-5990, and for the UK, you can call them at 44-800-090-3103.
Physical Address
618 E South St, Orlando, FL 32801, US
Security Of GreenGeeks and TMDhosting
Web hosting security refers to the precautions taken by the companies who provide website hosting services to secure their clients' websites against harmful attacks and cyber hackers.
GreenGeeks was created to protect you and your computer from hackers looking to steal personal information from your computer. It provides multiple ways to prevent them from entering your computer, but it does not block them.
GreenGeeks provides each customer with their own safe Visualization File System (VFS) to avoid viruses and harmful activity on your website. That assures no other account can access your website and damage your security. Furthermore, it is quickly separated to avoid unexpected damage if anything suspicious is detected. GreenGeeks defends against this by isolating hosting accounts. As a result of the fact that you share resources with other users, your account and websites are separated from others, which means that if one website becomes infected, it will not infect your website as well. Daily backups are also running. It may not appear to be a security feature, but backing up your website is critical. If your website becomes infected, you'll be able to solve the problem by restoring one of your clean backups rather than paying for expensive cleaning services.
In addition to daily automatic backups, I recommend you do a manual backup of your site every week or so.
TMDhosting has a security system in place. That protects your website against hackers. It will ensure that a hacker does not hack your website. When you sign up for a website, the first thing they do is scan it to check if it has any security gaps.
TMDhosting provides a safe and private environment to host your website. Your website will be hosted on our network-protected server, which has a military-grade firewall and other security features. Our specialized staff of system administrators is available 24 hours a day, seven days a week, to guarantee that your service runs properly at all times. Moreover, TMDhosting installed some high-grade security measures to help prevent unauthorized access to your account. All of these are done automatically by TMhosting at no charge to you.
GreenGeeks vs TMDhosting: Final Verdict
GreenGeeks and TMDhosting are two well-known hosting providers that have many similarities. Both offer many features, including daily automatic backups, unmetered bandwidth, a 30-day money-back guarantee, and free site migration.
| Category | GreenGeeks | TMDhosting |
| --- | --- | --- |
| Features | Free site migration, free domain for one year, and daily automatic backups | SSL security, better uptime guarantee, unlimited storage, and unlimited MSSQL databases |
| Pricing Reliability | Overall lower prices | TMDhosting has costly hosting plans |
| Reliability | 99.9% uptime guarantee loading speed ≈179ms | 99.99% uptime guarantee loading speed ≈618ms |
| Security | VFS protection and Firewall against DDoS attacks | SSL(Let's encrypt activation) and malware scan |
| Support | 24/7 phone, live chat, and ticket | Ticket, live chat, email, phone Mon-Sun from 9 a.m. to 12 p.m. EST |
If you are looking for a hosting web service with a high level of reliability, then GreenGeeks would be better for you. Moreover, GreenGeeks is a bit cheaper than TMDhosting.
TMDhosting is the better choice if you want a web host that offers many more services than just hosting, but it is more costly than GreenGeeks.
Overall, GreenGeeks beats TMDhosting because it is more secure, and reliable. GreenGeeks will help you save money.
GreenGeeeks Alternatives
Bluehost
Hostgator
A2 Hosting
Hostinger web hosting
Siteground
TMDhosting Alternatives
Bluehost
Inmotion Hosting
HostNoc
A2 Hosting
Siteground