In this article, I will discuss two leading web hosting providers, "GreenGeeks vs TMDHosting." I compare their:
Hosting plans,
Security,
Customer support
Performance and other services.
Choosing between Greengeeks and TMDHosting can be challenging, so I researched to help you decide which is the best for you. Both of these web hosting companies have a lot going for them. But which one is best? Read my full review of  Greengeeks vs TMDHosting to find out!
Whether you want to start with a small website or create an entire blog, choosing a web host is an important decision. When selecting a hosting web service, you need to consider several factors. These include cost, ease of use, support options, and security. Of course, you should also look at the quality of the service since an excellent service can make or break your business.
I make a simple table to understand better both web hosting providers' starting prices and what features they offer.
| Feature | GreenGeeks | TMDhosting |
| --- | --- | --- |
| Hosting Types | Shared, VPS, WordPress hosting, and Reseller hosting. | Shared, VPS, Dedicated, WordPress, and Reseller hosting. |
| Free Domain | Yes | Yes |
| Pricing | $2.95/month | $3.99/month |
| Data Storage | 50GB-Unlimited | 100GB-Unlimited |
| Bandwidth | Unmetered | Unmetered |
| Website Backups | Yes | Yes |
| Dedicated Hosting | No | Yes |
| cPanel | cPanel | cPanel |
| Free CDN | Yes | Yes |
| Free Site Migration | Yes | Yes |
| Money Back Guarantee | 30 days | 60 days (on cloud & shared) and 30 days( on all VPS plans) |
| Customer Support | 24/7 phone, live chat, email, and tickets | Phone, live chat, email, and ticket |
| Uptime Guarantee | 99.9% | 99.99% |
| Server Location | Agoura Hills, California, USA | Orlando, Florida, USA |
| Security | VFS protection and Firewall against DDoS attacks | SSL(Let's encrypt activation) |
| Email | No | No |
| Rating | 4.3/5 | 4.5/5 |
| Website | www.greengeeks.com | www.tmdhosting.com |
I explained a quick intro to both companies to let you know who they are and what they offer.
Overview

GreenGeeks is a leading name in web hosting services for individuals and small businesses in Agoura Hills, California, USA. They provide reliable and quality hosting services.
Their data centers are in Chicago, Toronto, Phoenix, Amsterdam, and Montreal. The company hosts 600,000 plus websites and has more than 55,000 customers. With GreenGeek, you can easily create a secure website for free.
They got 4.3 ratings out of 5 based on 633 reviews.

TMDHosting is an award-winning web hosting provider in Orlando, Florida, USA. It was established in 2007. Their data centers are in Phoenix, Chicago, Singapore, Tokyo, London, Amsterdam, and Sydney. TMDHosting is reliable and offers top-notch service at no additional costs.
In addition, the company provides different services and features that can be adjusted to suit your needs. TMDHosting got 4.5 ratings out of 5 based on 854 reviews, which is pretty impressive.
TMDHosting provides world-class hosting services for individuals, businesses, and institutions, including online email hosting, web hosting, domain name registration, and other website management services.
After learning about both web hosting companies, you might wonder what hosting plans, pricing, and features they offer.
Well, I explained them in detail so you can decide what hosting plan meets your demands.
So let's dive in.
Plans and Pricing of GreenGeeks and TMDHosting
GreenGeeks and TMDHosting are well-known names in the industry. Both are popular for their excellent customer service and low costs. GreenGeeks and TMD Hosting are reliable, easy to use, and, most importantly, affordable.
GreenGeeks Hosting Plans and Pricing
GreenGeeks is a leading web hosting company that offers services at a reasonable price. Their hosting plans include free domain name registration, unlimited bandwidth and data transfer, a 30-day money-back guarantee, daily backups, and cPanel control. Furthermore, you can migrate your old site and all of its data to GreenGeeks at any time for free.
Shared Web Hosting
GreenGeeks shared website hosting package has various features designed to help owners make the most of their websites. These include a free domain name, unlimited email accounts, a free website builder, and an eCommerce plugin. Site builders, which allow users to create websites independently, are top-rated among users who want to build their websites but aren't very computer-savvy.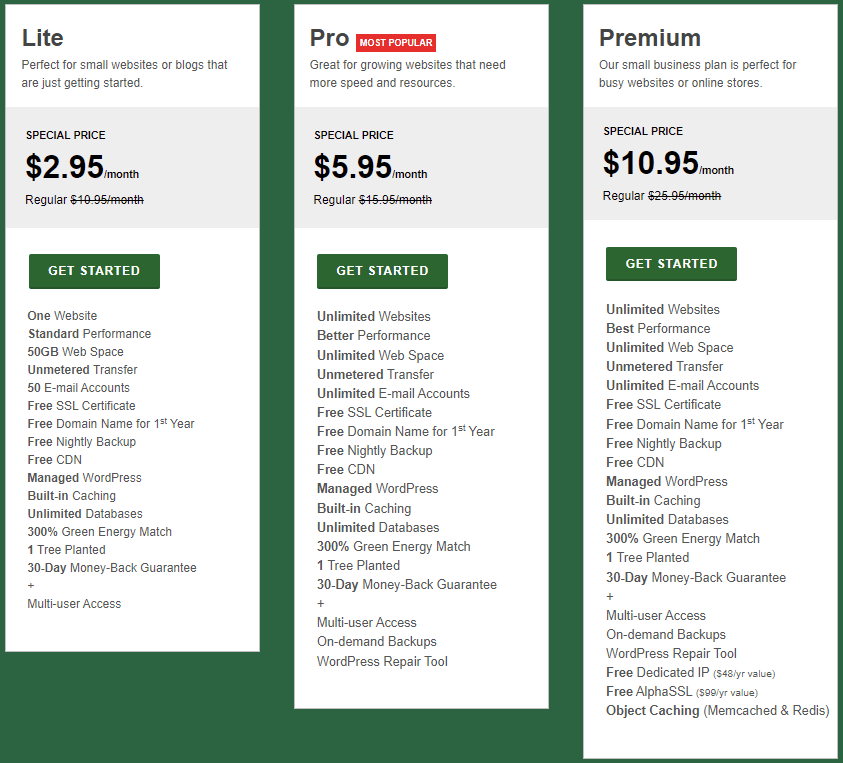 GreenGeeeks does not provide a dedicated server like the other provider.
VPS Hosting
GreenGeeks VPS hosting plans provide lightning-fast RAID-10 SSD storage. They also offer Fully Managed VPS, Free cPanel Migrations, 300% Green Hosting, and the CentOS 7 64-bit operating system.
In Fact, you can begin with GreenGeeks' most affordable 4GB Managed VPS option. Where your VPS fully handle by their technical staff. Their crew monitors your account daily and resolves any issues before you notice them.
Furthermore, if you already have a virtual private server hosted by another company, such as HostGator or Bluehost. You can easily migrate to GreenGeeks with the assistance of technical specialists. The best part is that it is entirely free.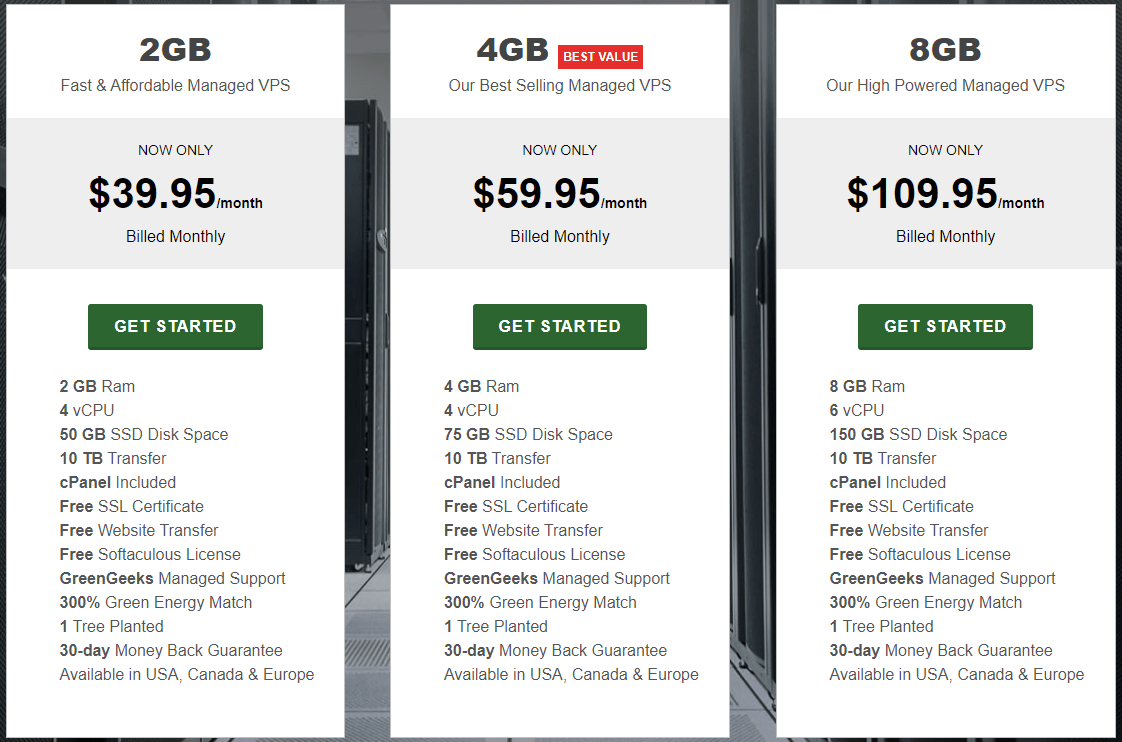 With this provider, all VPS packages have an easy-to-use control panel powered by cPanel. GreenGeeks VPS packages are pricey. But it's worth it!
WordPress Hosting
WordPress is an excellent tool for creating web pages, but it can also be a bit of a headache to set up and manage. GreenGeeks is a good choice for WordPress. And because GreenGeeks uses a WordPress-ready control panel, you won't have to install anything or set anything up. Finally, GreenGeeks allows you to customize your site with plugins and themes. GreenGeeks WordPress Hosting Packages prices range from $2.95 to $8.95 per month. All the features are shown in the attached picture. You can choose one of them that meets your needs.
TMDHosting Plans and Pricing
TMDHosting is an affordable web hosting provider with a good reputation. Therefore, they have a lot of high-end customers. The most essential benefits of TMDHosting are the free domain name, daily backups, limitless space, and free site migration. In addition, they provided a money-back promise of 60 days for the cloud. They shared hosting and a 30-day money-back guarantee for all VPS services.  They are available 24/7 to help you at any time.
Shared Web Hosting
TMDHosting shared plans give high-quality services at a low cost, making it possible for small businesses and individuals to launch their own websites. TMD shared web hosting provides everything you need to grow your business. With unlimited bandwidth and storage, you can safely host all your data without worrying about slowdowns or overages. TMDHosting shared web hosting can help you get it up and running no matter what kind of site you're planning to build.
WordPress Hosting
WordPress has become a powerful tool for bloggers and entrepreneurs worldwide. If you're ready to start your blog or create a website, you will definitely enjoy the WordPress hosting plan that TMDHosting offer.
TMDHosting has affordable WordPress hosting packages with essential features. All three packages have a free domain name to create a professional-looking website in no time! All packages' prices range from $5.95 to $9.95 per month.
Their Starter package has the most sales and is perfect for starting your new website because it has everything you need to create a successful website. This package comes with only 1 website hosted and basic caching. Still, the Business package includes unlimited websites hosted with up to 2x performance speed. You will also get unlimited websites hosted with the Enterprise package up to 3x performance speed.
All packages include unlimited SSD storage, unlimited bandwidth, free domain, and premium support. You also get, let's encrypt SSL, managed WordPress service by TMDHosting.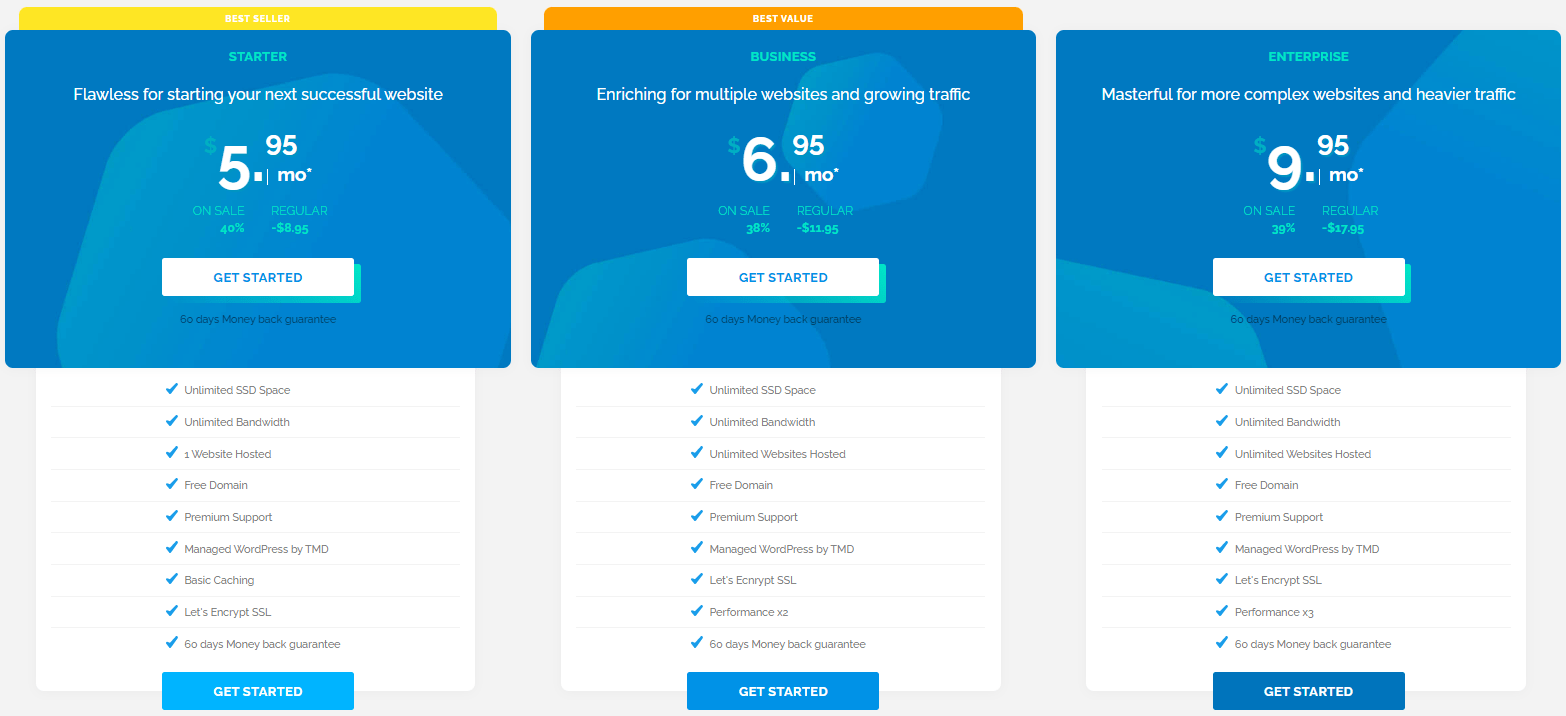 Dedicated Server
TMDHosting offers dedicated server plans with several specifications. . They provide free installation, CPU cores, RAM, storage, bandwidth, and support for the operating system of your choice.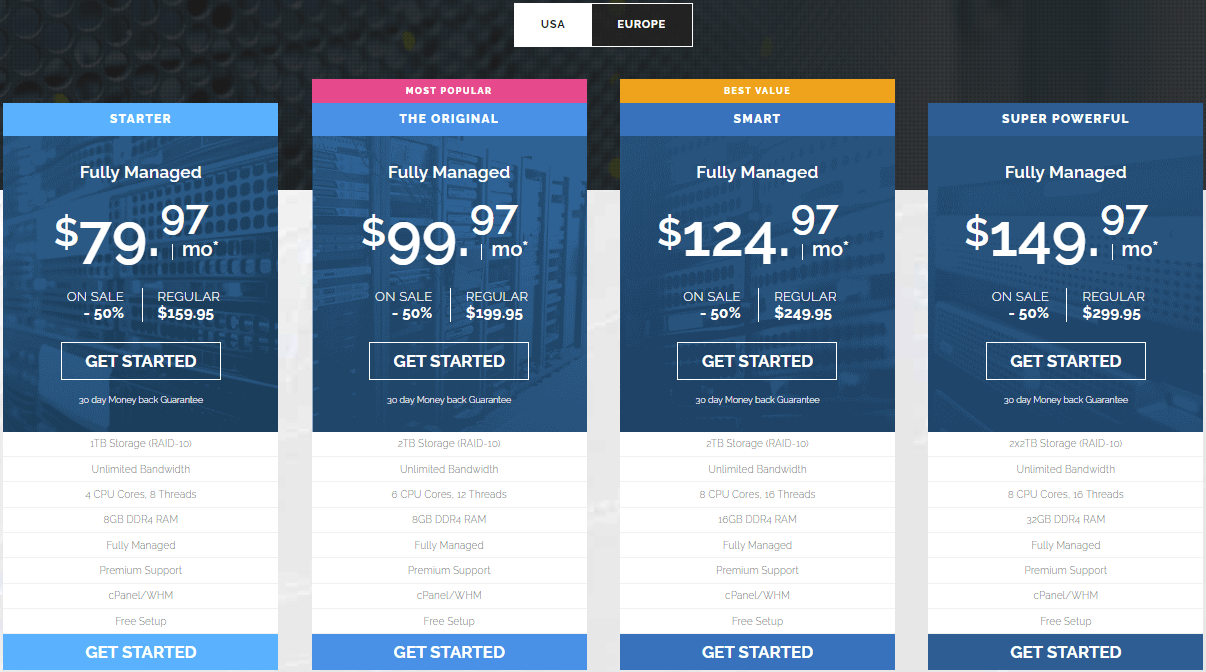 Furthermore, you can use a dedicated server plan without worrying about additional costs. With TMDHosting dedicated package, you get access to a full range of services, including a cPanel, a database management system, and a backup solution.
We discuss both companies' plans and pricing. Now you probably thinking about what are their renewal prices, right? Because they look very cheap in the first year.
I explained both of their shared hosting plans' renewal prices in the next topic.
So let's get into this.
Renewal Prices
GreenGeeks offers competitive renewal rates. For essential shared hosting services, the provider charges a variety of fees. Greengeeks' renewal fee for Lite is $10.95 per month, $15.95 per month for Pro, which is particularly popular for hosting sites, and $25.95 per month for Premium. For example, if you purchase a Pro web hosting package for one year, the cost is only $191.40, and if you renew the Pro package for two years, the price is $191*24= $382.8.
GreenGeeks Domain
.com $4.99/year. Renews at $17.95
.org $13.99/year. Renews at $19.95
.net $11.99/year. Renews at $19.95
.info $4.99/year. Renews at $24.95
TMDHosting provides the best renewal rates. They have multiple pricing options for basic shared hosting. TMDHosting renewal fees are $5.99 with a 40% discount for starters, $9.99 with a 20% discount for businesses, and $15.99 with a 25% discount for enterprises. Sales of the Business package outnumber those of the other two. If you buy a business web hosting package for a year, the cost is only $199.88. If you renew for two years, your renewal charge in 2024 will be $9.99 * 24 = $239.76.
TMDHosting Domain
.com $4.99/year. Renews at $14.99
.org $13.99/year. Renews at $15.99
.net $11.99/year. Renews at $19.99
.info $4.99/year. Renews at $15.99
In GreenGeeks vs TMDhosting plans and pricing, GreenGeeks is the winner because they are cheaper and offer more advanced features at low rates.
GreenGeeks vs TMDHosting: Performance Review
In Performance analysis, speed, uptime, and reliability are important for the website. Therefore, when we discuss the Performance of the websites. We measure their essential components, speed, uptime, and reliability.
That is why when looking for the best web hosting provider for websites. Please always check
Who loads faster?
Who offers better uptime and reliability?
Uptime means how long the servers are running correctly and reliably. Reliability means how many times the servers have crashed. GreenGeeks is a hosting web service that provides uptime monitoring services to clients.
Greengeeks offers a 99.9% uptime guarantee. They monitor servers every minute of every day and ensure that their customers have high-quality services. The monitoring service allows us to proactively detect any server failure or other problems and take quick actions to restore service.
We have been tracking GreenGeeks and TMDHosting uptime during the last six months.
GreenGeeks' last four-month average uptime:
August 2022: 99.65%
July 2022: 99.97%
June 2022: 99.95%
May 2022: 100%
As you can see, GreenGeeks delivers on its promises in terms of uptime. This implies that your website will never go down because of high traffic.
In Contrast, TMDHosting offers an impressive uptime guarantee of 99.99%. They regularly monitor the uptime and reliability of their servers. Their servers are operational 24 hours a day, seven days a week. If they ever go down, the team members fix the problem immediately. That ensures there are no delays when using the TMDHosting services.
Here is the TMDHosting last four-month average uptime:
August 2022: 99.98%
July 2022: 99.99%
June 2022: 99.97%
May 2022: 99.99%
This company also has solid uptime records. However, they lag somewhat behind its rival.
Is GreenGeeks faster than TMDHosting?
Yes, GreenGeeks is faster than TMDHosting. First, we set up two new test websites on WordPress and used the Elementor builder. One is hosted on GreenGeeks, while the other is hosted on TMDHosting. Then, we used an online tool called Pingdom to check how long these sites took time to load.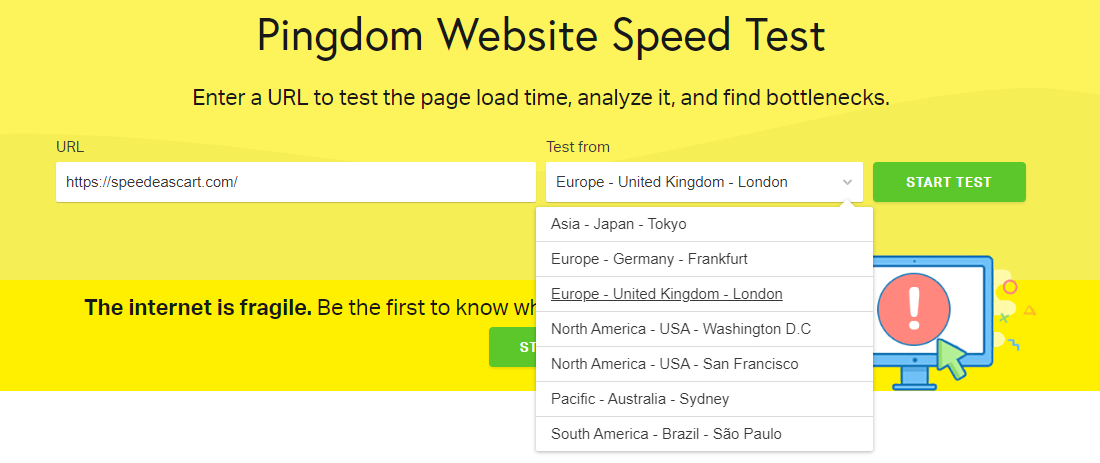 The outcomes of the GreenGeeks website are listed below:
Europe – United Kingdom – London: 1.31s
Asia – Japan – Tokyo: 1.49s
North America – USA – Washington D.C: 1.13s
Pacific – Australia – Sydney: 2.17s
Here are the results of the TMDhosting website:
Europe – United Kingdom – London: 1.82s
Asia – Japan – Tokyo: 1.68s
North America – USA – Washington D.C: 1.49s
Pacific – Australia – Sydney: 2.96s
According to the statistics, GreenGeeks vs TMDHosting performance review, GreenGeeks outperforms TMDHosting in terms of uptime and loading speed across multiple data centers.
The next topic I m going to discuss is customer support. Customer support is critical in web hosting.
So let's dive right in.
Customer Support
The Greengeeks Support team provides 24/7 customer service and support for all Greengeeks customers and partners. The company offer many services to its customers, including a website builder, hosting services, and a comprehensive eCommerce platform. Their support team will assist you in the simplest way possible. GreenGeeks' customer service is one of the company's strong suits, with knowledgeable employees available to assist you with all your technical needs.
You can reach the company's representatives at their given contact numbers. Their telephone service is available Mon-Sun from 9 a.m. to 12 a.m. EST, but the live chat service is available 24/7/365.
Based on the results, GreenGeeks' live chat support specialists provide information about what you exactly asked. Then, they will reply to you within a few seconds.
You can also email them. But the bottom line is that you'll have to wait approximately 15-20 minutes to get an answer.
TDMhosting provides excellent customer service. TDMhosting's customer support team offers great customer service, and the company is known for its high-quality services. Choosing a web host makes it easy to find solutions to your problems is important.
TDMhosting has 10+ years of experience providing top-quality customer services to its customers. Whether you have technical issues or general questions, their specialists will answer them all. You can reach them at their 24/7 live chat service or email them.
In my experience, their live chat service is super fast. They will respond to you instantly and are highly informative.
Their knowledgeable staff is always here to help. TMDHosting customer support team offers support through phone, email, live chat, and ticket submission.
But the downside is that you will have to wait a minimum of 15 minutes to get a response after you submit your ticket.
After testing both provider customer support, TMDHosting is the winner because their customer support is the best and the live chat service is quite fast.
Now, we'll discuss security.
The most important part of every website. Without better security, your website can be hacked by hackers, and they would steal all your important data. Both companies offer security services at their own level.
So let's get started.
GreenGeeks vs TMDHosting: Website Security
Web hosting security refers to the precautions taken by the companies that provide website hosting services to secure their clients' websites against harmful attacks and cyber hackers.
GreenGeeks Security
Linux secure VFS: GreenGeeks provides its customers with its secured visualized file system (VFS). VFS stops malware and other nasty things from happening on your website. Because of VFS, no user's account on their platform can see or interact with any other performance.
Real-time scanning: Their systems utilize kernel-level file tracking to monitor modified files and instantly scan for known malware signatures. The company's Secure VFS system allows for instant isolation of these modifications, preventing malware propagation.
Clustered security: To prevent security breaches before they happen, the company's system administrators use a combination of their own and third-party tools to detect and analyze threats across the network.
Nightly backups:  GreenGeeks Backs up all your website's data in case anything terrible happens. The company restores your data so you won't experience any site loss. GreenGeeks keeps multiple backups of the website data for safety and security purposes.
TMDHosting Security
TMDHosting uses Cisco and Barracudas firewalls to protect their file server, and they've also enabled Bitninja to prevent cyberattacks. They've improved the file system so that hackers have a much tougher time breaking in.
TDMhosting has launched multiple application-level security upgrades to the Apache web server and the PHP scripting language, ensuring that no current user can access any data that does not pertain to him personally.
They also offer ID protection as an additional service for domains you register with TMDhosting for $11.99 per year.  Almost all of their plans include free SSL certification in the first year.
In GreenGeeks vs TMDhosting security, the winning side is GreenGeeks because of its outstanding security services.
GreenGeeks vs TMDHosting: Final Verdict
GreenGeeks and TMDhosting are two well-known hosting providers that have many similarities.
| Category | GreenGeeks | TMDhosting |
| --- | --- | --- |
| Features | Free site migration, free domain for one year, and daily automatic backups | SSL security, better uptime guarantee, unlimited storage, and unlimited MSSQL databases |
| Pricing Reliability | Overall lower prices | TMDhosting has costly hosting plans |
| Reliability | 99.9% uptime guarantee loading speed ≈179ms | 99.99% uptime guarantee loading speed ≈618ms |
| Security | VFS protection and Firewall against DDoS attacks | SSL(Let's encrypt activation) and malware scan |
| Support | 24/7 phone, live chat, and ticket | Ticket, live chat, email, phone Mon-Sun from 9 a.m. to 12 p.m. EST |
If you are looking for a hosting web service with a high level of reliability, then GreenGeeks would be better for you. Moreover, GreenGeeks is a bit cheaper than TMDHosting.
On the other hand, TMDHosting is the better choice if you want a web host that offers many more services than just hosting, but it is more costly than GreenGeeks.
Overall, GreenGeeks beats TMDhosting because it will help you save money.
GreenGeeeks Alternatives
TMDHosting Alternatives
Conclusion
I hope this GreenGeeks vs TMDhosting guide help you to make a decision to choose one.
Now I'd like to hear from you whether you decide to choose a web host provider on your own.
Or you still need our assistance to choose between them.
Let us know by leaving a quick comment below.