In this comparison of iPage vs HostPapa, we'll take a closer look at the pros and cons of each provider to help you make an informed decision.
iPage is a web hosting company that has been around since 1998. It now has two data centers in the United States and hosts more than a million websites. Jamie Opalchuck established HostPapa in 2006, and the company currently manages the hosting of more than 200,000 websites.

The web hosting services offered by HostPapa include shared, virtual private server (VPS), reseller, and WordPress hosting. The firm is situated in Canada. At $1.99 a month for three years, the only shared hosting plan that iPage offers are one of the most affordable that we've examined.
Additionally, they offer two WordPress-based plans, which come with a selection of additional services, including SiteLock and automated malware removal.
iPage's standard plans provide unlimited bandwidth and storage space, a free SSL certificate, a free domain name for the first year, and a free website security certificate.
HostPapa offers local and international customers phone help in many different languages, including English, French, Spanish, and German, which may contribute to the company's meteoric growth in popularity.
To compare the quality of the services offered by iPage and HostPapa, we decided to buy the 'Starter Plan' from each company. We built an essential WordPress website to track the website's uptime and performance over time.
iPage vs HostPapa: Feature Comparison Table
| Features | iPage | HostPapa |
| --- | --- | --- |
| Hosting Type | Web hosting, WordPress hosting |  Shared hosting, optimized WordPress hosting, managed WordPress hosting, VPS hosting, reseller hosting |
|  Free Domain | Every new account includes a free one-year domain registration. |  Yes, they offer a free domain with all plans. |
| Pricing | $1.99/month | $2.95/month |
| Disk Space | Unlimited | Unlimited |
| Bandwidth | Unlimited | Unlimited |
| Automatic Backups | Yes, they offer 1 automated backup per day in the Basic plan. | Every plan comes with free automated backups. |
| Dedicated Hosting | No, iPage doesn't offer dedicated hosting. They only offer web hosting and WordPress hosting. |  No, HostPapa doesn't offer dedicated hosting. However, they offer shared, VPS, reseller, optimized, and managed WordPress hosting. |
| cPanel | Yes, iPage offers a cPanel control panel in their hosting plans. | All plans come with easy-use-use cPanel. |
| Free CDN | Yes (Cloudflare CDN) | Yes (Cloudflare CDN) |
| Free Migration Site | No, iPage doesn't offer free site migration. | No, HostPapa offer free site migration service only to new accounts. |
| Money-Back Guarantee | 30-day | 30-day |
| Customer Support | 24/7/365 Live chat and knowledge base | 24/7 live chat, phone, email, and knowledge base |
| Server Uptime Guarantee | 99.9% | 99.9% |
| Server Location | Jacksonville, FL, United States | Burlington, Canada |
| Security | SSL Certificates, SiteLock | SSL Certificates, protection power, SiteLock, domain privacy protection |
| Email Hosting | Yes | Yes |
| Rating |  4.6/5 based on 696 reviews | 4.6/5 based on 962 reviews |
| Website | www.ipage.com | www.hostpapa.com |
Pros of Using iPage vs HostPapa:
iPage is extremely inexpensive when you sign-up for the first three years. Their customer service is helpful and kind. In addition, they have access to almost every tool and open-source application you might want.
HostPapa provides a wide variety of services and features. When we initially started using them, we were blown away by how reliable they were (as you'll see). In addition, they provide a wide variety of different customer service channels for customers to choose from.
Here is a comprehensive overview of the aspects of iPage and HostPapa that we appreciated, including but not limited to the following:
 Cheap, Expensive Hosting: iPage
iPage has consistently been one of the cheapest web hosts we've analyzed over the last several years.
Additionally, it seems as though they are constantly lowering the initial price.
Currently, the iPage begins at $1.99/month. As you'll see in a minute, the value is fantastic, too. To compel you to upgrade, they only provide one shared hosting package. You should check A2 Hosting and HostGator for fast and reliable shared hosting packages.
One caveat is that to obtain the $1.99/month pricing, you'll have to commit to three years of payments in advance. Otherwise, the standard monthly charge is $7.99 (read: "renewal").
If you're just paying for a single year, the initial cost is $2.99/month (with the renewal at $9.99/month). And if you're paying for two years instead of three, it's $2.49/month (or $9.99 renewal).
The pricing is excellent enough for all of their initial plans to rank them among the greatest value-per-dollar we've observed, regardless of term length.
 Good Uptime: HostPapa
We're happy to report that HostPapa's uptime has been good since day one. They've posted a 6-month average of 99.96% uptime with more than an hour and a half of downtime.

While it sounds trite and obvious, you'd be surprised how many web hosts struggle with the most foundational element of hosting a website and keeping it live.
An Exceptionally Quick Page Loading: HostPapa
A host's ability to serve pages quickly should be one of your primary criteria for selecting them. Mainly because it's intimately tied to the entire user experience (slower sites increase visitor bounce likelihood) (slower sites increase visitor bounce probability).
Moreover, page speed is a landing page element for Google Search and Ads already from 2020 (for desktop searches) and 2022 (for mobile searches) (for mobile searches).
Over the previous six months, they had an average page load time of posting 566 ms, which is quick enough to deserve a spot in our professional area.
Lots of Third-Party Apps: iPage
The 'core' product of iPage is substantial, as previously indicated. Here's a basic breakdown of all you receive for your $1.99/month.
All hosting plans come with a free domain registration for the first year. You'll save around $15 a year just by doing this.
You'll get receive a free email account and SSL certificate, too. In addition to email forwarding, autoresponders, spam filters, virus checkers, and POP3/IMAP accounts so that everything can be set up with Outlook, each email account is customized for your domain and contains these features:
This package provides unlimited disc space, 'scalable' bandwidth (meaning unmetered), and unlimited MySQL databases. IPage offers a drag-and-and-drop website builder with six pre-built pages and hundreds of pre-designed themes.
iPage offers lots of popular open-source applications ready to install as well. Content management and blogging software like WordPress, Joomla, and Drupal, picture galleries such as Gallery2 and ZenPhoto, and message boards such as Gbook, phpBB, and SMF also fall under this category.
If you're seeking full-fledged e-commerce shops, iPage also provides them. In addition, we've got OpenCart and OSCommerce, as well as the PrestaShop and TomatoCart open-source options. They can also aid you with PayPal integration to make money online if you're a first-time webmaster.
Money-back-Guarantee: iPage vs HostPapa
IPage offers a thirty-day money-back guarantee without questions. Simply inform them during the first month if you are unsatisfied with the service, and they will cheerfully refund the money you paid for hosting. However, domain names and other services are often not refundable, similar to the policies of other hosts.
IPage will provide a free domain name for the first year you use their service. Therefore, a charge of $15 will be withheld from the total amount refunded to pay the cost of the domain name. The good news is that you will continue to control the domain name, and you will be able to transfer it to a different hosting business in another location or "point" the domain in that direction.
Most of HostPapa's hosting plans come with a 30-day money-back guarantee, which is expected in the business. In addition, they'll happily assist you in migrating an existing website from another provider with minimal downtime. In addition, the first year's domain name registration is free. However, this only applies when you join them for a minimum of one year.
Helpful Assistance for Customers: iPage
Help is available to customers of iPage via an online help desk and a ticketing system. If you want to attempt to resolve the problem fast on your own, they provide instructions for you to use. Aside from that, they provide help by phone and chat as well. After clicking to test their chat assistance in the afternoon, the customer service representative entered the conversation immediately.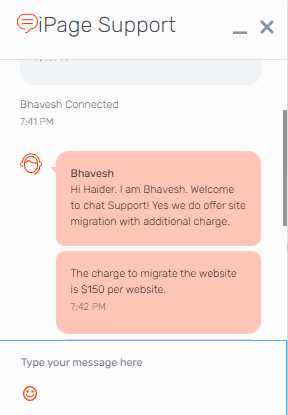 Easy to Use: HostPapa
The client area provided by HostPapa is straightforward. You can manage your profile, domains, services, websites, and billing options from that location. Anything that has to do with your hosting account may be done from there.
HostPapa makes use of the well-known cPanel as its control panel. You may access "My cPanel" from your client area by clicking on the link "My cPanel." Because it is so intuitive and cutting-edge, this control panel has quickly become the industry standard, and for a good reason: it is suitable for novices and more experienced users.
Cons of Using iPage vs HostPapa:
HostPapa started great, giving quick website loading speed and uptime. In addition, their customer service representatives are well-versed and kind.
iPage's cost is among the lowest, offering decent customer care. Unfortunately, some of their other performance indicators don't fair as well.
However, iPage and HostPapa have significant drawbacks that should be discussed.
High Renewal Price: HostPapa
The entry-level fee for HostPapa is $2.95 per month with a minimum commitment of three years. As was said before, the cost is reasonable, given their value.
You will, however, be required to pay the total purchase price when the introductory time has expired. For instance, the renewal price for the Starter Plan will be $9.99 per month, the price for the Business Plan will be $14.99 per month, and the price for the Business Pro Plan will be $23.99 per month. And that is with a commitment of three years, which implies that you would have to spend a significant amount of money upfront.
The money-to-value ratio does not seem as favorable after seeing the renewal pricing and the features included with that fee.
iPage is loaded with many useful and convenient features. On the other hand, none of them are valuable unless your website is consistently accessible online and available to the people who frequent it.
Poor Uptime: iPage
Because of this, tracking uptime performance is one of our most preferred types of performance assessments. We utilize a time frame of six months to one year to eliminate the possibility of sporadic issues. After that, we will be able to compare these uptime figures to those of other hosting service providers in an unbiased manner so that we can demonstrate precisely how one host is superior to another.
Unfortunately, iPage has only maintained an uptime average of 99.77 percent over the last six months, with 409 separate outages and a combined total of more than 10 hours of downtime.
3. Slow Loading Time: iPage
The loading speeds on iPage have been becoming slower and slower over the last half year, clocking in at an average of 1830 milliseconds. That is almost eight times slower than Kinsta and ovhcloud, our host with the quickest speed. Therefore, it is clear that iPage has more space for development in this particular sector.
No Free Site Migration: iPage
Most web hosting that we have looked at will, without charge, transfer an existing site to its own servers. This is particularly helpful if you are not a technically savvy person and don't want to spend time figuring out how to migrate site files, re-point your domain, and do other similar tasks.
iPage, however, does not provide any complimentary site migrations. Alternatively, they will simply relocate a site for a one-time price of $150. Compared to other hosts, that's on the higher end of the spectrum.
No cPanel (vDeck): iPage
The majority of website hosts use cPanel as a control panel of some kind. It is the standard in the business. If you use it in one location, you can log into it in another and immediately recognize where everything is located.
iPage does not utilize cPanel; instead, they use an alternative control panel known as vDeck, which is not nearly as feature-rich as cPanel.
When you're starting out, this isn't often a problem. People who used to work on the same consistent platform are often more likely to struggle with this difficulty. It is possible that learning a new platform and how to utilize it effectively might feel like a waste of time when you have already attained that level of mastery on another platform.
Therefore, this should not be a significant concern if you have never used cPanel or vDeck. However, if you have a solid attachment for cPanel, this may be a problem.
Isn't "Unlimited" a Misnomer? (Better for Smaller Sites):
Most of the features included in the shared hosting plan offered by iPage are "unlimited." Nothing in this world can be accurately described as "infinite."
If you adhere to iPage's use guidelines, you won't have to worry about incurring any 'overage' costs, even if you use a significant amount of resources like disc space.
However, there are certain restrictions on using the resources, so keep that in mind. Accounts that include a significant number of files or a substantial database are not ideal since they have the potential to start affecting the Performance of the servers shared by other users. This indicates that iPage retains the authority to terminate your account at any time.
Now, we're going to assume that before abruptly taking down your website, they will provide you with some warning. But it is written in their agreements that they have the right to do so "without notice." So just keep it in mind.
The vast majority of users who operate smaller sites should not be concerned. If your website is already very sizable, you may want to investigate managed hosting, virtual private servers, or dedicated servers as potential replacements for your current web hosting solution.
Pricing: iPage vs HostPapa
iPage Plans:
Go plan: iPage provide unlimited websites, Unlimited storage, a Free SSL certificate, and a Free domain for a year for just $1.99/month
Wp Starter: iPage provides 1 website, Unlimited storage, Unlimited bandwidth, a Free SSL certificate, and a Free domain for a year for just $3.75/month
Wp Essential: iPage provides unlimited websites, Unlimited storage, Unlimited bandwidth, a Free SSL certificate, automatic malware removal, SiteLock professional security, and a Free domain for a year for just $6.95/month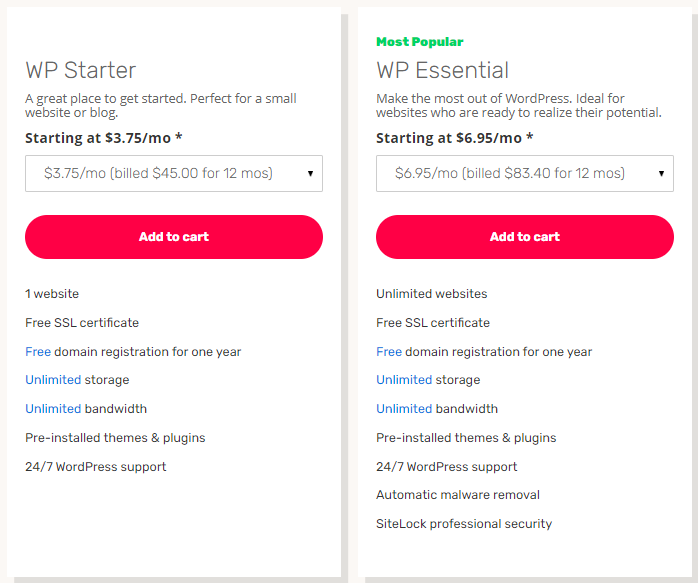 HostPapa plan:
Starter: iPage provides 1 website, Unlimited storage, a Free SSL certificate, and a Free domain for a year for just $3.99/month
Business: iPage provides unlimited website, Unlimited storage, Unlimited bandwidth, a Free SSL certificate, and a Free domain for a year for just $3.95/month
Business Pro: iPage provides unlimited websites, Unlimited storage, Unlimited bandwidth, a Free SSL certificate, and a Free domain for a year for just $12.95/month
Final Recomandations:
Over the previous half year, HostPapa has made several significant enhancements to the quality of its service.
Their uptime is nearly flawless, and their loading times are speedy. We had a good experience with them, and they provided many support alternatives. In addition to this, they are not harmful to the environment. iPage is an excellent web hosting service in many respects. At a relatively low rate, you may get many applications developed by third parties and excellent customer support.
However, a few results were less than stellar, particularly in uptime and speed. The plans have decent features but do not have the most 'additional' choices available.
The only drawback is that their renewal fees are somewhat expensive. If, on the other hand, money is not a concern for you, then HostPapa is an excellent choice for you to consider. Consequently, even though we suggest iPage in general, you should be aware that they are not as cost-effective, dependable, or quick as some other alternatives.
iPage vs HostPapa: Pros and cons

Pros
Free domain name
Low price
cPanel
Unlimited storage
Customizable email address
Autoresponders
Cons
Average customer support
Uptime issues
Limited customization options

Pros
Excellent support
User-friendly
Dedicated IP address
One-on-one training
Free website transfer
Cons
Only discounts on long-term billings
Slow tech support
FAQs
Is iPage web hosting good?
iPage offers a range of quality hosting plans with strong uptime and a helpful customer support team. However, the lack of monthly subscription options and support for cloud and Windows-based hosting may be a drawback for some users.
How good is HostPapa?
HostPapa has an uptime of 99.9%, which is considered reliable in the web hosting industry. It is common for issues or maintenance to occur, which can result in occasional downtime. However, HostPapa's uptime of 99.9% indicates the company's commitment to providing a consistently high-performing hosting service.
Does iPage have a website builder?
iPage's website builder is packed with powerful features that make it the simplest way to create a professional website. It comes free with all their hosting plans so you can get your site online without any technical knowledge. Whether you're a beginner or an experienced web developer, iPage's website builder is the perfect solution for creating a beautiful, functional website.
Is HostPapa good for WordPress?
HostPapa's WordPress hosting packages are designed to deliver fast and smooth online experiences for your customers. With over 51,000 available plugins, you can find performance-enhancing tools that work seamlessly with HostPapa's platform to ensure optimal performance for your site.