This ultimate guide will show you how to buy Bluehost hosting in 7 easy steps.
So let's dive right into it.
A lot of people think that why should we go with Bluehost? Let me tell you briefly about Bluehost.
Why Bluehost?
Bluehost is one of the most popular web hosting company that provides the cheapest web hosting service, and it has been top recommended for WordPress by WordPress.org since 2005. You can buy Bluehost hosting plan for only $2.95 per month with a free domain name for 1 year, free SSL, and free CDN (for better performance of your website).
They also offer Customize theme, a 30-day money-back guarantee, and 24/7 customer support. Bluehost chat service is very informational and responsive. You can expect their response within a minute. So, if you want to start a website and need a web host, then Bluehost is a great option.
After reading this article, I bet you will completely understand how to buy Bluehost hosting. Just read the article thoroughly, and don't miss any section.
"7 Steps" How do I get a hosting plan?
In seven simple steps, I'll show you how to get Bluehost hosting.
So let's get started with step 1!
Step 1. Go to the Bluehost website
The first step you would take is to go to the Bluehost website. Once you go there, you will see the "Get Started" button. Click on it to go to Bluehost's hosting plans, which I will explain in the next step.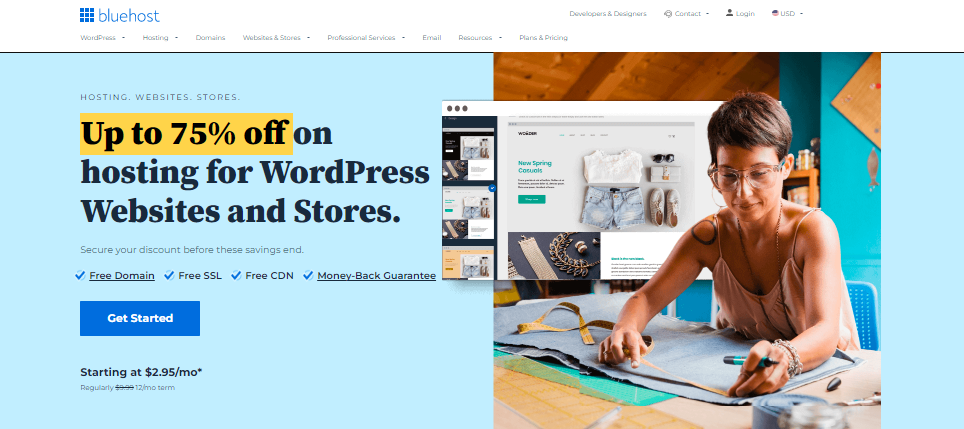 Step 2. Choose a hosting plan
After clicking on the "Get Started" button, the Bluehost site will take you to the shared hosting plans page. There you can select the plan that you want to choose. There are 4 web hosting plans that you can choose from.
These includes:
Basic
Plus
Choice Plus
Pro Plan
These plans will help you to select the plan that will be right for you.
The BASIC plan is the cheapest plan offered by Bluehost. It's designed for small businesses and bloggers who are just starting and don't need much. It includes 1 website with 50 Gb Storage and standard performance.
If you want unlimited websites and domains, you should go with the Plus plan.
What is Plus hosting in Bluehost? It means you can run multiple websites at the cost of $3.95 per month. This plan offers Spam Experts for 1 domain. Spam Experts is an email filtering system to ensure that emails coming into your account are legitimate. If an email looks suspicious, Spam Experts will keep it from getting through.

The Choice Plus is perfect if you need privacy and security features. This plan includes Domain Privacy + Protection and CodeGaurd Basic – Automatic Backup for 1 year. Furthermore, this plan has the same starting price, which Bluehost recommends.
Domain Privacy is a service that protects your personal information so that you don't get spammed by telemarketers. This feature protects you from unsolicited calls. You can block annoying callers on the Internet using the Privacy Protection feature.
Bluehost's CodeGaurd Basic allows you to back up your entire site daily. It's essential to back up your site regularly, as you should have a backup plan just in case something terrible happens to your site.
The PRO plan has all of the features of the CHOICE PLUS plan. However, it comes with 2 extra features: Optimized CPU Resources and 2 Dedicated IPs. Furthermore, you will get Spam Experts for 2 domains and High Performance for your websites by choosing the PRO plan.

Step 3. How do I buy the Bluehost domain?
After choosing a hosting plan, you next need a domain name for your website. As you know, Bluehost offers a free domain name for 1 year with any hosting plan. You will see on the left side a box named "create a new domain", where you can choose any domain name you want from the domain list. If you already own a domain name, you will enter your domain on the right side in the "Use a domain you own" section.
After selecting a domain, Bluehost will let you know whether your domain is available or not. And if your chosen domain is unavailable, Bluehost will suggest other domain names.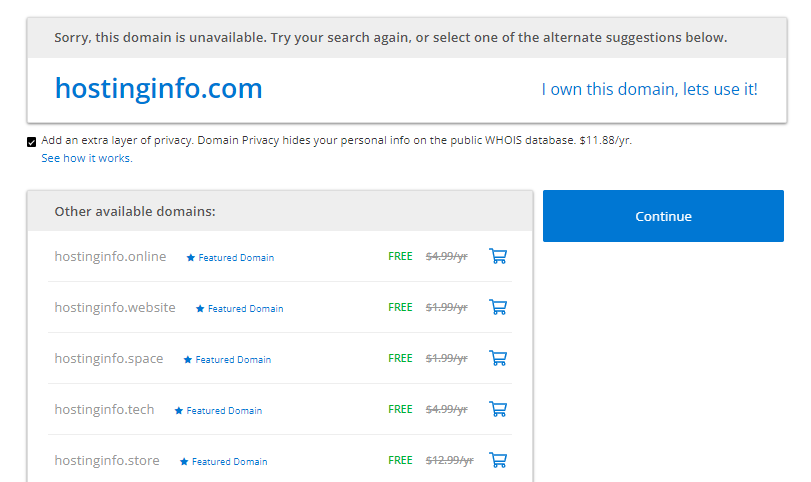 If you haven't decided on your domain name yet, then you can click on "I'll create my domain later" to create your domain name.
After choosing a domain, Bluehost will help you lock it to prevent unauthorized transfers. Furthermore, Bluehost will automatically renew the domain price before the domain expires.
Now let's go into the further step in our how to buy Bluehost hosting guide.
Step 4. Enter account information
Once you choose your domain name, They will ask you to provide account information to buy Bluehost hosting. These details will be used by Bluehost when you start hosting your site.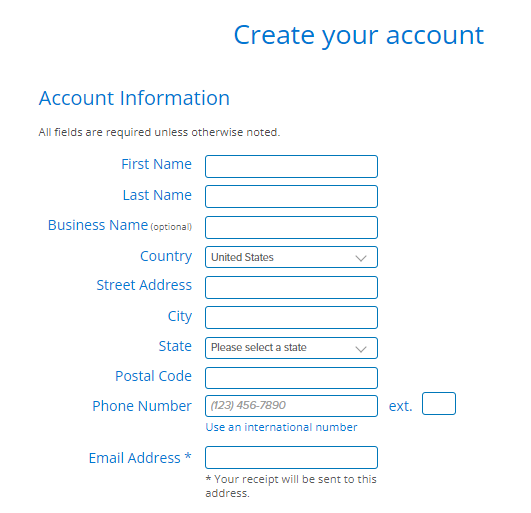 Step 5. Package information
Bluehost allows you to buy a hosting plan for 12 months or 36 months and tells you total price of hosting plan in this section. They offer free domain registration and SSL certificate with any shared hosting plan.

SSL certificate is used to verify the identity of websites. When you have a site with an SSL certificate, the address bar will show an "HTTPS" rather than an "HTTP" and a lock. This means that your site is secure and trustworthy. SSL protects your customers' personal information, such as usernames, passwords, and credit card numbers.
Step 6. Choose Extras with your hosting package
I will talk about Bluehost package extras in this step in our how to buy Bluehost hosting guide. Package extras are the optional section of the Bluehost package. The available extras of Bluehost are:
Domain Privacy + Protection
Codegaurd Basic
SiteLock Security (Essential package)
Single Domain SSL
Yoast SEO Premium
Google Workspace Business Starter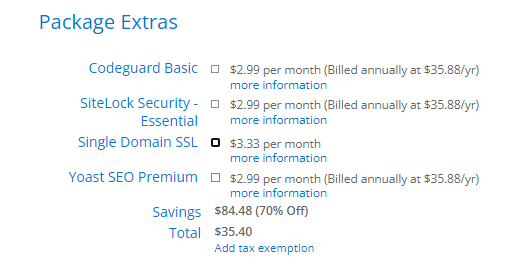 These Extras depends on your budget and needs.
Now finally, move to the last step.
Step 7. Enter Payment Info
The last step in buying Bluehost hosting is to add payment information. Bluehost offers 2 payment method Credit Card and Paypal. In the Credit Card method, you will have to add your credit card number and signature/CVV2 Code.
After adding payment information, click "Submit" to agree to Bluehost the Auto-Renewal Terms, Terms of Services, cancellations Policy, and Privacy Notice.
CCV2 Code is located on the back of the Credit Card and the Expiration Date.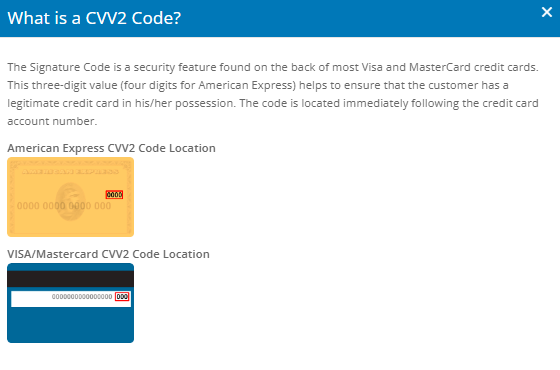 Note: You can click on the last term to avoid receiving phone calls about Bluehost services, products, or special offers.
Now you have successfully purchased your hosting from Bluehost.
You'd get a welcome email from Bluehost with your Bluehost cPanel login credentials and instructions to activate your domain name if you bought your free domain name hosting from Bluehost. You could skip this step if you bought your domain name from another hosting company such as A2 hosting or HostGator.
After that, Bluehost will ask you to create passwords for your Bluehost account. When you will click on " Create your password." A new page will open to create a password for your website. Ensure to Click on the checkbox saying that you have read and agree to the terms and conditions before continuing with our buying guide of Bluehost hosting plan.

After purchasing web hosting from Bluehost, you can choose the Bluehost WordPress theme for free. They offer 14 free WordPress themes to customers.
Conclusion
I hope you'd love reading my how to buy Bluehost hosting in 7 easy steps guide and find it helpful.
Additionally, I write a detailed review on Bluehost. You can also read that article.
If you have any questions regarding this topic, feel free to leave them in the comment box below.
FAQs
Why is Bluehost the best for beginners?
Bluehost is the best hosting option for beginners because it comes with everything you need to get started with WordPress, including a free domain name and automatic WordPress installation. More so, a free drag-and-drop page builder, detailed step-by-step instructions for every step of the way, and 24/7 support.
Does Bluehost charge monthly or yearly?
Bluehost doesn't offer monthly payment options for its cheap shared or managed WordPress hosting. However, you can choose month-to-month billing with Bluehost's VPS or dedicated hosting plans. DreamHost, on the other hand, is one of the top Bluehost rivals and does provide a monthly service option.
Which one is better, Bluehost or HostGator?
Hostgator and Bluehost are owned by the same company: Endurance International Group. They're both fast web hosts, but Bluehost is a little faster.
How much does it cost to host on Bluehost?
Bluehost offers shared, dedicated, VPS, and WordPress hosting plans. Bluehost's cheapest plans are its shared hosting plans, which range from $2.95 to $9.95 per month. They offer many valuable features with their hosting plans in cheap pricing.
Do I need to pay for both WordPress and Bluehost?
WordPress is free to use with Bluehost. Creating a WordPress website on Bluehost will require no additional costs, just the actual hosting fee you'll pay when creating your Bluehost account.
How many websites can I host on Bluehost?
When you host at Bluehost, you can host unlimited domains on your account for just $3.95 per month, which means you can manage as many sites as you want, all from one place.