ChatGPT, the popular language model, has taken a big step towards improving its user experience by officially announcing a premium version called ChatGPT Plus. Now with ChatGPT Plus, you can get access at its high demand, which is usually unavailable in the free access of ChatGPT.
Let's discuss in detail what ChatGPT Plus is and what you can get with the paid version.
What is ChatGPT Plus?
In the past few weeks, the insiders have been spreading rumours about the paid version of ChatGPT. Well, recently, OpenAI has finally launched the premium tier of ChatGPT.
Its official announcement happened on "1 February 2023" via a blog post from OpenAI.
"We launched ChatGPT as a research preview so we could learn more about the system's strengths and weaknesses and gather user feedback to help us improve upon its limitations. Since then, millions of people have given us feedback, we've made several important updates and we've seen users find value across a range of professional use cases, including drafting & editing content, brainstorming ideas, programming help, and learning new topics."
ChatGPT is a conversational AI writing tool that can chat with you in any language. Its generates text, answers follow-up questions, challenges incorrect premises, and rejects inappropriate requests using the dialogue format.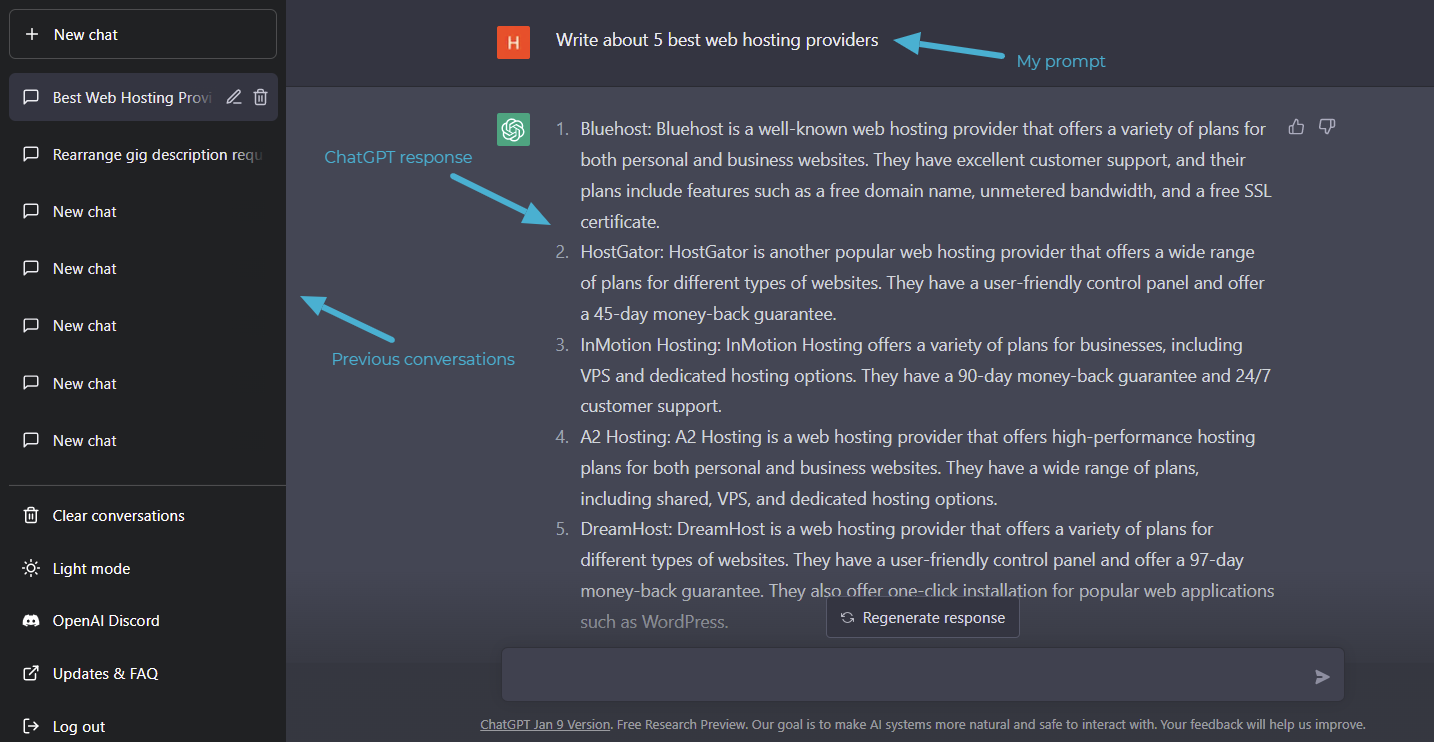 It was only available to United States customers for the first few days. And the customers were on the waiting list for early access to ChatGPT Plus. After that, OpenAI expanded access to ChatGPT Plus to every customer around the world as planned.
So if you're from anywhere around the world, you can buy the subscription plan after selecting your country and providing your phone number.
To check the plan, you can see the option named "Upgrade to Plus NEW" on the lower left corner of the ChatGPT web interface under "Clear Conversations".
How to Upgrade to ChatGPT Plus from the free version?
It's very simple! To upgrade from the free version of ChatGPT to ChatGPT Plus, you will need to follow these steps:
1. Visit the Openai ChatGPT website, log in to your free account, and click on the "Upgrade to Plus" button or option on the bottom left side.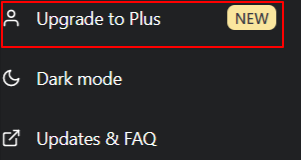 2. Choose a $20/mo ChatGPT Plus plan.
3. Next, provide the necessary payment and personal information to complete the transaction.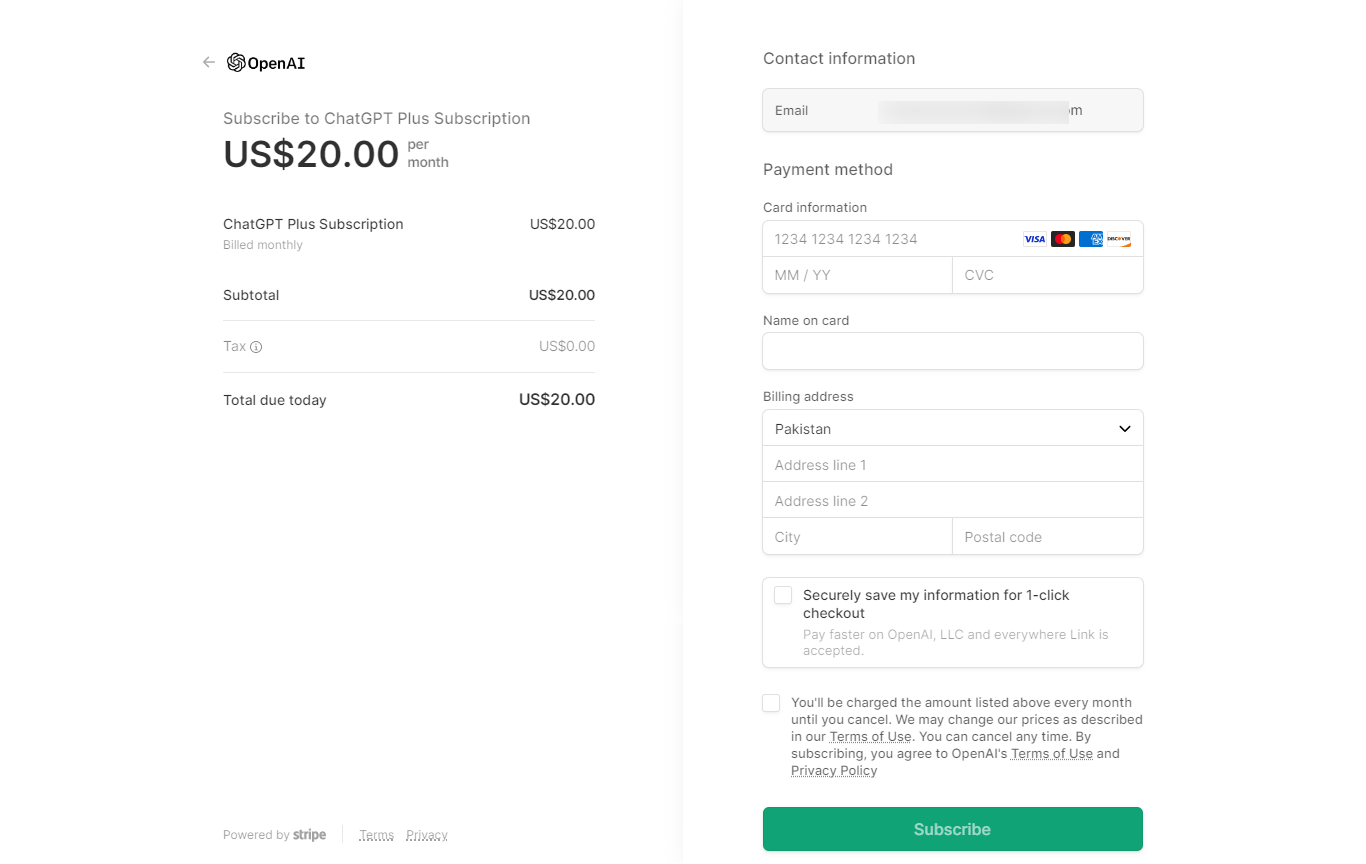 4. Once the payment is confirmed. You will receive an email confirmation with instructions on how to access your ChatGPT Plus account.
5. Log in to your ChatGPT Plus account. And start using the additional features and benefits that come with your subscription.
If you have any further questions or encounter any issues during the upgrade process, ChatGPT customer support is available to assist you.
What's New In ChatGPT Plus? (Features Explained)
ChatGPT Plus aims to provide users with better services than the free version. Here's what you can expect:
General access to ChatGPT, even during peak time
Faster response times
Priority access to new features and improvements
One of the significant benefits of using ChatGPT Plus is that you get access to the AI chatbot even during peak times. Sometimes, the free version of ChatGPT couldn't handle too many requests. So it took at least 1 hour to get a response for free users. But with ChatGPT Plus, you don't have to worry about that. You can access the chatbot anytime, and it will immediately respond to your questions.
Another significant advantage of ChatGPT Plus is that you get faster response times. With the free version, it could take a while for the chatbot to process your request and come up with an appropriate response. But with a paid plan, you'll get your answers much faster. This means you won't have to wait around for a long time to get the information you need.
Paid users also get access to new features and improvements as they become available. This means paid customers will be the first to experience any new updates or improvements to the platform. We don't know for sure what the new features will be yet, but the idea of getting to try them out before anyone else does is pretty cool, right?
Once you subscribe to the ChatGPT Plus plan, you'll have access to two different modes, Default Plus, and Turbo Plus. Default Plus is a reliable, standard model that provides excellent service. But if you're looking for faster response times, Turbo Plus may be your better option. This specially created mode is designed to provide lightning-fast speed and total efficiency, ensuring that you get the information you need as soon as possible.
Furthermore, you can get better SEO-optimized responses for your blog from ChatGPT Pro.
How much does ChatGPT Plus cost?
ChatGPT Plus currently costs $20 a month. Even though it's not free, many people think the benefits are worth it. While it's not free, many users find that the benefits of the upgraded service make it well worth the investment.
With ChatGPT Plus, you'll be able to get your questions answered faster and more accurately than others who are still using the free version.
In the future, OpenAI will expand plans and pricing, and they are currently checking out ways to provide them to improve availability.
Is ChatGPT still free?
Yes, Users can still use ChatGPT for free without a single penny. But the free version has certain limitations regarding response times and availability. However, it's still worth using the free version of OpenAI's ChatGPT.
Who can access ChatGPT Plus?
ChatGPT Plus is created to provide a better user experience than the free version. If you've used the free version, you know how frustrating it is to wait for a long time to get a response or even be unable to access the chatbot due to too many requests. So, if you use ChatGPT regularly, and want access 24/7, then the premium tier is definitely worth the cost.
How to cancel a ChatGPT Plus subscription?
If you're not satisfied with the paid version. You can cancel it anytime, and it's a straightforward process.
Here are the following steps you can use to cancel your ChatGPT Plus subscription:
First, go to ChatGPT Plus, where you chat with the chatbot.
Now, click "My Account" under "OpenAI Discord" in the sidebar.
After that, your ChatGPT Plus subscription plan will pop up. Click on "Manage My Account."
After clicking "Manage My Account", you'll be directed to a Stripe checkout page.
Finally, click on "Cancel Plan".
That's all. You have successfully cancelled your subscription.
Note: Cancel your subscription at least 24 hours before your next payment cycle to avoid getting charged for the next billing period. And the subscription fee is non-refundable.
Conclusion
So that's what ChatGPT Plus is all about. ChatGPT Plus is a paid plan that gives customers priority access to the chatbot, even during peak times, quick response times, and access to new features and improvements. For just $20 a month, it can be well worth it for anyone who relies on the chatbot regularly. But don't worry if you don't need all the extra features – the free version is still available for everyone to use.
In the future, OpenAI plans to enhance and expand its services based on users' feedback. Furthermore, they will soon release the ChatGPT API waitlist. Also, they are looking for ways to increase accessibility, such as introducing lower-cost plans, business plans, and data packs.
These efforts show their commitment to continuously improving their services and ensuring that their chatbot stays accessible and valuable to a wide range of users.
Check out our ChatGPT vs Jasper and ChatGPT vs ClosersCopy comparisons to learn more about who is the better ai tool for your Content Writing.
FAQs About ChatGPT Pro
What is a ChatGPT Plus subscription?
ChatGPT Plus is a premium subscription service offered by OpenAI's language model, ChatGPT. The subscription provides users with access to additional features and benefits, such as faster response times and higher-quality responses. Users pay a monthly fee to access these features and can cancel the subscription anytime.
Will ChatGPT be free forever?
ChatGPT is free for everyone right now, but there are rumours that OpenAI plans to introduce some limitations for non-paying users in the future. It's like a trial period to get people interested and familiar with the service. Once they see the benefits, they'll likely want to continue using it and be willing to pay for it. It's all part of a strategy to attract and retain customers.
Is there an alternative to ChatGPT?
There are many alternatives to ChatGPT available. Here are some of them:
Google Bard
ChatSonic
Jasper Chat
Socratic
Microsoft Bing
YouChat
What is in ChatGPT Plus?
ChatGPT Plus offers paid users several benefits over the free version, including faster and 24/7 access to the chatbot even during peak times, priority access to new features and improvements, and more accurate and detailed responses. The current cost for ChatGPT Plus is $20 per month. These additional features and improvements are designed to make ChatGPT Plus more reliable and efficient for users who rely on it regularly.
Is ChatGPT worth paying for?
If you require the additional features and benefits offered by ChatGPT Plus, then it may be worth paying for. Whether or not ChatGPT is worth paying for ultimately depends on your specific needs and preferences.