Are you tired of struggling with writing content? Studies show that around 80% of writers struggle to produce text that truly engages their audience. But what if I told you about two tools that can help you get through these challenges and take your writing skills to the next level?
Check out ChatGPT and ClosersCopy, two powerful AI-powered tools that can quickly help you write like a pro and generate high-quality content.
Imagine how satisfying it would be to impress your clients with your writing ability. With these tools, you can generate text like human writing within seconds. And it will make your life as a writer so much easier.
This is a great opportunity to improve your writing skills and impress your clients. Try ChatGPT and ClosersCopy today and see the difference it makes for yourself. But what exactly are ChatGPT and ClosersCopy, and how do they differ?
In this ChatGPT vs ClosersCopy article, I'll take a closer look at these two AI-powered writing tools and compare their capabilities, so you can choose which option is best for you and your needs.
What is ChatGPT and How Can You Take Advantage of it as a Content Writer?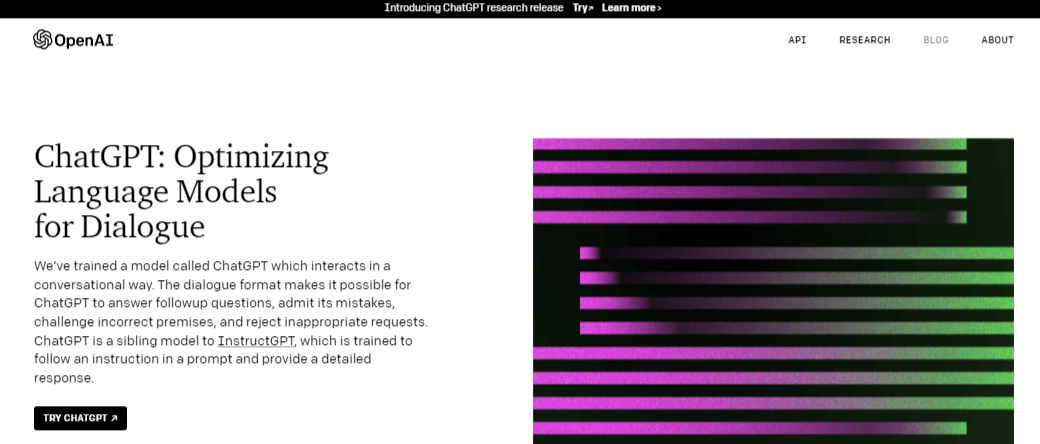 ChatGPT is a language model created by OpenAI that uses the GPT (Generative Pre-trained Transformer) design. It has been trained to generate text that sounds like a real person wrote it. It's like having a conversation with a smart, well-informed friend who can answer your questions and understand what you're trying to say.
Everyone is talking about this tool on every social media app nowadays. ChatGPT is spreading rapidly among users, like Covid-19.
I saw a post on LinkedIn where someone shared 500 prompts that you can give to ChatGPT to get different responses.
As a user of ChatGPT, one of the most significant benefits of using ChatGPT is that it can help you with any writing task by generating text almost similar to text written by a human based on the prompts given to it. It is trained on a deep learning language of written text to write in any tone and format. ChatGPT also allows you to regenerate and stop generating responses.
Here are the following tasks that you can give to the ChatGPT:
Write content on any topic in any language
Coding
Write eBook
Write email cops, Ads copy, Facebook ads, etc
Write SEO-optimized articles including related keywords, meta tags, adding main keyword naturally, etc
Write research papers
Website content
Social media posts
Write scripts
Translate text into many other languages
Paraphrase
Summarize existing content and much more.
ChatGPT can also help you do Maths. It's like an all-in-one AI writing tool. You just have to be good at giving accurate prompts to get accurate content.
As a writer, you can use ChatGPT to help with any writing task your clients give. For example, if your client needs a blog post written on a specific topic. You can provide ChatGPT with a prompt and any additional instructions or specifications that your client has given you. ChatGPT will then generate a response that closely matches the content and tone your client is looking for.
This tool can save you time and effort and help you to produce high-quality content that meets your client's needs.
Let me show you some examples of ChatGPT using some prompts. I give a prompt for "5 best web hosting providers," and here is the response of ChatGPT: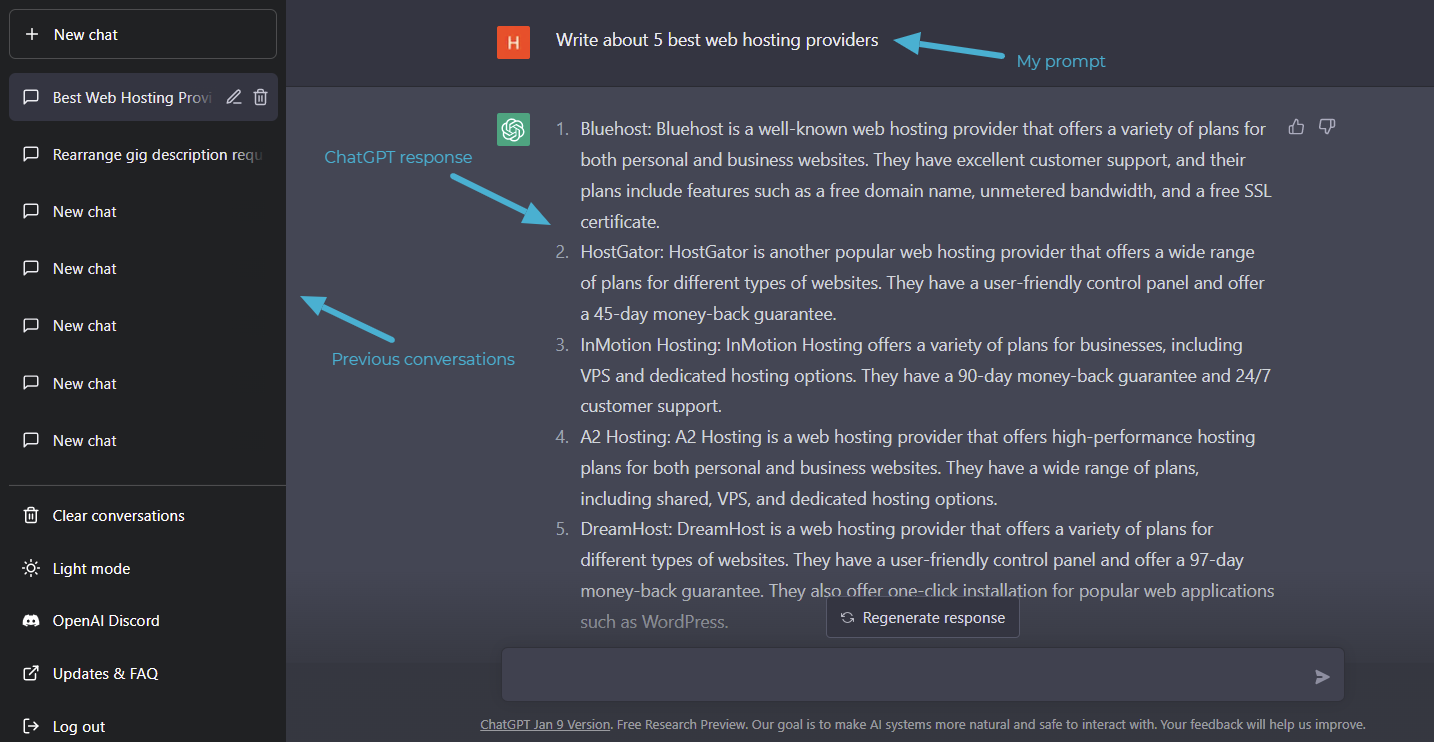 As you can see, ChatGPT responds to the given prompt. It writes about Bluehost, HostGator, InMotion Hosting, A2 Hosting, and DreamHost.
Also, ChatGPT has previous conversations records you have had with the ChatGPT. You can see all the conversations on the sidebar of the screen.
Let's ask ChatGPT to write in another language:
ChatGPT can generate content in many languages. Also, ChatGPT allows you to stop generating content while generating the content.
The client will give you additional instructions or specifications, as I discussed earlier. I give a prompt to ChatGPT to write a review article on Bluehost. I also give some additional instructions on how to write the article. Look at how exactly ChatGPT come up with the Bluehost review article: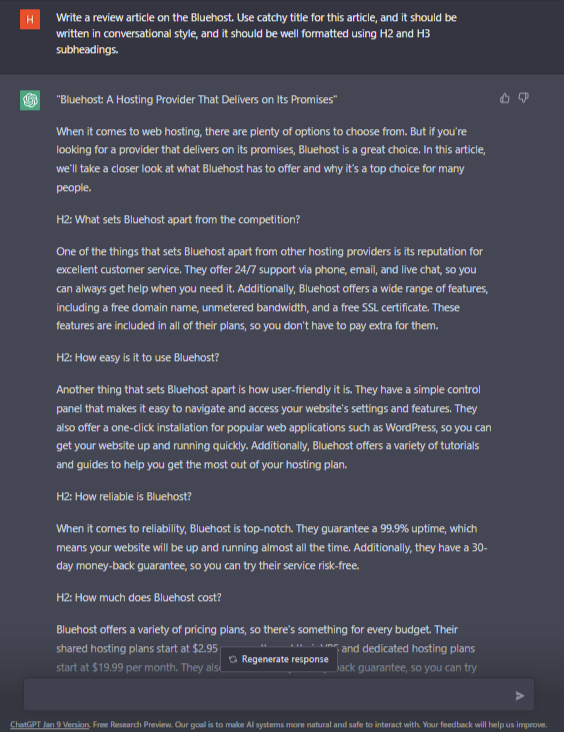 Not bad, right?
If you don't like the title, the outline, or the whole article. You can regenerate the response.
Note: The generated text is not always grammatically or factually correct, so it's important to review the output before using it.
However, the company announces updates about factual content.
As a ChatGPT user, I have come to know its limitations. ChatGPT has limited information after 2021. And due to in high demand for ChatGPT, you can face some errors. Which will look like this:
One of the impressive things about ChatGPT is that it's constantly learning and adapting to new information, which means that it's getting better and better over time.
ChatGPT has both free and paid versions. The paid plan is called ChatGPT Plus, and its monthly price is $20.
The free version takes some time to access ChatGPT because of an overload of other users' requests (as I showed in the screenshot). But with ChatGPT Plus, you will get general access to ChatGPT even during peak times, faster response times, and priority access to new features and improvements.
ChatGPT can benefit you in saving time and effort on writing tasks, which allows you to focus on building successful relationships with your clients. By creating high-quality content that follows your client's instructions, you can impress them and build trust. This can lead to long-term success as a freelance content writer.
Try it out today, and you'll soon see the difference it can make for you. With ChatGPT's help, you'll be able to write like a pro in no time!
In my ChatGPT vs ClosersCopy article, I will talk about ClosersCopy and how you can use it as a content writer. Learn how it can help you improve your writing skills and deliver results that will impress your clients.
What is ClosersCopy, and How Can It Benefit You as a Content Writer?
Closerscopy is like jasper ai, an AI-powered tool that does all the writing for you. It analyzes your copy, finds its most effective keywords, creates high-quality content, and then writes it all for you.
This powerful AI-based copywriting tool uses machine learning algorithms to generate high-quality emails, ad copies, blogs, landing pages, press releases, etc. It is customizable to be more persuasive and compelling.
As a user of ClosersCopy, I've found that it's not only writing ad copies, emails, or landing pages. It can also write articles on every topic. ClosersCopy can also help you write long-form content. It has a built-in tool called Longform. This tool can help you generate content as long as you want.
You can help your clients to achieve their goals by generating content from ClosersCopy. That way, you will win clients' hearts and get a long-term collaboration with your clients. And it will also help you to create a strong portfolio.
I personally have used ClosersCopy, and it's very easy to use. You only have to select the templates that you want to use and enter the text in them. When you do that, ClosersCopy will automatically generate the best copy for your needs.
You won't need to spend hours crafting content. ClosersCopy does the hard work for you. You only have to edit your copy and make it better.
ClosersCopy is a paid AI tool, and it comes with 3 plans:
Power ($49.99/month)
Superpower ($79.99/month)
Superpower Squad ($99.99/month)
In case you might be thinking about the ClosersCopy lifetime deal. Well, they offer 3-lifetime deals. If you can't afford to buy at one time. You can pay in 3 installments. But if you choose installments. Then you have to pay a bit more money. For example, if the total price of the Superpower Solo plan is $297 for a one-time payment, then it would be a total of $327 for the 3 installments.
Now let me show you how to use ClosersCopy. It's very easy and straightforward.
First, log in to your ClosersCopy account to get access to the members' area. Once you're logged in, you will see a tab named "dashboard". After clicking on it, a projects page will open. The page lists all the projects that you saved them. You can click on "open" to see a list of all the copies of that project.
Here's the cool part, you can create as many copies as you want in each project and save them separately. To create a new project, simply click on the "new document" button in the projects listed area.
Once you've created a project, open it, and you'll be taken to the ClosersCopy editor. It'll be a blank slate ready for you to start writing, which looks like this:
On the left sidebar, you can see different tools for different purposes. And on the right-hand side, you can see a lot of templates for different types of content. These templates will appear when you click on the Frameworks on the left sidebar.
As a user of ClosersCopy, let me teach you how to use this AI copywriting tool. Let's say you want to write Ads. You will go to the Frameworks and click on "Ads". A few formulas you can use to write Ads will appear, such as the AIDA (updated), AIDA (creative), BAB, PAS, and Google Ads. You can use any of what your client asked you to write Ads. I will choose AIDA (updated) as an example.
After clicking on AIDA (updated), it will show up like this:
In the description, you will write anything you want to get from ClosersCopy, set the mode (strict, in between, or creative), and click "Write for me".
I entered "The Lamp Plus 20% off Coupon" in the description and set the tone to 76, which would be 73 by default.
ClosersCopy generates some outcome on The Lamp Plus 20% off Coupon keyword using the AIDA formula. Here are the results:
As you can see above, ClosersCopy generates very eye-catchy Ads. You can also write product descriptions for e-commerce for your client.
Note: It's important to save the content after writing it. Otherwise, you will lose it. I personally have experienced this several times. If you save the content and you lose it somehow. You can back up the content by going into the libraries. The libraries feature is on the right sidebar.
ChatGPT vs ClosersCopy: Which one is Right for You?
Both are powerful tools that can help you produce high-quality content quickly and efficiently, but they have some key differences that might make one more suitable for you than the other.
Here is the list of the key difference:
Pricing–ChatGPT offers both free and paid versions ($20/month). While ClosersCopy only offers paid AI copywriting services. Also, ChatGPT Plus is cheaper than ClosersCopy.
Writing abilities: ChatGPT can write anything related to writing. On the other hand, ClosersCopy is only made with the intention of helping in copywriting.
Coding–ChatGPT can write codes in C++, Java, Python, and more. While ClosersCopy can't.
Designs–ClosersCopy has a built-in tool called creatives. By using this, you can draw anything you want by giving a name to draw on. Whereas, ChatGPT cannot draw images directly. However, It can generate images using coding.
Downloads–ClosersCopy offers a feature to allow content in PDF, DOCX, and HTML. In comparison, ChatGPT doesn't provide any such service.
SEO–ClosersCopy has a built-in tool called SEO to optimize the content. It is exactly the same as Surfer SEO. While ChatGPT doesn't have that type of tool. However, You can optimize the content by giving prompts that help rank on search engines.
So, which one is right for you? Well, It depends on your specific needs and goals as a freelance content writer. If you're looking for a tool that can help you to produce a wide variety of content quickly and efficiently, ChatGPT might be the better choice. But if you're focused on copywriting and want to master the art of persuasion, ClosersCopy might be a better fit. Ultimately, the choice is yours.
Furthermore, I recommend you use both ChatGPT and Closerscopy to get the most out of it.
ChatGPT vs ClosersCopy: Pros and Cons
ChatGPT pros
Very user-friendly and easy to understand
Can generate content in many on many topics, every tone
Write content in many languages
Quick response Customizable
Can do coding in different languages
Free to use
ChatGPT cons
limited knowledge of recent events (after 2021)
Lack of emotions and empathy
It may show errors because of too many requests
ClosersCopy pros
High-quality, persuasive sales copy
Wide range of templates and examples
Has a built-in tool like Surfer SEO
User-friendly and easy to navigate
Expert advice and guidance from an experienced copywriting team
Offers a 14-day money-back guarantee
ClosersCopy cons
It can be expensive for some businesses
It may be too complex for some users
Limited customization options
Usually provide irrelevant content
Conclusion
ChatGPT and ClosersCopy are powerful AI-powered writing tools that can help you write like a pro and generate text like human writing. ChatGPT is great for a wide range of language-related tasks, while ClosersCopy is specialized in copywriting and conversion optimization. These tools will help you produce high-quality content that will engage your audience and build trust with your customers. Go ahead and try them out today!
ChatGPT vs ClosersCopy Feature Comparison
| Features | ChatGPT | ClosersCopy |
| --- | --- | --- |
| Pricing | ChatGPT has both free and premium versions. The premium version (ChatGPT Plus) is available for $20/month | ClosersCopy offers 3 packages: Power ($49.99/month), Superpower ($79.99/month), and Superpower Squad ($99.99/month). They also offer lifetime deals as well |
| Word limit | 500-600 per response | ClosersCopy offers a scale from 0 to 100 in Frameworks and 50 to 200 in the Longform |
| SEO-optimized content | ChatGPT provides SEO services through response | ClosersCopy has a built-in tool like Surfer SEO to optimize the content |
| Unlimited information | ChatGPT has a limited knowledge base after 2021 | ClosersCopy has unlimited information |
| Fact-checked information | ChatGPT sometimes generates incorrect content, but they announce updates about the factual content | ClosersCopy usually provides incorrect and relevant information. So make sure to check before using the content |
This was my ultimate ChatGPT vs ClosersCopy comparison article. I hope you find it helpful.
If you have any questions related to these two tools. Let me know by leaving a comment below.
Check out the comparison of ChatGPT and Jasper by clicking here.
FAQs
What are the main differences between ChatGPT and Closerscopy for freelance content writing?
Both are AI-powered writing tools but have different capabilities. ChatGPT is a large language model chatbot that generates text in response to a prompt, while Closerscopy is a tool specifically designed for copywriting and sales writing. ChatGPT is better for creative writing and generating large amounts of text, while Closerscopy is better for writing persuasive, high-converting copy.
Can ChatGPT or Closerscopy help me increase my productivity as a freelance writer?
Both ChatGPT and Closerscopy have the potential to help increase productivity as freelance writers. ChatGPT can generate large amounts of text within just a couple of seconds. In contrast, Closerscopy can help you write copy that is more likely to convert. However, it's worth noting that both tools still require editing and proofreading to ensure the generated text is of high quality.