In Kinsta vs o2switch article, I will compare web hosting companies based on plans and pricing, speed and performance, security, and customer support.
There are lots of web hosts, and choosing the right one for your needs can be tricky. Many hosting providers advertise themselves as the "best" or "most popular" hosting provider, but which ones are the best? Which one is right for you? We've put together a detailed comparison between two popular hosting services: Kinsta and o2switch. So if you're looking for a fast, reliable, secure web hosting service, you've come to the right place!
Before jumping into the details of each web hosting provider, take a look at this table. I cover everything you need to run a website.
Kinsta vs. o2switch
| Features | Kinsta | o2switch |
| --- | --- | --- |
| Hosting Type | Managed WordPress Hosting | Web hosting |
| Free Domain | No | Yes |
| Pricing | $35.00/month | €5/month |
| Disk Space | 10 GB - 250 GB | Unlimited |
| Bandwidth | 500 GB but you can increase upto 1.5 TB - 2 TB with an additional fee, which is $1/1GB. | Unlimited |
| Automatic Backups | Yes | Yes |
| Dedicated Hosting | No | No |
| Control Panel | cPanel | cPanel |
| Free CDN | Yes | No |
| Free Migration Site | Yes | Yes. They offer up to 1 year of hosting. |
| Money-Back Guarantee | 30 days | 30 days |
| Customer Support | 24/7/365 live chat, 24/7 phone, email, ticket. | 24/7 technical support, ticket, Phone (Mon-Fri from 9 AM to 6 PM) |
| Server Uptime Guarantee | 99.9% | 99.99% |
| Server Location | West Hollywood, California, US | Clermont-ferrand, France |
| Security | SSL certificates with wildcard support, Cloudflare firewall with free built-in DDoS protection | Let's Encrypt SSL certificate, anti-DDoS protection Arbor , web firewall (WAF) |
| Email Hosting | No | No |
| Rating | 4.3/5 | 4.9/5 |
| Website | www.kinsta.com | www.02switch.com |
Before comparing their plans and pricing, I'll overview both companies so you have an idea of who they are, what they are best at, whom they offer services, etc.
So let's get started.
Overview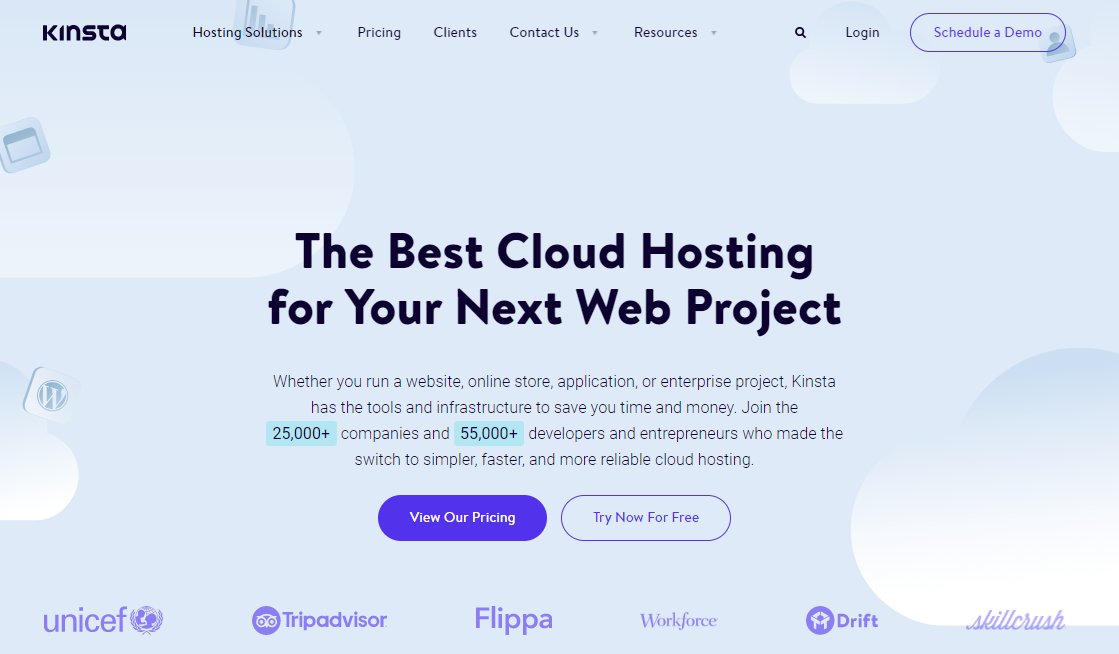 Kinsta is a cloud-based web hosting company that offers web solutions whether you run a website, agency, online shop, or enterprise. Furthermore, Kinsta is the no. 1 WordPress hosting provider by G2. Kinsta is well known for its top-notch performance, features, and excellent customer support. But wait, do you know the best part of kinsta?
They offer a free demo for 60 days without using a credit card, which allows users to test-drive its services before committing to a long-term contract. You can access the kinsta's dashboard with only your name, email, and phone number, which is 100% free to register. Kinsta's uptime guarantee is 99.9%.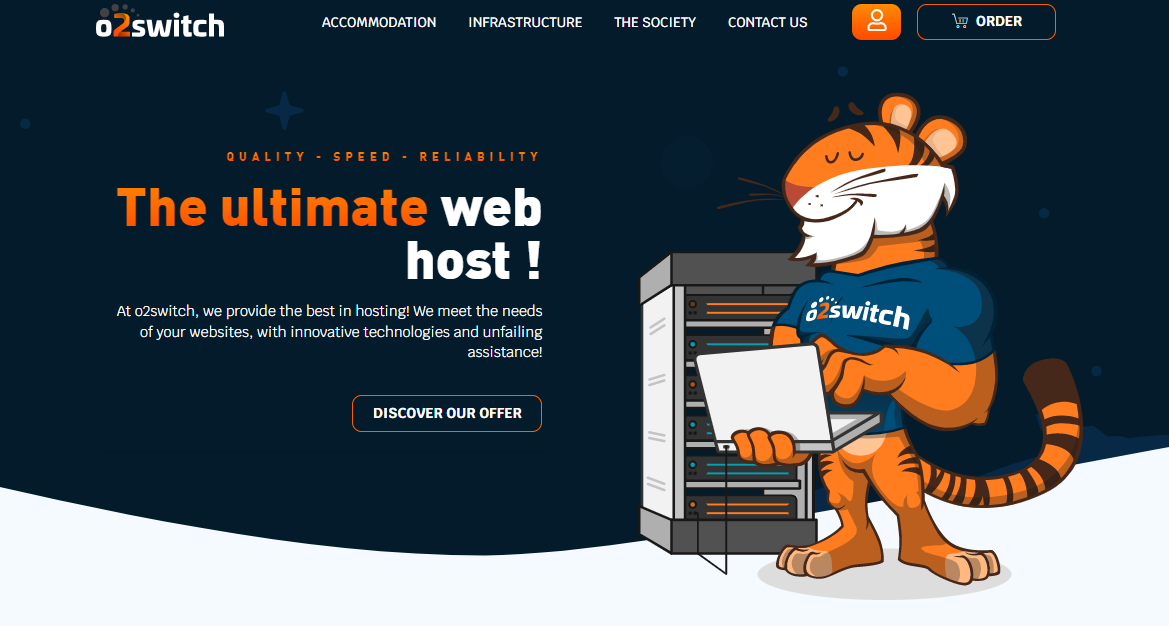 o2switch is also a cloud-based, 100% French web hosting provider which offer services for beginners, small businesses, and enterprise-level user, founded in 2009 in Clermont-Ferrand, France. Their mission is to develop new ideas in their industry and give you the assurance of safety that comes with being an independent and self-financed service provider. The company offers amazing resources where their front servers are responsible for optimizing and securing your favorite CMS like WordPress, Joomla, or Magento.
o2switch is one of the only hosts that manage their own data centers, which is 100% dedicated and private to its services. a2switch is well known for its reliability, performance, and affordability. Best of all, o2switch offers a 99.99% uptime guarantee.
Now you probably thinking, what will be the pricing of their plans and their features? Well, I will explain both companies' plans and features in detail so you can choose the one that meets your requirements.
So let's dive right into it.
Kinsta vs o2switch: Plans and Pricing
Both web hosting companies have affordable prices and offer many essential features needed to run a website. Still, some things are different from each other. Both web hosting providers offer a 30-day money-back guarantee and a cPanel control panel. Also, both companies have downsides.
For example, Kinsta doesn't provide web hosting. They only offer managed WordPress hosting for startups, agencies, and enterprise-level users. On the other hand, the downside of 02switch is that they don't provide WordPress hosting. They offer premium web hosting with only 1 plan and cloud solutions for businesses and enterprise-level users.
Kinsta offers 10 managed WordPress hosting plans for Starter to Enterprise 4, starting from $35 to $1650 per month. They also offer annual plans. If you choose yearly plans rather than monthly plans, you will get 2 free months.
After choosing Kinsta's managed WordPress hosting plan, you will get a lot of features and integrations with every plan that o2switch doesn't offer. For example, Kinsta offers free enterprise-level DDoS protection, automatic SSL certificates, CDN, and wildcard SSL support.
On the other hand, if you choose Kinsta, you will get self-healing technology, 24/7 expert support, a multi-user environment, a Google cloud platform, and automatic database optimization. Furthermore, Kinsta also let you use their enterprise-level integration, a performance monitoring tool, manual backup points, and many other features.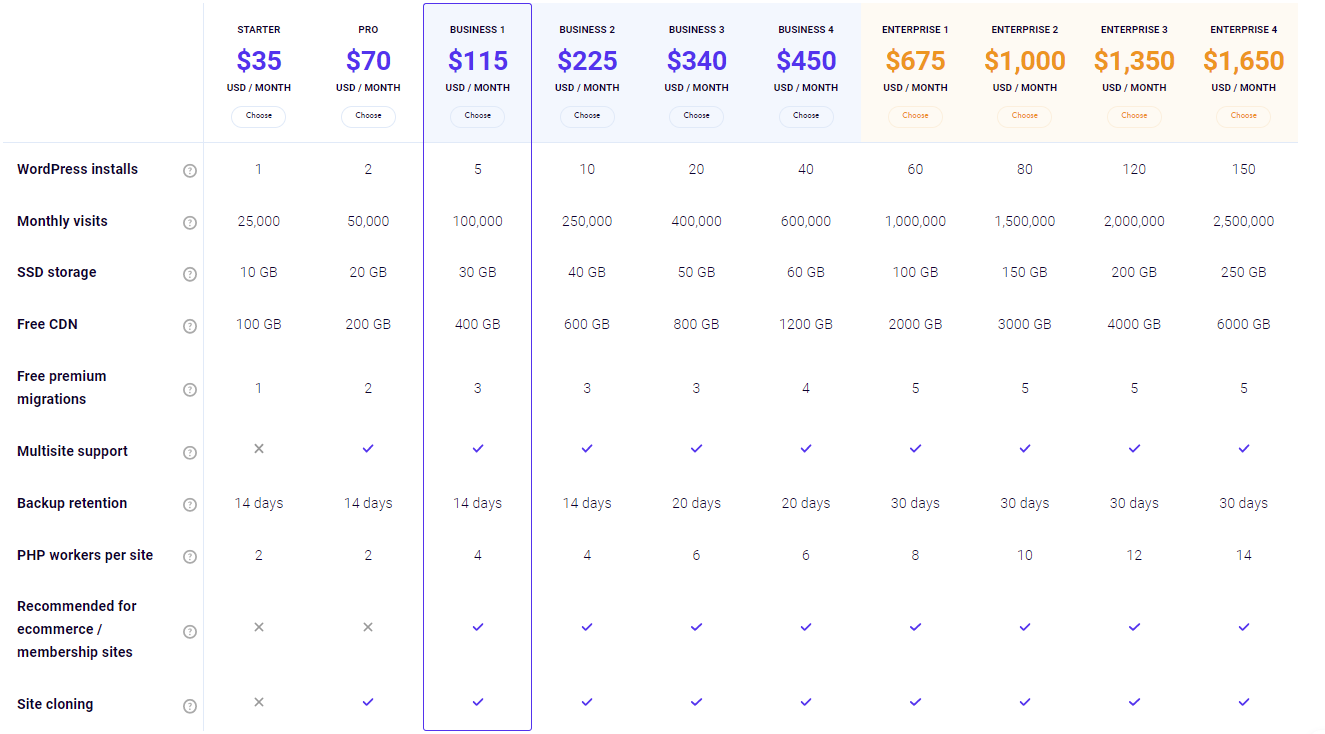 Every plan comes with different quantities of storage, WordPress installations, free CDN, free premium migrations, backup retention (The minimum retention period for all backups, whether automatic, manual, or system-generated, is 14 days.), MySQL and PHP workers per site.
You can choose the plan based on your needs. Besides these features, all plans have site cloning and multisite support except the Startup plan. Furthermore, they also recommend e-commerce/membership sites in every plan except Starter and Pro.
Kinsta provides the best web hosting solutions and exceptional performance. But the truth is that their hosting plans are pretty expensive and have limited storage. They also offer a custom plan and add-ons, which are also costly. But if you can afford Kinsta, it would be best, fast, and full of resources.
While on the other hand, o2switch is a web hosting provider focused on efficiency and speed. They offer premium web hosting, which you can get for 5€ per month. If you choose o2switch web hosting, you will get 12 CPU cores with 48 GB RAM, which will make your site super fast, with unlimited NVMe (3.2Gb/s) SSD storage.
Moreover, o2switch offer optimized CMS, automatic & daily backups, unlimited monthly transfer, 24/7 technical support, and a free domain name, which Kinsta doesn't provide. Moreover, the plan includes unlimited FTP accounts, SSL management (HTTPS) with http/2, free let's encrypt SSL certificate, arbor DDoS protection, unlimited subdomains, multi-domain hosting, 24/7 servers monitoring, high-performance DNS server, web firewall (WAF), MySQL databases, and stat charts.
Kinsta vs o2switch: plans and pricing — we recommend Kinsta for a better WordPress experience, but if you're from France, then you should go with 02switch because o2switch is a 100% french web hosting company, and with o2switch, you will get a free domain name, unlimited storage which is NVMe SSD, unlimited monthly transfer, and 12 CPU cores with 48GB RAM for blazing fast speed. Moreover, you can save a lot of money by choosing o2switch.
Kinsta vs o2switch: Speed and Performance
Both companies promise fast website speed and performance, and both offer different features from each other. Kinsta has Google Cloud compute-optimized C2 machines, LXD-managed hosts, and managed LXC software containers, which improves the performance from 30% to 200%. While o2switch lets you use its vast resources, up to 12 CPU cores and 48 GB RAM for better performance.
Besides, all Kinsta plans have a free custom-built APM (application performance monitoring) tool. An APM monitors requests to your site and tracks metrics such as external API calls, database queries, PHP execution time, and more. This information enables you to identify and fix performance constraints quickly. You can debug slow WordPress plugins and themes, unoptimized MySQL database queries, long calls to external APIs and domains, and more with the APM tool.
Where o2switch offers two free 1-click caching tools, LiteSpeed web ADC and LSCache, for better load speed. Kinsta is better than o2switch because Kinsta doesn't depend on tools or plugins. Kinsta uses a variety of advanced caching systems to reduce server load and improve response times, including:
Query cache
CDN cache
Bytecode
object cache
Page cache
Is Kinta has fast page loading speed than o2switch?
Yes. kinsta is significantly quicker than o2switch. First, we created two websites on each hosting account to test the loading speed. Then we use the Pingdom tool to check the speed of kinsta and o2switch. We got some pretty exciting results, which are listed below.
The following are the Kinsta site results:
Asia – Japan – Tokyo: 1.25s
North America – USA – Washington DC: 1.00s
Europe – United Kingdom – London: 1.10s
Pacific – Australia – Sydney: 2.13s
The following are the o2switch site results:
Asia – Japan – Tokyo: 2.80s
North America – USA – Washington DC: 2.50s
Europe – United Kingdom – London: 1.26s
Pacific – Australia – Sydney: 2.34s
In Kinsta vs o2switch: speed and performance — Kinsta is the winner because Kinsta offers better services for better performance. However, if you want a better server speed with a cheap rate Hostinger is a hosting to go with.
Kinsta vs o2switch: Security
An essential element in ensuring your site's security is ensuring your web server is secure. That means using HTTPS over HTTP for all pages. It's called Hypertext Transfer Protocol Secure, and it ensures your website visitors can be assured that your site will be safe and secure by encrypting information passed between your web server and the visitor's browser.
Kinsta provides Cloudflare integration for all clients, which includes free SSL certificates with wildcard support. That means you won't have to bother manually configuring an SSL on Kinsta unless you have a good reason to do so. Kinsta automatically secures your website with Cloudflare's firewall, which comes with free DDoS protection.
Their Cloudflare SSL integration provides HTTPS support at no additional cost for most users. However, if you have a specific use case that requires a custom SSL, they also support that. Kinsta's in-house designed monitoring system provides premium uptime monitoring for all of your WordPress sites.
In comparison, o2switch's plan does not offer uptime monitoring. With Kinsta, you have a dedicated support team that monitors your server's performance every two minutes.
O2switch also offers free SSL certificates, which you can get from cPanel's let's encrypt SSL tool. You can also create Wildcard SSL certificates with the Let's Encrypt tool from o2switch. So, If you want to create a Wildcard SSL certificate, you must create a Wildcard subdomain.
Kinsta is the winner because it offers free Cloudflare integration, which includes free SSL certificates with wildcard support and custom SSls. Moreover, Kinsta's in-house designed monitoring system provides premium uptime monitoring for all of your WordPress sites.
Customer Support
Kinsta offers top-notch customer support to the customers. Their experts are available 24/7/365 to assist you with any issues or to help you choose a hosting plan according to your requirements. You can reach them via live chat, email, ticket, and phone. Their live chat service is fast and responsive. You can expect their response within a few seconds in live chat. Additionally, Kinsta's knowledge base section is extensive. There, you can get solutions to any problems or questions you have.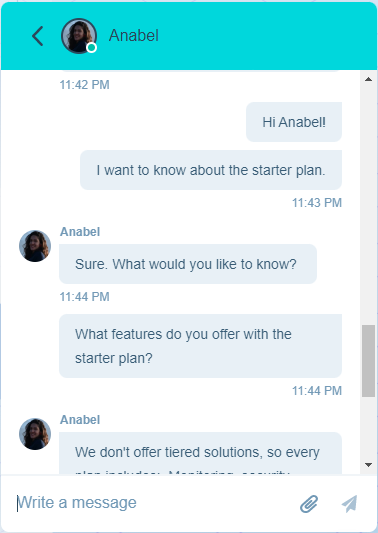 O2switch customer service is not as impressive as Kinsta's. They aren't available 24/7 to assist you. They only offer telephone and email service. Their telephone service is available only Monday to Friday from 9 AM to 6 PM, and all their lines are in France. While Kinsta isn't like 02switch. They offer 24/7/365 customer service. You can reach contact them anytime.
Another downside of o2switch is that they don't have a live chat service. However, their knowledge base section is not bad. They provide solutions to your problems if you only know where to look.
Kinsta vs o2switch: Final Verdict
The Kinsta vs o2switch comparison was heated. They provide dependable and economical web hosting options for all businesses, but several distinctions stand out.
Kinsta prioritizes all types of businesses. And they demonstrate better performance, excellent customer support, and features. Plus, this service provides a 30-day money-back guarantee, giving you plenty of time to explore Kinsta. You can get your website with Kinsta to the next level.
Winner: Kinsta
o2switch also prioritizes all types of business. And they demonstrate reliability, speed, and quality. This web hosting company is especially for french people.
Does kinsta offer any discounts?
Yes. Kinsta offers a discount to non-profit organizations and open-source projects. Moreover, if you sign up or choose an annual plan, you will get 2 months free.
Does o2switch offer cPanel?
Yes. o2switch offer cPanel hosting for free with their hosting plans.
Who can join the kinsta affiliate program?
Anyone who is a developer, designer, or writer of web hosting content can join. However, you can't join the Kinsta affiliate program if you have a coupons and deals site, an unfinished website, a website without an affiliate disclosure, or if you do not have a domain name.
Does o2switch have live chat support?
Unfortunately, o2switch doesn't offer live chat support to their customers.
Alternativees of Kinsta and o2switch
Kinsta alternatives
o2switch alternatives
Cloudways
SiteGround
Pantheon
Conclusion
This was the most comprehensive guide to Kinsta vs. o2switch. I hope you enjoyed reading this article.
Now I want to hear from you — Which web hosting company will you choose to run a successful website, Kinsta or 02switch?
Let me know by leaving a comment below.