Hi, This is a Complete Guide to "Kinsta vs InMotion". Where you will learn everything about picking a web hosting company by reading this review.
Are you trying to decide between Kinsta vs InMotion Hosting for your website? Look no further! Our definitive review will break down all the critical factors to consider and help you make an informed decision. From uptime and speed to pricing and customer support, we've got you covered. Don't miss out on this comprehensive comparison of Kinsta vs InMotion Hosting!
So, Let's dive in!
You will have noticed recent advertising for InMotion, part of the company's endeavor to maintain its prominent position. Kinsta is fast becoming the top in the industry even though it only offers premium managed WordPress hosting due to its unequaled performance and page loading speeds.
In this WordPress hosting comparison, we put Kinsta vs InMotion head-to-head by comparing their individual offers in terms of price, performance, and functionality. Kinsta came out on top in every other area, although InMotion is still well renowned for being an affordable web host.
Kinsta vs InMotion: Features
In this article, I will compare and contrast two of the most popular managed WordPress hosting plans: Kinsta and InMotion.
When you choose Kinsta, you can host anywhere from one to one hundred fifty websites on their dependable servers. Their plans are standard with free SSL and KeyCDN, daily scheduled backups, a staging area, a multi-user environment, site cloning, and a white-labeled cache plugin.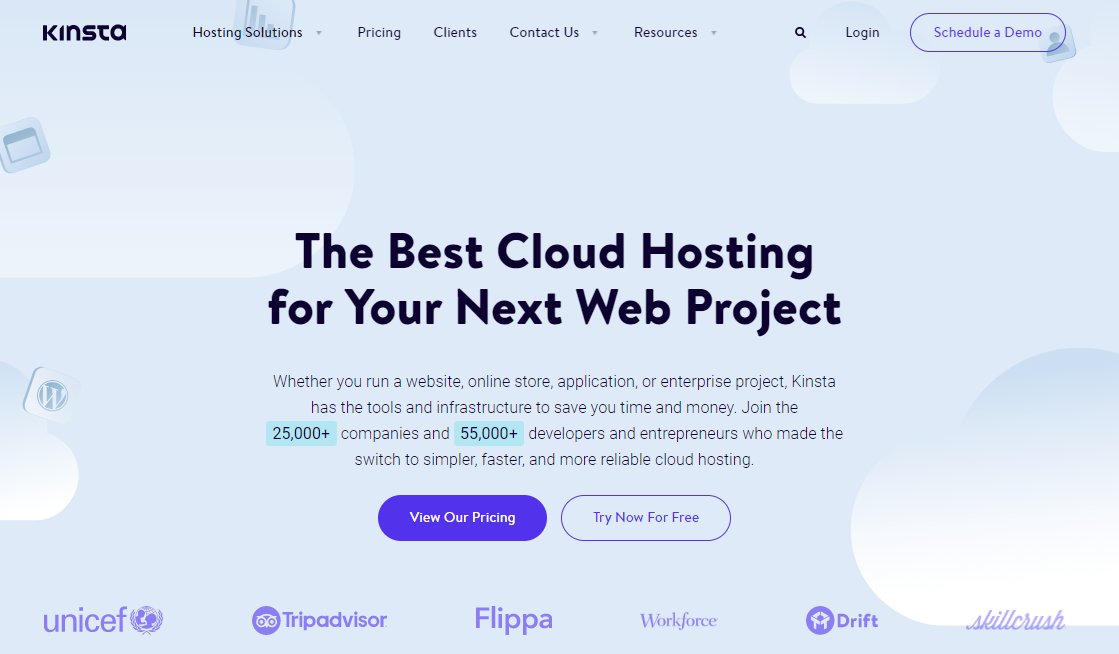 While InMotion will only host a single website for each customer, the company offers storage capacities ranging from 30 GB to an unlimited amount.
In addition to the hundreds of pre-built themes and the SEO optimizer (which are not included in the basic plan), daily backups (up to ninety days' worth), free CDN for the first year, and business email for the first month are included in all managed WordPress hosting plans.
Kinsta, on the other hand, provides an SSL certificate with each and every plan, whereas InMotion only offers this benefit with its more costly package tiers.
Learn more about the differences between Kinsta vs InMotion by referring to the table that is provided below:
| Feature | Kinsta | InMotion |
| --- | --- | --- |
| Hosting Types | Managed WordPress hosting, WooCommerce hosting | WordPress, VPS, Shared and dedicated |
| Free Domain | No | Yes (free for the first year) |
| Pricing | From $35/mo | From $4.49/mo |
| Data Storage | 10 GB - 250 GB | Unlimited |
| Bandwidth | Unmetered | Unmetered |
| Website Backups | Yes | Yes |
| Dedicated Hosting | No | Yes |
| cPanel | Yes | Yes |
| Free CDN | Yes | No |
| Free Site Migration | Yes | Yes |
| Money Back Guarantee | 30-days | 90-days |
| Customer Support | 24/7 live chat | 24/7 live chat |
| Uptime Guarantee | 100% | 100% |
| Server Location | The US and UK | The US, UK, and EU |
| Security | Malware scanning limited to five pages, so you're forced to pay extra for security | SSL certificates, DDoS protection, domain privacy, and backups |
| Email Hosting | No | Free |
| Rating | 4.5/5 | 4.9/5 |
| Website | kinsta.com | inmotionhosting.com |
Kinsta is unrivaled when it comes to providing hosting for WordPress websites.
Plan and Prices Comparison
InMotion, a leading domain registrar, provides clients with a wide variety of hosting solutions, some of which include shared hosting, hosting for WordPress websites, virtual private servers (VPS), and dedicated servers. Alternatively, you might go with Kinsta, which provides premium support for WordPress and WooCommerce.
One of Kinsta's ten managed WordPress hosting plans is designed just for beginners, another is directed at more experienced users, and the other eight are appropriate for businesses of different sizes. InMotion offers eight WordPress hosting plans, including four managed and four unmanaged options.
Kinsta Web Hosting
| Plan Name | Storage | Free SSL | Number of Sites | Price |
| --- | --- | --- | --- | --- |
| Starter | 10 GB SSD | + | 1 | $ 35 |
| Pro | 20 GB SSD | + | 2 | $ 70 |
| Business 1 | 30 GB SSD | + | 5 | $ 115 |
| Business 2 | 40 GB SSD | + | 10 | $ 225 |
| Business 3 | 50 GB SSD | + | 20 | $ 340 |
| Business 4 | 60 GB SSD | + | 40 | $ 450 |
| Enterprise 1 | 100 GB SSD | + | 60 | $ 675 |
| Enterprise 2 | 150 GB SSD | + | 80 | $ 1000 |
| Enterprise 3 | 200 GB SSD | + | 120 | $ 1350 |
| Enterprise 4 | 250 GB SSD | + | 150 | $ 1650 |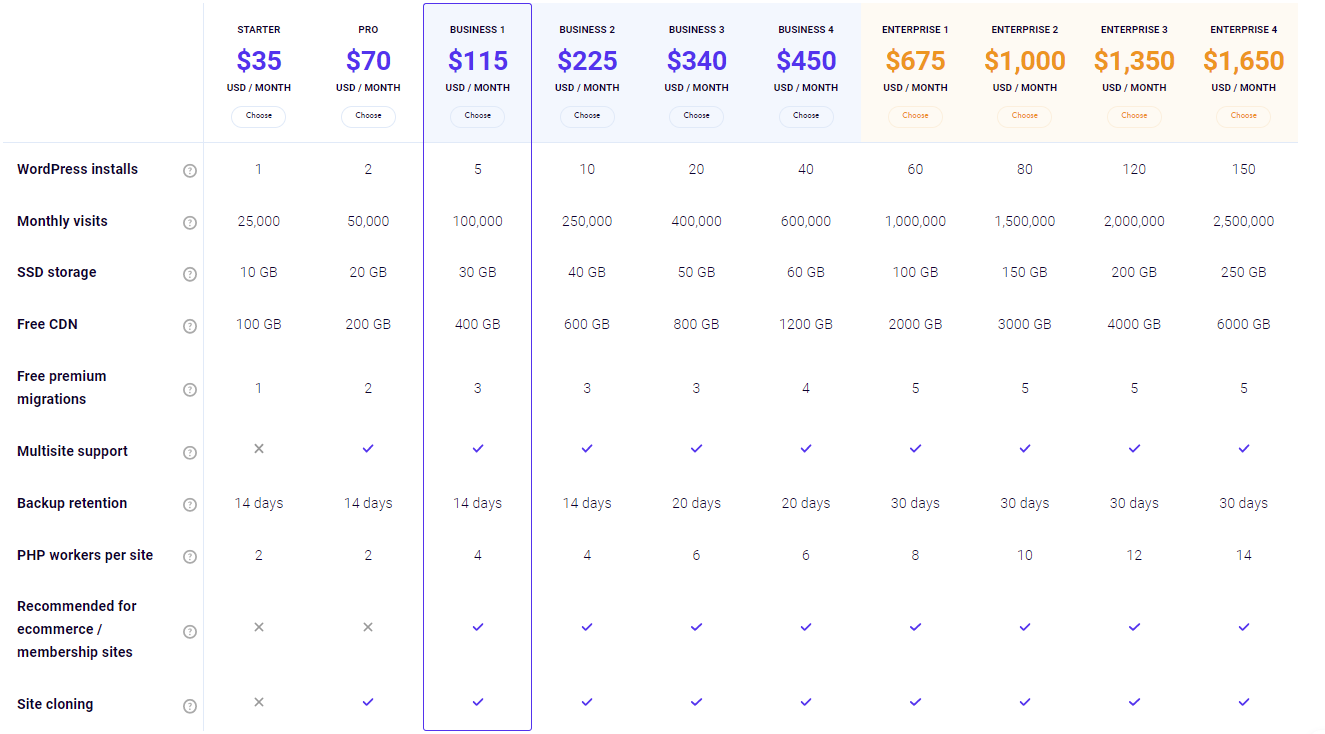 InMotion Web Hosting
Core Plan provides 100 GB storage, Unlimited bandwidth, free SSL, and 2 sites for $ 3.29.
Launch Plan provides Unlimited bandwidth, free SSL, and an unlimited number of sites for $ 6.99
Power Plan provides Unlimited bandwidth, free SSL, and an unlimited number of sites for $ 6.99
Pro Plan provides Unlimited bandwidth, free SSL, and an unlimited number of sites for $14.99
InMotion is more affordable than Kinsta for WordPress hosting but has fewer features (more details in the Features section).
When you sign up for InMotion for an annual plan, you'll receive a free domain name, and you won't be charged until the plan's conclusion. Domain name registration is not accessible on Kinsta.
Kinsta and InMotion both provide a free website migration and a 30-day money-back guarantee with their WordPress hosting plans.
This competition of prices and plans between Kinsta vs InMotion was won by InMotion hosting. Though InMotion has a few shortcomings, it is a more affordable option than Kinsta.
Kinsta vs InMotion: Performance Review
Kinsta's services are currently offered in over 20 countries, including but not limited to the following:
The United States of America, Canada, Brazil, the United Kingdom, Belgium, the Netherlands, Germany, Finland, India, Singapore, Hong Kong, Japan, Australia, Taiwan, and Switzerland. These are just some of the countries.
The servers that belong to InMotion can only be found in two specific locations: the United States and India.
SSD storage is a component that may be added to specific InMotion plans. However, it is standard on all Kinsta plans. If you use solid-state discs, your website will load more quickly, have an increased level of reliability, and function more effectively overall. It is superior to conventional HDD storage in terms of the speed with which it can process data from websites.
Kinsta, on the other hand, provides a CDN with every one of its hosting plans. Whilst InMotion only offers one with its WordPress hosting plans. A Content Delivery Network (CDN) may boost the loading speed of your website and give other benefits by hosting your website on a dispersed network of cloud servers.
Uptime is guaranteed at 99.9 percent with both Kinsta and InMotion. During our testing, Kinsta maintained a perfect uptime of 100%, but InMotion customers had intermittent service disruptions. The occasional little hiccup is all that can be anticipated at this point.
A test of loading times revealed that both hosts functioned well. Kinsta's India server reported worse speeds, in contrast to InMotion's server in India, which did not have any slow areas.
You will be able to understand the conclusions drawn from an in-depth performance analysis inside this all-encompassing assessment of Kinsta.
Although there is a slight disparity between these results and those of InMotion, it does not significantly impact the overall rating.
Because it provides more performance-related capabilities, more global server locations, higher uptime, and somewhat quicker loading rates, Kinsta comes out on top in the performance category.
Caching
Both InMotion and Kinsta provide server-side caching. However, they do this by using NGINX rather than Apache. In contrast to Kinsta, InMotion employs NGINX just as a reverse proxy. You may utilize an NGINX reverse proxy with Kinsta for an extra cost.
Availability is the crucial difference, however. The difference between Kinsta vs InMotion Hosting is that the former employs server-level caching on all plans while the latter prohibits it on its most basic offering.
If you're tempted by InMotion's low costs. Remember that you won't have access to server-side caching and will instead need to use a caching plugin, such as W3 Total Cache.
Cache profiles in InMotion may be any one of the following:
Standard
Dynamic
WordPress Multisite.
The first one caches static files, and the second one does so for dynamic files. While the third one needs no explanation. For Kinsta, the cache is managed through a different control panel. Future plans are also to include Cloudflare's POP servers and serve caches from CDN nodes rather than the server. Kinsta's caching method is superior to InMotion's in terms of these qualities.
Security Comparison
You can feel safe knowing your website is protected on Kinsta and InMotion thanks to their round-the-clock server monitoring, robust firewalls, DDoS protection, and complimentary SSL certificates.
CloudLinux OS is included with all InMotion plans, whereas LXC containers are used by Kinsta. Both methods safely partition your website from any other accounts on the same server, shielding it from potential dangers that can affect other users. Additionally, it guarantees that the server's resources are shared equitably across all accounts.
As was previously said, Kinsta includes free CDN with all of its plans, whereas InMotion excludes it from all except its WordPress hosting plans. A content delivery network (CDN) provides more defense against distributed denial-of-service attacks (DDoS) and brute-force attacks.
Kinsta's all-inclusive plans provide automated daily backups, whereas InMotion's limited offerings don't.
Compared to other hosting companies, these services fall short in the security department. Nonetheless, Kinsta triumphs because of its built-in CDN and regular backups.
Kinsta provides a feature known as Application Performance Monitoring (APM), which can be accessed from the dashboard. This tool does not use any of the resources available on your website.
InMotion, on the other hand, depends on the paid "Speed Coach" plugin that is offered by BoldGrid. This plugin solely analyses front-facing variables and draws processing power from your WordPress plan.
Kinsta's APM monitors PHP scripts, MySQL queries, and more. It enables you to investigate individual database statements responsible for performance bottlenecks and create stack traces for PHP programs that produce problems.
When attempting to reduce the time it takes for the server to respond, this enables you to do proper debugging. You do not receive any of this with InMotion; it simply summarizes how quickly your website loads.
Customer Support
Kinsta vs InMotion customer support both provide users comprehensive online documentation consisting of hundreds of articles and video tutorials to its users.
You may reach the help desk at Kinsta anytime you want assistance with a live chat, email, and a support ticket system. Unfortunately, only paid members have access to the live chat feature. The live chat option is available to customers on every page of the administrative control panel.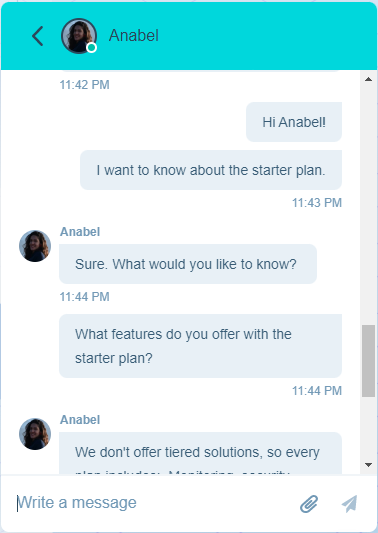 In Contrast, InMotion's round-the-clock customer assistance is only available through live chat and the phone. On the other hand, live chat isn't as reliable as we'd want it to be. It took me more than half an hour to finally get through to a customer service agent.
Kinsta is the apparent winner in Kinsta vs InMotion support analysis because of its speedier response time, even though both hosts provide a limited number of support choices.
InMotion Hosting also focuses strongly on customer support, with a knowledgeable support team available 24/7 through phone, live chat, and email.
Kinsta vs InMotion: Backups
Kinsta, like InMotion Hosting, does daily backups. However, Kinsta's backups are much more tightly integrated.
When it comes to InMotion, backups are scattered. They offer their premium Backup Manager service in addition to the unrestrained "Total Upkeep" plugin and Jetpack backups. The latter two features aren't available on the bare-bones WP Core InMotion plan.
However, Kinsta makes backups simple and includes them in the bespoke dashboard for all plans.
Three levels of InMotion Backups:
"Total Upkeep" from BoldGrid
Jetpack Backup
Paid InMotion backup manager
From BoldGrid, we've included their premium "Total Upkeep" plugin, which is included for free with InMotion. In contrast to Kinsta, it uses your site's resources to create backups, which may then be stored locally or remotely. Like UpdraftPlus, it uses too many system resources, making it impractical for use on shared hosting. Thus, I wouldn't advise installing it.
In the alternative, there is Jetpack. InMotion's free Jetpack plan includes automatic, continuous backups. While it may state "Jetpack Personal" on the website, after purchasing VaultPress, Automattic rebranded all of its plans.
And I can confirm that you still get the free daily incremental backups from Jetpack. This, as far as InMotion backups go, is the way to go. Like Kinsta's Enterprise plans, it keeps backups for 30 days.
Unfortunately, Jetpack backups are only accessible on the InMotion WordPress subscription. Which costs $6.99/mo and higher. The basic package does not have this feature.
If you're looking for a third choice, consider the InMotion Backup Manager, which can be had for a monthly fee of only $2. There is no other way to save your data, and this provides you with 10 GB of space. Nonetheless, there will be a cost involved.
Kinsta backups, on the other hand, are more accessible and require zero mental effort. Backups may be kept for up to 30 days, while snapshots can be kept for up to 14 days. Therefore, Kinsta is superior to InMotion Hosting for backups.
Final Thoughts — Who is Better for you?
When it comes to WordPress plans, there is no question that Kinsta is better than InMotion. In fact, the price demonstrates this to be the case. InMotion cannot compete with Kinsta regarding the features, performance, or customer support offered by Kinsta.
On the other hand, the significant difference is that with InMotion, you pay a single fee for an unlimited number of WordPress sites, which brings the overall cost down to a much more manageable level. The more sites you host on Kinsta, the more the monthly fees become.
Therefore, InMotion will be a better and more cost-effective option for you to go with if you want to host several smaller WordPress sites in addition to your primary site.
Kinsta specializes in premium managed WordPress hosting for enterprises with stringent requirements, while InMotion caters to cost-conscious customers and hence has a better price structure. Despite this, Kinsta was victorious in virtually all their matches against InMotion.
| Features | Kinsta | InMotion |
| --- | --- | --- |
| Plans and Pricing | Few available options for hosting. Plans for hosting WordPress that are more expensively managed. Guaranteed full refund within 30 days. | At pricing that won't break the bank, you may choose from four shared hosting plans and four WordPress plans. |
| Key Features | Free website migration, free SSL certificate, and free solid-state storage | A money-back guarantee for the first 90 days, access to a content delivery network (CDN) with all WordPress plans, and an optional BoldGrid site builder |
| Performance | More server locations, a free content delivery network (CDN) included with all plans, a promise of 99.9 percent uptime, no downtime, and quicker loading speeds | 2 data centres located in the United States, UltraStack infrastructure, a promise of 99.99% uptime but no guarantee |
| Security | All plans come standard with round-the-clock server monitoring, robust firewalls, DDoS protection, LXC containers, and automatic daily backups. | Free SSL, security against DDoS attacks, malware, and hacker attacks |
| Customer Support | Comprehensive knowledge base, live chat and email support available around the clock, and rapid response times | Responses are immediate before to the sale, but the wait time increases thereafter. Competent support agents |
Ultimately, the best hosting provider for you will depend on your specific needs and priorities. Kinsta and InMotion Hosting have their strengths and may be better for different users.
If performance is your top priority, Kinsta may be the better choice. Its use of Google Cloud infrastructure and server-level caching helps to ensure fast website speeds and uptime. It also has a track record of 99.9% uptime and performs regular backups of customer websites.
At the same time, InMotion Hosting may be a better fit if you're looking for various hosting options and competitive pricing. It offers a range of shared, VPS, and dedicated hosting plans and a free content delivery network (CDN) to speed up websites and protect against traffic spikes.
Yet, it's essential to carefully evaluate your needs and research before deciding. It is also helpful to read reviews and compare pricing plans from multiple hosting providers before making a final decision.
What are the alternative options for Kinsta and InMotion Hosting?
Many web hosting providers are available, so it's essential to research and choose the one that best fits your needs. Some alternatives to Kinsta and InMotion Hosting include:
Kinsta Alternatives
InMotion Alternatives
The Review
Kinsta vs InMotion
We compare the features, security, and overall performance of Kinsta and InMotion Hosting. Kinsta utilizes Google Cloud infrastructure and has a track record of 99.9% uptime. Kinsta offers a range of pricing plans that can scale up as your website grows. InMotion Hosting uses a combination of SSD and SAS drives for speed and reliability. InMotion Hosting has a variety of shared, VPS, and dedicated hosting options at competitive prices.
PROS
Kinsta -- Uses Google Cloud infrastructure
Kinsta -- Offers server-level caching and a custom-built hosting stack to optimize website performance
Kinsta -- Performs regular backups of customer websites
InMotion -- Uses a combination of SSD and SAS drives for speed and reliability
InMotion -- Has a knowledgeable support team available 24/7 through phone, live chat, and email
InMotion -- Offer Affordable rate
CONS
Kinsta -- Generally more expensive than other hosting providers
Kinsta -- No Email Hosting Services
InMotion -- Some users may experience slower website speeds compared to other hosting providers
InMotion -- Has had some reports of downtimes in the past
Review Breakdown
Kinsta 4.5

InMotion Hosting 4.9